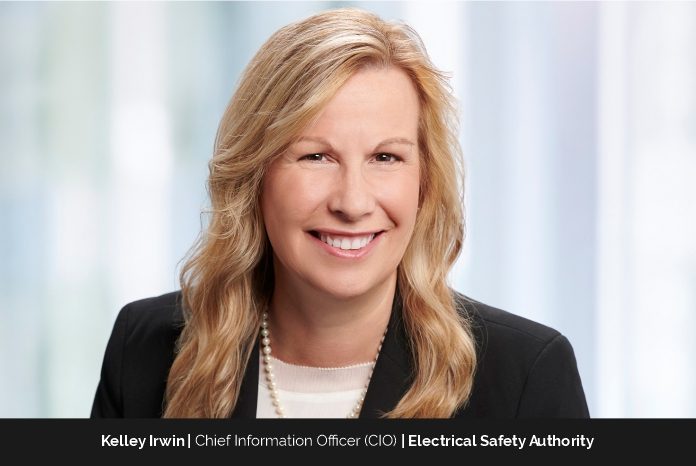 The lack of diversity in the tech industry is not a recent development; organizations have long had difficulties maintaining a balanced workforce. Despite its good intentions, the phrase "women in tech" can be perceived as demeaning and disempowering for women. It is time to accept and move past the statistics regarding women and take action. Clarifying what we mean by gender equality at work would be a good place to start. Gender equality does not imply that there are an equal number of men and women working in each department of a tech company. Instead, gender equality should give women in tech the chance to pick their professional path, receive equal pay regardless of gender, race, or sexual orientation, and benefit from the same opportunities for growth and progression inside the organization.
With experience and passion to lead technical and digital transformation for both customer experience and regulatory compliance, Kelley Irwin is the Chief Information Officer (CIO) at the Electrical Safety Authority. She has received recognition for regularly improving employee engagement levels and the diversity of her teams over a 25-year period in numerous firms.
Kelley is passionate about IT and encourages and supports women entering the field as professionals. She became interested in technology while studying computer science at the Ohio State University. She has earned degrees in mathematics from the University of Western Ontario, computer science from Fanshawe College, cybersecurity credentials from the University of Washington, and executive education from Harvard Business School. She considers learning to be an ongoing process.
As a thought leader, Kelley is committed to fostering respectful, cooperative relationships with other executives, board members, and outside stakeholders. She has led large IT teams (800+) throughout the globe to provide business and customer value for Fortune 500 global corporations.
Stepping into the Field
While they were both attending The Ohio State University, Kelley's brother Bob persuaded her to enroll in a computer science course with him so they could spend some time together. Kelley was enthralled by that class. The numbers, patterns, and sequences were all a part of the tools that resulted in a personal creation. Kelley discovered she could construct a moving object or a process. When it didn't work, the debugging phase was all about numbers and the chronological order of events. That was Kelley's "eureka" moment—that sudden, unexpected realization of the solution to a problem she didn't even know she was trying to solve.  Kelley found it to be magical.
Joining ESA
With the hiring of Kelley into the organization's first CIO position in 2019, the ESA committed to growing and investing in IT. She was given the responsibility of organizing the division and developing a creative, forward-thinking, and all-encompassing digital strategy. In order to keep vital electrical work moving forward while considering the health and safety of its stakeholders and its staff, ESA implemented the option for photo inspections during the pandemic. This brought to light the chance to choose where and how one might use this feature in the future, strengthened by the proper risk-based approach. She states, "We have plans to launch additional online transactions through our portal, and expand the safety information provided on our website, powered by our data platform." The company is delivering the digital strategy on a strong foundation of architectural principles, including alignment to business strategy at the core, with sustainability, scalability, and security as key components.
Electrical Safety Authority
The Electrical Safety Authority (ESA) is a regulator and advocate for electrical safety mandated by the Government of Ontario. ESA strives to protect the people of Ontario and reduce the amount of electrical-related harm across the province by engaging in primary activities, including identifying and targeting leading causes of electrical safety risk; ensuring compliance with regulations; promoting awareness, education, and training; and working with stakeholders to gain insight and continuously improve to ensure Ontario remains safe from electrical harm. ESA's annual workload includes 500,000 on-site inspections, answering 600,000 calls, and interactions with 15,000 master electricians.
ESA employees are "powered by purpose" as they focus on the safety mandate. The talented and diverse IT team is an integral part of this workforce. They are empowered and dedicated to provide daily technical support and evolving digital services.
Life at Work and Home
At ESA, Kelley is in charge of the organization's information technology (IT) strategy as well as the enterprise project management office, security, and strategic direction. She achieves this through leadership, cooperation, coaching, and mentoring in order to produce business results that are in line with the strategic objectives of ESA. Her usual workday entails listening, encouraging others, setting direction, making decisions, and negotiating. Prioritizing work is a constant need and Kelley enjoys these discussions. She says, "The best days also include learning and celebrating, and staying connected to people."
As Kelley shares, she is blessed to have family and friends who support her through the challenges and celebrate the successes with her. Her husband worked in the technology field, and they have a daughter and a son who have both entered the tech profession. She is thrilled they see the possibilities of an enjoyable and impactful career in tech.
Facing Challenges
Kelley agrees that facing challenges makes us stronger. She believes that facing challenges is part of daily life—some small, some large. Kelley asserts, "When we face them, we learn about ourselves. What we are capable of, how we can think differently, and how we can get out of our own way."
Kelley has had to contend with opportunity restrictions and gender-specific expectations in the computer industry. She had occasionally been questioned about whether she was tough enough to take on a job. They didn't inquire as to Kelley's readiness, experience, or qualifications. She muses over questions of this nature, not only about the position or the organization but also about what she wants for herself and how she might assist others. Talented people with good judgment have options and choose according to their values. Over the years, Kelley has had the good fortune to work for organizations that openly promote women by recruiting, elevating, and considering their ideas. It's fulfilling to break those barriers. It's also rewarding to hold out the chair and welcome the next woman to the team.
The Success Definition
Kelley measures success by her capacity to shape events and effect change for the better. She is motivated by values and sees the big picture of how things may be improved for people. She says that doing this frequently calls for bravery and conviction. The ability to show up, stand up, and confront both internal and external fears. The conviction to be clear about what she believes in, to voice her opinion, and to support original thought. On some days, she believes she simply needs to take one step at a time in order to accomplish her goal.
Thoughts on Being a Woman Leader
Being a woman in tech has been equally hard and fulfilling. Kelley thinks about the women who paved the way before her, the ones who stood beside her, and those who follow in her footsteps on this incredible journey.
Kelley recently published a book called "Please Stay: How Women in Tech Survive and Thrive". She wants young girls and women to see the endless possibilities. She wishes for them to carve out their own path, pursue their dreams, and embrace the technology profession.
Kelley speaks often to younger women in tech and provides advice from her experience and perspective. She reminds them to make sure they are heard. She asserts, "Each one of us has something to say, and in a work situation, you are there for a reason. Be sure to provide your opinion, your view, your expertise, and your wisdom. Your voice is credible and authentic." Her advice for future leaders is to "Consciously make yourself uncomfortable and take chances. Think about what you want to leave behind and take action. Surround yourself with a group of people who will have your back, give you advice, and challenge you to be your best."
The Future Goals
For Kelley, the best recognition is a quiet moment when someone shares a story of a lesson, they learned from her and how it changed them. She believes, "We can all create positive change if we listen and provide thoughtful advice."
She always thinks of the end goal, keeping in mind what the team is trying to achieve and for whom. She listens, thinks it through, creates a clear vision, communicates the goals, and recognizes small wins along with the big successes. Kelley's personal goal is to create positive change for people and companies. It's rewarding and fun!