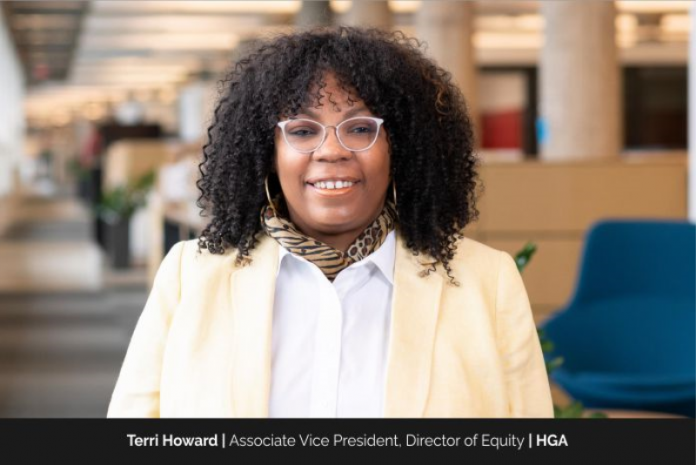 This week's cover story features Terri Howard, whom we have recognized as one of the "The Most Influential Woman in Diversity & Inclusion, 2023." Terri is HGA's Associate Vice President and inaugural Director of Equity. In this role, she acts as a leader in the company's commitment to diversity and inclusion in the workplace, employee recruitment and retention, and client interactions.
Terri has extensive experience and training in the field of diversity, equity and inclusion (DEI) implementation, having worked with NGOs, government agencies and Fortune 500 firms.
Terri uses the word "effervescent" frequently to describe herself and her work as the Inaugural Director of diversity, equity and inclusion (DEI) at HGA—a leader with boundless energy and enthusiasm who can rally others around the cause of diversity, equity and inclusion. Taking into account her career trajectory, we cannot refute it.
Success for DEI, as defined by Terri Howard, occurs when workers feel safe enough to bring their "A game" to the office (i.e., their true selves) and make valuable contributions from various backgrounds and viewpoints. She adds, "when employees can do these things well, they can produce better outcomes for their organization and everyone in the firm." As a result, the atmosphere becomes more upbeat, productive and inclusive, with people from all walks of life feeling like they belong.
When asked how she stays motivated, the competent leader graciously responds, saying, "I am always curious, asking questions and always open to learning, which keeps me motivated."
Before joining HGA, she served as Vice President of Diversity, Equity and Inclusion at Herzing University in Milwaukee. She worked to further the institution's purpose to serve students across nine campuses and online.
Her previous position was as Senior Director at Milwaukee-based workplace consulting FEI Mental Health, where she oversaw DEI, organizational resilience and behavioural health projects for clients throughout the globe.
Capella University is home to Howard's doctoral program of study in Emergency Management Leadership. She earned her Master's in Public Service Leadership from Capella University, her Bachelor's in Human Services Administration/Education from Chatham University and her Certificate in Workplace Diversity and Inclusion from Capella.
Path to a promising career in Diversity and Equity Strategies
For Terri Howard, the path to a successful career in direct equity investment and equity strategies has been a stroke of luck. She states that she experienced direct experience individuation and then a string of roles. While she "did not start to be a leader for DEI," she says, "each new role I held successively offered the opportunity to be culturally competent." Terri has amassed a wealth of knowledge in her field due to her years spent directing equity programs at Wisconsin-based NGOs, government agencies, and Fortune 500 firms. Furthermore, she realized the importance of DEI on her travels and decided to share her knowledge with others. And these events taught her the importance of deliberate action.  In her words, "it's not just an add-on. Being strategic is the key to approaching DEI."
The roadblocks and Terri's Take away from them.
Terri Howard is unwavering in her belief that challenges are opportunities in the making. Each person is at a different point along their journey. In her words, "I must meet them where they are. That often creates challenges around defining strategy."
As far back as 1995, she was already at it. Terri has witnessed several businesses progress from superficial DEI practices to genuine, purposeful ones. But there's more to equity than ticking a box and declaring victory. Learning is something that never stops.
Unpleasant and unexpected things happen all the time in life. When outlining the professional challenges, Terri mentions the unfortunate incident of George Floyd in the summer of 2020 as an example. The momentum for re-evaluating their approach to equity gained from that tragic event has continued in many companies and organizations. A sense of velocity and intensity appeared out of nowhere. Unfortunately, it's easy to lose steam.
Building a strategic framework for equity is a top priority for Terri because, in her words, this will help elevate the conversation and keep the momentum going over the long haul.
"Many organizations are now investing in equity strategies because it is a business imperative—it's much more than just token gestures. Equity is about growing and sustaining business, which touches all aspects of our professional and personal lives," Terri explains.
HGA and its operations under the leadership of Terri Howard
In January 2022, Terri Howard started working for HGA. She notes there was a procedure in place and it had begun before she arrived. The company's upper management recognized the need for diversity, equality and inclusion (DEI), so they formed a national interdepartmental equity committee. HGA has already laid a solid foundation for creating a more inclusive workplace through its hiring policies and in-house training.
However, top management also understood that a designated position was truly necessary to embed DEI into the company's culture. She states she joined the team to take the current structure to a higher level and to provide more options for professional development for her co-workers. Terri conveys that it has increased worker diversity in a single year, made it easier to have challenging conversations and established a framework for ongoing education and heightened awareness.
Role in reimagining HGA's approach to diversity and inclusion
Terri Howard responds to her contribution to the redefinition of diversity and inclusion at HGA by stating: "I use diversity, equity, and inclusion as verbs, not nouns. DEI is a living, breathing part of who we are—and, more importantly, what we do. Our organizational culture and outlook toward each other and our clients define DEI at HGA."
Personalized approach to influencing generational change.
Terri says she wants to make a difference in the DEI field so that professionals can teach and be taught by one another. She stresses the importance of continuous improvement and mutual learning for professionals. The way they've always done things, the way they do things today and the way they plan to do things in the future are all subject to constant discussion and modification. To her, equity is incremental and builds on itself toward continuous improvement.
How DEI's innovative ideas augment HGA's strategic plan and vision
Terri Howard contends that DEI plays a vital role in HGA's overall strategy. Among their strategy plan's other two tenets, "research and sustainability," "equity" is one of the most fundamental ideas. She adds, "this was part of HGA before I even started. I am helping to put that strategic plan into action."
Terri Howard's best leadership honor
Having been recognized for her exceptional leadership abilities, Terri Howard was recently presented with the Dr. James G. Smith Difference Maker Award. The 6th District of the Milwaukee Common Council established this award to recognize the efforts of local residents who have positively impacted their community and the city of Milwaukee as a whole. Terri finds the honor significant because it underscores the importance of community action and demonstrates DEI's ripple effect when it begins with the individual. She has lived in Milwaukee's 6th District for a long time and is pleased to make a difference there.
Thoughts about the changing landscape of businesses
Terri has been closely watching the rapidly altering business landscape, especially from the from a diversity and inclusion perspective. She shares, she often states that "equity is a business imperative" since it is real and firms are beginning to recognize how it affects their bottom line. It explains why there has been an increase in DEIs holding executive roles in sectors as diverse as business, education and healthcare. In conclusion, she says, "it's not a choice anymore."
Responsibilities as the Associate Vice President, Director of Equity at HGA
With a prestigious title comes numerous responsibilities. Terri's role as HGA's Associate Vice President, Director of Equity, is no different. Her workdays are never the same. When asked about her current position, she says, "it is an inaugural role, so in many ways, I am in the process of defining my job description." She adds, "I generally see my role as a thought leader to drive equity initiatives, develop hands-on programming, organize firmwide resources and build external partnerships that position HGA as an industry model in workplace equity, recruitment and client relations." Despite being shouldered with many tasks, Terri strikes a good balance between big-picture planning, day-to-day operations and individual interactions with staff members.
Terri Howard has also increased her participation in project teams to establish a more comprehensive strategy for incorporating equity into the design. She has gained a deeper appreciation for the work of the architecture and engineering business, and HGA's holistic design approach, through her participation on project teams and in client interviews.
The secret to maintaining a work-life balance.
The scenario for the professionals shifted with the convergence of technological and informational revolutions. Now more than ever, striking a healthy balance between work and personal life can feel like a pipe dream. Every person has their own definition of what constitutes a healthy work-life balance. Director of Equity at HGA Terri Howard discusses how she finds equilibrium. She acknowledges that she is not always able to maintain balance. It's like the ocean; it rises and falls. But it's in the company of her family and friends that she finds stability. Her close circle of loved ones serves as a sounding board for her many ideas and a source of inspiration. Terri conveys that her private and work lives are highly intertwined. She expresses, "it's not a faucet that I turn off when I go home. It's part of who I am—and that shines through personally and professionally."
Plans for the future of HGA.
What makes a company attractive to work for is a leadership team with a clear vision. Like many great leaders, Terri Howard understands that HGA's future lies in a clear vision. It's the foundation on which the business is built. It makes others want to work well for the organization in a collaborative manner.
In addition to having a clear idea of what she wants to accomplish as a leader, she has other strengths. She is also gifted at conveying this information to others and inspiring enthusiasm. According to her, HGA intends to develop its strategic framework further and put more DEI parts into practice. She thinks they should figure out what success means for them and how to quantify it. To look into the future is to see a process of constant change. The current state of equity is not indicative of its future condition. It calls for developing brand-new best practices, innovation and sustained intellectual curiosity. She conveys, "my goal as a business leader is to add value and make an impact."
Terri signs off with a message to the future leaders-to-be. She encourages them to stay curious, be empathetic, identify their strengths and determine how they can contribute to an organization's or community's success.