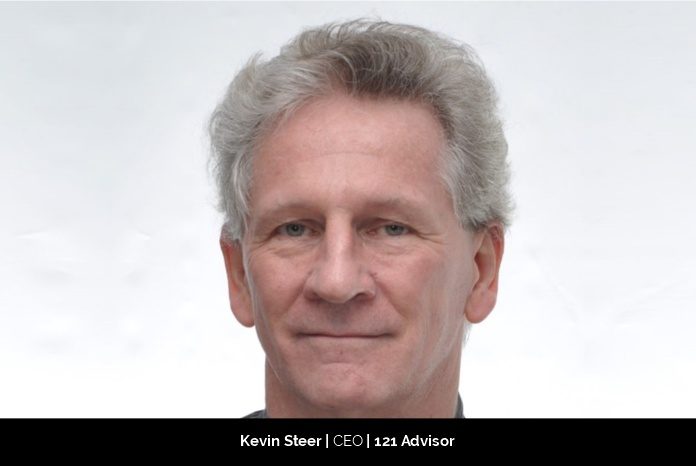 "We don't follow trends, we pioneer them," says Kevin Steer. He is the founder and CEO of One Two One Advisor, a technology solution and consulting services company.
121Advisor has pioneered many innovative business solutions in digital technology, internet and mobile platforms, social media channels, and regulatory-compliant cloud solutions for global and local clients since its formation in 2010.
Early Steps to Leading a Team of Professionals
Kevin earned his bachelor's degree in 1978 from Cambridge University and subsequently spent five years working for Schlumberger (in Brunei, Australia, Indonesia, and China). In 1986, he completed a Masters in Computing at Imperial College, where he concentrated on Artificial Intelligence, after observing how IT was growing. He then relocated to Malaysia to implement insurance and banking solutions in order to expand his firm in China, India, Thailand, and Indonesia.
As the CEO of One Two One Advisor, Kevin advises on the design of new solutions and develops data models for the company. He leads a team of 35 individuals at 121Advisor, and he inspires them to create innovative solutions.
Kevin is particularly interested in the banking, insurance, and takaful industries, where his team has built a variety of innovative solutions, including online sales solutions, customer care portals, and n-Tier ALCs (Agency Leader Corporations). He sees the firm as having expanded substantially, and the management wants to extend u12know to Singapore, Indonesia, and other nations. It also intends to open offices in Europe and the United States.
It also plans to open up in Europe, and the USA. He says, "121Advisor hopes to expand to other countries in APAC, as well as Europe & the USA."
One Two One Advisor
Kevin established One Two One Advisor Sdn. Bhd. in 2010 with a team of skilled experts with a track record of success in servicing customers throughout the Financial, Insurance, Takaful, and Services industries in Asia for the previous 20 years. In 2010, the team founded 121Advisor with a focus on InsurTech and FinTech. For the first several years, they struggled. However, once they had consumers, they quickly expanded by introducing additional items to the market.
One Two One Advisor's team has developed innovative solutions. The firm put out their referral management system to two banks in the FinTech industry, and they are closing a substantial number of leads.
The company continued to introduce new products in the InsurTech sector, including the ability to implement Websites for customers with Marketing Automation & Campaign solutions, as well as mobile point of sales, where agents can submit online and online direct sales for customers to purchase digitally.
Customers may check their policies and make service requests to update their data using One Two One Advisor's online customer portal. It has introduced an N-Tier Agency Leader Corporation (ALC) Distribution Management Solution, which evaluates agent performance, advises agent promotion/demotion, calculates commissions, and pays each agent individually.
The Distribution Management system works well on mobile devices. With an interest in AI, the team created a multilingual chatbot that could answer inquiries as well as act as a Robo Advisor for financial services; it also used predictive analytics to evaluate new products, churn/lapsation, and future investment analysis.
Value Driven Services
One of One Two One Advisor's benefits and strengths is its quick time to market. On that topic, Steer shares an intriguing tale about a customer who needed a referral management system for all of their Financial Services products (Banking, Insurance, and Takaful) that would track referrals and calculate referral KPIs based on the kind and value of verified product sales. One Two One Advisor assisted them by setting up ReMMA, integrating the various distribution advisors, and configuring the KPI product rules. Soon after the integration, the client's system received referrals from branches, auto-assigned them to the appropriate advisors, sent SMS notifications to prospects, tracked sales, provided management with reports to escalate and reassign if sales were not followed up on, and received data from various back-end systems to compute referral KPIs for the referrers.
Getting Big with New Advancements  
Over time, the InsurTech and FinTech industries have evolved. According to Kevin, 121Advisor has grown to over 20 organisations and created additional solutions, including Referral Management, Mobile Point of Sales (Windows, Android, and IOS), Online Sales, and Customer Service Portals.
As a 'Techie', Kevin designed data models with SQL table designs and he delivered new solutions to his team members. He says, "One Two One Advisor Sdn Bhd was founded in 2010 and we built solutions to deliver to our customers. We have grown to 20+ companies with us." He further adds, "We used Referral Management for Banks."
In September 2020, 121Advisor introduced u12know (www.u12know.com), a knowledge portal that offers lifestyle advice on financial requirements, as well as business planning and the computation of a Total Health Score (later) to help individuals plan their health and wellbeing. Single, married, with a young family, an older family, and retirement are all possible lifestyles.
Future Goals
Kevin states that they are always engaging with their clients and analysing regional requirements for insurance, Takaful, and financial services in the future. One Two One Advisor has also identified a number of additional requirements based on feedback and evaluation, and is investigating and working on new technologies such as blockchain to manage distant sales. The teams are also concentrating on APAC developing markets. One Two One Advisor is making inroads into APAC countries, starting with Indonesia, Thailand, and Vietnam, after implementing and validating the company's products with a number of customers. Based on demand, we will grow further.
Quotes: 
"AI, big data, ML, chatbots, Robo Advisors & RPA will have significant impact on the FinTech & InsurTech sectors in order to fuel their growth. 121Advisor will continue to promote our disruptive AI solutions to banks, insurers, Takaful, and investment firms."
"Millennials are the least insured generation since WWII … Insurance companies are ripe for disruption." Mark Dowds, Trov
"A well-executed user experience builds trust." Tom Creighton, Wealthsimple
"True AI needs quantum computing to support [it], but 'Augmented Intelligence' is transforming industries today." – Pavel Abdur-Rahman, IBM