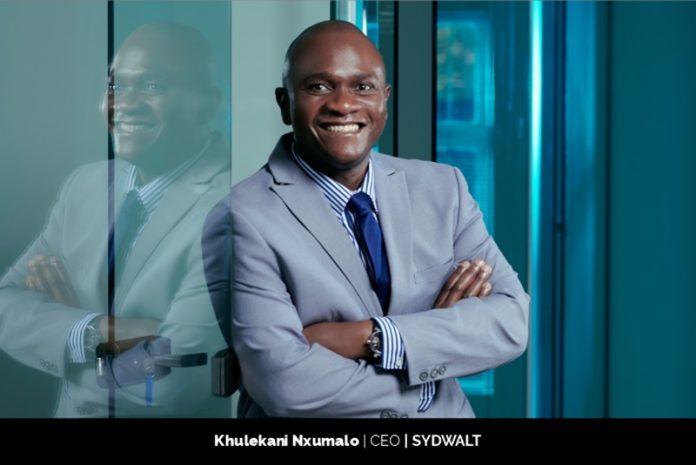 In a world engulfed with failures and obstacles, the drive to persevere derives from various human characteristics. However, if there is one quality that has stood the test of time, it is tenacious conviction. You must have a conversation with Khulekani Nxumalo if you want to understand the significance of the word "FAITH" because he embodies the core of what it means to have faith in something greater than yourself.  His dedication to his work as the CEO of Sydwalt has earned him a spot among "Africa's 10 Most Inspiring CEOs Making a Difference." He has not only made a significant impact in his field but has also set high standards for future leaders.
To Khulekani, success means fulfilling God's calling, maintaining a happy family, and realizing the business vision of "An Africa with sustainable basic services."
He explains, "The Lord has called me to build churches across Africa, to spread His Word through music and inspire African greatness by providing sustainable basic services. The difficulty here is being human while doing the Lord's work. Inevitably, you make mistakes, but critical to this definition of success is picking yourself up and keeping the faith."
This seasoned executive acknowledges the sacrifices made in pursuing success, especially regarding family. He emphasizes the importance of continuous improvement to ensure a stable and joyful family life, expressing gratitude to his family for their support.
Their business vision, "An Africa with sustainable basic services," is ambitious but based on faith. They believe in its achievability and view it as a vital catalyst for inspiring greatness in Africa.
Khulekani asserts, "How do we expect a kid without water and power to dream freely? They are preoccupied with basics."
They at Sydwalt aim to eliminate these challenges through sustainable engineering solutions and ignite African greatness. Explore the magnitude of work Khulekani has been doing to transform his inspiring vision into a reality as he flips through the pages of his life in this cover story.
Diverse Career Journey: From Diamond Mines to CEO's Desk
Khulekani's career has seen a diverse and progressive trajectory. It began in diamond mining, where De Beers sponsored his Chemical engineering education and provided him with valuable training. His gratitude for this opportunity is evident; he even had the privilege of experiencing a private jet during this time, leaving an indelible mark on his aspirations to make it big.
Following his stint in diamond mining, Khulekani moved to Standard Bank, where he gained valuable insights into the significance of efficient business processes. This experience highlighted the importance of streamlining operations to enhance business performance and facilitate effective monitoring and management.
His career then turned to the public sector, starting as a Programme Manager Consultant. He continued to ascend the ranks, becoming a Technical Director in a municipality and later taking on multiple roles in Rand Water, leading to his position as Acting COO. These public sector roles enriched him with a unique governance, administration, and public service perspective.
Khulekani Nxumalo's journey eventually led him to Sydwalt, where he assumed the role of Executive Chair, focusing on consolidation and listing. His career transitioned to his current position as CEO, where he is likely leveraging his diverse experiences and skills to lead the organization effectively.
Navigating Life's Challenges
As the saying goes, success often carries a price. Scaling the heights invariably involves confronting obstacles. Sydwalt's CEO acknowledges that challenges, while challenging, ultimately contribute to personal growth.
In his life so far, there are two noteworthy hurdles to highlight, one personal and the other business-related. Personal trials have included theft and betrayal, causing hurt by those he had trusted. Nevertheless, he has come to understand that, regardless of others' actions, one's own reaction can either exacerbate or mitigate a situation. He reflects that reacting emotionally to such situations only prolongs the pain and fosters negativity. He affirms: "That is why the Lord asks that we present our burdens to Him. It works better every time to calm down and ask the Lord for guidance. After all, He is in charge of the universe."
On the business front, the most substantial obstacle has been enduring a challenging season marked by poor revenues, expiring contracts, costly rework, and high taxes. Khulekani now sees this as a part of the natural ebb and flow of business, a concept also emphasized in the word of God. This business leader views these difficult seasons as essential for the glory they promise in the future. Although they can be brutal and draining, they serve to train and sharpen individuals, fostering creativity, adaptability, and improved business processes. Ultimately, they guide one toward a more refined business vision.
A Brief Overview of Sydwalt and Its Offerings
Sydwalt is an engineering firm specializing in a wide range of multidisciplinary professional services, encompassing civil, electrical, mechanical, and more. Additionally, the company offers comprehensive turnkey solutions in water and renewable energy. Furthermore, Sydwalt is engaged in the manufacturing of water treatment products and backup energy solutions.
The CEO's Impact on Sydwalt's Success
Khulekani, CEO of Sydwalt, has played a pivotal role in the company's growth and success. His rich and diverse background has greatly influenced his leadership and contributed to Sydwalt's achievements.
Growing up with parents who were civil servants, he experienced firsthand the challenges of water and electricity shortages. These early experiences have remained a driving force in his professional life, emphasizing the importance of addressing basic service needs.
His mining experience provided invaluable insights into scale and scalability, teaching him the intricate workings of a successful team. Banking exposed him to the worth of robust business processes while consulting taught him how to generate revenue through professional services. His role as a civil servant executive catapulted future growth opportunities for Sydwalt by highlighting the limitations of large organizations and governments in addressing basic service challenges. This experience also equipped him with a deep understanding of legal frameworks, decision-making processes, and their impact on service delivery, enabling Sydwalt to anticipate and address future service delivery issues and capitalize on growth opportunities.
Leadership at Its Finest: Khulekani Nxumalo's Proudest Moment
This adept professional reflects on what he considers the highest form of recognition during his first year as CEO at Sydwalt – a journey he attributes to divine grace. Delving deeper into this remarkable transformation, he reveals that the company was teetering on the brink of liquidation when he assumed control. In just one year, they orchestrated a remarkable turnaround, transitioning from financial deficit to profitability, reversing declining revenue to substantial growth, elevating EBITDA levels, and drastically slashing debt. With an ambitious business pipeline and over 150% revenue growth projections in the current financial year, Khulekani asserts, "So, you can't tell this story without grace."
Vision for Shaping Future Leaders
This competent doyen aims to influence the next generation of African leaders by addressing basic service challenges, freeing them to pursue their dreams and fulfill their purpose. He emphasizes the importance of fostering a deep, personal relationship with God as a foundation. In this relationship, Khulekani believes they will find guidance and their own paths to prosperity, ultimately empowering them to significantly impact the continent's future.
Sydwalt's Vision and Roadmap
Khulekani has been a man of meticulous planning. He has chalked out a detailed step-by-step agenda to execute the objectives. The CEO conveys: "Our vision is "An Africa with sustainable basic services," and our plan is in 6 phases. The phases are water, energy, human settlements, health, food and waste respectively. We are currently in phases 1 and 2 and starting to manufacture products that can be distributed in Africa to address these water and energy challenges." 
Among the products under development, the LinkSolar unit is a comprehensive solution that combines batteries, inverters, breakers, changeovers, fire suppressant and more. Coupled with solar panels, it facilitates power generation, backup capability, and substantial energy savings. This product represents a significant step in achieving energy sustainability.
The second product in production is a water treatment plant designed to provide access to compliant drinking water from boreholes and springs. This innovative solution benefits explicitly rural areas, addressing the critical need for safe and accessible drinking water across the continent.
Sydwalt's CEO's Typical Workday
Khulekani Nxumalo's role as CEO at Sydwalt is far from predictable; each day brings its own unique challenges and tasks. With many responsibilities on his shoulders, a typical office day for him predominantly revolves around client interactions and driving strategic initiatives.
During his first year as CEO, his primary focus was on reducing debt, and the current year is centered on optimizing and refining business processes. Managing internal stakeholders is a time-consuming yet crucial aspect, particularly when implementing changes, especially at the level of business processes. Nevertheless, Khulekani has been acing it. Recent developments have seen the adoption of new business processes with a sharp focus on enhancing the business model and ensuring its efficiency. One persistent question in his mind is, "How can we deliver a sustainable engineering solution cost-effectively?" 
While strategic work dominates his schedule, operational issues can also arise, demanding immediate attention. These may include concerns such as delayed project milestones or on-site challenges. Notably, Khulekani remains attuned to community issues and instances of unrest, recognizing their significance in the broader context of Sydwalt's operations.
Balancing Life and Work
Maintaining equipoise between personal and professional life, Khulekani acknowledges this balance as work in progress. Instead of being overwhelmed about it, he welcomes it with poise and clarity.
His personal motivation is firmly rooted in his faith, deriving strength from God's word and promises for his life. By embracing his identity and the assurances given by God, Khulekani finds the inspiration needed to persevere.
The task isn't merely about keeping his spirit high. As the CEO, he needs to ensure that his co-workers stay enthused. Regarding motivating his team, this proficient practitioner recognizes, "Team motivation is complex. People need and want different things, achieving this; is always a fine balance. I do believe in a good working environment. Critically allowing flexibility for family needs." Thus, instead of fixating on time spent in the office, Khulekani prioritizes the output and results achieved.
Effective communication is vital in keeping the team aligned with their objectives and direction. Celebrating small victories plays a major role in sustaining team engagement and morale. This seasoned CEO aspires to provide the best for his team and their families, fostering a work environment that feels like a second home. Together, they are "building a business that will be a home away from home."
Personal Goals and Message to Aspiring Leaders
Khulekani Nxumalo carries profound personal goals that reflect his commitment to positively impacting. He aspires to touch lives worldwide by sharing the Lord's word through music. This endeavor reflects his dedication to a spiritual mission that transcends borders.
Additionally, he recognizes the importance of balancing his professional and personal life. It is a testament to his commitment to his family and his continuous efforts to harmonize his roles as a leader, spouse, and parent.
Khulekani imparts a valuable message to aspiring leaders: "Seek God first." He emphasizes that this action not only lightens the burdens one may carry but also clarifies one's vision.
In his view, a solid spiritual foundation serves as a guiding force, providing clarity and direction on the path to leadership. Khulekani's words serve as a reminder that leadership is not solely about professional success but also about personal growth and spiritual well-being.