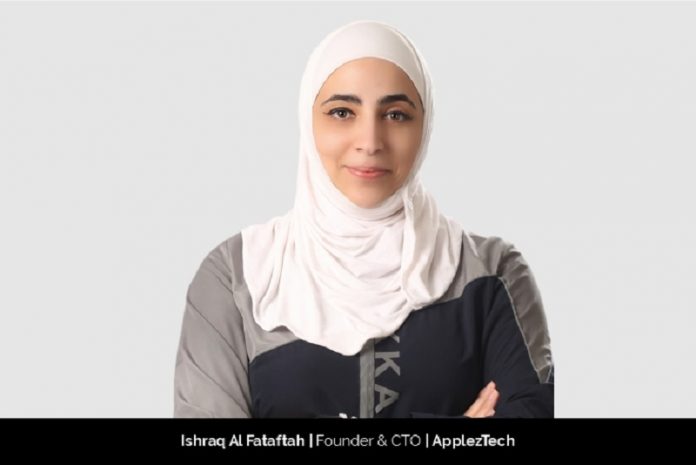 With the passion for innovating new things and bridging the gap between the business and technology world, Ishraq Fataftah, CTO and Founder of ApplezTech, taps into her extensive experience of building and architecting software solutions to act as a conduit between the brand and their clients. Being a seasoned player in the technological world and having expertise in Sitecore, she loves to explore new opportunities in the domain. She is filled with passion and grit to embark on any challenge or opportunity that will help your business grow.
As she progressed forward, she realized the true value of validation and evolved into a better version. She learned to create a sense of validation within herself and took her company to the next level.
Diving into the technological industry
Ishraq always had the spark to amalgamate the power of technology with the business world to reap good fruit. Back at college, her field of study was computer information systems. Her dad actually pushed her to go and study STEM at college. She adds, "I recall when we were kids, we would have the early version of what a computer is, and I grew up in a tech-savvy family, to say the least, so although at my early stage, my passion was to follow my dad's footsteps and study finances, his encouragement for me to try something new at the time was the main reason for me to enter the tech field." Studying computer logic and problem-solving was the main key for her to fully embrace technology and create her tech identity.
She has always been very confident with who she is and what she can do, but as years went by, the comfort of doing things within the same environment and with the safety of the familiar place and people prevented her from doing the change that she needed at the time. But her good friend reminded her about her skills and capabilities, and she decided to brew reality into ApplezTech. No doubt, the ride was challenging, but Ishraq and her team managed to have a stable and promising environment with a solid stream of work and a client base that is continuing to grow.
Evolving into a better self
Ishraq is a realist and feels more determined when she faces challenges in her life to overcome them. Challenges act as premium fuel for her to grab new opportunities and find better solutions. She adds, "It might sound like a cliché, but challenges are the main reasons why for me, when I see a glass half full,
I feel more determined to fill it to the top. I don't call myself an optimist, but someone who would rather reshape their experiences based on the challenges they face and move on."
She has worked with different companies both locally and internationally during her whole career, and both came with their baggage and pre-perceptions. Of those many challenges along the way, one challenge that resonates with her the most is being an introvert female geek with a reserved background that everyone thought would not thrive in an international competitive tech environment. It was a real challenge for her, and she knows many still go through it even today.
She took the challenge as an opportunity to show those people that their notion was completely wrong. She backed up her skills and climbed the ladder of success to rise and shine. She even urges the rising leaders to be an active part in shaping their own experiences and consider every challenge they face yet another reason to learn something new about themselves and their capabilities.
Overview of ApplezTech and its services
ApplezTech is an agency that is built around building the best customer experiences and helps to create the best brand identity. They help partners, clients, and customers better understand their business needs, define their what and why clearly and aggressively, and provide the technical expertise to help realize these goals. Regardless of what technology is needed to reach these goals, their main purpose is to help with business transformation even before digital transformation.
Ishraq states, "Take, for example, how companies (and I mean end clients and brands) operate in 2021. We are still seeing a huge gap between organization departments where these departments are still working in silos and lack a better understanding and communication across different disciplines."
Digital transformation as a concept and a sought-after end goal has been around for many years where brands, governmental entities, and clients are perusing in order to thrive and compete in the 21st century. However, this is done in isolation of an overall transformation of how these entities operate, think, and define their values. Any digital or technical transformation has to be done within the context of that entity's identity and values. Just because every single website now is accompanied by a mobile app, for example, that doesn't mean that everyone has to have the same as part of their digital transformation strategy.
She mentions, "By aligning the business goals, identity, KPIs, and standards with any strategy defined, we are investing in the right resources, partnerships, and alliances at the right time and with the utmost ROI in the long run. Otherwise, this is yet another investment that is made for the wrong people, in the wrong place, creating more resistance to change and failing to meet the minimum obligations for continuous growth. And this is the core of our expertise. We help realize what a brand or an organization is, and advise on the best technology and marketing tools that can help us achieve an end-to-end journey for them and their customers that is worthy and lasting."
Marking a unique identity of ApplezTech
At ApplezTech, the in-house team provides an authentic holistic experience to their customers regardless of their size or discipline. They have built a reputation of providing high-quality professional services, and they don't compromise even if that means they might lose an opportunity or money. Ishraq adds, "We don't compromise on the commitment and quality of our work with any of our clients, and we encourage the team to always keep that in mind in every delivery they make. We encourage them to own their mistakes and grow out of them, and we don't tolerate any culture of blame. We always look into how to do next to better while learning from our past successes and failures and champion a culture of accountability, responsibility, and ownership."
A Fierce Leader
Ishraq's role as the Founder and CTO in ApplezTech mainly revolves around keeping the company updated about business as well as technologies. Her expertise in bridging the gap between business, marketing, and technology has played a pivotal role in business and digital transformation. She also expends her time and energy in building connections and expanding her network further. This is essential to share knowledge and helps in giving back to the IT community in different aspects.
Being a firm believer that investing in the team is the best investment, she adds, "In addition, I oversee personally the growth of my team through training, career path development and advocate for their personal growth outside the working environment."
From starting her workday with team meetings to share opportunities and new deals and discuss challenges to keeping in touch with clients and partners to update them regarding the new updates, she is always on the go to keep achieving her aims one after another.
Owing to her superb efforts, Ishraq also received an honorable award that recognized her as Maverick of the year for women in business from around the world. It recognizes women who are leaving an indelible mark on their communities/industries.
Leading Women in Tech
Being from the Middle East, where oppression and lack of women's voice is a big block in the development of women in technology, Isharaq knows the hurdles women in tech face while growing up. Luckily, she is blessed with a family and society that do actually encourage women to enter the STEM field in their early years at schools and later on in their professional careers.
With the changing time, there is a higher female percentage in computer science and technology courses than males. However, as soon as the work-life commences, there is a startling difference in the decline of females. She herself felt it when she was the only female developer against five male developers, and the gap even widened further when it came to leadership positions and organization boards.
However, in her region now, there is a transition as the entrepreneurship sphere has opened gates for both females and males and more women found themselves in positions where they could get ample support and female role models to help them attain their goals easily.
Sharing her experience, she adds, "For me, I started to realize this gap and have a better understanding of the challenges women faced in STEM when my circle expanded beyond my country and my region, and I started to work at the global level. I have partners and clients from around the world. My main market is the US and the UK, and you can see the huge gap when interacting with female developers or women in leadership positions. I spoke in international conferences where we had to start panels and workshops just to raise awareness about the gender gap, pay gap, career growth. We've also talked about how to encourage females to embrace their vulnerabilities and be comfortable to stand up and be seen without feeling like an imposter or fraud."
The Right Equilibrium
While in the beginning, maintaining a work-life balance felt a lot easier as she could fulfill all her job duties and focus on her self-paced learning after returning from work. During this phase, the boundaries between what she wanted and what she had to do as part of her professional growth were well-defined. However, as she progressed further, these boundaries became more delicate to distinguish and maintain.
She states, "In the world of consultation and digital services, your target market is the entire world. We are living in times where delivering such services is no longer bound to a time zone, and your competition is 100s of thousands of miles away. So, how do you maintain a balance where your job requires your attention 24/7! I admit that one of the reasons that I started ApplezTech is to find a proper way of building a thriving business without compromising on the quality of living of my team and myself included and this is where building a dynamic, flexible, and global culture is one of the main investments we did at the early years and maintained over time."
Thus, remote working and smooth company processes with excellent business management tools, marketing strategies, and development automation are a part of their company culture to foster hassle-free company exposure. Everyone in the team is motivated by their strong company culture, values, and clients' expectations regarding delivery, quality, and excellence. Since everyone operates differently, they leave it to their team to define what works best for them to meet these values and grow at the same time.
Aiming for a Golden future
With a hope to build a thriving agency that breathes integrity and yields magnificent results, Ishraq is moving ahead towards a beautifully knit future.
For all aspiring businesswomen out there, she has a 3-word tip that really worked out for her since the beginning, which states, "Just do it."
She explains it by adding, "Just know your truth and your why, believe that success is defined by what you want and not by what everyone expects success to be, push yourselves to its limits over time and see how far you can go the next time and be content with who you are because we are living in a world that tries to define everything for us, make decisions on our behalf and judge us based on their standards and expect us to live by their rules."
Having experienced firsthand, she believes that good judgement is the result of experience while experience is the result of bad judgement. She knows that there will be situations that are 100% against who we are and what we want, both personally and professionally. During such situations, How do we act in these situations is the choice that we make and take responsibility for!
She also believes networking with like-minded people can help in seizing every opportunity that can add to your progress. However, you must be true to yourself and surround yourself with a close net of people who have faith in you just because they will always be your ally and the solid wall to lean on