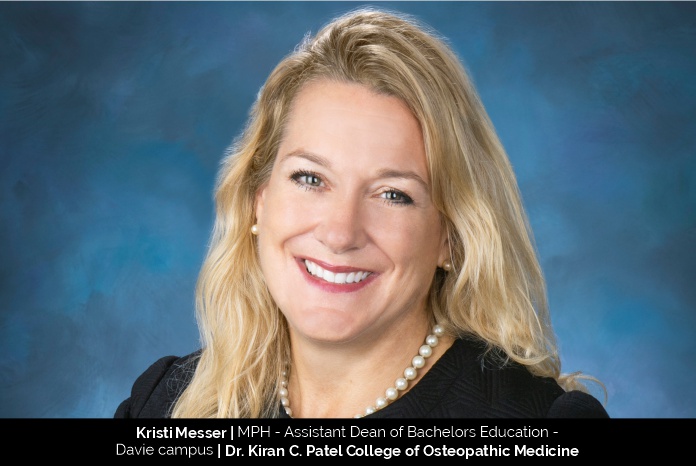 "The environment we create comes from within us and this is a profound responsibility. We first need to honor ourselves and have a clear understanding of who we are at our core, what we stand for, our strengths and challenges, and our dedication to others." These are the words from Kristi Messer.  She is MPH, LCSW, DHSc(c) – Assistant Dean of bachelor's Education at the Dr. Kiran C. Patel College of Osteopathic Medicine. She is a talented public health professional with a profound commitment to education, students, and underserved populations.
Kristi is an impactful leader who believes that leadership is about 'who we are as people.' She states, "We get stuck when we are not encouraging, inspiring, advocating, supporting, and loving one another. I innately believe that people are worthy, capable, and trustworthy. I believe that life is better together and that we are more productive when we work as a team. The healthiest, most sustainable, and most effective way to INFLUENCE is to love and support those we lead."
Passion for Learning and Teaching 
Kristi's passion for education has always been salient, although admittedly, it changed throughout her professional life. Prior to joining KPCOM, she proudly taught at multiple levels, including elementary and high school, college, and with students diagnosed with various disabilities.  These robust educational experiences provided ample opportunities to appreciate education from a developmental perspective, the direct application of learning theories, curriculum development, student motivation, challenges and opportunities, collaboration, teamwork, and communication strategies.
A Progressive Opinion on Personal Growth During Uncertain Times
Challenges are opportunities when one changes the way we think about them. Effective leaders must be able to look at any situation from an alternative perspective, reframe it, and subsequently pivot.  To be a good leader, it is necessary to be a good follower. Kristi submitted the following recently regarding her perspective of personal growth during COVID. "I learned a long time ago to adopt the belief that life happens FOR me, and not TO me."  She adds, "If we embrace this belief system, then it changes the way we perceive the events in our life." 
Indeed, COVID has had a profound impact on all humanity; life as we knew it will be changed forever. Kristi notes, "I witnessed first-hand that there are heroes among us in every space. We all played the role of a hero to at least one student during this unprecedented time. I am thankful for the heroes among us. I am thankful for each of you. Thank you for being my heroes." 
A Journey of Empathy, Learning and Immeasurable Progress
Kristi started her journey at NSU in August 2010 after leaving her federal position in Washington D.C. at the Department of Health and Human Resources to return to a career in academics.  As an Executive Director at NSU, she was hired to develop and implement the most robust medical school curriculum in the country-specific to homelessness. She says, "To position me for this task, I spend considerable time with individuals experiencing homelessness to better understand their plight, gain perspective of their experiences with the healthcare system, and to further appreciate how healthcare providers can meet their needs with not only clinical expertise but with compassion." According to Kristi, as a result of this grant, all NSU medical students were exposed to a required curriculum that helped them to better understand the challenges of individuals experiencing homelessness, including health consequences, mental health issues, substance use, and personal biases that affect care and compassion.
Kristi asserts, "Project HOPE was a project that I will carry with me forever."  The ability to affect the way burgeoning physicians understand, appreciate, and care for a misunderstood populations such as the homeless was a honor and privilege. During her service to the unstably housed, she met some of her life's heroes on the streets.  NSU is proud to be one of the few universities to have a direct partnership with the National Healthcare for the Homeless Council.
When Project HOPE can to a close, Kristi's roles diversified to building community-based and undergraduate programs.  Kristi was key in developing an innovative medical immersion camp experience for aspiring healthcare providers. AIM-High (Achieve in Medicine) recruited high school students from across the nation and exposed to a plethora of medical experiences that would serve as their foundation for pursuing a career in healthcare.
AIM-High was followed by the development and implementation of four undergraduate pre-medical academic programs within the Dr. Kiran C. Patel College of Osteopathic Medicine: Bachelor of Science in Public Health (2017), Bachelor of Science in Human Nutrition (2019), Bachelor of Science in Health and Wellness Coaching (2020), and a Bachelor of Science in Health Informatics (2021). These four undergraduate programs represent the only accelerated pre-medical programs where students can complete their undergraduate degree and medical school curriculum in seven years. These KPCOM programs are among the most highly sought after at NSU because of the innovative curriculum, vertical integration opportunities into the health professions, hands-on faculty, experiential approach to learning, and international and domestic travel outreach courses that expose students to underserved populations across the world.
Standing Sturdy during Pandemic
According to Kristi, KPCOM professors have been in the classroom teaching since August 2020. As a team, we mastered the balancing act of meeting the needs of in-person and online students simultaneously. She asserts, "We never missed a beat, and our students appreciated that. When the rest of the world was unpredictable, we created an environment and structure that students could depend on.  This helped our students thrive academically and emotionally."  
An Achiever and Passionate Social Worker
In 2010, Kristi relocated to Florida from Washington D.C where she had spent years working with the Department of Health and Human Services to successfully launch community health centers across the nation. She has served as a leader within the NSU community since that time.
Kristi is the founder and president of the non-profit organization 'On My Own' (www.on-my-own.org). The organization focuses on independent living and employment skills training for adults with disabilities. She also serves on the Board of Directors for three local non-profit organizations dedicated to positively impacting underserved populations, Broward County Taskforce for Ending Homelessness, Showering Love (mobile showers for the homeless), and HAAPE, Helping Adults with Autism Perform and Excel.
For more than twenty years, Kristi has dedicated her professional life to underserved and vulnerable population groups through her involvement with the homeless, individuals with disabilities, communities affected by disasters, and persons impacted by mental illness. She has presented her research and academic achievements at over 40 international, national, state, and local conferences. Also, she is a Licensed Clinical Social Worker and is committed to positively impacting communities, children, families, and adults. She is currently working with individuals affected by substance use disorders.
Responsibilities as the Assistant Dean of bachelor's Education
At KPCOM, Kristi is responsible for the development, implementation, coordination, planning, and evaluation of KPCOM's undergraduate academic programs, including data reporting, program and faculty evaluation, budget oversight, academic program forecasting, and process improvement. She also collaborates with KPCOM's Associate Dean and Dean to develop the strategic vision, management, and growth of KPCOM's undergraduate academic and community-based programs.
A Sense of Satisfaction 
Kristi feels that she is intrinsically motivated and that her role in this life is one of service. The balance between her professional and personal life is derived from assuring a sense of meaning and purpose in all that she does. She says, "If I feel that I am positively impacting others (students, colleagues), then arduous and relentless days are worth it. I view the challenge and responsibility as a gift, an opportunity for service." 
Aspiring to Create Interprofessional Academic Opportunities
"I aspire to continue to positively impact the lives of students, to build a cohort of pre-medical students that understand and appreciate patients from a whole-person perspective," says Kristi. She seeks to continue to build interprofessional academic opportunities for students that serve to create health professionals who understand people, relate to the challenges patients experience, appreciate the importance of preventative efforts, and value the traits of building relationships based on trust.
"Loving the people with whom you work improves their long-term well-being as well as yours!  It is essential to be invested in their opportunities to grow and thrive.  In my role, I continuously strive to lead from a position of purpose and value."