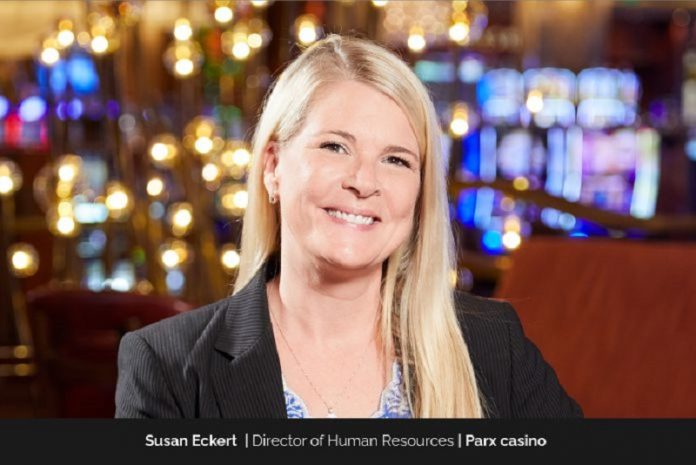 Susan N. Eckert, the Director of Human Resources at Parx Casino, has achieved a coveted position among "The 10 Most Inspiring Corporate HR Professionals in 2023" due to her exemplary enthusiasm and commitment. Her remarkable work ethic and passion for her role have garnered recognition and praise within the industry. Susan's relentless pursuit of excellence in managing the human resources of Parx Casino has set her apart as a truly inspiring leader. Her ability to cultivate a positive and inclusive work environment has contributed to the organization's overall success. Susan's outstanding achievements and contributions make her a role model for aspiring HR professionals in the corporate world.
She believes that "Success is not a destination but a journey that includes professional growth and continuous learning." She perceives success as a result of nurturing personal and professional relationships in all aspects of life. Susan embraces challenging situations with resilience and maintains an optimistic mindset, viewing every experience, positive or negative, as an opportunity for growth and improvement. The seasoned executive humbly seeks guidance and support from those who inspire her, recognizing the value of surrounding herself with exceptional individuals who push her to excel. She recognizes that being "successful" does not automatically make someone a good role model.
Defining Trait: When asked to describe herself in one word, Susan chooses "TENACIOUS." No doubt, this quality reflects her persistence, determination, and deep devotion to achieving her goals.
Parx Casino: A Thriving Multi-State Gaming Organization
According to Susan, Parx Casino is the number one revenue generating casino property in Pennsylvania, which produces the second highest state-wide casino revenue only behind Nevada. Since its establishment in 2006, Parx Casino has steadily expanded its operations, offering a diverse range of gaming options such as slots, table games, poker, online gaming, and sportsbook wagering. Complementing their gaming offerings, the casino boasts a fully operational racetrack, which is important to the company.
With a dedicated workforce of approximately 3,000 team members, Parx Casino places great value on diversity and inclusion within its organization. Susan herself has been fortunate to be part of this remarkable journey since its inception. As one of the initial tasks, she and a team of remarkable individuals were entrusted with hiring over 800 new team members for the casino—a venture that marked the introduction of a new business and industry to Pennsylvania.
During this transformative period, she had the privilege of collaborating with exceptional Las Vegas consultants and experienced gaming industry executives who brought years of expertise. Learning from the best in the field and continuing her career with Parx Casino has empowered Susan to support the ongoing operations and contribute to the continuous growth that the organization has experienced and continues to witness.
Parx Casino: Redefining the Industry with a Culture of Excellence
"I would be remiss to say that I have not learned from so many people during this journey," shares the Director of Human Resources at Parx Casino. "Initially, I was given the opportunity to work with several people who were supportive in sharing their experience and knowledge that challenged me to step outside of my comfort zone to grow and gain valuable insight."
Parx Casino has revolutionized the industry through its unwavering commitment to overall company culture and an unwavering focus on guest service. Right from the beginning, their primary goal has been to ensure every guest has an extraordinary and positive experience. Susan firmly believes this approach has played a pivotal role in setting them apart in the industry.
Moreover, the company's culture is centered around taking care of its team members, recognizing their importance as the face of the organization and a significant factor in its success. By prioritizing the well-being and growth of its team members, Parx Casino has fostered an environment that nurtures excellence and drives continuous improvement.
Navigating Challenges in the HR Role
Entering a new industry presented Susan with numerous challenges that required her to gain experience and knowledge quickly. From understanding regulatory requirements to assembling an effective HR team, she had to overcome internal roadblocks and adapt to the lean nature of the organization. Identifying key areas of challenge, Susan highlights the following:
Effective Communication: Minimizing ambiguity by transparently communicating policies and expectations, actively listening to team members, and seeking honest feedback through communication boards and newsletters.
Change Management: Supporting individuals in embracing change, providing necessary resources for smooth transitions, and approaching resistance with understanding and empathy.
Conflict Resolution: Addressing conflicts between team members and management impartially to find mutually agreeable solutions, considering the best interests of both individuals and the company.
Talent Retention and Acquisition: Overcoming roadblocks in retaining and hiring new talent while maintaining high levels of team member engagement. Implementing solutions that benefit both the team and the company.
Regulatory Challenges: Dealing with ever-changing requirements imposed by regulatory bodies, despite limited influence or control and managing frustrations arising from HR operations being subject to external changes.
Throughout her journey, Susan demonstrates resilience and adaptability, working diligently to find solutions that benefit both the team and the company while navigating the dynamic landscape of HR in a regulated industry.
Susan's Career Journey and Recognitions
Susan's career began in the Human Services Industry, working at a non-profit organization while pursuing her Masters's Degree in Industrial/Organizational Psychology. Her goal was to transition into Human Resources, and the experience gained from working at the non-profit allowed her to develop crucial management skills. With her boss's belief in her abilities, she moved into the Gaming Industry, embarking on a continuous journey of learning and growth. Susan values every experience that has shaped her professional values and work ethic. She cherishes the recognition she receives and acknowledges the HR team's contribution to her success. Among her various achievements, being selected as one of "The top 10 most inspiring Corporate HR Professionals of 2023″ by CIO is a source of great pride for her.
Role and Responsibilities as Director of Human Resources
As the Director of Human Resources at Parx Casino, Susan N. Eckert finds inspiration in the people around her, from the C-suite executives to her own team. Under the guidance of her boss, Andy Green, she embraces the challenge of viewing HR issues and organizational matters from various perspectives. This experienced executive emphasizes that "HR never stands alone." In her words –" we are a support department which means we assist the entire organization, but we also rely on different departments for many things."
Susan's key responsibilities include development and implementation of HR strategies. She is responsible for crafting and executing HR strategies, policies, and programs that align with the company's objectives. Working closely with senior leadership, she ensures a thorough understanding of the business and adapts HR policies to accommodate the ever-shifting nature of the industry. Susan also oversees recruitment, selection, and workforce planning, devising strategies to attract top talent while maintaining compliance with employment laws. Her high-profile job demands her to manage employee relations, conflict resolution, investigations, and coaching/disciplinary actions. Susan focuses on establishing fair and consistent rules, regulations, and standards across the organization, fostering positive relationships, and creating an environment where team members feel comfortable raising questions or concerns.
Taking care of compensation and performance management falls under her scope of responsibility. Susan regularly researches compensation trends, ensuring the company offers competitive wages. Additionally, she oversees performance management processes and ensures compliance with HR legal requirements, which can be challenging due to varying regulations from different jurisdictional Gaming Control Boards.
Susan acknowledges that her responsibilities require a dedicated and supportive team. While she oversees these areas, she values the contributions and assistance of her HR team.
Life before Parx Casino: Dreams, Supportive Parents, and Athletic Pursuits
During her college years, Susan clearly envisioned her future career in HR. She recognized the importance of further education and was highly motivated to pursue her graduate degree. Supported by her parents, who served as inspiring examples of lifelong learning, Susan's determination to succeed in her chosen field remained strong.
Susan's mother was a non-traditional student who completed nursing school and earned her BSN after dedicating years to raising Susan and her sister. Meanwhile, her father, passionate about the gaming industry, owned his own business for many years prior to holding several roles in the Gaming Industry before retiring. Susan's parents played a pivotal role in supporting her transition into the gaming industry, connecting her with relevant contacts before the legislation for the casino was passed in Pennsylvania.
Susan's pre-Parx Casino life was centered around non-profit work while maintaining her passion for athletics. Being an athlete has remained an integral part of her identity. She played soccer in college alongside a remarkable group of women, many of whom she still considers friends today. Post-college, Susan continued participating in adult leagues before transitioning to a competitive women's flag football league, where she continues to play. Engaging in organized sports has enriched her life by exposing her to diverse individuals from various backgrounds, industries, and experiences. Susan acknowledges that her athletic journey has imparted valuable lessons that positively influenced her personal and professional growth.
Perfecting Work-Life Balance and Self and Employee Motivation
"Balancing my professional and personal life is a challenge, but at this stage in my career, I am in a good place," mentions the Director of Human Resources of Parx Casino.
She recognizes the significance of leading by example and understands that practicing what she preaches is crucial for her team's success. She is driven by a sense of productivity and the satisfaction of making a positive difference. Additionally, Susan finds motivation in knowing that her decisions are respected and supported.
This seasoned leader places great importance on ensuring that every team member feels valued and acknowledges each individual's contribution to the organization. She emphasizes that every position holds significance, and it is vital for team members to recognize this. Moreover, Susan ensures ample opportunities for growth and development within the organization, promoting internal advancement whenever feasible.
The Positive Impact of Modern Technology on HR and Recruitment
Susan N. Eckert acknowledges the numerous advantages that modern technology brings to HR and recruitment processes. It enables them to streamline operations, resulting in time and cost savings. By leveraging technology to automate tasks, the risk of manual errors is minimized, tasks can be completed more efficiently, and the focus can be shifted toward strategic initiatives.
Furthermore, technology empowers team members to accomplish tasks previously reliant on HR or Payroll departments independently. It is essential for team members to feel capable of completing tasks without unnecessary delays. One of the pivotal contributions of modern technology, particularly in HR, is using data for decision-making. However, it is crucial to ensure the cleanliness and accuracy of the data within any system. Without clean data, the information obtained holds little value. The ability to provide "point in time" data on critical aspects such as turnover, engagement, retention, headcount, and demographics allows for better and more objective decision-making that directly impacts the organization.
Fostering Integrity and Innovation: Core Values in Action
Susan underlines the worth of integrity and innovation as core values within their organization. Regarding integrity, she states, "We will be judged by the honesty of our actions at all levels of the Company." For innovation, she adds, "The Company will improve Guest Service by constantly evaluating our services from the perspective of our Guests and Team Members and by using the latest technology available."
Given the nature of their industry, maintaining high levels of integrity and embracing innovation is essential. They must stay updated with trends and strategies that enhance guest satisfaction and motivation to revisit. Moreover, they prioritize the use of advanced equipment to deliver exceptional experiences, both in-person and online.
Integrity permeates every aspect of their operations and is an expectation for all team members. It includes leading by example, effectively communicating expectations, empowering team members, promoting ethical decision-making, fostering diversity and inclusion, and emphasizing continuous improvement. By constantly challenging themselves to find better solutions, they ensure growth and success in every facet of their business.
The Never-Ending Journey of Personal Growth and Learning
"I don't think I will ever achieve everything; that seems impossible," expresses Susan. As she progresses, she grows and learns, causing her goals and aspirations to change and expand constantly. But what happens if she reaches a point where she feels she has fulfilled her full potential?
According to her, there is always room to challenge oneself and strive for improvement. For Susan, this means continuously evolving and pushing herself to become a better person each day. She believes in learning from those around her and intends to continue doing so for as long as possible!
Personal and Professional Goals
Susan expresses optimism as she believes in Parx's growth and states it would remain one of the most successful gaming operations. She also conveys how she strives to be a role model employer, aiming to be recognized as a company that genuinely prioritizes its team members and offers a supportive workplace.
Personally, Susan strives to grow and challenge herself. She expresses her desire to be someone who focuses on assisting her team the best she can. Her aim is to support them in a way that enables them to move toward achieving their aspirations. Her ultimate goal is to become the best version of herself in all aspects of life. She wants to be known as someone who indiscriminately shows kindness and concern to others, supporting their growth and aspirations.
Message to Aspiring Leaders in the HR Industry
"Be better for the people who look up to you. Make sure the people you value know they are valued," advises Susan.
She urges aspiring leaders to reward high performers and adopt a positive approach to holding others accountable to motivate them to reach their full potential. She also stresses the importance of communicating expectations to the team and discussing them, acknowledging that not everyone may aspire beyond their roles, which is normal. She encourages one to never settle for less than one deserves and encourages being exemplary in the areas of honesty, hard work, and gratitude.
Furthermore, she underscores that it's crucial to remember the support received from others on the path to success and highlights the responsibility to extend the same support to others. She emphasized the significance of kindness, respect, and surrounding oneself with like-minded individuals. Susan shares the wisdom she has gained from someone who said that in HR, the majority of time is spent dealing with a small portion of the population. She cautions against allowing that small fraction to change one's character or overshadowing the positive impact on others.