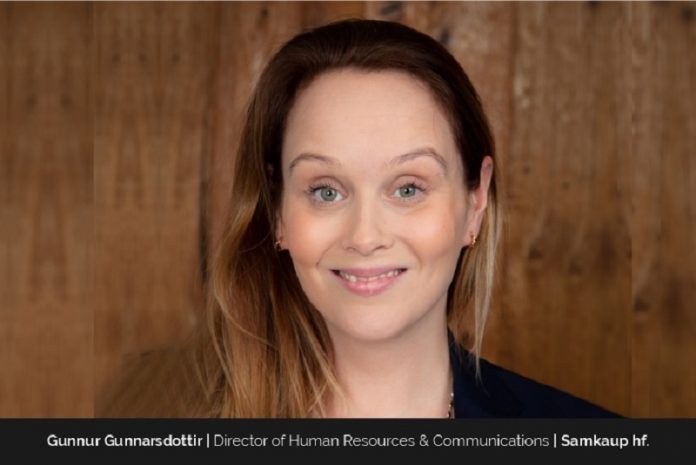 Gunnur Gunnarsdottir, Director of Human Resources and Communications at Samkaup hf., believes that no one can be in HR and be a leader if they don´t love people and have an interest in people.
"That's what I build on. I cannot get anywhere if I don´t have the people in my team with me," she says. Samkaup is a retail company in Iceland owned by the Cooperatives. It runs around 65 stores, with the widest spread of grocery stores all around the country.
Samkaup has 1500 employees, which makes it one of the big companies in Iceland. Armed with an MBA focused on Business Administration, Management and Operations, Gunnur took the leap of faith into HR because of her love of people.
An educator with a love of people
Before joining Samkaup, Gunnur's passion was in the educational business. She studied education for young children with a focus on reading and graduated in 2011. She then worked on getting an MBA degree from 2013 to 2015.
"I started my career as a teacher at Hjallastefnan, one of the private school chains in Iceland. There, I got to grow from the teacher role to head teacher, and then to the role of a principal. I found it very fulfilling to be a teacher, but also found that my ambition to change the system grew bigger and bigger," she recalls.
In Gunnur's last year at the company, she went into the operations arm. From there, she joined a company that had created an educational system, where she had the opportunity to lead the Icelandic team and integrate the GDPR regulations.
In 2018, when Gunnur started her HR journey at Samkaup, there was no HR department and no special executive leading that department; although it had a good employee officer, and the culture of the company was imbued with the spirit of teamwork all the way.
"The opportunity I got when I started at Samkaup only four years ago, to come in and create the HR department and lead the people, was extraordinary and challenging at the same time," she notes.
Her belief was that, to create something it is important to have a strategy to build on, and her first step was to set the goal of being the best retail company to work for and a desired workplace in Iceland.
A focus on education in the workplace
Over time, Gunnur built the pillars to help deliver her goals and make Samkaup a desired workplace in Iceland. One of the goals was to build an educational program for employees and leaders that connected to the education system in Iceland.
Another goal was to create a diversity plan that embraced everyone, offer a welfare packet that helped their employees grow, and implement a communication plan that connected people and so on.
Inside these pillars, there were hundreds of operational elements that needed to be fine-tuned. Gunnur spent a lot of time sitting down with people in every store to hear what their thoughts were and how she could be of support to them.
Her primary contribution was the vision of Samkaup and its team, that was always front and center in her mind. She notes that just as all team sport coaches agree that no success can be achieved without a strong team, the same is true for Samkaup, at each store and division, in each chain, and in the entire company.
"It is very important that we take good care of our team, whether in large or small groups. All employees need to help each other in creating Team Samkaup, where people take good care of each other," she observes.
The elements that go into creating Team Samkaup
With a constant focus on teamwork, Gunnur points out certain aspects that they particularly look at and nurture, as follows:
We create a group of people with a common dream
We are a progressive retail company, and we constantly remind our people of that. We listen to ideas and carry out the ideas that come from within the company.
We create different ways to communicate, both electronically and in person. We provide good information and are constantly working to present our future vision. We create career development opportunities across the company and beyond.
A team that is desirable to be in
To become the best workplace in Iceland and provide a creative environment in each store to make Samkaup a good place to work. Build the support services e.g., like the human resources department, so that it is supporting the team in every way.
Talented employees who fit well together
All our people are excellent and receive the appropriate training and education to tackle different tasks. We promote education that opens up people's opportunities for the future.
We offer educational paths that are useful in the workplace, as well as promoting education that gives us personal strength, e.g., better sleep, stress management, personal goal setting and so on.
Clear & well-defined roles
We all need to know our responsibilities and where we should play in the team. Work with our strengths, but also show solidarity.
An example is COVID, where our spirited Samkaup rearguard team was always ready to step in, and hence we never had to close a store due to quarantine.
Open, purposeful & frank communication
This is a key element for progress; we use different ways with the management being visible all-around meeting staff.
Once a year, the HR team sits down in small groups in each store and talks about how we feel in general, what we're doing well and what we can do better; we talk about the workplace, the mindset, and bring the team together.
Positive & winning mindset
Don't forget the importance of joy, satisfaction, and a positive attitude. We train our managers to have a positive and winning mindset and get so much further with that culture.
Success is about making an impact
Gunnur notes that while everyone has their own measure of what success is, for her it is a feeling of having had an impact, not just on the people in Samkaup, but also beyond that, in her community, in the workforce in Iceland, and globally.
"I would say that behind every success is hard work and lot of ambition to go the extra mile. Nothing just happens without a reason; but I think we create our success," she declares.
Gunnur's idea of success and the factors that increase her feeling of having succeeded are when other companies, CEOs, and HR directors contact her to learn about Samkaup's unique path in people and culture; when she gets emails from students who want to work with them; and when people recognize her for the impact she has had and the work she has done for them.
She believes that challenges make us stronger, because no challenges means no fun. "We need to be challenged in our work, and to be able to use our strengths to face challenges head on," she states.
Some of Gunnur's biggest roadblocks have been thought change management, where people resist changing their mindset or behavior, although everyone wants the company to change.
Her personal achievements include receiving the Leader Awards, which was one of her most treasured moments. "That was unexpected but very pleasant, and it gave me confirmation that I'm on the right track," she says.
By setting up a clear strategy in human resources, being visible, using active listening, and showing leadership skills in action, Gunnur has ensured that Samkaup's workplace is now in demand, and the staff is aware of their importance as members of a winning, valued, and expanding team.
Gunnur notes that she has learned a lot from challenges, and some of her most valuable lessons include the importance of giving people enough time, having a strong vision, and involving the right people in management changes. "Changes are challenging, but they can be the greatest thing," she says.
Meeting the goals of equality & professional development
Gunnur observes that while her tasks have been many and varied in recent years, her ambition for staff well-being, equality in a broad sense and professional development of employees stands out.
"As a sign of my desire for people's well-being, I have traveled around the country regularly and visited all workplaces, taking the time to talk to our people to build a strong team. In addition, we established a welfare service within the company that has attracted attention and become a model for other companies in the business world," she states.
Gunnur notes that they have been proactive in matters of equality, with the introduction of equal pay certification, a targeted equality plan, and agreements on cooperation with the Union of LGBTQ people, those with disabilities, and a Mirra (is this correct?) training center for foreign staff, all of which are good examples of success in building equality.
"I have also put a lot of work into the education and career development of employees," she says. "Today, employees are invited to make use of the company's electronic educational portal, take part in real-world skills assessment and the trade vocational training program that I played a major role in establishing," she says.
Gunnur notes that support for further study to complete a matriculation certificate, or start studying at university level, is also available for the staff, as well as a specially designed management course designed in collaboration with the University of Bifröst.
In recent times, the company has reaped various accolades, e.g. the Education award of the working party, both for innovation and for being the educational company of the year, and the Incentive Award for Equality.
Gunnur feels that her greatest achievements are among the moments she's impacting others by the improvements she has implemented in the company.
She mentions the awards that Samkaup has received for their outstanding programs in Iceland; in education in 2020 for the Innovation in Education Program for Workers; and in 2022 when they received the Educational Awards of the Working Force for an outstanding and unique approach around the topic. Samkaup also received an equality award in 2021 in Iceland, and the Blaze National awards for being synchronistic in 2022.
If your work is fun, you have good balance
Gunnur points out that if your work is fun, the balance is good. When you're working in a great team and good environment, you have full control.
"I keep myself motivated by constantly looking at the vision ahead and the purpose of what I do every day. Then, I enjoy every moment and try to be kind to myself, give myself time to process and think, and not just run from one thing to another. As I said in the beginning, I love people and when I find myself lacking motivation, I find my people, give them time and listen to them. That gives me the energy to keep going the extra mile," she states.
Gunnur observes that in one's personal life, it is extremely important to have a good partner and a supportive network around you, when you work a lot. She does everything she can to make her life at home as free of stress as possible and uses her precious time to be with her children and husband when she's not working.
Her biggest responsibility is the welfare of the employees of Samkaup, so every decision is built on that. "I am constantly working on creating a good culture and a desired workplace. No day is the same, but I start with the basics – my email, meetings with the executive team or my HR team. Then there may be cases we need to focus on right away, or I spend the day working on the things that move us forward; for example, strategy and getting action steps done. Every day I talk to people inside the company, for support, coaching or just to motivate them," she notes.
Employees are the most powerful resource
Gunnur recalls how four years ago, she created the strategy of building the HR department in Samkaup. Now they're at a crossroads and a new starting point. So this fall, she and her team will build a new strategy to move forward, through building on their biggest goal of being the best and most desired workplace in Iceland.
"The future is bright, with new talent and development in the retail market," she notes. Gunnur observes that in the daily tasks of management, we tend to forget ourselves in all the hustle and bustle, focus too much on the operation and the numbers, because it is natural to us, and is of course an important measure for the company.
"We even worry too much about difficult times, COVID, inflation and all the obstacles in our way. But then, we manage to stop and feel what really matters. That's when we know what gives us true satisfaction in the managerial role," she says.
Gunnur points out that employees are the most powerful resource that companies have, and she has made it her main policy to take care of their people in the following ways:
To contribute to their well-being.
To offer opportunities and conditions for everyone to grow within the company or outside of it.
To take part in people's journey and to see younger people implement their ideas.
To feel that the people in our team are constantly playing in attack mode.
What motivates her is when she feels that others are interested in what Samkaup is doing for its people and look to transfer that model to their own organizational activities.
"We can have an impact, contribute to caring for people, and I'm grateful to be part of that journey at Samkaup today. Few things are as important to a company's strategy as supporting the staff as best as possible, and constantly expanding their opportunities," declares Gunnur.