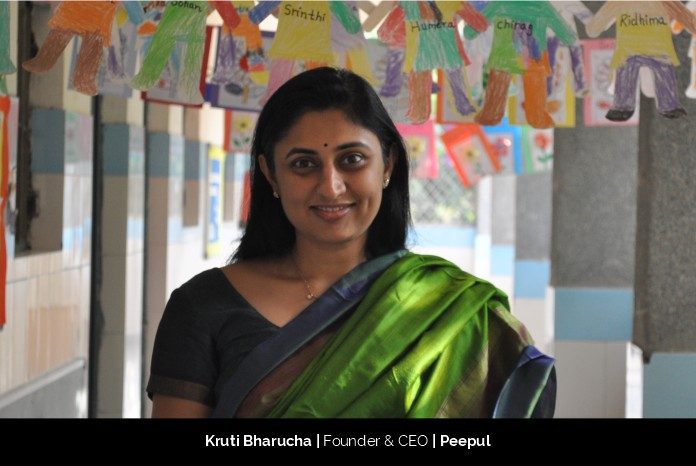 We dream of a world where every child can live up to their full potential. The best medium considered to achieve this is education. However, not all children have access to high-quality education due to different school curriculums and structures. Thus, to bridge this gap between public and private schools, Kruti Bharucha, Founder and CEO of Peepul has stepped up with a special initiative in which she and her team are working day in and out to ignite a transformation wave in the learning outcomes of children.
This has all been possible owing to her consistent efforts in setting the right goals and executing that vision until a sustained impact is achieved. She adds, "My beliefs aren't necessarily rooted in achieving success – the definition of success is different for different contexts and circumstances. My approach is more about setting a goal for yourself and the organization and then working towards hitting those goals."
Moving on the Entrepreneurial Path
For Kruti, becoming a social entrepreneur occurred by chance when Peepul formed from Ark UK to emerge as an independent India-run entity since 2017. She says, "The advantage of having been trained in structured thinking and planning in my previous roles was that I could bring those skills to structuring my entrepreneurial journey and that of the organization."
There are different programs laid out to help in bringing out the true potential of the students. She adds, "That's what kept driving me as we set up Peepul and developed our strategy – that potential for growth, innovation and scale."
Different roadblocks help to work under pressure and add optimism. She shares, "I'm a forever optimist – always looking at the silver linings and opportunities. There are ups and downs. For me, at work, every challenge has brought with it a chance for reflection and an opportunity to see if we can try something different to have greater impact."
Even during COVID, she started focusing deeply with the students' families and teachers, so that when schools reopened, all teachers come back with a stronger skill set.
Her advice for other entrepreneurs includes, "Every day will bring a challenge. So, my advice is to keep your smile on and work on your ability to demonstrate grace under pressure as a leader. If you're in a position where boats are sinking around you, aspire to be the person who stays calm and gives sensible direction to others and not the person that freezes with panic. Be yourself. Believe in yourself. Make magic happen."
Peepul's Extensive Services
Peepul is based on making a difference in the learning outcomes in government schools. It is done so that inadequate emphasis on academic enablement can be shifted and every child, irrespective of their background or financial situation, gets an outstanding, holistic education. This is done via a unique 4-step mechanism:
High-engagement classroom practice toolkit: Engagement helps in converting a school enrolment into good academic achievements. In high-engagement classrooms, students learn more effectively and meaningfully, and a virtuous cycle of learning is built. It also helps in reducing the number of students dropping out of school. Further, a set of best-practice techniques and tools are provided to enhance their learning and retaining power.
Timely Teacher skilling: Having motivated and high-quality teachers, their team has designed a model of smart teacher development, along with bite-sized, practical training approach to support teacher and peer learning communities in the best way.
Real-time coaching and mentoring: A structured academic mentorship help in on-time, contextual in-school teaching and supports higher academic achievement.
Aligned incentives and accountability: We create a school administration setup that protects the interest of student academic engagement and learning, vs. non-academic activities, ensuring "more time for learning".
She shares, "We closely partner with national, state, and local governments to scale our model through carefully planned systemic interventions that empower, engage and align all stakeholders towards student learning, in line with our model. We have focused our efforts on two geographies in India (Delhi and Madhya Pradesh), looking to enable this model across ~300,000 teachers and 100,000+ schools."
Staying on top with the A-game
Peepul's model forms it's based on transformation and their strong belief in their efforts that have already impacted lives and bore sweet fruits. For scaling, they are bringing forth an action-oriented mindset by hiring diverse teams. Kruti says, "We have tremendous education practitioners, teachers and experts that work at Peepul. Side by side, we have individuals that have MBAs and worked in consulting firms. We also have individuals who bring strong on-ground experience and relationships on ground with schools, districts, teachers and principals. This is an unbeatable combination."
The team mainly has 3 main values, Impact, excellence as well as leadership. This is an apt culture and allows us to stay fast paced as well as collaborative at the same time. They follow an agile approach, and their high-functioning teams have a strong problem-solving focus to bring out the best solutions easily.
Life before working at Peepul.
Kruti shares her past life, "Prior to Peepul, I was the Senior Director and Leader of the Finance Practice for CEB (now Gartner), advising CXOs in the areas of corporate finance, internal controls, talent management, finance function productivity and information risk management and mitigation. My previous work experience includes McKinsey and Co., where my expertise was in the field of consumer goods, retail and agri-business. I have also worked at The World Bank and the International Monetary Fund, specializing in fiscal policy and financial sector reform."
However, now her life is quite different and challenging with inspiring colleagues along with a strong network of inspiring leaders.
Maintaining a work-life balance
Being a tenacious entrepreneur, she has been multi-tasking throughout her day juggling between reviewing progress of the programs and focusing on fundraising.
As a CEO, she says, "My role is to help them develop their professional journeys so that they are challenged, feel supported and have a set of managers and colleagues who will have their back and help them succeed. I want every team member at Peepul to feel like they are part of something special." Besides this, she has to focus on her child's learning as well. She manages all this using to-do lists. These to-do lists are helpful in handling all tasks efficiently and planning for the unexpected outcomes beforehand.
Heading towards a Promising Future
For future, she has already witnessed an upward trajectory in creating impact in the best ways. She shares, "I also want us to break the oft-cited quality-scale trade-off in the development sector – i.e., scale at quality is hard to pull off. Many organizations do great work at the micro level and concentrate on particular interventions and in specific geographies. I would like our model to replicate and scale, nationally and be applicable to system strengthening efforts in other countries."
As per Peepul's Vision 2023, the team plans to work closely with different government school systems by intervening in different aspects such as running exemplary schools, proper training and increasing the capacity of school leaders and teachers. Along with this, they also want to support the state-wide system and channelize their efforts in education transformation.
She adds, "I want us to have tremendous impact on learning outcomes, strengthening the public school system to deliver exemplar education for every child."