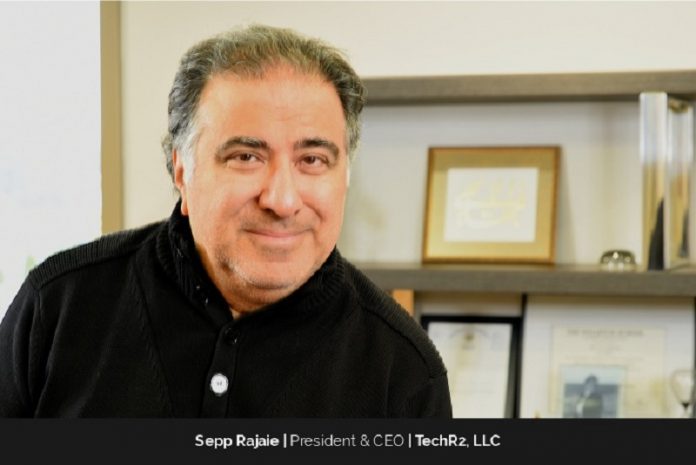 The story of TechR2 CEO Sepp Rajaie is of an Iranian-born immigrant who overcame a series of challenges with tenacity to build a leading global company, specializing in data 'at rest' destruction, from scratch in the U.S. TechR2, founded by Sepp in 1997, stands as a testament to his unique vision, fortitude, and diligence. As a visionary leader, he has demonstrated that incredible things can be achieved if one has faith.
A data destruction innovator, TechR2 has disrupted the IT Asset Disposition (ITAD) industry through its patented Tear-A-Byte method. Sepp got the idea to start his own business when, years ago, he saw an open opportunity in the field of data security. In order to establish TechR2 as a reliable company in the ITAD industry, he required many international and national certifications, advanced training, software development, and engineering of mechanisms. "I decided to set goals and to establish milestones to achieve those objectives," Sepp says.
TechR2 did not gain its leading position in the ITAD market overnight. "It obviously took much time to research and set milestones to get there," Sepp says. And he feels that they have a unique niche in the market, and following the assembly of their team, their focus is on working towards accomplishing that goal.
Services and Solutions Offered by TechR2
TechR2 offers solutions and services that provide comprehensive End of Life data security. Sepp says that their offerings are based on best practices to achieve the highest level of standards practices for institutions globally. "We patented our Tear-A-Byte method, and we have nine patent-pending products to support our technology growth," Sepp says.
He points out that in the old, antiquated ITAD system, a company would have one driver in a box truck supporting its most important asset, data. "Today, the model of placing critical data from a data center or enterprise office on an old box truck for non-secure transport is not compliant to National Institute of Standards and Technology (NIST) and International Organization for Standardization (ISO) data security controls," Sepp adds.
All TechR2's products and services are compliant with U.S. and worldwide standards.
Helping Tame Wild West of End of Life Data Security
As old processes used by ITAD service providers failed to securely destruct data, they were not much of a benefit to businesses. Sepp says that they benefitted service providers more. "There were many reports of data breaches due to stolen devices, and such incidents also led to the closure of a large ITAD company in the U.S. just a few years ago," Sepp says.
Today, GDPR, DFARS, Federal and US State Data Security Laws have defined the regulations for all industries. "The wild west of data security is being replaced with methodical and systematic processes," Sepp says.
He also says that TechR2 is a leader in developing, patenting, and copyrighting solutions and services for End-of-Life processes. When a modern company uses TechR2's solutions, it successfully implements cybersecurity data controls, Sepp says.
Company Culture at TechR2 
Sepp points out that the foundation of ISO is the four-step process PDCA, short for Plan-Do-Check-Act, while NIST uses the Baldrige quality system. The Zero Trust Architecture has a clean five-step procedure, which is based on the zero-trust principle and designed to prevent data breaches. "Following all these processes creates an architecture to allow for my team to identify the problem and move toward a solution that incorporates ideas for constant improvement," Sepp says.
TechR2 enlists the help of experienced trainers to offer constant training to its employees. "It is to ensure that they are qualified to handle the company's system and as you understand, both the internal and external auditors in these systems require constant improvement," Sepp says. Training and continuous improvement are the key parts of the company culture.
CEO's Responsibilities and His Philosophy of Life
Sepp specializes in the development of business strategy, and he acts as a sounding board for the technology and engineering teams as they relate their plans. Under his leadership, TechR2 has become an ISO-driven company with five certifications as well as other industry and national accreditations. "These systems are internally and externally audited  regularly, and we take pride in exceeding the standards," Sepp says.
Sepp believes that every person is part of mankind. He says that his faith and philosophy of life is that all people of the human race are one as mankind on one planet, the Earth. "It is remarkable that my company services people all over the world, so we as a team can practice equity, respect, harmony, and peace," Sepp points out.
And what inspires him? Sepp feels greatly inspired when he wakes up every day with a plan, discusses that with his company leaders, and then works on that plan together with his team. And he says that his self-expectation is to show active leadership to employees, partners, and customers. "I also strive to mirror that same level of commitment when I am with my family and interacting with the community," he adds.
Life before TechR2
Sepp came to the U.S. from Iran for higher education studies, which was also at the time of the Iranian revolution and when members of his Bahai faith were and still are persecuted in Iran for their beliefs. He earned his Bachelors of Science in electrical engineering from Franklin University, while working through school, often times two jobs.  Upon graduation, his desire for business, combined with his entreprenuership vision and engineering education led him down the road to start his own business.    In 1991, Sepp was fortunate enough to be selected to attend the IBM Business Partners Wharton School for Executive Education Program. "On my journey to where I am today, I took advantage of every opportunity for continued education and growth, which has enabled me to be a valuable leader as TechR2 continues to grow" says Sepp, who is now a U.S. citizen.
Sepp says that he has worked with his team to create a technology company during the cybersecurity age. "In our diverse organization, we have people who have also been faced with life challenges, and hopefully, I have been a good enough leader to show them that with faith, all can be achieved in their lives," he adds.
Challenges Are Like Tests in Life 
Sepp sees challenges as preparing for tests in life. "Similar to business challenges, we prepare for the test and work hard to achieve the goal that we set forth," he says. And he also points out that one may not achieve success on the first try. "At times, we must go through that test a couple of times to pass that test," Sepp says.
"Right now, when it comes to end of life data security, we are an industry leader," Sepp says. And, for them, the new challenge is to help other organizations to rise to the challenge. "At such a time, it takes leadership to help them overcome their fear of the technology," Sepp adds.
Fortitude Needed to Become Recognized Tech Leader 
For Sepp, success is a "narrative word" for different objectives. "I look at success in life and business as how we can achieve the end result and goals set for the specific matter," Sepp says. "Success for me in business is achieving clear objectives (KPIs) for milestones set forth."
Like other inspirational business leaders, Sepp started out at the bottom and worked his way up. And he has always tapped into his engineering and business management skills. "I studied electrical engineering, and now I have submitted nine US patents," he says. "I have studied business, and now I run a business that has become a partnership with IBM and Kyndryl in multiple continents."
Sepp says he has discovered during his journey that one must have  vision, listening skills, and the tenacity to overcome obstacles as one grows. "Doing this by yourself is challenging," Sepp adds. "Doing this with a team takes skill." And Sepp believes that being a recognized technology leader takes fortitude.
TechR2: The New Digital Solution Provider 
Every day, organizations try their best to secure one of their most precious assets, data, but then, insider threats and poor execution by non-compliant and non-certified third-party vendors end up compromising their data security posture, according to Sepp.
"The old analog ITAD vendors are the industry's weakness. TechR2 is the new digital solution provider armed with the training and compliant processes and certifications," Sepp says. For him and his company, empowerment means providing services and products to organizations, allowing them to meet the 10 percent of data security controls that deal with End-of-Life processes. "Today, we do this for many of the top Fortune 100 companies through our IBM and Kyndryl contracts," Sepp says.
Keeping Pace with Cybersecurity Threat
Sepp says that NIST and Zero Trust Architecture are currently seen as the future of cybersecurity in the U.S. and world, and vulnerability testing and incident response plan (IR plan) are the two most followed approaches at present. "TechR2 solutions and services will always be redefining itself to the end of life data security controls to keep pace with the cybersecurity threats to modern businesses," Sapp says. 
Message to Business Leaders
"A message to any business leader today knowing what we accomplished in the last years – develop a business relationship with TechR2, so we can work together to protect your organization's end of life data effectively," Sapp says. "The alternative can be catastrophic to your business."