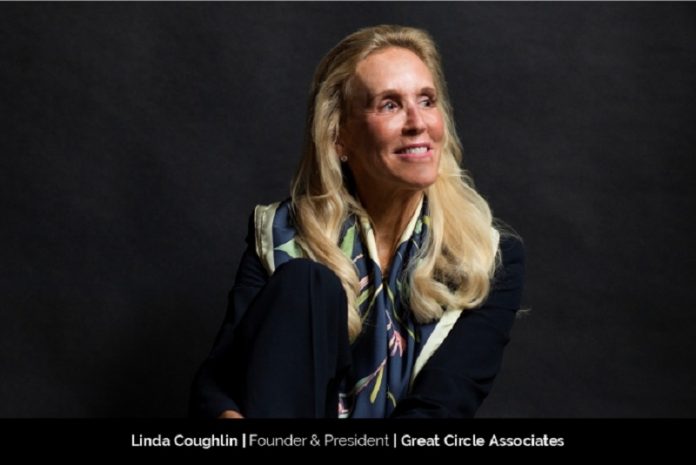 A seasoned operating executive, general manager, board member and results-driven consensus builder, Lin Coughlin, Founder and President of Great Circle Associates, deploys innovative solutions in complex high-stakes situations to create win-win results.  Her advisory services, provided at the enterprise, team and individual levels, take advantage of her formidable experience leading the design and implementation of transformational initiatives for breakthrough results in all types of economic and competitive environments.
Lin has spent more than a decade advising and coaching leaders and leadership teams in the public and private sectors on five continents. She is known for her 'just-in-time' strategic investments into the development and advancement of the leaders for whom the achievement of outstanding results is most at stake. Outcomes include measurable ROI on all such investments and the realization of significant increases in individual and organizational efficiency, effectiveness, productivity, and innovation.
The Journey…
Lin divides her career into five phases as she climbed the ladder of success. Her technical and leadership skills and competencies strengthened and expanded throughout each phase — positioning her to enjoy the success and fulfillment she does today.
She began her career as a professional equestrian, training competitive students and show jumpers and facilitating her students' competitive aspirations alongside her own in the field. She became a sought -after trainer and competitor.
However, destiny had different plans for Lin. A bad fall ended her career as a professional equestrian, and she scrambled for a few years, working three jobs at once to make ends meet. She adds, "Thank God, I had taken a typing course in high school and that I had well-developed social skills!"
Lin held her nerve and pivoted towards the private sector. She started her career in corporate America as an Executive Assistant and worked her way up the marketing, communications, government affairs, and operating paths. She ultimately grabbed several operating assignments leading divisions of large financial services and professional services organizations. During this time, she completed her BA in Economics (summa cum laude) and invested in self-development as a leader while traveling 60% of the time for business. Besides giving her best to her professional career, she started and raised her family (three children, two dogs, and two cats!).
Lin spent more than 25 years in corporate America, the last 15 of which focused on the leadership of operating assignments that called for strategically disruptive departures from the status quo. These included planning for and driving closure to all types of transactions and the follow-on integration planning and execution needs, i.e., mergers, acquisitions, IPOs, joint ventures and divestitures; start-ups (internal and stand-alone); the development and launch of new products/services; and decisions to restructure, downsize, re-brand and enter new markets.
She arrived at the pinnacle of her career in corporate America and realized that she needed to spend more time "smelling the flowers" to maximize her leadership potential, transitioning her leadership emphasis to "being and doing" from "doing." She adds, "I took on leadership roles at not-for-profit organizations, ran marathons, and spent quality time with my three children and their friends at a home that I built for just that purpose."
Rewiring her career
Lin realized that her breadth and depth of experience in leading transformational change had positioned her to teach leaders the art and science of envisioning, planning for and executing disruptive strategies.  Tapping into her vast experience and skills, she brewed the idea of Great Circle Associates and launched it.
Today she facilitates the navigation of business, organizational, communications, and risk mitigation planning and implementation of significant strategic departures from the current state. "My method marries the sublime with the pragmatic — allowing for creativity and bold ideas but with an emphasis on foundational principles and practices, laser focus implementation, and measurable outcomes," she says.
Top-Notch Services from Great Circle Associates in most demand
Established in 2008, Great Circle Associates provides strategic advisory services to C-suite executives and leadership teams.  Lin specializes in the planning for and execution of significant departures from the status quo.  She provides such support at the enterprise, team, and individual levels (as an executive coach).  These include the formulation and implementation of disruptive strategies and the development of best-practice governance processes, e.g., analyses and assessments of ongoing results, the establishment of criteria to identify and seamlessly execute the inevitable course corrections, the creation, and execution of marketing and communications strategies targeted to internal and external stakeholders, etc.
Lin states, "High impact transitions often require change at core™ or departures from deeply embedded mindsets and mature, entrenched cultures, structures, and operations. This type of change is the most challenging to anticipate, plan for, and masterfully execute.  My advisory services feature immersive experiences over various periods of time. Together with my clients, we create measurable, time-bound objectives that are aligned with their strategic priorities – be they individuals or teams and/or the organizations my clients are leading."
Her approach focuses on the achievement of clarity of purpose by all stakeholders, collaboration with key stakeholders, team member mentorship, and the cultivation of safe and trusting environments where innovation can flourish and lessons learned can be celebrated.   A dedicated and forward-looking strategic advisor, she encourages the consideration of all strategic options alongside of rigorous analyses of all internal and external forces. In the process she facilitates the creation of environments that enable leaders to unleash their full potential. She shares, "I applaud the willingness of individual, leaders, teams, and organizations to see inflection points for what they are and what they are not, signaling the presence of adaptability and courage – two important predictors of breakthrough outcomes when change at core is required."
Lin uses a five-point model to facilitate and enable the achievement of individual and shared success.
Creating crystal clear clarity and a shared understanding of the what, the why, and the how relating to the planning and execution of disruptive strategies
Proactive outreach and collaboration with those whose priorities may not be aligned to the agenda for change – striving to position ALL stakeholders to exceed their individual expectations and that of others to whom they are accountable
Celebrating the early wins, as small as they might seem, to build momentum toward the achievement of breakthrough results
Using the inevitable course correction needs to openly and candidly share lessons learned toward the generation of higher levels of innovation and teamwork
Internalizing and creating laser focus on the concept that what gets measured, gets managed, and what gets well-managed leads to breakthrough results
Her distinctive techniques of shadowing clients through here-and-now challenges and swiftly rendering strategic solutions while leaning into the continuous development of her clients' most leverageable leadership strengths are commendable. "I facilitate and, in some roles, drive thoughtful, outcome-focused responses to high stakes opportunities and sensitive operating, organization, communications, and people challenges. I am at my best mentoring and enabling clients to achieve the unexpected," Lin adds.
Pillar values 
All businesses stand on their core values including the bedrock values of honesty, integrity, passion for excellence, mutual respect, and mutual support.  Lin goes beyond and advocates for the celebration of uniqueness, professional humility, reciprocity, and the practice of generosity of spirit and action to propel organizations forward.
And, finally, she coaches her clients to:
Seek and embrace bold ideas and approaches whose excellent execution will position for value-added disruption
Build a cadre of passionate champions willing to challenge the status quo and commit to full transparency to create and sustain enterprise-wide well-being
Disciplined planning processes that position for success
Lin believes that a deep and shared understanding of business intelligence and trends is foundational to creating a clear and compelling positioning strategy and value proposition – be it for a business model or for individuals who are at inflection points in their careers. There are many templates that can be used to analyze the competitive landscape. What's important is that resources are allocated to the continuous monitoring of competitive forces and their implications for sustaining a competitive business model or personal brand.
The sharper the competitive understanding, the better able leaders will be at divining interruptive positioning strategies and value propositions. Clients work with Great Circle Associates to execute and act on such statements – informed by a deep understanding of internal and external forces. The planning process starts with a shared definition of a Positioning Strategy and Value Proposition.
Positioning strategies encapsulate organizations' unique and most compelling qualities. The clients working with GCA enjoy a structured discovery process that results in the crystallization of positioning strategies whose compelling articulation and excellent execution set up organizations and individual leaders for distinction and appeal by prospective customers/clients/employers.
Lin co-creates value propositions with her clients at the enterprise and individual levels — unique, not-easily-replicated promises of value that customers/clients can expect to experience.  They include essential proof points which legitimize an organization's or individual's reputation and appeal.
Succeeding while overcoming the inevitable setbacks
Sustaining a difficult-to-replicate competitive edge is a constant work in progress. Believing in the words of Barack Obama, "The real test is not whether you avoid failure because you won't. It's whether you let it harden or shame you into inaction, or whether you learn from it: whether you choose to persevere."
She expresses, "Throughout a challenging turnaround of an unprofitable B2B business when the profitability of the majority of relationships was under water, we (the team) confronted the lesson learned that 'had we had the courage of our conviction to execute on a risky pricing strategy three months before the start of a new fiscal year for a majority of our clients, they would have been better positioned to navigate the impact of a price increase.'"
The team in turn acknowledged its reluctance and pivoted quickly, re-committing to its bedrock value of putting clients' interests first. A highly customized and personal approach to communicating and providing flexible solutions to the execution of the price increase was developed and flawlessly executed, resulting in zero client attrition.
Life as a leader disruptor
As the President and Founder of Great Circle Associates, Lin spends her time coaching executives and leadership teams to exceed expectations in the pursuit of critical path priorities.
She shares, "I work with those same leaders and their leadership teams to envision, plan for and execute disruptive strategies. I also serve on boards and volunteer – a source of learning and perspective that positions me to continuously improve and expand upon the quality of the advice I provide."  A keen listener, she goes deep to understand her clients' organizational and personal values alongside their critical path priorities.  Clients can look forward to the cultivation of immersive outcome-focused working relationships, many of which endure for long periods of time.
As Treasurer, she currently serves on the board of C200, an invitation-only 501c3 membership organization comprised of the world's top female entrepreneurs and C-suite level corporate operating executives, dedicated to the advancement of female operating leaders in business. She is a member of The Women's Policy Group at The Council on Foreign Relations and The Economic Club of New York.  Directors and Boards magazine selected Lin as one of "20 Directors to Watch."
Lin is self-motivated and mentors teams to emerge at the highest performing levels. She opines that high levels of team interaction are highly correlated to the generation of sustained high performance – individually and collectively.
One of the clients, Jeff Sauer, VP, Human Resources LexisNexis Risk Solutions happily shared, "Lin is a phenomenal executive coach. I have worked with her personally and leveraged her to work with executive teams I have supported. She has insight from years as a successful executive that enable her to challenge those she works with to raise their game to the next level. The work she does with corporate executives' ends up making them much stronger and effective leaders."
Treating each other with dignity and respect; honoring commitments; supporting and investing in each other's development and listening and respecting each other's ideas and opinions are some of the cultural norms she encourages leaders to infuse.  These qualities contribute to the development of high-performing teams – those that enjoy high levels of trust, commitment, and accountability and the ability to openly and constructively confront conflict; and laser focus on results.
Netting it all out
For Lin the pursuit of happiness, achievement and significance have been the stepping-stones to achieving success and fulfillment in work and life.  A purpose-driven, results-focused servant leader and learner, she is emboldened when helping leaders to navigate significant shifts from the status quo – individually and in their businesses. She adds, "At the same time, I am committed to enabling them to exceed their own and others' expectations. After all, once a delighted client, always a friend and trusted colleague."