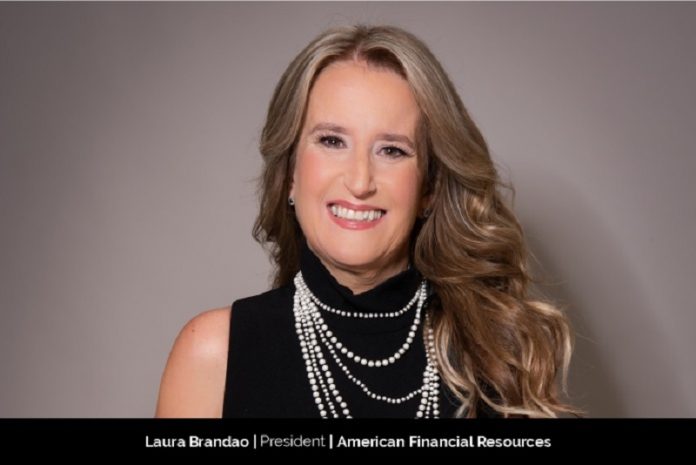 Having a passion for the mortgage business and an aim to transform the industry, Laura Brandao, president of American Financial Resources, works hard to help others achieve their dreams and find their zest in the mortgage business. On her journey, Laura realized the need for positivity in the industry. So, she made it her mission to improve people's lives with the power of saying YES, and leave her industry better than when she started out. Being a self-driven leader, she looks to teach other professionals how to flourish, no matter their domain. She guides others to mark their unique identity in the industry and stand out from the crowd. Moreover, she aims to teach them ways in which they never miss the golden moments with their families, while working hard to rise and shine.
A deep dive into the mortgage industry
Laura started her career as a telemarketer helping families refinance their high-rate mortgages. She adds, "I was a young mom who wanted to work but also wanted to stay home with my young son. I was able to find a job doing telemarketing in the evenings and started out by conducting surveys. My account was Champion Mortgage (you may recall, "when your bank says no, Champion says yes"). Turned out I had a knack for explaining the benefits of refinancing, during a time when homeowners carrying interest rates as high as 15% were able to bring them down to about 6% with a simple refinance."
She moved up quickly to management and excelled in the domain. She was successful in hiring and teaching people about mortgages, and by the time she had her second son, she was running the entire call center of 200 people. On the phone every night from 6-9 pm, helping homeowners refinance.
When she was ready to work full time, she went to work for a mortgage company. Quickly recognizing that the company did not have a strong operations team, she learned everything she could about how to process loans and became the Chief Operating Officer of People's Mortgage while still in her 20s. This experience allowed her to further climb the ladder of success as she widened her skill set and gained valuable insights into the market.
Joining forces with American Financial Resources
From the beginning, Laura always had a passion for helping people become homeowners. And, she always dreamt of creating a company from scratch and taking it to the top. So, when she was offered the chance to launch the wholesale channel for American Financial Resources in 2007, she seized the opportunity and joined the company as Director of Operations. Backing up her skills and experience in the mortgage industry, she fueled the growth of the company and went on to become a partner in 2009, followed by Executive Vice President and Chief Operations Officer, and finally took the onus for the role of President.
Taking AFR to the next level
When Laura joined AFR in 2007, the country was facing the worst mortgage crisis in its history. While other companies were failing and closing up shop, Laura led the team to take advantage of the opportunity to build. People were losing their jobs to downsizing, which allowed Laura to hire the best people in the business to join AFR and find a path forward.
Initially, they built an entire business on one product. Federal Housing Administration (FHA) loans were the only home financing product sold. By 2010, they started adding other products. She adds, "We focused on one niche at a time and accumulated the right talent to service the business. Homeowners were struggling, and we opened our arms to specialize in unique financing programs; our 'we're here to help you' focus still rings true at AFR today."
Laura and her team learned crucial lessons about adapting to changes, as the industry progressed through various cycles. In 2008, the industry faced margin compression and AFR refocused on niche loan products like One-Time Close. In 2020, they faced the COVID-19 pandemic and saw a huge influx of volume because rates dropped. She adds, "This year's recovery has been affected by shortages in not only housing inventory, but in labor and lumber, as well."
While navigating through all the challenges, Laura realized that the key to success is to constantly adjust to remain relatable and accessible in the current market, coupled with navigating compliance changes as a reliable and knowledgeable resource for customers.
Staying ahead of the curve
Established in 1997, American Financial Resources, Inc. has evolved over the years, adding both B2B (AFR Wholesale) and B2C (eLEND and ManufacturedHome.Loan) residential mortgage channels. Headquartered in Parsippany, NJ, AFR serves thousands of mortgage brokers, bankers, lenders, homeowners, homebuyers, realtors, and contractors across the country, with their residential financing needs.
Laura states, "Leaders need to work to continually improve their companies, their offerings and most importantly, their connections with customers. Keep working at being the best at what you bring to the market. You cannot be all things to all people, and you should not shift your focus because competitors are changing what they are doing. The development of new product offerings should be based on the needs demonstrated in the marketplace.  Providing what customers need should be the goal, rather than focusing on trying to outperform your competitors."
She is proud to have led the company's growth as a leader in unique residential mortgage programs. The company's efforts to stay connected to the clients and families it serves have allowed the team to develop new products based on market demand, including VA Renovation, USDA Repair Escrow, and a full suite of One-Time Close Construction-to-Permanent programs. AFR leads the way as a specialty lender who provides accessible support through technological innovation.
For example, AFR was the first wholesale lender to offer VA Renovation. The in-house team worked directly with the Department of Veterans Affairs to expand the guidelines for their VA Renovation program, designed to help the men and women who serve their country repair or upgrade their homes with low rates.
Laura states, "Continually pushing the technology envelope in the mortgage industry, we also launched the first mortgage originator/lender integration "skill" assimilating our lending origination portal, AFR Loan Center®, with Amazon's intelligent personal digital assistant, Alexa. "AskAFR" through Alexa™ provides mortgage professionals with technology that improves customer service by offering instant and continual access to information about their current account pipeline with AFR Wholesale. It helps streamline day-to-day business operations with voice-activated capabilities, including pipeline status, integrated communications, scheduling, and more."
Following a unique approach
Diversity is valued at AFR, and Laura understands how vital it is to provide a place where all personnel are comfortable speaking up. Laura expresses, "Innovation comes from assimilating different perspectives. People of different ages from different cultures and educational backgrounds see problems differently and are at their best when able to work together to create solutions. Diversity drives innovation."
She is proud to make a difference at AFR, where not only has the 'glass ceiling' been shattered, but women account for half of all employees up to and including the vice president level.
Prestigious honors and accolades
Having an increasing number of women leaders in the mortgage industry is an absolute privilege to watch. Laura shares, "I have witnessed more support, more growth, more entrepreneurship, and more recognition of women in the last two years than at any time throughout my career."
Her recognition at AFR has helped her in empowering others and proffer support to a plethora of industry organizations. From chairing both Women With Vision (a division of 20/20 Vision for Success Coaching) and the National Association of Minority Mortgage Bankers of America's (NAMMBA) Visionary program to serving on the boards of MortFlix, as well as the women's committee of the Mortgage Bankers Association of New Jersey (MBANJ), she is consistently progressing as a motivator, a visionary and an inspiring leader.
Mentioning her efforts in these programs and initiatives, she says, "I have the privilege of serving as an advisor for the virtual training dedicated to providing women the tools and skills they need to thrive and excel in their profession being the chair of the Women With Vision. Also, I have recruited more than 100 corporate partners for Mission 2025 over the last year, supporting a program launched to recruit college talent to the industry while chairing NAMMBA's Visionary program."
She is also proud to be one of five board members who contributed to launching MortFlix, which is America's first streaming media network presenting exclusive mortgage and real estate content dedicated to the housing industry.
Moreover, she is happy to share the mission of the MBANJ women's committee to advertise and create a significant impact on women by developing a unique platform for networking and building relationships with other women in the industry.
Balancing personal and professional fronts
Laura opines that following a good routine throughout the day helps in balancing the time spent on both work and personal life. Beginning her day with a positive early morning routine that consists of affirmations, as well as recording a morning video for her team, is crucial for her. However, she also knows that altering the daily or weekly routine will transform and shape her perspective.
She adds, "You can't have the same routine all the time, or you stop noticing things. For example, I have a home in Arizona near our regional office, and when I leave New Jersey and spend time there, I can feel my senses are heightened, and I can see more clearly."
Therefore, she knows that structuring her day will always help her to maintain a good work-life balance. But she keeps modifying her routine to allow positive effects on her brain and broaden the horizon of her perspective to handle issues effectively.
Laura believes that the company is a work family, and it's important to stay connected. She mentions, "We value our employees and want to show them our appreciation and be clear in delivering our why, so we are all aligned in our mission to help bring families home."
Laura knows that a positive attitude and high morale can bring wonders for the whole team. She adds, "I want everyone to start each day on a positive note; so, I make sure that one of the first things they see each morning is me in their inbox with a quick company update, appreciating them for their hard work, and wishing them a wonderful day." AFR also gives out "Above & Beyond" awards to recognize a job well done, which helps to keep employees motivated and connected to one another. Anyone can nominate a coworker for any reason, and everyone is eligible.
Essence of a true enabling leader
With an aim to leave the mortgage industry in a better place, Laura has earned name, fame, and knowledge over the years, and now aspires to build her legacy and empower others.
She is now committed to raising the voices of those people in the industry who have never stepped into the spotlight. Sharing her efforts in this direction, she mentions, "I created a 'Survive & Thrive' group on Facebook at the beginning of the pandemic and featured different mortgage professionals each week to impart advice. The series transformed into 'Thrive Thursdays' and continued throughout the pandemic. Each week I hosted three complete strangers who were nominated by the previous week's guests, as they shared their stories of triumph and adaptability."
Not just this, she was also working on a side project where she hosted a "Positively Charged Biz" podcast and also took on the onus of co-hosting the "Leadership Mastermind" podcast with Mitch Peek. She is currently hosting the "What's Your Why" program on Wednesdays on MortFlix and loves covering the reasons why mortgage professionals do what they do.
She is fascinated by witnessing success in all this. She decided to showcase 15 of the incredible stories from her "Thrive Thursdays" guests in her second book, named Say YES Everyday! Everyone Has a Story. This upcoming edition follows the success of her first solo book project published earlier this year, called Say YES Everyday! Discovering Your Superpower. She believes that sharing their stories will assist in gaining those guests more recognition. She adds, "Helping others succeed and highlighting their value feels like success to me."
She shares special advice from her mother for aspiring businesswomen, stating, "No one can limit you, but you. Women especially tend to think too much before stepping out of their comfort zone; it can become paralyzing professionally. Thus, all the inner or negative thoughts should never hold you from giving your best. So, you should just shut all the inner doubts and worries and go forward with no apprehension.
Quiet your minds, listen to your gut, and just do it – whatever it is – and you will see results."