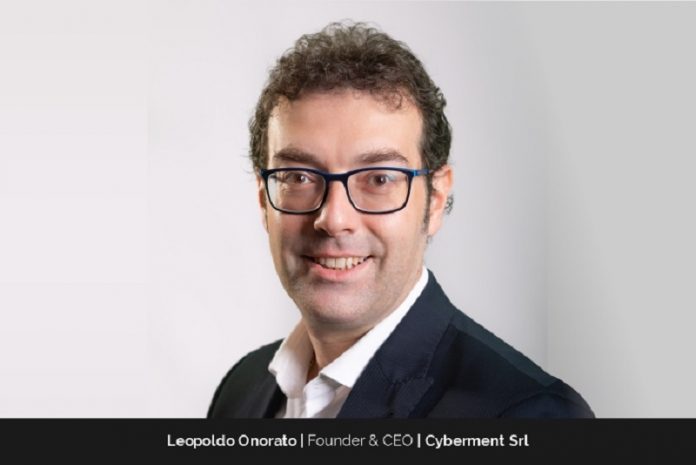 Leopoldo Onorato, Founder and CEO of Cyberment Srl, is a force to reckon with in Italy's IT landscape. If one had to pick a word to describe this veteran of the cybersecurity industry, it would be "visionary." His vision and ability to predict market trends and needs of companies have led to development of some of the most innovative cybersecurity solutions in his home country. Leopoldo has also played a key role in generating awareness about cybersecurity threats.
Ever since he started specializing in IT security, Leopoldo has been a "point of reference" for Italy's entire IT community. He is also recognized as a pioneer member of Italian cybersecurity, which he considers one of his greatest achievements.
Leopoldo has been in cybersecurity for over twenty years. Though he has always been a part of cybersecurity industry, he feels that he is still at the beginning of his professional career.
Founding of First Cybersecurity Company
Leopoldo was born in a family where no one was an entrepreneur. His father was a doctor, and his mother was a teacher. Leopoldo, however, was always fascinated by business management and entrepreneurship. And, since he was a child, he has enjoyed learning about processes, IT architectures, and technology. "When my parents bought me the first computer, an Amiga 500, it was a great joy for me," Leopoldo says. He also recalls that while his classmates spent their afternoons playing video games, he had a lot of fun writing programs and customizing existing software. "Over time my passion became my job," Leopoldo says.
Leopoldo's interest in entrepreneurship made him walk the path of building a business without any mentor "My career was built over time thanks to successes and mistakes."
Leopoldo's University years prepared him for business, and he also gained the necessary experience. He points out that he improved his skills by working hard. After graduating in computer engineering, Leopoldo worked for Lombardy Region for about three years before opening his first IT security company.
In 2006, Leopoldo founded his first cybersecurity company in Italy. At the time, companies were still not taking cybersecurity threats seriously. Leopoldo recalls that he started his company when nobody was talking about cyber-attacks or data breaches, and no one was taking care of defense strategies for companies. Leopoldo's first IT security company became a guiding light and made a significant difference at the time.
No One Took Cybersecurity Threats seriously but we made the difference.
For Leopoldo, as the Founder of his first company, the most difficult task was dealing with cybersecurity issues as Italian companies did not see them as threats or something to worry about.
The other biggest challenge was to make enterprises aware of the cybercrime problem. Leopoldo explains that in the Italian context, cyber security has two major poles: on the one hand, excellent companies coexist with areas of inefficiency, and key players move at different speeds in both private and public sectors. On the other hand, small and medium-sized companies deal with outdated technologies and are unaware of the danger coming from cyber-attacks.
"The biggest challenge for me was to convey the importance of protecting devices and to secure infrastructure and people from cyber-attacks for every kind of business," he adds. He managed to successfully overcome the challenges and thrive in the market that still had to recognize the damage that the menace of cyber criminals could cause.
Cyberment: a world leader in offensive security
Leopoldo founded Cyberment, an international cybersecurity company, a few months before the outbreak of the COVID-19 pandemic. It specializes in consulting and training and is one of the most well-known Italian cyber security companies to develop a cyber security testing platform. "It monitors and protects thousands of companies and studies the evolution of cyber threats from our offices located in Milan (IT), Mantua (IT), Parma (IT), London (UK), and Los Angeles (US)," says Leopoldo.
The company has grown by basing much of its business on online activities. The organization opened a cybersecurity training center with specific online courses for technical specialists, cybersecurity consultants, and public institutes. "We have been on the side of the customers even during the lockdown so that companies can keep on working in complete safety," Leopoldo says.
Cyberment has developed the business of Vulnerability Assessments and Penetration Tests in an innovative way. The tests aim to find security vulnerabilities and critical issues to protect customers from cyber-attacks. And Cyberment's reports offer concrete solutions to the problem of vulnerabilities in computer networks.
Today we design new solutions for vulnerability analysis through artificial intelligence algorithms. In our development centers, engineers and analysts are constantly working to improve vulnerability detection technologies.
"The information gathered through the monitoring will allow the identification of specific indicators to plan interventions and monitor their effectiveness," Leopoldo says. "Today, protecting all technological assets is essential for competitiveness."
Cyberment also supports companies and schools by promoting prevention, the culture of IT security, and cyber security risks. Leopoldo points out that they involve strategic consultants to defend businesses and people from cyber threats.
"Over time, we have grown considerably, and today I am the CEO of one of the main groups of cyber security companies in Europe" Leopoldo says. Cyberment is now a very sought-after company in the labour market, known for its cohesive team of specialists with great technical skills.
Terrifying Year for Cybersecurity
"This is another terrifying year for cybersecurity," notes Leopoldo. Critical cyber-attacks have increased, and organizations do not have sufficient protection services and proper risk awareness.
In Italy, the culture of information security has been totally absent for many years. "For this reason, companies always feel safe, until they are attacked," Leopoldo says. "The reason is that we tend to often underestimate the potential of technology."
He also points out that awareness is a process that can be generated only through culture and technologies. Cyberment play a main role in that. It has a network of consultants who are aligned with values and ideals, and who, through research, development, innovation, and concrete actions, are the reference point of information security for companies all over the world.
"My company provides unique monitoring technologies on the market, all developed by our internal specialists," says Leopoldo.
Work to Live
Every morning, when Leopoldo wakes up, he is happy to start a new working day. He looks forward to meeting colleagues and friends and talking to customers. Leopoldo says that customers recognize him for this: "I like to explain IT security in a simple and understandable way to everyone."
Leopoldo believes that one doesn't have to live to work but work to live. And he considers himself lucky that he has a wife who supports him and allows him to be able to dedicate himself to work.
Along with work, Leopoldo considers the family sphere very important. "One of my personal values is the family," he says. "One of my goals is to dedicate an important slice of the day to myself and my family." He accomplishes this goal by taking his kids to school in the morning, coming home in the evening and playing with them, and watching a movie or reading a story together.
Leopoldo is also a travel enthusiast. In weekends, he usually heads with his entire family to new destinations with their camper. He says that they love visiting cities and spend time at the seaside or in the mountains.
What Is Next?
Cyberment is a reality that is growing immensely. It currently has about a hundred people working for it. Italy, the United Kingdom, and the United States are the countries it serves at present. Within the next three years, the company's goal is to double the number of people working within the company. Leopoldo reveals that they have plans to open in the markets of 5 other countries. "This is also possible thanks to the excellent managers who now work within the structure," he adds.
Even though Leopoldo is proud of the unique business project he has created, he believes that there are still many other wishes he would like to fulfil as a leader. "There are still several horizons to explore in cybersecurity, and I would like to deepen the study and development of many other technologies in our services as a leading company," says Leopoldo.
The challenge we are preparing to face involves artificial intelligence above all else.
We are preparing for a future in which all IoT objects will be the vectors of cyber-attacks.
Message to Aspiring Business Leaders
"Think in large comma, do not set yourself limits in the things to do; if you believe in it, pursue your goal, and you will see that successes will come," Leopoldo says in his message to aspiring business leaders.