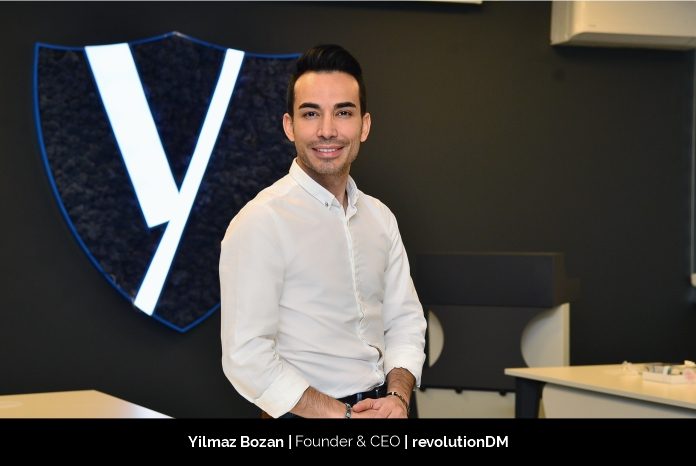 Yılmaz Bozan, CEO and Founder of revolutionDM, is an industrial engineer with over 20 years of experience in the internet industry. He founded the first online home furniture sales business in Turkey and went on to operate and consult in a variety of industries, including consumer electronics, vacations, airlines, textiles, shoes, and fast-moving consumer goods.
Yılmaz Bozan's name appears in numerous e-commerce site start-ups, and his role is to introduce businesses to e-commerce and build performance-oriented digital marketing strategies. He's worked on conversion-boosting techniques including neuro marketing and growth hacking, and he now consults businesses on these topics.
Yılmaz has worked with both small and large businesses. He worked long hours on coding and graphic design in addition to being a white-collar worker. Before revolutionDM, he spent his time honing other hard skills that are the foundations of digital marketing. He explains, "These have motivated me to start this business, and I am pleased to see that I have put in the effort to develop these skills."
Taking First Steps as an Entrepreneur
Yılmaz had the chance to collaborate with a variety of firms while working as the digital marketing director for a big consumer electronics retailer in Turkey. He has recently noticed marketing companies failing to comprehend their clients' difficulties and disadvantages. Being with entrepreneurs in Dublin in 2014 inspired him to start a firm that fills that gap and understands the demands of companies as well as the complexities of this fast-paced expanding business in Turkey, while also delivering benchmark service in its own manner.
In 2015, Yılmaz founded the Internet Advertising Services and Consulting company called "revolutionDM". At the same time, he was arranging "Digital Marketing and E-commerce" training and certificate programmes at several institutions, as well as writing articles for well-known publications and websites.
revolutionDM
revolutionDM is a digital marketing firm that places a strong emphasis on results. The firm sets itself apart from the competition by the level of service it delivers and the strategy it takes. Yılmaz says, "Our approach is being one with our clients as if we are working together at their premises. We like to act as their colleagues, in other words, their Director of Digital Marketing. Not like an agency, but an employee who has organic bounds going through challenges side by side. That's why we are not affected by the competition due to our approach and our business model."
RevolutionDM's main service categories are as follows:
SEO (Search Engine Optimization)
SEM (Search Engine Marketing)
SMM (Social Media Marketing)
UX/UI Desing / Optimizastion
The Global Challenge and Team RevolutionDM
The last two years during the epidemic were very difficult for the revolutionDM teams, since they are currently dealing with it. revolutionDM was able to survive this difficult phase because of the team's excellent relationships with the company's clients. In exchange, the firm has worked extremely hard to maintain the best level of service, despite the fact that the economics of the pandemic period are still shifting and tough. The team's vision is to go global and have partners as well as clients on all continents, while keeping the unique service level at its highest.
CEO of revolutionDM
Yılmaz's role in the company is like a mentor and big brother. Since the beginning, revolutionDM has set the company's organisational structure without hierarchy, in which communication among the teams and clients is seamless and frictionless. He describes it thusly, "We treat our clients' issues as our own problems, just as our colleagues' issues. There is no distinction between overseeing their digital communication processes of clients, taking action before they cause any major damage and our colleagues' problems."
Yılmaz goes on to say that the company's executives' attitude and pleasant corporate culture keep employees engaged, and that no matter what occurs, a solution will always be found. This approach, according to Yılmaz, characterises revlutionDM's ideals, which is why individuals in this sector's ecosystem chose revlutionDM. Yılmaz says, "I used to work in a pharmacy, so I even take care of my colleagues' health problems and sometimes I give medical treatment to my colleagues when necessary."  
Following the Routine
Yılmaz says, "I love what I am doing here." He works long hours, even after midnight on weekdays, but his Sundays are always free. Over the years, he has learned how to manage his time. He states, "My hairdresser appointment is set weeks before. I plan my days, weeks and even months in advance so that I can squeeze personal time and responsibilities in between. That helps a lot to balance your work and life. To me, if you manage your time well, you manage what you want to achieve."
Hard work always Pays Off
In the previous five years, revolutionDM has added new clients in the United States, Europe, and the Middle East, with the number of clients in Europe increasing dramatically last year. WOM was the company's marketing approach, which meant that existing customers recommended it to new ones. The firm does not have a landing page, but it does have personal social media profiles, which is interesting. Another intriguing aspect is that it has clients who do not speak the same language. Yılmaz says, "We manage digital marketing processes for a Polish client through translation for the last 8 months and it's still working perfectly. We are confident in our knowledge and experience. "
Yılmaz has coded more than 400 websites, managed over a billion traffic and set up countless e-commerce start-ups with the help of tonnes of coffee and sleepless nights over the years. He says, "Anyone who would like to capitalise our knowledge and experience for their venture and company is always welcome at revolutionDM."
View on Success
In 2009, Yılmaz started to give courses about digital marketing. After 10 years, his students become professionals working for big enterprises. He feels very proud when he meets them again. He considers the biggest achievement for him to be the people whose lives he has contributed to. He says, "It's amazing to see the power of spreading knowledge and information and how it impacts people's professional lives."    
If Yılmaz had to choose three qualities that helped him succeed in business, he would say imagination, persistence and values.  He continues to state that everything begins with a dream and that when one has a dream, one must strive and fail in order to keep the dream alive. He mentions that it takes every possible way and tries various strategies to make that dream come true. That also requires discipline and persistence. He says, "Having values and respect towards your surroundings and people that you work with, success becomes inevitable."  
www.yilmazbozan.com
yilmaz@revolutiondm.com
https://www.linkedin.com/in/yilmazbozan/
https://www.instagram.com/yilmazbozan