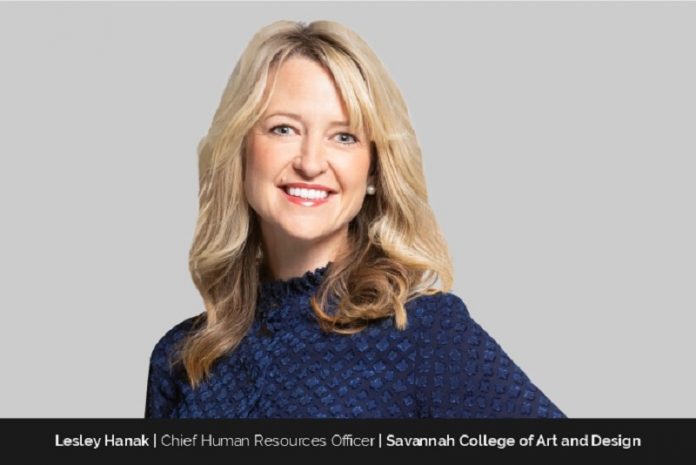 Lesley Hanak, Chief Human Resources Officer at the Savannah College of Art and Design (SCAD) is known as a consummate professional, a remarkable and visionary leader, able to lead teams and leaders through change while steadfastly focusing on the vision. Perhaps most importantly, she is known as a good human being.
Those who have worked with her appreciate her empathy, empowerment of others, ability to navigate complex circumstances and handle delicate situations with tact, discretion, and diplomacy. Lesley is a perfect example of what an HR leader should be.
Motivated by everything HR
Lesley did not start out in Human Resources. In fact, she went to school to be a gerontologist, and worked in long-term care for a few years.
"Human resources were not on my radar at all! I had a six month internship with a nursing home administrator who allowed me to be a part of his meetings. I quickly realized that he spent most of his day on human issues," she recalls.
When Lesley worked in the long-term care environment, she began to realize that she was motivated by "everything HR". So she took a leap of faith, and the only job in her geographic area at the time was an HR recruiter position at SCAD. "Luckily, I got the role and the rest is history," she says.
Lesley observes that, if you want a career in HR, you absolutely must have the mentality that challenges make you stronger. "My biggest learning lessons have always come from someone telling me no… the first time," she notes.
Lesley recalls that her career as an influential leader in the Human Resources field began when the VP for HR that she was working for retired, and Lesley had to quickly jump in and manage everything.
When she joined SCAD, it had one location in Savannah. In the years that have followed, Lesley has been the HR lead on every strategic project, including new domestic and international university locations.
Frequently complimented on her "listening skills and memory," she notes that, "Being here for almost 23 years, I am able to recall scenarios, situations, people, etc. from past experiences to help with future experiences, plans and projects that help us grow."
Helping students and Employees succeed at SCAD
The Savannah College of Art and Design is a private, nonprofit, accredited university, offering more than 100 academic degree programs in more than 40 majors across its locations in Atlanta and Savannah, Georgia; Lacoste, France; and online via SCADnow.
The university fosters active teaching and learning in a supportive academic atmosphere, that prepares students for creative careers.
SCAD enrolls more than 15,000 undergraduate and graduate students from more than 100 countries. The innovative SCAD curriculum is enhanced by advanced professional-level technology, equipment, and learning resources, as well as opportunities for internships, professional certifications, and collaborative projects with corporate partners.
In 2019, the prestigious Red Dot Design Rankings placed SCAD as the No. 1 University in the U.S., and in the top two universities in the Americas and Europe for the third consecutive year.
Lesley observes that career preparation is woven into every fiber of the university, resulting in a superior alumni employment rate. In a study of Spring 2021 graduates, 99% were employed, pursuing further education, or both, within 10 months of graduation.
Leading by example with kindness, motivation and support
SCAD provides students and alumni with ongoing career support through personal coaching, alumni programs, a professional presentation studio, and more.
"I have a team of 32 HR employees; however, I am responsible for a total of 1,800 humans, 24 hours a day, 7 days a week," says Lesley. "Our jobs are all about 'what we do' and 'how we do it.'  Success, to me, is about accomplishing predetermined, well thought-out goals and producing measurable results."
Lesley points out that, at the same time, she has to ensure that she's leading her team and others in a way that motivates and encourages them to be productive, and feel valued.
"On one hand, you can be super nice and have a fun, relaxing environment, yet never produce results important to the business. Or you can produce tons of results, but be a tyrant. Success is producing important results for the business, and doing it with kindness, motivation, support, and leading by example," she reflects.
The changing landscape of the HR industry
Lesley notes that everything about the workplace landscape is changing. In order to recruit and retain top talent, she has to be flexible and adapt to the world around us.
She points out that the generations of first-time employees entering the market have spent their formative years utilizing technology in every single aspect of their lives.
"You have to commit the time and resources to utilize technology throughout all your processes and procedures," says Lesley.
As she has a great relationship with SCAD's head of IT (who has been there 25 years), he always ensures that Lesley's team has the latest and greatest technology to do their jobs.
"I plan to grow along with the growth of SCAD. Our plans at SCAD are determined by the needs of our students, alumni, and families. We consider them in every decision we make," says Lesley.
Motivated by SCAD's mission and purpose
Lesley has many proud moments, every single day, as a successful leader, and while it's hard for her to think of just one, Commencement is a very important day for everyone at SCAD.
"I would say that is the proudest moment for me. When I'm there, watching each student walk across the stage, and I hear their families celebrating, I know that my team and I contributed in a big way to that moment, because every professor, student success adviser, career and alumni success adviser, etc. started through the HR department, and we continue to have numerous touchpoints every year with every employee. So employee success = student and alumni success," notes Lesley.
She keeps herself motivated by constantly reminding herself why they are here, and remembering the SCAD mission of preparing talented students for creative professions, through engaged teaching and learning, in a positively oriented university environment.
"Our mission is a huge motivator for me. I keep my team motivated by constantly reminding them of this, by connecting the dots," says Lesley.
For example, she recalls telling a faculty recruiter, "Do you understand what you just did today? You recruited and hired a professor who will teach our students, and give them the ability to go out in the world and secure their dream job!!"
Lesley likes to remind her team of their sense of purpose constantly, and also motivates them by focusing on employees' successes versus employees' failures. "We do not have HR Business Partners or HR Generalists. We have Employee Success Managers!" she declares.
Care about everyone impacted by your work
As SCAD's Chief Human Resources Officer, Lesley oversees multiple aspects associated with 1,800 humans: strategy, recruiting, hiring, onboarding, coaching, mentoring, compensation, benefits, professional development, counseling, disciplining, and departures.
Describing herself as loyal and caring, Lesley considers her children to be her biggest achievement in life. She manages her work-life balance by staying extremely organized. "I make lists, I have notebooks, I color-code anything I can, and I write everything down. Some people type – I write (it helps me to remember a large amount of information coming at me on a daily basis)," says Lesley.
Her message to aspiring leaders in HR is to work hard and learn the business you are in so that you can have an impact throughout all areas of the organization, and more than anything…CARE.
"Care about the employees, the customer, the business, your colleagues, and everyone else impacted by your work. In addition, you must continue to prioritize the advancement of DEI with serious intentions and outcomes. It should never be a box you are checking on your to-do list. You must be intentional about it in your work every day," Lesley advises.
"Never be afraid to hire people who are smarter than you."