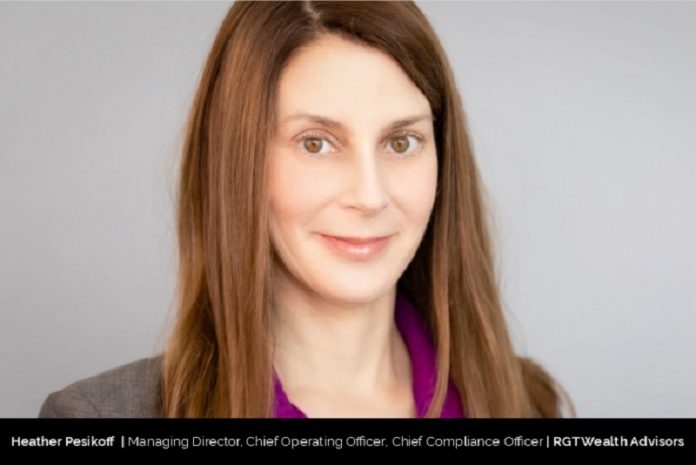 Heather Pesikoff is a Managing Director, the Chief Operating Officer, and the Chief Compliance Officer at RGT Wealth Advisors. She has spent the last 20-plus years advising high-net-worth individuals and family offices on estate, gift, and income tax planning matters, as well as complex legal, compliance, and operational matters.
Heather previously worked at BBVA USA as the Head of Specialized Trust Services. Prior to that, she worked at Chamberlain Hrdlicka as Of Counsel, National Advisors Trust Company as Managing Director, and PricewaterhouseCoopers as Manager.
Over the years, she has been involved in numerous professional and charitable organizations, including the Houston Estate and Financial Forum, Houston Bar Association, Greater Houston Community Foundation, National Charity League, and on the Annual Fund, and as a Guild Representative for a private independent day school in Houston.
Heather graduated from Union College with a bachelor's degree in Political Science, summa cum laude and Phi Beta Kappa, and received a Juris Doctor degree from Northeastern University School of Law, where she was an editor of the Northeastern University Law Review.
Providing personalized & comprehensive wealth solutions
RGT Wealth Advisors and its personnel have been serving as advisors to individuals and families that want a personalized approach to their investment management and financial planning needs since 1985. RGT Wealth Advisors manages over $5 billion in assets for clients across the United States.
As an independent, fee-only firm of professionals held to the fiduciary standard that provides unbiased investment advice, client relationships are the foundation of the firm.
RGT Wealth Advisors works to simplify the complex details of their clients' wealth. They formulate innovative strategies, develop integrated financial independence plans, and implement personal investment portfolios that grow and evolve with their clients' ever-changing lives.
RGT Wealth Advisors' core values are service, integrity, teamwork, performance, and professionalism. These values guide every action they take as individuals and as a firm. As important, these values determine how they serve clients, reward and hire employees, and make decisions.
"Staying true to our mission has always differentiated us," says Heather. "My vision for RGT Wealth Advisors is to continue to serve our clients' needs and honor their trust in us. Bringing it all together in a comprehensive wealth solution is what sets us apart. Each day, the team strives to perfect this mission."
Success is being in a position to mentor and uplift others
As a Managing Director, the Chief Operating Officer, and the Chief Compliance Officer of RGT Wealth Advisors, Heather believes that success is being in a position to mentor and uplift others and that "Collaboration" is the word that defines her best.
"I've had great mentors in my life, so it's important for me to support the next generation of leaders in our community," she states. "I work to create a culture of collaboration and consensus. Each day, I learn so much from the people I work with. An open, collaborative environment inspires others and can lead to success."
Heather's typical day is filled with numerous meetings to lead the team to success. She works collaboratively to design and implement policies to promote RGT Wealth Advisors' culture and vision and oversees the overall operating function of the company to keep the business on track.
"I believe you manage things while you lead people. This is true for employees and clients. I wake up every day with a fire in my belly because I know I am making a difference in the lives of people around me," she says.
"Fight for the things you care about but do it in a way that will lead others to join you."
Paving a smoother path for the next generation of female leaders
Heather points out that the gender gap in the financial industry is real, and she believes that there is an opportunity for her to make a difference.
"In fact, the inequities that women face in the industry led me to the field in the first place," she states. "Every challenge we face, and obstacle we overcome, are important parts of our story. Often, difficulties make us stronger and wiser and prepare us for what lies ahead."
Quoting Oliver Wendell Holmes, who once said, "A mind that is stretched by a new experience can never go back to its old dimensions," Heather observes that female leaders still face more roadblocks than men, but thanks to increased resources, organizations focused on leveling the playing field, and women demonstrating that teams are stronger when different perspectives are heard, those roadblocks are shrinking.
"I'm proud to play a part in helping to pave a smoother path for the next generation of female leaders," she says, recalling that one of her most proud moments was being asked to lead Women in Leadership.
"It was a group that underpins Workplace Diversity and Inclusion Initiatives which seek to leverage diversity and inclusion, to create a culture that values the contributions of all employees and provides equal opportunity for professional development and career advancement," she elaborates.
The group was created to be a forum where women, and the men who support the development of female leaders, could connect, develop and enhance their skills and experience, and drive business results.
Heather notes that as helpful as it was to women, it was also eye-opening to the men that supported them to see the silent obstacles that women endure.
"The secret of change is to focus all your energy, not on fighting the old, but on building the new."
Putting people first at RGT Wealth Advisors
"Live to work, or work to live? It is a question most leaders ask themselves. At RGT Wealth Advisors, we put our people first and understand the need for work-life balance," says Heather. "We have adopted policies, and a culture, to ensure we are supporting our employees to get that balance right."
As an example, she mentions how flexible work locations put the focus on productivity rather than hours worked, encouraging, and supporting breaks, reviewing workload balance, and giving employees time to volunteer.
"Perhaps most importantly, we lead by example," she affirms. "It's my responsibility to practice the behavior I want to encourage others to model. I make time for the important things in life. I enjoy the little things because I know I will look back and realize they were often the big things."
Heather points out that RGT Wealth Advisors takes a teamwork approach to wealth management by collaborating across the firm and with their clients, working together to help achieve goals.
"Our success is measured by our clients' success. As we continue to grow, we will hold fast to this guiding principle. The way you achieve your own success is to be willing to help somebody else go first," she concludes.