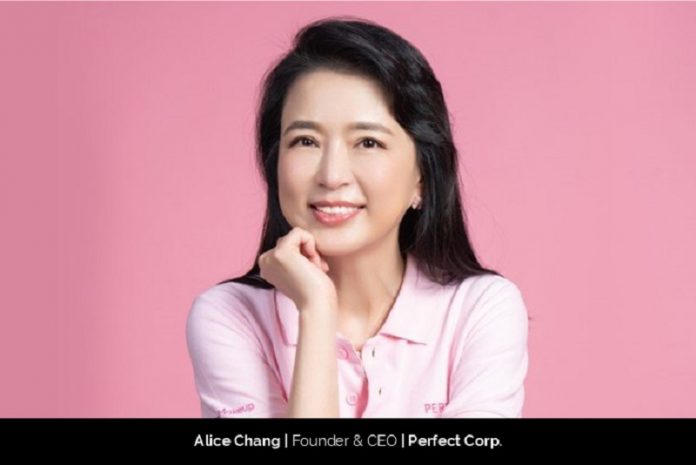 A trailblazer in the tech industry, Alice Chang is a pioneer in the digital world. As the founder and CEO of Perfect Corp. she leads a team that focuses on solving consumer pain points through artificial reality (AI) and augmented reality (AR) innovations within the beauty and fashion tech industry.
Perfect Corp. was born in June 2015 with the focus of re-imaging the consumer beauty experience through advanced AI and AR technologies. "We have continued to grow and expand our business re-imagining the consumer shopping experience across beauty, fashion, and retail. I am a beauty lover and innovator at heart and recognized a grand opportunity to integrate both beauty, fashion, and technology in an impactful, fun, and effective way that builds on a more engaging consumer experience."
Beauty and technology were, however, not Alice's primary industry, rather one that she transitioned into. Her career began in the early 90s when she started her journey in the financial sector in the banking industry. "This was during a time when the internet was first introduced into our daily lives and I identified a myriad of possibilities in the online realm. I then jumped into my career in the IT industry where I recognized the power and opportunity presented by technology as CEO of Cyberlink. Nearly two decades later, I recognized the practical application of AR and AI technologies in the beauty and fashion space aiding in virtual try-on and product discovery."
Perfect Corp. focuses on both B2B and B2C business models. Their innovative AI and AR solutions have proven to help brands increase sales conversion, boost engagement, and reduce product returns. As consumers and brands gravitate towards digital-first mindsets and more personalized shopping experiences, Perfect Corp.'s AI and AR-powered solutions are transforming the retail experience across industries.
"Changing the landscape of the beauty and fashion industries with groundbreaking technology has always been my dream for Perfect Corp. The consumer shopping journey was ripe for an overhaul, and our AI and AR-powered technologies introduced a new-age experiential element that refreshed the entire experience. I am so excited to offer brands impactful services and solutions like hyper-realistic AR virtual try-on for makeup, hair, and accessories; instant AI skin diagnostic; personalized AI product recommendations, animated step-by-step beauty tutorials and more—which truly change the consumer shopping experience."
Perfect Corp. partners with over 400 brands around the globe, across beauty, fashion, technology, retail and media, to integrate their technology across multiple touchpoints along the consumer journey—online, instore, in-app, across social and throughout the Metaverse. The company's solutions include virtual try-on for color cosmetics, hair color, and fashion accessories like watches, rings, and bracelets; AI skin diagnostics; AI product and shade matching solutions, and more.
"Our engaging AI and AR-powered solutions offer a completely new shopping journey that connects brands and consumers like never before. We created an extensive offering of seamless services and solutions for brands of all sizes, large enterprises to small indie brands, to seamlessly integrate AI and AR technology throughout consumer journey. By making the integration of these technology advancements accessible to brands and retailers, we have been able to reimagine the consumer shopping experience through technology innovation," explains Alice.
For the B2C business, the company has the YouCam suite of consumer apps (including YouCam Makeup, YouCam Perfect, and YouCam Video) which have amassed nearly 1 billion global downloads. The immersive apps offer unique interactive try-on experiences for beauty, fashion, and photo fanatics to discover, create, and experiment with AR and AI try-on features and effects.
Defining the Path to Success
Alice was recently recognized as a top female leader in tech at the 2021 Tech Trailblazers Awards for her contributions to the tech industry, her demonstration of leadership qualities and her proven achievement. "A good leader is a determined dreamer and exceptional listener who isn't afraid to strive for the impossible and never-been-done-before. As a leader, you must always be shooting for the stars, dreaming up the next best idea to grow the company to achieve milestones others once thought impossible. As a good listener, I am able to collect invaluable insights from my team, our brand partners, and consumers that help inspire new solutions and ideas that continue to improve upon our innovations and service offerings," explains Alice.
As a service-based company, Alice explains that success is important as it means that they are effectively delivering impactful solutions that serve their brand partner's needs and speak to evolving consumer demands. "Success manifests in many different ways within our company including standout achievements and partnerships, as well as in our ability to pivot, grow, and adapt to the ever-changing market."
On par with celebrating success, Alice feels that it is also important to recognize obstacles and challenges that help the company grow, adapt, and improve. "We approach challenges as unique opportunities to strive beyond what we thought was possible. These are the obstacles that require us to try something new, approach things in a different way, and think outside the box, which are vital to the growth of our company."
While the pandemic posed many challenges to everyone's way of life, Perfect Corp. quickly pivoted and adapted their AI and AR solutions to serve new found demands of brands and consumers looking for experiential online shopping. Global lockdowns resulted in a surge in online shopping and challenged brands to quickly rethink their consumer shopping experience through a safer, interactive, digital-first lens, Alice explains. "We quickly recognized the important role that Perfect Corp.'s AI and AR powered solutions could play in helping to insert interactive, engaging shopping experiences into the online consumer journey and rolled out programs to help brands—large and small—introduce these touchpoints throughout their consumer experience. This catapulted our growth and the widespread application of our AI and AR tech services."
In a similar manner, brands are now challenged to lean into the digital transformation and embrace a new world of 'phygital' (physical and digital) connections throughout the Metaverse, and beyond. Perfect Corp. embraced this transition to explore a completely new virtual realm and has since developed Metaverse-ready solutions to help brands easily implement effective and impactful digital experiences across their channels.
This transition is possible by keeping abreast with current trends, Alice explains, and open communications within the team. "I continue to remain involved in all aspects of our business operations, leading cross-functional teams to ensure we are providing the most cutting edge AI and AR solutions that are going to move the industry forward. I work daily to strategize, set, and implement ambitions goals for our team and ensure our efforts are on track to move us closer to reaching those achievements. A huge part of this is ensuring that our teams feel supported with the tools, education, and bandwidth to make these lofty targets a reality. I meet regularly with financial and operational leadership to closely coordinate and make sure our operations and finances align for growth. A large part of my day is spent evaluating and analyzing opportunities and making recommendation on the impact of long range growth initiatives. I also spend time daily to mentor and connect with my team at all levels, to inspire and motivate all members of our team."
Alice also explains that one important ingredient in finding success is striking the delicate and essential balance between work and personal life. "We certainly work hard at Perfect Corp. and our unbelievable growth over the last seven years is a testament to that. However, we strive to inspire a fun, creative, and collaborative work environment, and prioritize playing and celebrating along the way too. Innovation is at the heart of all that we do, and continues to motivate the team to accomplish the impossible. Additionally, I always prioritize self-care. I make time every morning to exercise so I can start the day feeling fresh and ready for the challenges that lay ahead."
Milestones of Success
Furthermore, Alice's successes also trickles down to inspiring women to make a change in a world that still has a male dominance. "I am proud to be a female founder and continue to serve as a mentor to aspiring females working hard to make a change. Our Perfect Corp. team is one that embodies inclusivity and teamwork in all that we do. We are a global team, separated by thousands of miles, but connected with the click of a button. I strive to encourage my entire Perfect Corp. family to dream big, embrace change, and never give up. This mentality inspires a future of innovators who embrace challenges with the confidence necessary to achieve the impossible and break boundaries."
As a word of advice for aspiring businesswomen, Alice urges them to, "Dream really, really big. Then get to work! Embrace change. The world is always changing so it's important to remain flexible and embrace the opportunity to pivot and lead the charge in a new direction."
While many nuances have shaped the journey of elevating Perfect Corp. to where it stands today, Alice remembers the precious and rewarding moments along the way. "One of the most rewarding moments as a leader has been watching my vision come to life as an effective and impactful global solution used by more than 400 brand partners around the world. Seeing the implementation of Perfect Corp. AI and AR solutions as the driving force leading brands into the digital transformation continues to be a regular "pinch-me" reality check."
Another special milestone was the launch of the company's franchise Global Beauty Tech Forum event in 2019 that served as a physical example of the progress we have made in establishing Perfect Corp. as a leader in the AI and AR technology innovation space across beauty and fashion. The franchise kicked off with physical events in Tokyo and New York City, where hundreds of industry leaders across beauty, fashion, retail, media, and technology gathered to spotlight the future of tech innovation. "There was a palpable energy and undeniable excitement that was apparent at these launch events that continues to resonate with me today. With comprehensive programming featuring our partners as guest speakers and panelists, and interactive technology demonstrations, the Global Beauty Tech Forum was a beautiful display of progress for our company and I am so proud of what we were able accomplish and showcase during this event. While the pandemic has caused us to shift to a virtual format over the last two years, I look forward to reuniting in person again soon."
Future Visions
Alice explains that the vision of Perfect Corp. is to transform the consumer shopping experience through AI and AR digital tech innovations. "Our industry-leading solutions introduce an interactive, personalized and hyper-engaged element to the shopping journey that draws on a more impactful connection between shoppers and brands. Perfect Corp. will continue to lead the way for the future of AI and AR technology innovation, developing groundbreaking solutions that will redefine and reimagine the consumer shopping experience for brands and consumers across all touchpoints- online, in-store, and across social." Going forward and adapting to newer technologies, she explains that the brand will remain dedicated to bridging the 'phygital' divide (between physical and digital spaces), by democratizing access to this new Metaverse world, and offering a growing list of Metaverse-ready solutions like NFTs, which help brands digitize their product offerings and lean into the digital revolution.
"We will also continue expanding our solutions to serve more brands than ever before. Advancements like AgileHand ® Technology have opened the door of opportunity for AR virtual try-on across fashion accessories including watches, rings, and bracelets. As we continue to build on face, hand, and body mapping technologies, we will be able to tap into more industries and serve more brands than ever before."
Foe more information please visit: https://www.perfectcorp.com/business