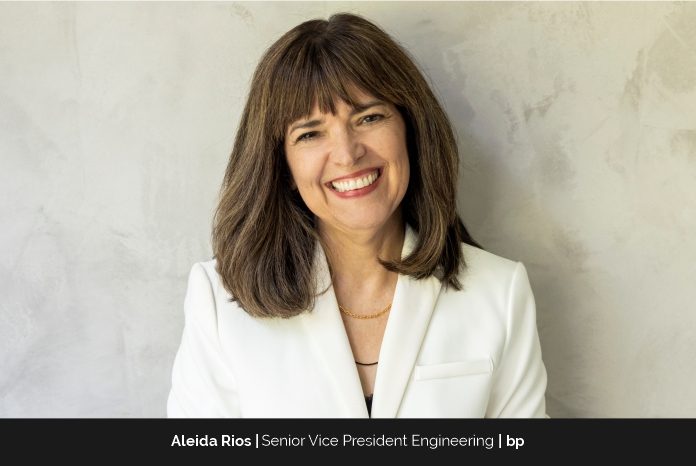 Aleida Rios, Senior Vice President of Engineering at bp, is driven by a mission for the energy industry to have a positive impact on both people and the planet. Her role as an energy industry executive is characterized by a fervent commitment to advancing the energy transition by seeking innovative sustainable solutions and fostering workforce diversity.
In her capacity as SVP of Engineering, Aleida holds accountability for a vast team of over 3,000 engineers and oversees the operations of the bp Centre of Engineering, where innovation and engineering excellence are at the forefront. Her daily responsibilities center on driving engineering solutions globally and making critical investment decisions that align with the goals of the energy transition.
What truly distinguishes Aleida's fulfilling days are those when she has the privilege of mentoring, coaching, and supporting the engineers within her community, guiding them in their career development. Exceptional days for Aleida involve direct engagement with customers on the frontline, enabling her to gain insights into their challenges and how engineering can provide solutions.
An Inspirational Journey
Aleida's path to engineering began in high school when she first learned about the field. Her motivation came from a desire to be the first in her family to attend college. Her parents, who immigrated from an energy poverty-stricken area in Mexico, had limited education but sought a better future for their children. This inspired Aleida not to disappoint them. She was introduced to engineering by a high school teacher, drawn to it because of her interest in chemistry and math, which converged in chemical engineering. What fueled her passion was the realization that engineering could make the world a better place. Her journey from modest beginnings to a successful engineering career stands as a testament to her determination and commitment to creating a brighter future.
The Organization
bp's mission is to reimagine energy for people and our planet. The company recognizes that there is a global demand and necessity for a better and more balanced energy system  that delivers secure, affordable, and lower-carbon energy solutions.
bp's strategy sees it actively involved in investing in the current energy system, which is primarily centered around oil and gas, while also investing in lower carbon activities – as it transforms to become an international energy company.  This dual approach underscores the commitment to both existing energy sources that the world wants and needs and the ongoing energy transition.
In her role as Senior Vice President for Engineering, Aleida is enthusiastic about leading a team of world-class engineers who are dedicated to guiding bp's safe transformation into a fully integrated energy company of the future. This transition reflects bp's commitment to delivering innovative and sustainable energy solutions that benefit society and the environment.
Paving the Way for Diversity and Innovation
In her three-decade career as an engineer in the energy sector, Aleida's mission is anchored in reshaping the industry, beginning with expanding access for women. She vividly recalls being the lone woman in many rooms of senior leaders for an extended period. Today, she takes pride in leading the engineering division of a prominent energy company. She acknowledges her role as a trailblazer and embraces the responsibility of creating pathways to equitable opportunities for all minorities within bp. This commitment to diversity and inclusion is seen as essential for the company's success and collective progress.
Throughout her career, Aleida has played a pivotal role in significant technological advancements, akin to exploring uncharted territories like Mars. In the past three years alone, she has been at the forefront of innovations that have substantially reduced carbon emissions from bp's operations.  These innovations encompass digital twins, robotics, and the development of lower-carbon products. For Aleida, it's not about mere disruption; it's about making the seemingly impossible possible to enhance people's lives. She emphasizes the importance of empathy, understanding the challenges others face, and providing the right support.
Aleida has gleaned that obstacles arise when the full potential of talent remains untapped, and that potential isn't harnessed to address some of the world's most complex problems. Her goal is to unlock this potential by nurturing young engineering professionals and empowering engineers to leverage their knowledge to challenge the status quo and contribute to a better world.
Commitment to bp's Values
Aleida's enduring commitment to bp, spanning over three decades, is rooted in the company's values. The firm upholds a robust code of conduct that establishes unambiguous expectations: a steadfast commitment to putting safety first and making ethical decisions, acting responsibly, and complying with applicable laws. It is about doing the right thing.  As a leader, Aleida takes this commitment to heart and leads by example.
At bp, Aleida recognizes the paramount importance of fostering psychological safety, diversity, equity, and inclusion. These principles are foundational to the company's strategy, creating an environment where employees can bring their authentic selves to work, feel a sense of belonging, and trust that their voices will be heard. This inclusive culture, in turn, serves as a catalyst for innovation, enabling the company to thrive and adapt in a dynamic and ever-evolving industry.
The Significance of 'Play to Win'
Aleida emphasizes the significance of bp's culture framework, which serves as a daily guiding force, ensuring that the team stays aligned with the company's strategic objectives. Within this framework, one of the key components is "Play to Win," a concept she particularly values. This principle is not about winning at all costs, it is underpinned by safety and caring for others. It extends beyond mere competition with others and encapsulates the idea of continuous improvement.
Playing to win entails not only understanding and competing effectively against rivals but also actively seeking opportunities for growth and learning. It involves forging partnerships and proactively seeking diverse perspectives. By doing so, the team can remain agile and receptive to new ideas and opportunities, ultimately contributing to bp's ongoing success and evolution in the energy sector.
Recognitions and Rewards
Aleida's career commenced at the age of 18 when she embarked on her journey as an intern in the oil fields of West Texas, taking her initial steps toward becoming an engineer. For her, the most meaningful recognition as a leader comes in the form of "thank you" notes, emails, or even a simple smile from those she has assisted in achieving their goals. These expressions of gratitude are immensely rewarding and serve as a source of motivation.
Over the years, Aleida has had the privilege of receiving several prestigious awards and honors. These include the Alumni of the Year Award from Texas A&M, recognition as the first Female Latina International Fellow of the Royal Academy of Engineering, and the bp internal recognition award for "bp at its Best." Each of these accolades represents special moments in her journey, allowing her to express gratitude to all those who have supported her along the way.
Plans for a Sustainable Energy Future
Aleida's vision for the future of bp is harmonized with the global imperative for an energy system that delivers secure, affordable and lower carbon energy.  She envisions a transformative role for bp, and as the leader of the engineering organization, she is committed to making a tangible difference. Her overarching goal is to harness the collective capabilities of engineering to help propel bp's transition into a fully integrated energy company.
Note for Aspiring Engineers
Aleida firmly believes in the power of resilience. She sees challenges and failures as opportunities for growth and learning, which in turn foster tremendous courage and self-assurance. Aleida's life is guided by the principle that if something scares her, it's a sign she should pursue it. She understands the importance of seeking assistance and acknowledges that no one achieves their goals in isolation. She says, "The definition of success changes at different stages of life. The constants for me are making a difference, having a positive impact in the world, and making sure that I pay it forward."
In her message to aspiring engineers, Aleida imparts a powerful sentiment: engineers are akin to superheroes. They possess the remarkable ability to enhance people's lives and effect meaningful change. Her message serves as a reminder of the profound impact that engineers can have on society through their work, underlining the importance of their contributions to a better world.