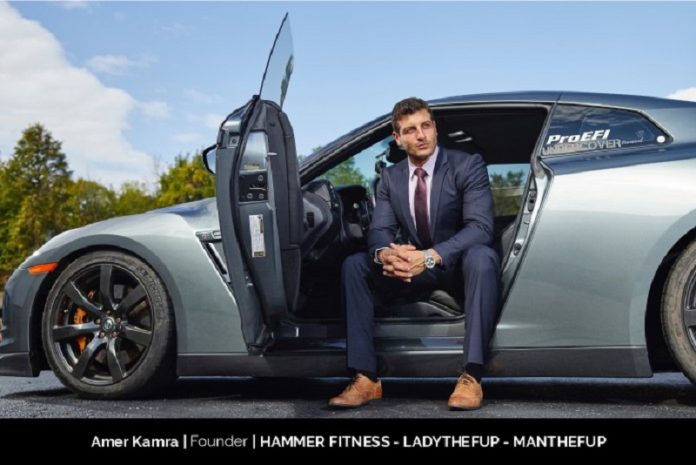 The fitness industry is increasing steadily in recent years, calling for several fitness professionals to share their right guidance and help people with fantastic results. One such fitness enthusiast is the Founder of Hammer Fitness, Ladythefup and Manthefup, Amer Kamra. He has always been passionate about coaching online, even when social media was in its budding stage. In just a few years, the power of social media showed its magic, and soon, he had his inbox bursting with inquiries. In 2014, he hired his best friend Shane Makan as his first employee, and over time, that increased to 30 employees who handled different business areas effortlessly. He further shares, "In the beginning, scaling quality of work was a chief roadblock as the company grew. It was challenging to scale my passion; my companies went through turmoil in the beginning stages; I then had to recalibrate, rehire and pivot the way we were working and managing the business to ensure quality could be scaled properly!"
Amer's journey from a model to an international fitness coach is truly inspiring, and in this exclusive CIO Views interview, we have covered all the insights into how Hammer Fitness has redefined the fitness industry.
Comprehensive Services of Hammer Fitness
Hammer Fitness is a top-notch online coaching platform and community that act as a catalyst for their client's body transformation. Working with clients from a plethora of continents to meet their fitness goals, they have the power to create the best-looking physiques aesthetically through a deep understanding of metabolism, physiology, and nutritional science.
With 100% customer satisfaction achieved over the years, the company now works with numerous renowned celebrities, fitness competitors (of all stages) as well as everyday people to help them get their desired body. They have even earned some of the most IFBB pro cards in entire Canada.
As a fitness industry leader since 2011, Hammer Fitness has been progressing in the online coaching space from that time itself. This helped them make a mark and attain tremendous success in just a few years. As more people are now glued to their computer screens and smartphones, online coaching is now thriving. It has only led to the rise in demand for online fitness coaches over time, with a downfall in demand for in-person training.
Now let's know a little about the founder and some of the members of his strong army of fitness professionals. Being a fitness competitor himself, Amer became a professional at the age of 21 and gained high recognition for his hard work. Looking at his super-fit dream body, many people came ahead to ask him his fitness secrets so that they could achieve similar results. To help them reach their goal by following the right steps, he kickstarted Hammer Fitness. Ever since that, Amer added new coaches to his team to spread the wings of the brand as everyone has his own unique style of rendering services.
Shane Makan, the first coach hired by Hammer Fitness, knows exactly what his clients experience and focuses on a client-centric approach to help them attain a healthy mindset and a successful transformation since he spent his adolescence stage as an obese and later shed all his weight. Moreover, he ensures to witness progress for each client once or twice a week and addresses their queries properly. He also adds, "I have their workouts/nutrition loaded on an app with their own profile so it's easier for them and they have a better experience. The workouts are designed around what they have available at home (if it's a home workout) or what they have available to them at the gym."
Jase Stevens, another coach at Hammer Fitness has a specialty in getting extreme body recomposition. He is coaching clients 24/7 for full 365 days from all over the world. He enjoys the freedom of working from any part of the world and producing excellent client transformations in a hassle-free manner. He shares, "Our motto is that achieving your fitness goals should complement your life, not take away from it! We create an ideal plan in terms of training, diet, and exercise around their lives so that everything is as easy to adhere to as possible."
For Magda Banas, a coach with Lady The F Up, flexibility is vital. She adjusts each client's exercise as per their body so that optimal muscle contractions get generated to help the clients attain their shape. Starting with initial questionaries pertaining to their diet and exercise history, current lifestyle, and further details to design a perfect meal plan and assist them in resistance training by explaining the goal, set up, intention, their level of control, and effort needed in the workout. She adds, "The key factors that I take into consideration when creating an effective training program for my clients is how much time they have during their week to dedicate to their workouts, their occupation, and lifestyle. The workout programs provide adequate bouts of activity and rest that will stimulate muscle hypertrophy."
Veronika Quintana-James, a coach with Lady The F Up, aims to help women reverse their abdominal obesity or the "skinny fat" body to achieve the perfect toned look. She shares all her profound knowledge and tools to be able to never revert back to their old self even without her mentoring them. Witnessing clients taking control of their life and getting past their "physical and mental rock bottom" keeps her motivated to work ahead. She states, "I look at their body and know what they need. Their training program is tailored to the specific client's weak points, imbalances, body mechanics, limb length extremities, injuries, level of fitness, equipment access, or lack of. Everything is taken into consideration as the details matter when producing the best results." She adds cardio as a supplementary addition to their resistance training so that they can easily get back to their normal BMI and lead a healthy life ahead.
Vlad Krymov, another team member of The Hammer Fitness, stands out with his full-life transformation that encompasses a personalized unique meal plan, custom workout programs including resistance training, and offering unlimited support at each step. His coaching skills instill self-confidence and help them lead a healthy, balanced and fulfilling life. He mainly asks for two commitments from each of his clients to dedicate their time to future success as well as make a complete lifestyle change with an attitude that follows the "Consistency + Hard Work" mantra. He shares, "I prefer to teach them how to track their macronutrients and calories, which leaves me with full control of their metabolism. The numbers will be adjusted during the process and discussed during weekly check-ins. Based upon these check-ins and communication, I will make the appropriate changes to ensure they are continuously progressing on a week-to-week basis."
Debra Basch, another coach with Lady The F Up, has certification in both personal training and coaching. She believes in knowing all the good and bad habits and honestly what her clients are doing and not doing. She teaches that all women cannot achieve a good balance if they are not nutritionally, physically, and emotionally. She adds, "For Beginners, we need to teach basics for form and intensity besides addressing their most "unhealthy" habits or areas that upset them. For Intermediate, we reprogram any misconceptions or faulty thinking/execution, diving deeper into the mindset and why still we are doing the bad habits, identifying cues and triggers that will cause the unwanted behavior. For Advanced, I help them with more challenging workouts, push them for better adherence, and connect the dots of choices."
Taking the brand higher with collaborative efforts
Amer believes that his ability to act and evolve swiftly aids him in tackling the challenges and taking the company to the next level. He states, "I understand our customer's needs more than anyone else. I am able to understand what our clients think and need before they even know. This gives me a huge advantage in our business, especially compared to our competitors."
He is focused on setting the vision for the company and steering it in the right direction. For this, he follows a process and adds members who resonate with his vision. He has a solid team on which he can rely and spread the roots of the company to new horizons. He gets his constant dose of motivation from his passion, and he aims to ensure that all the personnel working with Hammer Fitness receive the value they deserve. Being the mentor and source of motivation for all his team members, he pushes them to strive for the best in their lives.
Shane expresses that Amer has played a big part in helping him climb the ladder of success. Seeing his friend and mentor excel at different fronts, Shane also pushes hard to reach new levels. For the company, Shane brings clients that add value to the name and fame of the brand.
Jase mentions that he aims to create the best results for the company by fuels the growth. He adds, "Content creation is one of my specialties that allows us to keep our social media pages relevant and up to date." He believes that work ethic is a pre-requisite to success and one has to learn to work relentlessly and tirelessly.
Veronika states that Amer taught her to strive for the best by living with honesty and training hard. She states, "He taught me the true meaning of hard work and commitment and that if you don't at least have that, you will never get far. I love his, "say it how it is" honest and no bullshit mentality as it is the most conducive to growth." Being highly committed to her body fitness and the passion for helping others, she always finds a way to create a win-win situation. She adds, "My exercise execution knowledge and specific exercise adaptations for clients are top-notch. My clients are always in the top 3 placings for our 60-day challenges in terms of impressive transformation out of 60 different women every challenge. I have a continuous growing passion for helping others achieve what they believed at first to be impossible."
Vlad resonates with the working style of his mentor Amer. He gets inspiration from his quote, stating, "Who you are becoming is more important than where you are going." It means that it's not a victory that makes a person a champion; it's the process. The process is all about learning, working on oneself, and pushing the limits every day. Success at anything comes only when a person is ready, and he/she deserves it. Vlad adds, "Incredible change happens in your life when you decide to take control of what you do have power over. Like your decisions, your thoughts, and your habits. By taking control over those things, you can create fantastic changes in your personality and, as a result – transform your life." He expresses that maintaining a high work quality is crucial for him as it represents the whole team of hammer Fitness. He states, "We strongly believe that "details matter," and it correlates with the brand. The most effective way to help your team to grow is by producing the best quality results that create the value of the work that you do. It simply means that you need to be as good as possible at your job. By producing great results, you attract more customers that bring you better quality leads and, as a result – more sales." He believes, passion, dedication, consistency, and constant urge to help others steer the path for his future career.
Magda, fuels the growth of the company by taking the role of community coordinator besides an excellent coach. She helps the newbies with their elements and helps them connect with their vast community. She adds, "I am here to listen and guide women in the right direction. I know that it may be difficult to make new friends given the current state of the world. That is why I created LTFU Besties. It is an initiative to connect women with other LTFU women that may share similar interests! Think of this like a friend-match-maker." She knows the challenges that head towards people going through a transformation journey and aims at helping them cross every one of them. She states, "I want the clients to have someone, or even better multiple people, that are going through similar transformation journey, so they feel less alone."
Future growth of the company
Amer believes that with good quality services, the company can reach new levels. He stresses the point by stating, "I am more fixated on our ability to scale the quality and consistency of work than on sales and numbers. However, as quality is scaled, typically so are sales."
The team has doubled sales from 2020 to 2021 simply because of their ability to downsize their team and create a high expectation for each employee within the company.
Being a self-driven leader, Amer is focusing on setting a solid vision for the team and spreading the roots of the company to other regions. He adds, "We will continue to grow more in certain geographical markets as we have been, such as the USA. We have opened our 2nd physical location and will continue growing our physical and digital footprint."