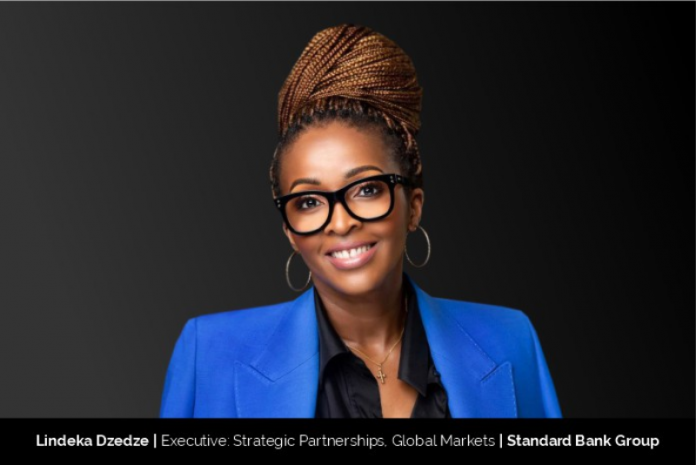 Success is often associated with the attainment of wealth, position, influence, or power, but for Lindeka Dzedze Head: Strategic Partnerships, Global Markets at the Standard Bank Group, the definition of success is closely linked with her values and purpose.
"Impact is a big part of my life. Being able to make a difference for the benefit of the African continent and my people, utilizing the platform that Standard Bank provides is incredibly important to me." she says.
Living her purpose at work
Lindeka wanted to be a social worker or pro bono lawyer because of the injustice that surrounded her growing up in apartheid South Africa. It was during her pursuit of her law degree that she became exposed to new learnings and ideologies that helped craft her career choices, and uncover possibilities presented to her at a personal development level and the opportunity to make a difference.
Lindeka affirms that understanding who she is, never forgetting where she comes from and connecting to her purpose has fuelled her curiosity and growth.
"If you're fortunate enough to have a platform, an opportunity to make a difference and you're able to take others along with you, that is incredibly powerful. That is what's important and rewarding to me in terms of my career and the work that I do. It's not something that I take for granted because it's not every day that people get to live their purpose at work," she maintains.
Using her challenges and experiences as a steppingstone
Amongst the challenges Lindeka faces in her career is often being the only person of colour and only female.  The lack of role models and mentors amplifies the feeling of being an invisible and unheard outsider. However, as a woman of colour, Lindeka has learned to use her challenges to her advantage as a stepping stone.
"That's how I built my career. You can either cry about it or do something about it. I'm the latter. I am always looking for solutions. My glass is half-full and refillable," she insists.
Lindeka learned early on that nobody was going to save her. She had to demonstrate that she was capable and this paved a way for her to advance in her career and help create more inclusive workplaces. She believes representation matters and her goals include driving change toward greater diversity and representation.
"You've got to learn to be assertive in your own way. You've got to be mindful not to allow all of that to weigh you down. I speak if it's important and if I want to. You learn when to speak up and how to speak up. You learn what works for you," she advises.
This is why Lindeka is working hard to make a difference so that other people's journeys don't have to be as hard, especially women, "The barriers still exist. But it's how you remove or get around them that matters. It is important that organisation create an enabling environment for their employees to grow and thrive."
Lindeka feels that at Standard Bank there is representation and clear purpose beyond making a profit.
"This bank speaks to who I am at the core. I get to live my purpose every day," she proclaims.
"The Standard Bank Group is all about Africa. They call it Africa; we call it home and we drive her growth! It is who we are and what we do. I always tell people that I am very fortunate and blessed to work for an organization whose purpose and values are aligned with mine," states Lindeka. "I am very alive to that fact and grateful every day. I am at home here, I am represented, I am heard, and I matter. I choose to work for Standard Bank."
Standard Bank has made great strides in achieving representation for women and people of colour, these are important milestones for the organisation and its stakeholders, as Lindeka explains.
The bank appointed its first female chairperson, Nonkululeko Nyembezi in June 2022, and she is joined by seven black executive directors on the board.
"This is work in progress that we are proud of," says Lindeka. She adds that a new Employment Equity   for the period 2022 to 2024 has been developed: Standard Bank has committed to increasing the representation of women in executive positions to 40% by 2024, and women on the board from 22% to 40% by 2025.
Deploying capital for women's economic emancipation in Africa
As Head of Strategic Partnerships, Global Markets, at Standard Bank Group, Lindeka's role and responsibilities are working with international (predominantly USA) and African investors to deploy capital into impactful opportunities across the continent by creating optimally structured financial solutions that speak to their needs. To achieve this, she works very closely with US institutional investors and US government agencies through the bank's partnership with MiDA Advisors, an implementation partner for investment and trade for USAID, to source sustainable capital at reduced cost for longer dated tenors. These typically involved blended finance solutions and guarantees to de-risk the market.
She is the chairman of the African Women Impact Fund (AWIF), an Initiative of the UN Economic Commission of Africa (ECA) together with its partners: UN Women, the Office of the Special Envoy on Women, Peace and Security of the African Union Commission, and the African Women Leadership Network (AWLN).  The AWIF Initiative was established in collaboration with the Standard Bank Group as lead sponsor, MiDA Advisors as key strategic advisor, and RisCura as the investment manager and provider of manager development and support services. The Initiative seeks to promote the UN's Sustainable Development Goals 5 (Gender Equality) and 8 (Decent Work and Economic Growth), and the AU Agenda 2063 on the continent.
Africa's progress depends on women's economic emancipation, but African women have been largely underrepresented in the investment eco-system and corporate at large.  Lindeka notes that while money typically goes into small SMEs, they're now aiming to have more women manage money at a macro level and make investment decisions.
With an initial $85 million that was announced at the 2022 Global Africa Business Initiative that took place on the side-lines of the 77th UN General Assembly in New York, the AWIF Initiative seeks to create an enabling environment and build an ecosystem around female fund managers on the continent that will ensure that that their businesses thrive.
The AWIF Initiative ultimately provides a single access point to prospective commercial and catalytic investors while developing female asset management talent across Africa. Through the female fund managers, the Initiative makes investments that have a positive impact and measurable social and environmental benefits. Additionally, the Initiative supports managers through incubation, manager development, mentorship, and provision of working capital particularly to those managers on their fundraising journey.
"We look at key areas such as supporting managers with regulatory compliance, license registration and maintenance, and other shared services business functions. Supporting managers to build their investment pipeline and track record. As well as supporting managers develop their due diligence structures, key investment systems and software," she explains.
To be able to respond to the various capital needs of women fund managers, the AWIF Initiative seeks to establish long-term strategic partnerships with institutions with a shared mission of promoting women economic leadership. To date, the AWIF has received support from Standard Bank Group Securities, the Government of Rwanda, and Visa Inc through the Visa She's Next program – a global advocacy program for women-owned businesses that has been expanded to Sub-Saharan Africa. This funding will ensure that women fund managers are able to focus on growing their businesses without the burden of managing short-term debt and other operational costs related that usually hamper fund manager ability to be sustainable.
The AWIF Initiative also seeks to put a spotlight on the issues surrounding women fund managers through various platforms and forums such as the Invest in Women in Africa Roundtable discussion that Standard Bank hosted on the side-lines of the US-Africa Leaders Summit in Washington DC, December 2022. The Roundtable brought together investors and leaders from Africa and the US to examine the opportunities and challenges that exist and what the global investor community can do to support women-led funds on the continent.
Another prestigious forum Lindeka had the honor to attend was the fourth African Women Leaders Network (AWLN) Intergenerational Retreat on the theme "African Young Women Lead – Mobilizing Partnerships and pathways for Economic Empowerment, Sustainability and Financial Inclusion", organized by the African Women Leaders Network's, Young Women Leaders Caucus in collaboration with the Office of the AU Special Envoy for Women, Peace and Security, the Women, Gender and Youth Directorate of the African Union Commission (AUC) and UN Women, jointly supported by OCP Africa, convened by Her Excellency Ellen Johnson Sirleaf former president of the Republic of Liberia and Patron of AWLN and hosted by Her Excellency Samia Suluhu Hassan, President of the United Republic of Tanzania;
The African Women Leaders Network (AWLN) serves as a continental platform to galvanize African women's leadership across generations towards lasting peace and sustainable development in all sectors and at all levels, building on, and working with, existing women networks. AWLN also serves as a practical instrument to implement the AU Agenda 2063 "The Africa We Want" and the UN Agenda 2030 for Sustainable Development. The Network further seeks to bolster women's participation in decision-making through peer learning and mentoring, enhanced solidarity to country in transition or conflict, advocacy and capacity-building among other strategies.
The AWLN was launched in June 2017 at the United Nations headquarters by over a hundred African women leaders with the support of the African Union Commission, the United Nations through the Office of the AU Special Envoy on Women, Peace and Security, UN Women and the Federal Republic of Germany. AWLN subsequently held a second "Women Leaders' Forum for Africa's Transformation" at the African Union headquarters (April 2018).
The AWLN builds on the leadership for gender equality and women's leadership of the Chairperson of the African Union Commission, H.E. Mr. Moussa Faki Mahamat, and of the United Nations Secretary-General, H.E. Mr. Antonio Guterres. AWLN is led by key trailblazing women leaders including H.E. Ellen Johnson Sirleaf, AWLN Patron and first woman President of the Republic of Liberia; H.E. Sahle-Work Zewde, AWLN Pioneer Leader and President of the Federal Republic of Ethiopia; H.E. Ms. Amina J. Mohammed, United Nations Deputy Secretary-General;; H.E. Dr. Joyce Banda, Former President of the Republic of Malawi, H.E. Mme Catherine Samba-Panza, Former President of the Central African Republic, H.E. Dr. Ameena Gurib-Fakim, Former President of the Republic of Mauritius. The network is managed through its co-conveners, H.E. Mme Bineta Diop, AU Special Envoy on Women, Peace and Security and H.E. Dr. Phumzile Mlambo-Ngcuka Former UN Women Executive Director and Former Vice-President of the Republic of South Africa.
In addition to the AWIF, Standard Bank has various initiatives to support women across the continent.
Stanbic Kenya's 'Dare to Aspire, Dare to Achieve (DADA)', is another initiative that offers both financial and non-financial support to women. It offers a holistic solution that not only meets the woman's financial needs but also looks at other aspects of her life that are very important to her.
Anakazi Banking in Zambia is an initiative committed to providing access and driving growth for Zambian women. Its financial service solutions are tailored to the unique needs and lifestyle of Zambian women beyond banking.
For SMEs to grow, they need access to capital, but most of them are not, on their own, able to meet the requirements of commercial lenders. To address this issue, USADF, and Stanbic Kenya entered a five-year partnership in November 2021 and set up a $10 million catalytic grant funding program to address this gap and support selected SMEs with both the finance and practical skills and training on their journey to becoming investment ready.
The program has already disbursed over $1.3m to grant recipients and is creating an investment pipeline for the private sector, thereby providing a graduation path for the SMEs beyond grant capital.
Due to the early success of the program in Kenya, USADF and Standard Bank are now expanding the partnership to Tanzania, Uganda, Zambia, and potentially other markets in the future. It is anticipated that the expanded program will invest $3.5 million per year with each party contributing $1.75 million per year.
Leadership says we're here to serve people.
"To me leadership is service, to make a difference, to empower others. I am inspired by this continent, our rich cultures, the vibrabcy of the colours of our cloths, our determination, our resilience", says Lindeka.
Gratidude and the love of doing work that matters are the things that keep Lindeka and her team motivated and inspired. Her vision is to create a platform for women entrepreneurs on the continent where they can tell their own stories, support each other and thrive.
Lindeka insists that her son is by far, her greatest achievement: "I think raising a young black man in today's world is hard. To raise somebody who is comfortable in their own skin, who's confident, thoughtful, and respects others, is incredibly important to me and I am grateful," she states.
Lindeka notes that the reason for her happiness is that she feels like she's living a life with purpose, which is the most wonderful thing. "It gives me a reason to wake up in the morning. I am doing work that I am proud of and work with some really incredible individuals. Like minded who want to do well and do good."
Lindeka's enduring optimism comes from the things that she's grateful for every day: "My health, my friends and family. People that love you, people that care, that check on you. My career that affords me the opportunity to make a difference."
Lindeka's parting advice to aspiring leaders is profound: "Don't underestimate your potential. Don't let the world tell you who to be. Have an 'anything is possible' mindset. Determination and hard work eventually pays off. Don't let fear of the unknown rule you. Always send the lift down!
Lindeka has attained multiple achievements in her career in finance, including industry awards in Capital Markets, the launch of AWIF, and being featured in African Business Magazine as one of the New African's 100 Entrepreneurs for her work on the AWIF Initiative.
"I come as one, but I stand as 10,000" – Lindeka's phenomenal lionesses of Africa.
Quoting Maya Angelou's famous words, "I come as one but stand as 10,000," Lindeka notes that it doesn't feel right to just talk about herself when there are many more African women who are equally deserving.
Lindeka is especially proud of the women whom she calls the "phenomenal lionesses of Africa" that are doing amazing things on the continent. These are women she connecting with at the Fourth Intergenerational Retreat of the African Women Leaders Network in Zanzibar in December 2022. Here are some profiles and achievements of Lindeka's phenomenal lionesses of Africa:
Ms. Nomso Faith Kana (M.Inst.D.)
As a Broadband Infrastructure Entrepreneur, Technical and Policy Advisor, and Nuclear Scientist, Nomso Kana led the South African delegation to the Global Sustainable Energy Forum as a resource usage advocate. She became a 4IR Commissioner in 2019.
Kana is a nuclear scientist and governor of the Nuclear Energy Foundation Agency, a commercial African company that promotes alternative energy in 43 African countries. She has also been involved in youth development and gender equality initiatives with the SADC Parliamentary Forum and African Women Leadership Network.
Kana was awarded the Ubuntu social award from Dr. Naledi Pandor's International Relations department and has received several other innovation prizes for her social enterprise. She is also the Programme Director of Taungana Africa, a non-profit that gives high school girls, from remote and extremely underdeveloped Sub-Saharan areas, world-class internet connections and exposure to STEM education and careers.
Kana is the Deputy Chairperson of the Nelson Mandela Science Centre and Small Enterprise Development Agency. She advises the Eastern Cape Premier on digital transformation and the economy.
Dr. Sindy Zemura-Bernard
Dr. Sindy Zemura-Bernard is a multiple-award-winning humanitarian, social entrepreneur, event moderator, public speaker, and pioneer who empowers marginalized women, girls, and youth. She is a gender equality, education, youth empowerment, gender-based violence, and poverty reduction expert with over two decades of experience in international development and finance in Africa, Europe, the US, and Canada.
Sindy founded the Southern Africa Embrace Foundation (SAE Fdn), a Toronto-based international development charity with UN ECOSOC Special Consultative Status Certification, because of her commitment to these concerns. SAE Fdn helps underprivileged women, children, and youth in seven African countries. She also empowers African women and youth through her global boards and networks.
Dr Josephine Kulea
Samburu Girls Foundation is a girl child protection charity working in northern Kenya a place called Samburu county. We rescue, house, feed, clothe, educate and reconcile girls who are at risk of harmful practices of female genital mutilation(FGM) which 86%, child marriages(young girls between 8 to 12 years are married off) which goes hand in hand with FGM and also beading. All the above are illegal in the Kenyan laws but they are still happening to date.
We have been doing this important work for the last 11 years and have supported 1,500 girls and still counting. We have a few success stories of graduates who were once child brides but are now working and supporting their families as sole bread winners. We feel what we do is a drop in the ocean since there is great need to support more of those needy girls but resources have been a great challenge for us working in this brave field that many fear to venture into.
Our website is www.samburugirls.foundation.
Doreen Medard Kavishe
Doreen Medard Kavishe, a 30-year-old Bagamoyo Tanzanian agripreneur, farms chicken and horticulture. She co-founded EYWA, Empowering Young Women in Agribusiness, which empowers young women via food value in addition to ensuring sustainable local food production and security.
Doreen created the project proposal for the idea to empower young women, recruit them, and organize them to join this movement, solicit partners and supporters, and manage project activities and funding. She leads two teammates and 115 Tanzanian women aged 18 to 35 years in this program (mainland and Zanzibar).
The project addresses sustainable food production, safety, quality control, and post-harvest losses through value addition and entrepreneurship, enabling self-employment and poverty alleviation.
Her participation includes:
Finding young women entrepreneurs for the agricultural produce-focused training program.
Trying to solve Tanzania's young unemployment, post-harvest loss, and value-added food challenges.
Conducting 12-day business, financial management, food processing, and packaging training for young women in the region.
Documentation includes creating entrepreneur's assessments, notes, business management strategies, and training certifications.
Doreen is also building a community kitchen to encourage Tanzanian agriculture by processing and adding value to agricultural produce. She is involved in mentoring and coaching small-scale, skilled, young women entrepreneurs with successful women in business.
Eileen Akbaraly
CEO/Founder Eileen Akbaraly is an Italian Indian-Malagasy designer and businesswoman who always knew she would combine her two interests, fashion, and sustainability, to change Madagascar. In 2019, she created 'Made For A Woman,' Madagascar's first women-led and women-centred sustainable fashion firm.
Eileen aims to inspire a more sustainable and ethical fashion future. Her dedication to sustainability and beautiful design has attracted international luxury brands like Armani, for whom she created a one-of-a-kind tribute piece that debuted on the Milan Fashion Week runway in September 2022, and Chloé, with whom she is developing a capsule collection for Spring 2023.
Industry leaders have recognized her sustainable and scalable business model, making her a finalist for the Human Rights Award at the CNMI Sustainability Awards in 2022, Best Commitment to Sustainability by the Better World Forum in Cannes, and the Green Night Award for Sustainability at Green Night in Switzerland 2020.