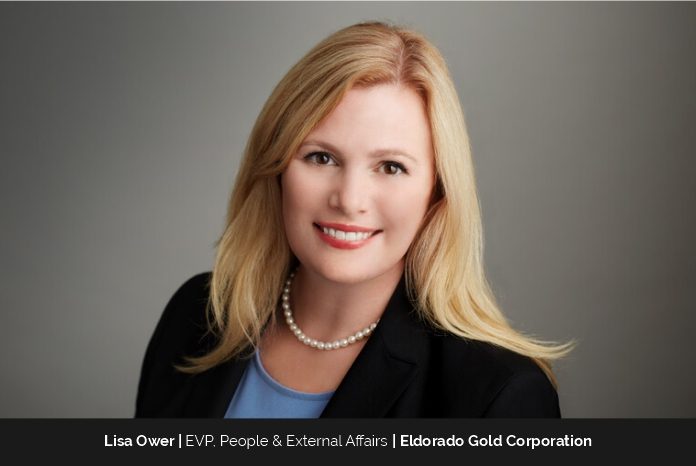 Lisa Ower is Executive Vice President, Chief People Officer and External Affairs at Eldorado Gold Corporation and is known for being a leader who is unafraid to turn conventional thinking on its head. Throughout her career, she has consistently created practices that empower leaders and employees to work together to generate the best results possible. Her experience is based on a diverse number of industries, cultures, and some highly competitive and challenging markets. Lisa states that those experiences have given her a unique perspective on what works for organizations and how best to help companies move forward.
Lisa's career has included executive leadership positions in infrastructure, energy, manufacturing, mining, and technology companies with operations across the world. She always brings the lens of 'what drives and motivates humans' to the conversation, helping to influence positive change not only in good times, but in challenging times as well. Lisa always steers towards creating environments where companies and employees collaborate, innovate, and thrive.
Culture produces results.
"I was fortunate to be exposed to industries early in my career that celebrated innovation and transformation. The task of transforming a company and evolving its culture is challenging, but it's also incredibly rewarding to play a role in moving an entire company and its people towards a goal and associated success," says Lisa.
Lisa has always been fascinated by what drives and motivates people and this led her to pursue the study of education and psychology. "Each one of us wants to feel valued as an individual, able to make meaningful contributions at work, grow and build our skills, and be recognized for the impact we're making," she states. She further says that Human Resources has given her the opportunity to directly influence the experiences of employees, which in turn translates into thriving cultures that achieve strong business results.
"In the past, Human Resources got a bad rap for being disconnected from business strategy. That has changed. CEOs are now using this role as a strategic advantage," Lisa adds.
Shifting to an opportunity mindset
"You can't taste the sweet without the sour," asserts Lisa. Success is a never-ending journey that is filled with peaks and valleys, twists, and turns where you may have met opposition and even failure. We should embrace that failure, that difficult experience. It's only in those difficult moments that you can truly grow, learn, and ultimately achieve personal success. She believes that having a growth mindset can be very powerful in helping to aid success.
"Embrace the challenges. View them all as opportunities.," says Lisa.
Lisa believes that challenges are puzzles that need to be solved. She also says you must be comfortable with uncomfortableness because it's in that state of uncomfortableness that growth ensues. Lisa has always chosen the path that scared her the most and thriving in the face of challenge is what led her to where she is today.
Breaking new ground at Eldorado Gold
Eldorado Gold is a 30-year-old, mid-tier gold and base metals producer with mining, development and exploration operations in Türkiye, Canada, Greece, and Romania. Headquartered in Canada, they have a highly skilled and dedicated workforce of over 4,600 team members across the globe. Their vision is to build a safe, sustainable, and high-quality business in the gold mining sector creating value today and for future generations.
Lisa notes that Eldorado has significant value in its diverse asset portfolio. Their Türkiye operations have been a foundational asset for many years and their Lamaque operation in Quebec has been an outstanding performer since it was added to the portfolio in 2017. In addition, Eldorado's operations in Greece present exciting growth potential through the development of their world-class Skouries project.
"Innovation and agility in the way we think, act, and bring about our collective future is the key to our success. Our ambitious strategy will be delivered by our great people. It requires all of us to work together collaboratively; actively include diverse voices; share knowledge and expertise across our regions; learn from each other to drive continuous improvement, and ultimately multiply our collective potential. It will be hard work but it's an exciting journey we are on together," says Lisa.
Driving Eldorado's vision as Chief People Officer and External Affairs
Eldorado has four key strategy pillars that include People & Capabilities, Safety and Sustainability, Operational & Project Excellence, and Financial Strength & Returns. These strategic focus areas provide a framework for prioritizing and aligning work to achieve the company's vision.
Lisa notes that social license to operate is a crucial part of this framework and, in fact, table stakes in their business. The external relations side of her role has a direct impact on social license through Indigenous, community, and public relations as well as through stakeholder management, government relations, and communications. She is working towards shaping and positioning the 'external experience' of Eldorado Gold while enabling local capability development and recruitment. "The HR side of my role includes activities aimed at enabling value creation for employees and shaping the internal experience of Eldorado Gold. Together with the social license to operate, this creates the delivery focus of our strategic pillar of 'People and Capabilities'," she explains.
On the HR side of things, Lisa is working with the team to implement initiatives that will strengthen their culture and lead Eldorado through a period of sustained growth. As a company, the organization is readying itself for future growth through additional skill-building with their Valuable Leadership model and continuation of their global listening strategy to hear directly from employees. They are also expanding inclusive diversity in the organization throughout their processes and encouraging a growth mindset amongst employees.
"We want to help evolve the face of our industry by welcoming more diverse people and building the workforce of the future. We are doing this through recruiting strategies, workforce planning, and investing in the learning and growth of people in new ways. We are also partnering with industry organizations like Women in Mining and Artemis Project to help us pioneer new ways of drawing diverse talent into our sector," states Lisa.
Building culture through creativity and innovation
"The beauty about my role, and something I love the most, is that there is no 'typical day.' We are a fast-paced company with a lot of exciting opportunities ahead of us. We are a roll-up-your-sleeves executive team, and we are frequently on the ground and close to our operations. We are a very collaborative agile team across Eldorado," states Lisa.
She explains some of the key strategic objectives in her role:
We are committed to safe, inclusive, innovative workplaces – which is all about cultivating our great culture and building leadership capabilities that create that kind of workplace environment.
Ensuring we have the best people in the right roles, in the right place, at the right time. We are seeking to build internal capabilities we need to deliver on our growth objectives today and in the future. Understanding the critical roles for our business and identifying people for those roles in the future and developing them is a key focus.
Getting creative and innovative about sourcing diverse talent is also on our minds as is continuing to listen to our employees. We want to evolve our people practices making sure this is the place they want to work and ensuring we continue to attract and retain the best talent.
From an inclusive diversity perspective, we now have roadmaps in place in each country to advance this topic in a way that's most meaningful for the region and will keep people engaged.
Challenging the status quo in your career
Lisa considers herself to be fortunate to have worked in several different types of industries from software, manufacturing technology, to oil and gas, and now mining. All these experiences have helped shape her career in different ways and the people she has worked alongside have had a huge impact on her career.
As a leader, the best recognition she says she has received is that, over the course of her career, extraordinarily talented colleagues have followed her to other companies. Lisa's personal goals as a business leader are to continue to challenge the status quo and look for innovative ways to progress the industry. She says she never wants to stop learning and growing so that she shows up as her best self for her team.
Finding a work-life balance that works for you and your company is key.
Lisa believes the meaning of balance is unique to every individual. More than ever, work life breeds into personal life and Lisa says flexibility is essential. "It's not about face time, it's about what you deliver. Find a way to work that works for you and the company. That is the key. If you can find happiness in that, your results will speak for themselves," she says.
Lisa's message to aspiring business leaders is to stay humble – don't forget who you are and what you value. Don't compromise on your own values. Be authentic, listen to others, don't be afraid to have a contrary view, and never stop learning.