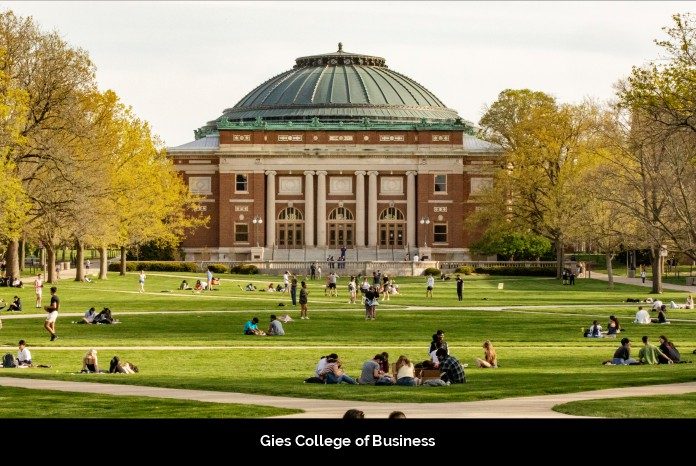 Business plays a crucial role in the economy by providing goods and services, creating jobs, and driving innovation. It also contributes to society by supporting communities and promoting social and economic development.
The world of business is changing rapidly, and today globalization is the new normal. Sushi-burritos are a thing, apps can bring you hundreds of languages at the touch of your fingertips, and cryptocurrency is giving traditional money a run for its money. Whether you are planning to enter fashion or finance, or something in between, choosing a business degree will provide you with a solid understanding of basic economic principles, how markets are affected by world events, and how to assess a firm's financial health.
There are thousands of business schools that provide students with the right knowledge and gives them the skills and competencies required to pursue business careers and/or graduate studies. Gies College of Business at the University of Illinois Urbana-Champaign is one such school that proudly offers a leading-edge business curriculum designed to prepare learners to become purpose-driven business leaders.
Gies College of Business is home to approximately 3,000 undergraduate and 6,000 graduate students in MBA, master's and doctoral programs. Internationally recognized as a leading business school, Gies Business offers outstanding programs in accounting, finance, management, marketing, supply chain, and more.
Consistently ranked as one of the top public universities in the nation by US News & World Report, the University of Illinois is also a leader in business education and research. U of I graduates rank 12th worldwide in venture funding for startups, and the Gies College is one of the top sources of CFOs to Fortune 500 and S&P 500 firms.
Honing effective business skills
In addition to providing important skills in a variety of disciplines, business education prepares students to solve complex problems, work effectively in teams, and become better communicators.
Artificial intelligence, machine learning, and virtual reality are gaining increased adoption, and business education can be a vital way to learn about those new technologies and incorporate them into a professional career.
"Perhaps most importantly, business is a noble profession, and it can be an invaluable way to do immense good for the world," says Jeffrey R. Brown, Dean of Gies College of Business.
Business on Purpose
At Gies College of Business, they emphasize 'Business on Purpose'. This is not a tagline; it is the foundation on which the College delivers its promise to provide the environment and the resources to help students discover their own purpose. It's about finding ways to use business to do good in the world.
Ethics and values are woven into the fabric of the education at Gies. The first business course all students take is Business 101: Ethics and Professional Responsibility. It's much more than "just an ethics course," though. Students are encouraged to think about why they chose business, what that vocation might look like as a career, and how they can use business to make positive contributions to their community, their state, and the world.
State-of-the-art on campus facility
Students have access to a number of state-of-the-art learning facilities at Gies College of Business.
The "main" building is called the Business Instructional Facility, which is a LEED-certified building with collaborative spaces throughout. BIF, as it is known, houses a popular commons area, classrooms, career services and academic counseling offices, a 3D printing lab, the Margolis Market Information Lab, and a 300-seat auditorium. Students will attend many of their classes across the street in Wohlers Hall, which features classrooms, an auditorium, and offices for faculty and staff.
And an exciting new addition to "business campus" at Gies is Steven S. Wymer Hall, which represents the College's continued commitment to investing in the future of learning. Construction began in May 2023 and is expected to be completed by early 2025. Wymer Hall is a nearly 100,000-square-foot learning hub with online production studios, high-tech hybrid classrooms, and collaborative spaces for groupwork and team projects.
Jeffrey R. Brown – Dean of Gies College of Business
Dean Jeffrey Brown grew up in Hamilton, Ohio. His parents were both public high school teachers who placed a very high value on education, so it is no accident that he took school seriously. Brown inherited his father's love of national politics and policy (he taught government), as well as his mother's strong abilities in math, so it was natural that he would eventually end up as an academic economist with strong interests in policy.
Brown studied economics in college and then took a job as a brand manager at Procter & Gamble. After a few years, however, he found that he missed the intellectual rigor of academia. That's when he decided to return to graduate school.
He joined the University of Illinois and Gies College of Business in 2002 as an assistant professor of finance and became dean of the College in 2015. Brown holds a PhD in economics from MIT, a Master of Public Policy from Harvard, and a bachelor's in economics and political science from Miami (OH) University. From 2001-2002, he served as senior economist at the White House Council of Economic Advisers. His research focuses on the interaction of public and private insurance markets.
Brown says his favorite part about Gies College of Business is the incredible culture they have and the spirit of innovation that you can feel throughout the College.
"Everyone is always so helpful and supportive of each other, and that really feeds into our culture of innovation," he said. "Our faculty and staff are always coming up with great, new ideas for ways to move business education forward, and we're fortunate to be in a position to implement many of those ideas."
Advice for aspiring students wanting to pursue a career in Business & Management
Brown encourages students to be open-minded about where their career might take them.
"Be open to new experiences. Study abroad, if you can. And don't feel like you need to 'have it all figured out' while you're in college. Many professionals don't discover their true purpose until much later in their careers, and that's ok!" he exclaims.
He further adds: "While in college, take advantage of as many in-class and out-of-class activies as possible, and look for opportunities to network with your peers. You never know who might be a future business partner or what student organization might make a life-changing impact on you."