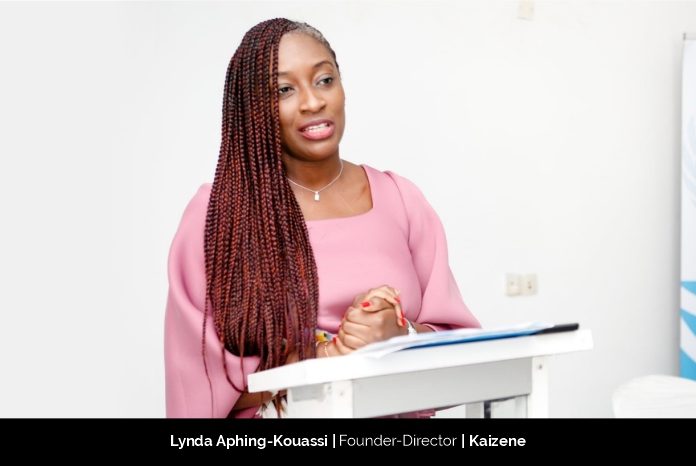 Women's leadership is not a new phenomenon in Africa. Women have been critical problem solvers throughout Africa's history, leading militaries during the pre-colonial period, freedom fighters during independence movements, transitional leaders during post-conflict periods, and leaders during some of the worst economic, political, and health crises of the twenty-first century. Moving forward, Africa must use women's expertise, skills, and abilities at all levels of problem-solving in order to reclaim the continent's future.
After recognizing the need to provide quality infrastructure to African countries in order to support and accompany their desire for emergence, Lynda Aphing-Kouassi left the London banking community to establish the Kaizene firm in Abidjan and the United Kingdom, which organizes training and conferences to strengthen the continent's infrastructure and construction sector.
Lynda Aphing-Kouassi, a Stanford School of Business graduate, a qualified Learning Performance Institute (LPI) of the World Bank, and holder of a certificate in business direction, created KAIZENE, a business consulting, training, coaching, Institutional Conference organizing and working with SME, in 2015.
Prior to joining KAIZENE, Lynda spent 15 years in the banking sector, working as a team manager, investment director, and investment banker in London for Santander, Société Générale, and Vaultex (a subsidiary of the HSBC group), giving her solid expertise in the financial and banking sector, as well as in the field of social responsibility and people management.
Lynda decided to return to her country a few years ago in order to share her experience through the activities of her firm, KAIZENE, and thus contribute to the development of the African continent, to the empowerment of women and young people through mentoring, coaching, and training, and by organizing the annual infrastructure and construction conference since 2015. Lynda's multiple projects, as well as these CSR activities, have gained her distinction as a development actor by Forbes Afrique and Financial Afrique publications.
KAIZENE
The team at KAIZENE is specialized in capacity building, organization of institutional conferences and accompanying VSEs/SMEs – KAIZENE Accelerator. Lynda says, "We aim to be agent of change for SME, Women our continent."
The workplace has as a leitmotiv the worth of the people that is never seen on the balance sheet. Lynda thinks that every company strives because of its people; therefore, KAIZENE tries to bring people's potential to life and show businesses how to leverage on their employees.
KAIZENE has solid partnerships with firms that place their confidence in it and its skills. It also concentrates its services on technical and emotional skills, and it has established a women-only accelerator to have an influence on their everyday lives, activities, and money. Lynda says, "Mostly we innovate and reinvent ourselves as the market changes."
Have Faith in the Process
Lynda sees challenges as giving experience, which is what's needed to get better. She says, "Trust only God. Many people have been great disappointments and trusting them obviously caused some roadblocks, I now look up, believe in myself, and keep going. Those roadblocks, thankfully, have not created resentment in me but a stronger desire to carry on."
Lynda defines success as living in peace, finding delight in her religion, being humble, bringing fulfillment into people's lives, being the pride of her children, and being resilient.
Lynda improved her competence, took some classes, researched her business, and trusted in her success through God to assure her success.
According to Lynda, many individuals she admires have influenced her, but her experience and capacity to believe in herself, as well as her ambition to be an agent of change, have also pushed her along this route. She adds, "With knowledge, you can do anything, hence my choice of sectors."
Keeping Work and Life Aligned
Lynda has many hobbies that allow her to recharge her energy and escape. She also spends a lot of time with her family. She shares, "I mostly communicate about my activities to involve my family in my professional life and my work and dissociate work from my personal life by setting boundaries and sticking to it no matter what."
Contributing to Evolution
Lynda hopes to contribute to the progress of the African continent through her services. In her never-ending drive for growth, she firmly believes that the will to achieve and progress must overcome hurdles and problems. Some of the topics covered in KAIZENE conferences include mining, oil, and gas (December 2015) -United Kingdom, London Challenges and Opportunities in the Petroleum Industry (April 2016) — Abidjan, Ivory Coast African Electrification (October 2016) – South Africa, Cape Town, Infrastructure and Construction (December 2017) – Dakar, Senegal Infrastructure and Construction (December 2018) – Kigali, Rwanda Infrastructure and Construction (October 2019) – Addis Abeba, Ethiopia
Lynda is a member of the board of directors of the African Diaspora Network (ADNE), situated in Brussels (Belgium), and a member of the London Institute of Directors (IOD). She is also a member of the Concordia network in the US.
Message for Woman Visionaries
Women have achieved significant progress at the grassroots level, as seen by data comparing the previous two decades. Although there is still a long way to go in terms of empowering women, we are certain that this positive trend will continue.
As a passionate woman leader herself, Lynda reveals that she began at the bottom and always believed she could work her way up. Her biggest gratitude is for the numerous accolades she and her team have received for the high quality of their work. She says, "I think what we are doing is making a difference by giving confidence, strength, belief, hope, and power to women. We also encourage networking women to work together so that we can be stronger.
Lynda is enthusiastic about KAIZENE's ongoing progress. She said she plans to develop new collaborations, train more individuals to be tomorrow's leaders, and open offices in other nations.
Her message to aspiring female leaders is to "Know your tribe, value them, and have faith." She advises believing in yourself and doing it with dexterity and seriousness; no matter what obstacles arise, stay determined and stay the course; you will succeed.