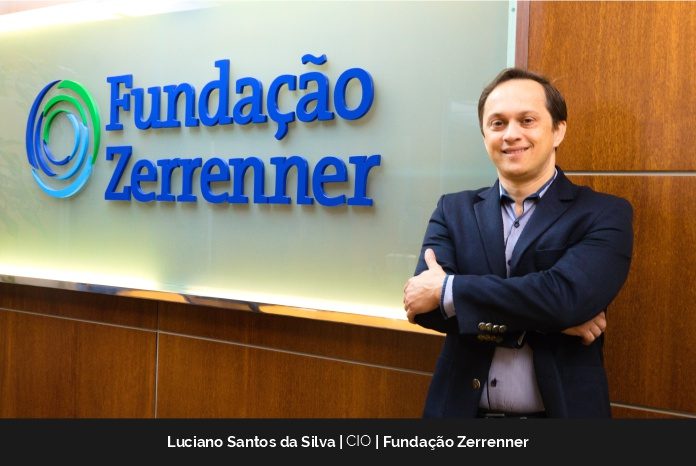 Visionary leadership cannot be taught. A CIO who possesses this trait will be able to predict the direction the business is taking, position the IT department to assist in that direction, establish and promote a strong team to move in that direction, and inspire both the team and the business to achieve that objective as soon as feasible. The CIO may now appear to go from the world of a firm, conservative corporate strategy and join the spiritual. A CIO must, however, have a highly future-looking mindset and be able to visualize the firm not only moving forward but also having arrived.
Having worked in the industrial (WMS, TMS, production planning, maintenance, automation) and agricultural processes (planting, harvesting, mechanized activities, and services industry), Luciano Santos da Silva is an executive with more than 20 years of experience in the field of information technology. He also has experience creating results-driven action plans and finding synergies for company improvement.
Being in charge of authorizing and carrying out system projects (Sales Force, SAP, mobile apps, Cloud applications), infrastructure (SAS), and PAAS as the composition of a new datacenter and disaster recovery, implementation of MS Office 365, WAN and digital radio communication, as well as cost reduction projects, Luciano has expertise in planning and implementing IT projects utilizing Scrum and ITIL techniques. He is skilled in spotting possibilities for ongoing improvement to boost productivity, efficiency, and operational effectiveness while managing services and the company. He has a strong internal and external customer orientation.
Journey to Achieving Success; For Self and Others
For Luciano, success entails much more than completing a project, reaching a professional objective, or even obtaining a job in a significant organization. He began his professional life as a database administrator for a French multinational. He worked in this area for some time, but at one point, his boss called him and said, "Your profile is that of a manager, you deal very well with people and can make deliveries that many people doubt. I think you should work with project management; I believe you will do very well." Luciano initially questioned this concept, but he ultimately chose to become a project management specialist by enrolling in a PMI course. His supervisor has a point. Luciano completed challenging assignments while working on them. After that, his career took off, he received two promotions quickly, and this boss's vision cemented Luciano's status as a leader.
Success for Luciano, given his transforming career advancement, is the ability to do good and good for others, whether in a professional or personal setting. He asserts, "In the corporate world, I always say that my role is to help people do their jobs, and that means finding technological ways to make their lives easier and more interesting at work." Luciano's boss always says, "More inspiration and less perspiration." He believes that in personal life, it is having the possibility, with the fruit of his work, to continue helping other less favored people.
Inspiration to Lead
Even though they were not business owners, Luciano's father and mother served as role models for him and his sisters by effectively leading the family, providing education, and demonstrating that the correct thing to do is to do good no matter what position one has in society. Taking this message home, he instills the same values of toil, decency, and honesty in his family.
Regarding the technology sector, it was the potential to create or develop items, methods, processes, and technologies that may enhance other people's lives that drew Luciano to this line of employment. In addition, he worked for organizations with exceptional supervisors that helped him develop professionally. He opines, "Inspiring people who made me keep going even in the face of difficulties."
Growth Demands Obstacles
Luciano had several difficulties during his career, which helped him develop. He might have mentioned business merger and acquisition initiatives and system installation, among others, but none of these were more crucial or difficult than working with diverse individuals and cultures. He began his career in a commercial setting, where he had the chance to interact extensively with individuals from cultures extremely dissimilar to mine. He discovered that while systems and procedures are crucial, comprehending human behavior and thought patterns is far more crucial. The fundamental life lesson that Luciano learns is that people should always come first. When this occurs in a sincere way, everything becomes simpler.
As for the people who work with Luciano, he believes that there is no other way to keep them motivated other than being close to them, accompanying them on a daily basis, giving feedback, understanding their difficulties and helping them overcome them. He also finds that sharing the challenges and where the team wants to go as an organization is also important. He says, "To create a relationship of trust so strong that any challenge, personal or professional, becomes small when they know who to count on." Luciano believes that challenges are one of the things that drive people, so he always tries to get his team to do more than expected. He says, "My team is Exceptional and I am most proud of them."
Fundação Zerrenner
Zerrenner Foundation was created in 1936, based on the desire of a German couple who gave their name to the foundation and founded the brewer Antarctica company in Brazil, today called Ambev. Zerrenner Foundation is responsible for providing healthcare, education, and well-being for all Ambev employees and their dependents. There are approximately 75 thousand lives that it supports. Luciano says, "We also have two schools where we provide free education for more than 3,000 students in São Paulo and Minas Gerais. Regarding healthcare, we have around 30 family doctors' offices in the largest Ambev factories." In São Paulo, the company has a medical controller in which it preventively evaluates all medical procedures, at least the high-cost procedures, requested by its beneficiaries.
At Zerrenner Foundation, as CIO, Luciano is responsible for leading the technology area, shaping it in order to understand and meet the demands of the business areas. Organizing the areas of infrastructure, systems, analytics, and project management. His day-to-day is monitoring the execution of projects, supporting his team in adversity, managing the cost of the area, and understanding with the other managers their challenges and how the technology area can make a difference for them. The one word that defines Luciano is resilience.
Collaboration with Advancements
When Luciano began working at the foundation, he was shown an application (Conecta FAHZ) that focuses on the primary services the foundation offers to its clients. The healthcare sector is one of the foundation's key areas of interest. The staff sincerely cares about the wellbeing of their beneficiaries and getting close to them in order to comprehend their health profiles presents a significant barrier given the capillarity of the current factories. This became even more clear with the COVID-19 pandemic, and as a result, the foundation accelerated the use of telemedicine. It recently added communication between the foundation and the beneficiaries through the Whatsapp app integrated into its application, which means it uses technology as a bridge to reach those in need, acting more quickly and assertively in the treatment of diseases as well as in the management of health costs, whose inflation in the area only increases. Speaking of cost management, the foundation began to utilize the data gathered to recognize dangerous cases and treat them appropriately and in advance. It also began to uncover service provider fraud, which resulted in a sharp drop in the foundation's healthcare costs.
Balance that Everyone Needed
"My friends and coworkers comment that I have an extra battery that never runs out," says Luciano. On the one hand, Luciano considers that this is good because he is always ready for the day, but on the other hand, it can generate wear and tear with other people who have a different rhythm. He tries to control this energy by doing other activities that also give him pleasure, like Jiu Jistu and motorcycle riding, and he also dedicates time to his family. In that way, he tries to balance his personal and professional life.
Improving People's Lives
Zerrenner Foundation held the opinion that there is a system in the healthcare industry that does not truly seek to cure people's health before the COVID-19 Pandemic, and the Pandemic came to show this opinion that treating people's health has become commerce. Having said that, Luciano thinks that given the way he and his team operate at the Foundation, they are on a mission to disrupt this paradigm. In this regard, he has a goal of introducing the Foundation's management team's health management model to the market. He says, "We must increasingly verticalize our operations, removing intermediaries from the chain, paying providers for adequate treatment, almost personalized to the needs of each one, and rewarding the doctor for the success of each treatment." He further adds, "Only then will we be able to genuinely care for people's health at a fair cost. That's what I believe in and that's what I want to influence this industry."
Luciano wants to grow with the Zerrenner Foundation. He wants to expand the management model used in the Foundation to other institutions and he wants to use technology to do something different from the market.
His personal goals, as a business leader, are aimed at the genuine interest in improving people's lives through the application of a customized health management model that more people can have access to. He shares, "I would like to invite other leaders to do a self-assessment of their performance: how is their work impacting other people's lives? Are you doing good? Are you doing your best to improve people's lives?" He thinks the message that remains for everyone is to use their own talents, work, and sweat to do good for others.