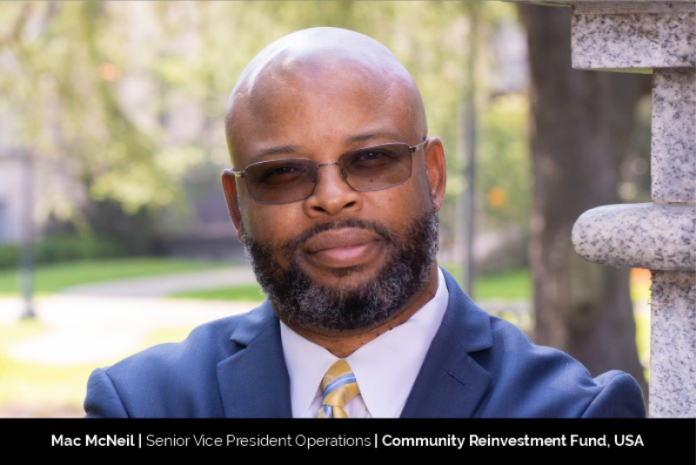 Mac McNeil, the Senior Vice President of Operations at Community Reinvestment Fund, USA, distinguishes himself from other leaders with his unique perception of success. While some perceive success as a personal achievement, McNeil defines it as creating an atmosphere where other leaders are cultivated, and organizational goals are achieved or exceeded. In his view, a leader's success should be measured by their team's development and performance level. If a leader is only assessed based on their individual performance, they are simply managers of someone else's vision and not true leaders.
Mac McNeil's self-definition as "Driven" concisely encapsulates his business acumen, reflecting his philosophy of success. He advocates for flexibility and adaptability to changing circumstances, essential qualities for an ideal leader.
His inspiration comes from the wise words of Dr. Martin Luther King, Jr., who said, "Your life's blueprint should include a basic principle, a determination to achieve Excellence in your various fields of endeavors. It should include a deep belief in your own dignity, your own worth, and your own somebodiness."
As CRF's Senior Vice President of Operations, McNeil is entrusted with the paramount responsibility of leading all enterprise operations within the organization as a distinguished executive team member. The Operations Center, under his astute guidance, comprises a team of seasoned leaders who manage various critical functions that are meticulously integrated into every facet of the organization. These functions encompass diverse areas, including fund administration, lending operations, loan servicing, process governance, risk and business controls, data management and analytics, technology, vendor relations, and more, reflecting McNeil's exceptional expertise and refined leadership skills. No wonder why and how his quick and transformative thinking has earned him a place among "The 10 Most Influential Black Corporate Leaders to Watch in 2023."
"For as long as I can remember, I have always been driven to "succeed" at any task before me. I get frustrated when that is impossible, either based on my limitations or systemic barriers that force me to look for other routes to "succeed,"
Community Reinvestment Fund, USA: Overview and Mac McNeil's Leadership
Community Reinvestment Fund, USA (CRF) is a renowned Community Development Financial Institution (CDFI) operating for over 30 years. CRF has revolutionized the community development finance system, promoting stronger local economies, job growth, and economic mobility. Over the years, CRF and its partners have disbursed more than $3.5 billion in funding to underinvested communities, redefining the flow of business capital. In this article, we will delve deeper into the operations of CRF under Mac McNeil's leadership.
Currently, McNeil is accountable for overseeing the enterprise operations, which include various functions such as Asset Management, Credit Underwriting, Customer Engagement, Data Management & Analytics, Loan Origination & Closing, Loan Servicing, Process Governance, Risk & Controls, Technology, and Vendor Relations. In addition, his team of leaders operates in several states throughout the United States, including California, The District of Columbia, Florida, Maryland, Minnesota, and Washington.
Mac McNeil's Expertise in Driving Growth and Innovation at CRF
CRF has positively impacted the Community Development Financial Institution (CDFI) industry by leveraging innovative technology solutions. Integral to this work is the CRF Operations Center – a multi-layered organizational framework that enables CRF to deliver an optimal customer and partner experience. The Operations Center empowers CRF to scale programs, streamline processes, replicate successes, and generate community impact.
Mac McNeil has played a vital role in the organization's recent growth and success, joining the team in 2021. According to him, his first area of expertise contributing to CRF's success was data management, analytics, and technology. He brought in a vendor partner who helped redesign CRF's data architecture, allowing for a "one source of truth" through an ETL process that aggregated data in a next- generation data warehouse. It has improved CRF's business intelligence capabilities and positioned them for future data science project improvements.
McNeil also partnered with another technology vendor to automate complex processes that previously required many manual steps. These automation projects have laid a foundation for additional applications to be developed in partnership to further process efficiencies in the future.
CRF's innovative technology solutions have connected thousands of small businesses with capital solutions and technical assistance providers throughout the country.
With McNeil's expertise and leadership, CRF continues to positively impact communities.
"It is helping small businesses navigate the complexities of the small business support ecosystem and enhancing the overall experience with its solutions," conveys the Senior Vice President of Operations.
Navigating the Path of Professional Growth Through Roadblocks
Success is a challenging path that requires overcoming various challenges to reach the top. Mac McNeil's professional journey is no exception here. However, these roadblocks taught him valuable lessons and helped him move forward confidently.
Lack of Spirit of Excellence: Mac McNeil recollects how he needed more spirit of excellence in his approach to work when he was younger. As a 17- year-old private in the United States Army, he learned this lesson in a memorable way when a Sergeant First Class publicly corrected him and his team for their lackadaisical approach to constructing a Tactical Operations Center. This experience taught him the concept of the spirit of excellence reflected in the "how," not the "what" of what you are doing.
Lack of Mentors and Peer Champions: Another common roadblock in Mac McNeil's career has been the absence of mentors and peer champions, especially as he often finds himself as the only black leader at senior levels within organizations. This lack of support compared to his peers has taught him the importance of internal discipline and initiative to pursue opportunities independently. He has also learned to look for at least one champion who will support him, even indirectly. "Rarely have I found that career champion to be a white male for me, which is often the case with my peers who have had champions to help further their careers," says the veteran leader.
McNeil's Leadership Journey: From Army Sergeant to Top Retail Executive
Mac McNeil's leadership journey started when he was promoted to the rank of Sergeant in the US Army at the age of 19. While his early years as a leader were marked with many missteps, he persevered and continued to learn. In 2005, after completing his MBA, McNeil began his career in finance with JPMorgan Chase, where he was hired as a Branch Manager despite having no banking experience. However, his leadership experience proved invaluable, and he quickly learned about the banking industry.
When asked about his most significant recognition as a leader, McNeil points out the one that came during his time at Bank of America, where he was ranked among the top 1% of retail executive leaders in the country. He achieved this feat by leading 60 financial centers and 72 managers in the Southern California Inland Empire Market, finishing the year ranked 2nd out of 375 markets nationwide. This achievement solidified McNeil's reputation as an exceptional leader in the banking industry.
Childhood Dreams and Life Before CRF
During childhood, Mac McNeil dreamed of becoming a fighter pilot in the US Air Force. Despite his passion for flying, he was not accepted into the Air Force Academy after applying. However, he did not give up on his love of aviation. He went on to solo fly Cessna 172SPs over 300 times at French Valley Airport in Southern California, giving him a unique perspective of the world from above.
Before joining CRF, McNeil lived in various parts of the country, including Memphis, TN, Charlotte, NC, and Southern California. While raising four children, who are now grown and living independently, he pursued his academic ambitions. He completed all required courses for his Doctorate in Management in Organizational Leadership at the University of Phoenix in 2015. Today, he is also a proud grandfather to one granddaughter residing in Northern California.
Creating Work-Life Balance and Inspiring Great Leadership: Mac McNeil's Strategies
Mac McNeil is a professional who recognizes the importance of work-life balance and motivates his team to do the same. He schedules personal time on his professional calendar to set an example for his team. McNeil believes that excessive work does not necessarily equate to great results and that one's personal life should not suffer due to work.
McNeil's motivation stems from his passion for creating great leaders. He notes, "My Great Aunt EDNA told me that it is easier to pull ten donkeys up a mountain, with one rope in the snow than it is to pull one human up the same mountain who doubts that you can."
My Great Aunt EDNA is a leadership platform McNeil established for Excellence, Doing Things the Right Way, No Shortcuts, & Accountability. This platform serves as a reminder for his team to uphold their culture and achieve their goals. McNeil's upcoming book, "My Great Aunt EDNA: The Golden Girl of Leadership," shares anecdotal stories of how this platform has helped his teams maintain their focus on their goals.
The Impact of Modern Technology on Finance: Insights from a Senior Vice President
As technology advances, the finance industry has undergone a significant transformation in customer experience and back- office efficiencies. McNeil has played a crucial role in driving automation efforts at Synchrony, Bank of America and CRF, observing firsthand the benefits technology can bring to financial institutions.
One example is the proliferation of mobile banking platforms, enabling customers to transact and interact virtually, saving them time and reducing the need for in-person visits to bank branches. According to McNeil, up to 80% of finance customers' needs can be met through virtual channels, requiring minimal human interaction.
As a former leader at Bank of America, part of his responsibility was to assist customers and employees in adopting and transitioning to digital capabilities, highlighting the importance of embracing technology in the financial industry's evolution. The finance industry is poised for further transformation and innovation with technology's continued advancement.
Fostering a Culture of Innovation and Integrity at CRF
Mac McNeil emphasizes the importance of maintaining a culture that values integrity and innovation at CRF, a mission-based Community Development Financial Institution that aims to bridge the wealth gap in the US through innovative financial solutions. This culture includes two critical components: transformation through innovation and acting with integrity.
Transformation through innovation is about taking risks, being open to unexpected opportunities, and demonstrating an unwavering commitment to solving problems that affect the communities they serve. CRF believes in developing and delivering creative solutions that transform the system from the inside out to improve lives, communities, work, and industry.
Acting with integrity is about holding oneself and others to the highest moral and ethical standards, embracing diversity, and treating everyone respectfully. As a leader in this environment, McNeil stresses the importance of reminding teams about CRF's mission and vision to maintain the integrity required to continue their work.
Innovation is a key ingredient in CRF's recipe for success as they strive to develop innovative products that support their mission and vision. One example is Connect2Capital, a solution that connects small businesses with capital providers and technical assistance providers nationwide. Through partnerships with community stakeholders, community development financial institutions, business support organizations, and many other community partners , CRF is committed to positively impacting communities while upholding the highest standards of integrity and innovation.
Future Plans for CRF and McNeil's Personal Goals
CRF's Senior Vice President of Operations has outlined his plans to enhance the organization's operational efficiencies. He intends to work closely with his team to streamline their various data sources into a next- generation data lake, automate repetitive manual processes, refine the risk framework, enhance loan servicing and customer engagement response times, and continuously improve the organization's operations.
Along with his professional goals, McNeil has personal goals that he aims to achieve. One of his aspirations is to promote and release his leadership book titled "My Great Aunt EDNA: The Golden Girl of Leadership." Additionally, he seeks to position his family for long-term financial success using all of his available resources. Moreover, McNeil's long-term goal is to own a major professional sports team, driven by his passion for sports and his daily stress-relieving mechanism.
"Don't Let the System Hold You Back:" A Message of Encouragement to Aspiring Black Leaders
In the words of Mac McNeil, "Still waters turn green. Be the leadership pump for your team to keep the waters moving." His message to aspiring black leaders is perseverance, excellence, and a refusal to be held back by limitations. Despite the very real challenges and systems in place to limit the potential of the black community, McNeil encourages young leaders to maintain a long-term, grandiose vision for themselves and their communities. He emphasizes the importance of operating within a spirit of excellence and never allowing anyone to dim their light. McNeil's ultimate message? "Make no excuses. Do the damn thing."
Contentment, Gratitude, and the Pursuit of Greater Achievement: McNeil's Reflections on Life
"I have not achieved all I have dreamed of, but I am very happy with where I am in my personal and professional life," remarks McNeil.
He believes he's been fortunate to have a career with many opportunities that allowed him to live in different places, meet interesting people, and gain expertise in various areas.
Although he's satisfied with his life, McNeil still strives for more. However, his motivation is not for his benefit but for the benefit of Black people. He acknowledges that historically and systematically, Black people have been oppressed in this country and prevented from achieving their dreams. Thus, he wants to inspire his children and the hundreds of people he's led by showing them that it's possible to accomplish great things despite obstacles.