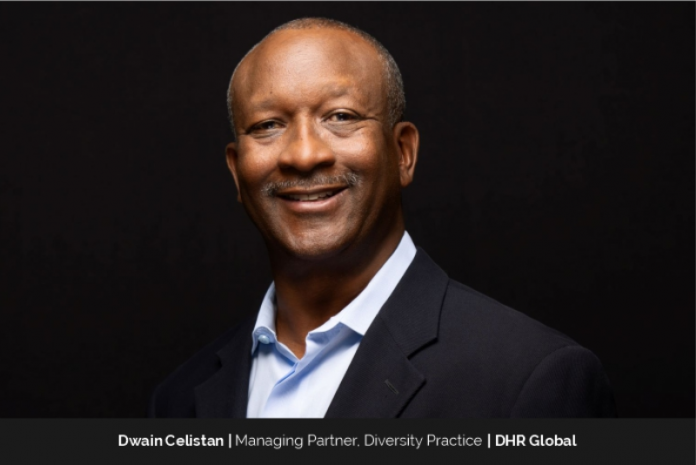 Dwain Celistan, a Managing Partner and leader of the Global Diversity Practice for DHR International in the firm's Chicago office, is an accomplished executive with extensive experience in marketing, sales, and general management in the United States and the United Kingdom. He has held senior positions in the consumer, industrial, and retail industries, including Vice President of Marketing and Sales, with a team of almost 100 professionals and a budget of $100 million. In addition, he was Senior Vice President of Marketing for a $1 billion division. Throughout his career, he has improved declining businesses and accelerated the growth of companies in different roles.
As an executive recruiter, Celistan has worked with over 20 fortune 500 firms. He has also worked with family-owned businesses, private equity-backed firms, and universities. He employs a consultative approach and draws on his extensive experience in corporate leadership to assist clients in refining their position specifications and identifying the ideal candidate for the job. In addition, he actively coaches leaders to help them achieve their career goals and increase productivity.
As a coach to senior executives, he has guided global executives with over $12 billion in revenues and 200k employees, CEOs, and senior marketing and finance executives. Celistan is also the author of four books, including "Recruiter's Guide to Hiring Diverse Leaders" and "You're Hired! Actions to Get and Keep the Job of Your Dreams."
Celistan leads the Global Diversity Practice for DHR International, a top 5 executive search firm, where over 70% of placements are diverse candidates for leadership roles. He partners with his clients to focus on technical requirements and cultural fit. He consistently aims to provide diverse slates of candidates that meet or exceed the expectations of the role.
In addition to working with professionals, Dwain is committed to supporting young people at various stages of their development. He speaks to students from middle school to the graduate level. In addition, he has been an active mentor for high school students through organizations such as Link Unlimited and the Illinois Mentoring Project. Dwain's focus on mentorship is rooted in his belief and the power of education to transform lives. By sharing his knowledge and experience with young people, he hopes to empower them to achieve their goals and reach their full potential.
Through his work with clients and young people, Dwain has developed a reputation for being an effective communicator and collaborator. His ability to listen to and understand the needs of others has made him a trusted advisor and a valuable resource for those seeking to advance their careers or make a positive impact in their communities. Furthermore, he graduated from Loyola University, holds an MBA from Atlanta University, and has done postgraduate work at Cornell and Stanford universities. He resides in Hinsdale, Illinois, with his wife and two daughters.
Journey of Personal and Professional Growth
Celistan's perspective on success is grounded in setting and achieving meaningful goals. For him, success is measured by relative metrics like volume, profit, and share growth. Setting these goals has helped guide him during significant professional decisions and has reinforced his motivation to push himself to new levels daily.
His approach to goal setting and decision-making is a valuable one. By taking the time to establish and work toward clear objectives, individuals can gain clarity on their priorities and take steps to achieve their desired outcomes. Moreover, it can be critical in one's career, where opportunities and challenges constantly evolve.
Celistan's emphasis on individual achievements as a measure of success highlights the importance of recognizing and valuing one's unique contributions and accomplishments. He says, "While striving for relative success in terms of external metrics is essential, it's equally important to set and achieve personally meaningful and fulfilling goals. By doing so, individuals can more broadly cultivate a sense of purpose and fulfillment in their work and life."
Connecting Clients with Exceptional Consultants: DHR's Global Approach
DHR Global is a family-owned executive search firm providing leadership consulting and emerging leader search solutions for over 30 years. It operates in over 50 markets across 22 countries, offering expertise in over 20 industries and functional areas. It aims to connect clients with the most experienced consultants tailored to their needs.
The company is committed to delivering exceptional service by being attentive, accountable, and prepared to hit the ground running. It provides customized talent advisory services, offering clients a "global boutique" experience. In addition, their consultants work closely with clients, providing creative and flexible partnership opportunities.
DHR Global takes a hands-on approach to executive search, providing a high-touch experience through senior-level professionals that clients can trust. The company ensures an organized, transparent process with ongoing reporting, guaranteeing that the client is continuously informed. They also create a community for their clients and candidates to engage and learn about key industry topics.
It is a highly regarded executive search firm, consistently ranking in the top 6 globally. With over 50 offices and approximately 160 Partners, DHR Global is committed to providing clients with the best possible service. Interestingly, over 70% of their work is done in collaboration with two or more Partners, highlighting the company's emphasis on teamwork and cooperation.
DHR Global has created an entrepreneurial and high-touch culture as a family-owned business. It is evident in Partner's approach to interviewing candidates before presenting them to clients. This approach ensures clients are given the best candidates for their requirements.
Dwain Celistan, as the leader of DHR Global's global diversity practice, is committed to identifying and presenting talented, diverse candidates for every search. It has led to a remarkable 70% of his placements being women or people of color. This achievement is particularly noteworthy in the realm of CIOs and senior IT leaders, where the representation of women and people of color is still relatively low. To ensure successful search completion, Celistan leads a small team for each project, dedicated to scouring the market for talent that meets the client's requirements. This highly specialized approach ensures that clients are presented with the most qualified candidates for the job.
Triumph in the Face of Adversity
Despite his impressive track record, Celistan learned a valuable lesson in listening skills while reversing the fortunes of a $300M+ business declining in revenue and profits for three years. After recapturing the losses in one year, Celistan expected positive recognition from his supervisor, the Head of Sales. Instead, he received feedback highlighting his need for improved listening skills. This conversation was a turning point for Celistan and made him realize that results were insufficient.
Fortunately, Celistan was receptive to coaching and worked on developing an active listening approach. This new skill proved to be a critical tool in his toolkit, especially as an executive recruiter. By actively listening to clients and candidates, Celistan can better understand their needs and identify the best solutions for achieving their goals. This approach has helped Celistan establish himself as a top performer in the industry and contributed to DHR Global's success.
As an industry leader, Celistan's ability to drive results has been a critical factor in his success. Known for his approach of "positive discontent" and "inspirational dissatisfaction," Celistan has consistently identified pathways to achieve goals. He has mobilized teams to create and implement plans that have led to revenue, margin, and market share growth. Earlier in his career in industry, Celistan has reversed declining businesses and accelerated others.
Strategies for Building High-performing Teams at DHR Global
As a senior leader with a deep understanding of corporate culture, Celistan has played a critical role in helping clients turn their aspirations into actionable goals. For example, he has trained global teams on the importance of and approaches to creating diverse candidate pools.  The goal is to fulfill clients' needs by adopting a system that prioritizes identifying "bullseye" candidates versus exciting professionals.
Celistan has played a crucial role in bringing a boutique feel to a global firm. This approach and the two-year guarantee the team offers have made the firm unique in the marketplace. In addition, Celistan's expertise in identifying and recruiting highly talented and diverse candidates and his commitment to providing top-quality services to clients have set him apart as a leader in the industry.
Through Celistan's efforts, the team has learned that bullseye and diverse candidates are not mutually exclusive. While this may have been evident to some, it has been a revelation for others, both internally and externally. In addition, prioritizing diverse candidates early in projects has enabled the team to evaluate and place dozens of diverse CIOs and senior IT leaders.
Extraordinary Professional Journey
Celistan began his second career in executive search with a small boutique firm in 2007, where he specialized in a functional niche. While he faced difficulties transitioning from leading large teams and budgets in multinational firms, he found executive search exciting and challenging.  Despite his initial struggles, he enjoyed the work and was determined to succeed with tenacity and continuous learning.
In the fall of 2022, Celistan was recognized by DHR as one of the top-performing executives globally, ranking in the top 1% of his peers. The recognition was a testament to Celistan's commitment to his craft and ability to drive results in his field. His dedication to his work has helped him achieve remarkable success and establish himself as a leader in executive search.
Life Before DHR Global
Celistan always had a dream to innovate and create something new, to become an innovator. As a young student, his professional goal was to be an inventor. The initial seed has driven him to continuously find new and creative techniques to improve his and others' efforts.
As an executive recruiter, Celistan has developed unique agreements with clients to meet their requirements and work for DHR. These agreements have resulted in many mutually beneficial and innovative relationships. For instance, one such agreement led to securing job offers for more than twenty (primarily diverse) leaders within 18 months, whereas in most cases, only 2-3 assignments are completed during this period. In his own words, Celistan describes himself as competitive, always striving to outdo his previous successes and achieve new heights.
Prioritizing Client Satisfaction to Stay Ahead of the Curve
In the competitive world of professional services, achieving success requires a solid commitment to meeting and exceeding clients' expectations. Celistan understands this well and encourages his team to keep the client's needs and desires at the forefront of their efforts. This customer-centric approach guides the team's efforts and enables them to evaluate their performance through the lens of client satisfaction.
Celistan believes a long-term key to success is to understand each client's unique needs and desires. It means that his team takes the time to listen to the primary stakeholders to uncover the critical factors essential for a successful leader. This approach is particularly vital in the case of a CIO assignment, where the attributes of the desired talent may vary widely from firm to firm.
Leveraging New Technology to Streamline Talent Acquisition
According to Celistan, video technology has proven helpful for him and his team and in the recruitment industry. In the past, interviews were primarily conducted in person, but video interviews have become the primary means of communication since the onset of the pandemic. In addition, video technology has significantly reduced the time and expense of evaluating talent. As a result, many clients no longer require in-person contact for interviews.
In addition to video technology, Celistan has used CRM tools to improve his team's efficiency. The continued improvements in CRM tools have enabled global teams to work together more effectively. These tools have also reduced the time required to manipulate their database, thus making it more valuable. As a result, Celistan's team is better equipped to provide high-quality services to its clients.
Driving Continuous Learning and Innovation at DHR Global
Celistan emphasizes the importance of continuous learning and sharing knowledge among colleagues to stay current on industry trends and best practices that impact clients and candidates. In addition, he believes that creating opportunities for colleagues to share their knowledge can collectively improve the company's performance.
Celistan facilitates regular global meetings, where colleagues from various locations share their experiences, ideas, and perspectives to foster a learning culture. These meetings encourage colleagues to think beyond their knowledge and experiences, developing new ideas and actions to help grow the business and create value for clients. In addition, Celistan ensures that DHR Global maintains a culture of integrity and innovation by promoting collaboration.
The power of performance: How Celistan's goal-setting drives DHR Global's success
Celistan aims to continue DHR Global's legacy of excellence in executive search and consulting services, focusing on delivering exceptional results to clients across the globe. He plans to achieve this goal by strengthening the company's talent pool with outstanding, diverse candidates while also training the team to do the same.
Furthermore, Celistan is committed to maintaining the firm's status as a High Performer, the highest recognition within the organization. By doing so, he will help the company build its reputation and brand as a premier executive search and consulting firm capable of delivering top-tier services to its clients.
Advancing Diversity and Inclusion at Workplace
Celistan advises aspiring black corporate leaders to aim high and do great work.  One attribute of being a black professional is visible conspicuousness. Early in his career, he was one of two black post-MBA hires in a group of twenty.  He and his colleague sought to leverage this visibility by being "caught" doing something right.  The strategy worked, and both were able to advance at an accelerated rate.
Celistan encourages setting high goals to guide career decisions and choices of assignments, projects, and relationships. For example, he set the ambitious goals of becoming the president of a $1 billion entity and gaining global experience. While he did work in Europe, he did not become a president.  However, he had significant experience leading marketing and sales organizations and reporting directly to Presidents. Celistan emphasizes the importance of leaning into challenges and embarking on a journey of learning, observing, and improving skills that have enabled him to become a better colleague, partner, parent, and leader.
In conclusion, Dwain Celistan's achievements in his career as a corporate leader are nothing short of remarkable.  As a black leader, he stood out.  He chose to leverage this "difference" and make his mark through strategic thinking, aspirational goals, hard work, and determination. He has provided a shining example for aspiring black corporate leaders, encouraging them to set lofty goals and embrace their uniqueness. Through his continued success and recognition as one of the most influential black corporate leaders, Celistan has demonstrated that talent and success can be achieved regardless of race. However, more diverse leaders are needed and can also contribute significantly.  Embracing and developing various leaders is critical to creating an inclusive and thriving corporate culture.