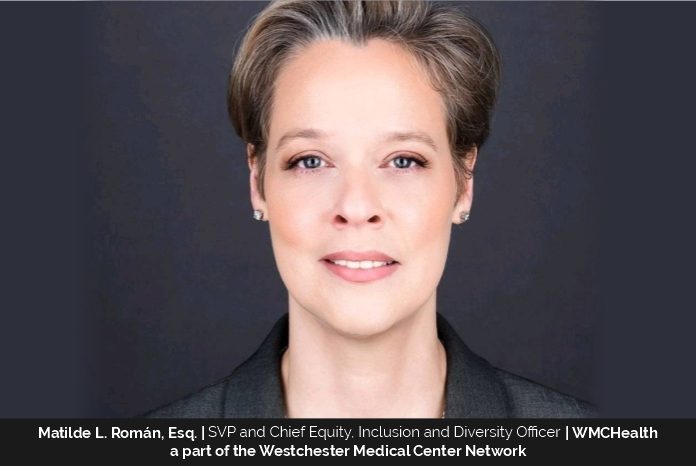 The importance of equity, inclusion, and diversity is increasing across all industries, but it is particularly crucial in healthcare. Matilde Román is at the forefront of redefining how organizations approach these issues. She is working to shift the perception of equity, inclusion, and diversity from being solely the responsibility of one person or group, to being a collective responsibility across all business units and functions. This approach ensures that everyone in the organization understands their role in sustaining these efforts.
As one of the top diversity officers in the U.S. and a graduate of New York Law School, Ms. Román is leading the charge in designing and implementing systems to integrate and align diversity and inclusion best practices. The goal is to achieve sustainable business outcomes while creating a more equitable and inclusive workplace for all.
With more than 15 years of experience in the public sector, Matilde Román is a highly accomplished executive leader. She has a proven track record of designing, developing, and implementing successful initiatives. As a strategic thinker, Ms. Román uses analytics to drive organizational goals and is known for her operational acumen. She is also a trusted advisor and skilled collaborator who is able to build effective teams that can effect positive change.
Currently, as the Chief Equity, Inclusion and Diversity Officer for WMCHealth, Ms. Román provides leadership and direction to advance integration strategies and innovative solutions. She is creating the diversity and inclusion strategy and framework from the ground up in an effort to advance workforce diversity, workplace inclusion, and improve the care experience for patients.
Ms. Román has had an extensive and varied career, serving in several key leadership positions. Her past roles have included general counsel, NYC deputy commissioner, senior policy advisor, executive director, educator, and human resources specialist. She is highly skilled in a variety of areas, including legal and regulatory compliance, strategic planning, risk management, human resources, policy and program development, operations, organizational design, change management, and learning and development solutions. Her broad range of expertise and experience have made her an invaluable asset in a variety of roles throughout her career.
Making Sustainable Approaches
Ms. Román finds fulfillment in creating sustainable approaches that benefit organizations and their employees. In the realm of equity, inclusion, and diversity, there are abundant prospects to establish new and inventive systems, policies, and programs that can enhance the workforce, create a more welcoming work environment, and provide equitable care. The prospect of immediate and long-term benefits for organizations, individuals, and communities alike inspires her to pursue this work.
Resolving Challenges with a Positive Outlook
Every great success story is marked by obstacles that must be surmounted. For Ms. Román, this is precisely why such stories are considered great. With the proper mindset, most difficulties are not insurmountable. When reflecting on the challenges she has faced throughout her career, Ms. Román recognizes that each one provided her with new insights, opportunities to learn and refine her skills, and enhanced her capacity to navigate her professional journey. The most important lesson she has learned is to maintain perspective and a positive outlook. In her view, a positive mindset is a critical element that enables anyone to overcome any obstacle.
Westchester Medical Center
WMCHealth is an integrated healthcare system that provides advanced medical care to 3.5 million residents in the Hudson Valley region of New York. Its mission is to provide the highest-quality care for all residents of Hudson Valley, regardless of their ability to pay. WMCHealth provides high-quality, comprehensive health services across 6,200 square miles of Hudson Valley, which includes Westchester, Orange, Rockland, Dutchess, and Ulster counties, and is one of the largest employers in the region.
Committed to Supporting Underserved Communities
Ms. Román's professional career has been devoted to developing policies and programs to support underserved communities. She has worked tirelessly to improve meaningful access to essential services and benefits, while also creating policies and programs aimed at driving positive social change. One of the most memorable moments of her career was when a person approached her to share a city program, she helped develop nearly a decade ago had served and benefited over 50,000 young adults. This experience was incredibly gratifying and reinforced the importance of her efforts, as she realized how one program could impact so many lives.
Before joining WMCHealth, Ms. Román served as the inaugural Chief Diversity and Inclusion Officer at NYC Health + Hospitals, the largest municipal health care system in the United States. In this role, she developed a diversity and inclusion program from the ground up to support more than 40,000 employees and over one million patients served annually. Prior to that, she served as general counsel and deputy commissioner at the New York City Office of the Mayor.
Responsibility to Integrating Equity, Inclusion, and Diversity
Ms. Román plays a leadership role in developing and implementing the strategy for integrating equity, inclusion, and diversity best practices across a network of hospitals in Hudson Valley, New York. Her work connects her with various stakeholders to define and design ways to advance health equity, foster employee diversity, and create inclusive workplaces for the organization.
Ms. Román defines herself in one word, "intrepid," as she possesses resolute fearlessness, fortitude, and endurance. She acknowledges that she has felt fear and doubt but worked through these emotions to forge ahead. Ms. Román believes that moments of uncertainty, fear, and doubt provide opportunities for growth, as they can teach us about ourselves and stretch us in ways that help us reach the next level.
Significance of Work-Life Balance
Ms. Román places great importance on achieving a good work-life balance for herself and her team members. She believes that moderation is key and maintains balance by being clear on priorities and managing workloads to ensure that everyone can enjoy time away from work. Ms. Román also emphasizes the importance of regular check-ins with team members and creating space for them to connect with one another.
Significance of Reflection of Success
Over time, Ms. Román's perception of success has developed and become more mature. For her, success now encompasses all aspects of her life that provide meaning and purpose, such as her physical and emotional health, family and relationships, career, and contributions to others. After reaching a certain level of success, as defined by each individual, it becomes crucial to reflect on accomplishments worth celebrating while also reassessing the meaning of success and setting fresh objectives.
Future Goals
Ms. Román is enthusiastic about the future plans at WMCHealth, especially regarding the equity, inclusion, and diversity work, and is excited to move the work forward. As a personal goal, she aims to enhance her leadership skills and support others in their leadership journeys.
Inspiring from Global Leaders
Some words that inspire Ms. Román come from a passage in Theodore Roosevelt's speech "Citizenship in a Republic" that reminds her that "if we truly want to be agents of change, make a positive impact, and reach the successes we hope to achieve in our lives, we can't sit on the sidelines." The excerpts that most resonate with Ms. Román from this passage are:
"The credit belongs to the [wo]man who is actually in the arena . . .
"Who does actually strive to do the deeds . . .  who spends [her]self in a worthy cause?"
"Who at the best knows in the end the triumph of high achievement, and who at the worst, if [s]he fails, at least fails while daring greatly, so that [her] place shall never be with those cold and timid souls who neither know victory nor defeat."
These words act as a reminder to Ms. Román that she will only achieve the success she seeks through vision and consistent action; even if she misses the mark, at least she will have tried.
For aspiring businesswomen, Ms. Román advises them to remain true to their authentic selves, be confident, and not let fear hinder them from being their true selves and taking a prominent place in the workplace.