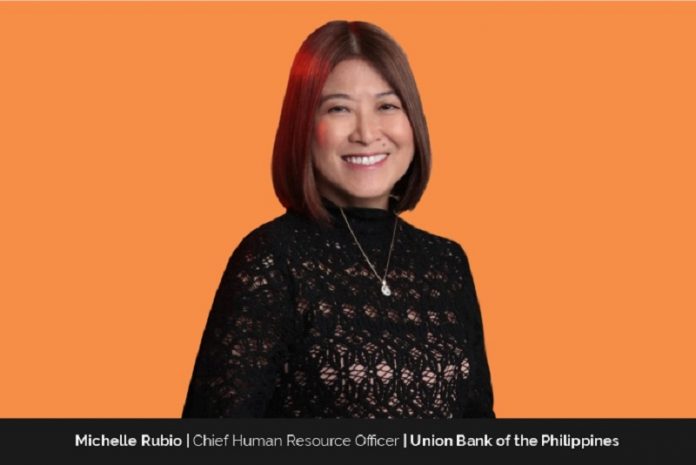 Michelle Rubio is amiable, expressive, and tenacious. She oozes the self-assuredness of a seasoned HR professional who knows how to lead from a position of influence and create value for the organization. As the Chief Human Resource Officer (CHRO) of Union Bank of the Philippines (UnionBank), she has played – and continues to play – a pivotal role in the bank's transformation journey.
Michelle ensures the success of the Bank as well as its people through talent acquisition, learning and development, employee relations, management of employees' services, performance management, and enabling careers. She also handles responsibilities that are not HR-related. These include creating a safe environment for people in the workplace as well as the deployment of corporate social responsibilities and sustainability initiatives in the bank. Michelle also leads the Organizational Capability Center of Excellence that focuses on culture building, employee engagement, capability building, and organizational transformation. In this particular role, her focus is on transforming the organization through an agile operating model.
The bank is embracing DevSecOps, which is helping it to hyper-personalize and hyper-scale product development and solutions development. As it involves people who have the capability to participate in this kind of work and make a contribution, Michelle has an important role to play here as well. And she also has an assignment outside UnionBank — she leads the culture pillar of the first techglomerate in the Philippines, the Aboitiz Group.
Career Switch to HR from Engineering: A Natural Progression
Michelle, who has an engineering degree, loves to solve problems. She also has a penchant for learning. Her love for problem-solving and the desire to constantly learn from businesses and interactions with people made Michelle decide to work for organizations early in her career.
Manufacturing is where she spent the beginning of her career. She worked on process control, quality assurance, and reliability. Whenever she introduced a process for improvement or innovation or solved an engineering problem, it resulted in deep involvement with people because she had to introduce and manage change. "So, this led me to a practice in organizational development and a career move in human resources," Michelle says.
The switch to HR from manufacturing was not a drastic or risky step for Michelle. It was a "natural progression," she says. From working with processes, machines, and engineering to managing the change for people and enabling them to adapt to whatever process improvement she would implement or put in place. Michelle recalls that she got noticed by people in HR because of her continued work on different issues and engineering problems.
She could influence and make a difference for people in the organization because she had an understanding of the business, and she also learned how to help people adapt to the change and achieve the organization's business goals.
Michelle does not consider the switch to HR a hard one. She enjoyed the shift in her career. "When you deal with people, it is very challenging because people have different reactions to change, and I learned from the onset that when we change even the structure, we change the behavior. So that has been like a template for me in my practice in Human Resources," Michelle says.
She continues to tap into engineering principles to lead and manage change. Her skills in system thinking and change management and her ability to look at structures to shape the organization's behavior have proven useful in the transformation projects she works on.
Contributing to the Bank's Transformation Journey 
Michelle shifted from engineering to human resources once she returned to her home country from Singapore, where she worked for a while in consulting. She joined UnionBank in January of 2004. The Bank was a legacy bank at the time; today, it is known for its transformation in a short period of time. It is now a recognized as one of Asia's digital trailblazers in banking and financial technology. Michelle says that the regional award-giving bodies are noticing the changes undertaken by the Bank and recognizing its efforts.
Michelle's experience has allowed her to develop methods to make human resources more effective in UnionBank. "What has been very helpful is the engineering background because much of transformation today is related to shifts in technology, which I understand and continue to learn," Michelle says. "So, my contribution ensures that UnionBank is not left behind during the business and digital transformation journey."
"It's my desire – and it was my desire and intent from the very beginning – to create a resilient workforce that has the agility to pivot and adapt to the changing business landscape and be constantly relevant to the customers and even the communities the Bank serves," she adds.
Over the years, Michelle has had many accomplishments to her name in the HR field. She has also seen people under her grow and develop and join the list of 'great HR leaders' – which she counts as her greatest achievement. And, for Michelle, her second greatest achievement is seeing UnionBank transform to be recognized as the best digital bank in the country – by the most prestigious award bodies. She has significantly contributed to ensure the digital transformation of the bank.
Open Culture, D&I, and Core Values
Michelle is very proud of her organization and what it has achieved. As the HR leader, she fosters a very open culture within UnionBank. She and other leaders of the organization do value career progression and rank progression, but the stress is more on openness and diversity and inclusion (D&I). It means that people are not respected just because of what they could bring to the table or because of their ideas and contribution to the organization.
Michelle points out that people of all ages work at the Bank, including young people. And she believes that at her organization, the change is not only coming from the top but also the middle out. "We respect the views of the people, our managers, and our officers – they are very important to us in the organization," Michelle adds.
There are three core values of UnionBank – Integrity, Magis, and Ubuntu. These values may not be inscribed on the walls of the UnionBank, but every UnionBanker lives by them. And they are the foundation of the culture-building efforts, undertaken by Michelle and her team.
Integrity, a universal value, means doing the right thing at all times. Michelle explains that Magis means doing much better and achieving greater results, and striving for excellence, and Ubuntu is "being one with you." "We are together in terms of the mission of our team, and we can help and collaborate with one another and belong," Michelle says about the third core value.
Challenges: A Way to Discover Opportunities
Michelle encounters a new challenge every day. She also has to deal with fear because of the uncertainty that follows every challenge. She does not consider challenges as impediments, rather, they are a way to discover opportunities. "The challenges you face in life bring out the best in you because suddenly, you have a natural reaction to overcome the difficulties," Michelle says.
She points out that one of the ways to deal with a challenge is to understand what one fears and then face it by studying, preparing, and learning more to overcome it; trust in one's abilities is essential as well. Additionally, Michelle believes overcoming fear can enable one to achieve what they once thought impossible. "So, you have to face fear head-on," she says.
Earlier in her life, Michelle often failed to execute her ideas. She recalls that she would get stuck many times, maybe due to very little experience, and found it tough to finish working on her ideas. It sometimes meant taking the time or waiting for the perfect moment to start something, she points out. Now, Michelle, a veteran of the HR industry, has learned to break down big tasks.
"When you work in human resources, or even in engineering, problems you need to solve could be complex, so you have to break big tasks into small tasks and just get the work done," she says. "It is also important today to pause mindfully and find inspiration to create those motivational moments to keep you going and get the work done."
Unlocking the Human Potential of UnionBankers 
Michelle and her team are unlocking the human potential of the UnionBankers so that they can thrive and succeed during the transformation journey. As the CHRO, Michelle interacts with different people in the organization who need the advice of HR, and she ensures that the decision she makes aligns with the bank's values. Additionally, she also ensures that the decisions she makes are fair and objective for everyone, which results in engaging people and championing employees.
As Michelle has an influential position at UnionBank, she sees her role as a 24×7 responsibility. She explains that when people come to her on weekends or after office hours, she cannot tell them, "Wait or stop, I'm doing something." She has to listen to them. "People won't call you if they don't need you," Michelle says. "You need to have your ears, eyes, and senses attuned to what is happening in the organization and be there to help."
Michelle and her team are highly motivated people as they all have a deep desire to serve.
Doing Meaningful Work to Help Others
A young Michelle defined success in terms of winning. She still gives importance to winning but now there is a "deeper meaning" attached to it. "It's actually achieving your purpose in life – a higher purpose," Michelle says.
She now defines success in terms of doing and attaining something worthwhile with one's life. And she believes that everything one does should have some meaning or add value to wherever one is stationed in life. So, success, according to Michelle, is also related to achieving and accomplishing a goal while making the best use of one's time and talent.
Michelle also thinks that success should make one happy and fulfilled because one has worked for it. "In the individualistic pursuit of success, when you think deeply about how you make an impact on others, you develop a more actual self-realization of success," she says. "The real motivation comes from doing meaningful work to help others and make society better and be a positive force of good."
Although she is highly successful and has carved out a special place for herself in the HR field, Michelle does not feel that she has achieved everything. She continues to learn, grow, and achieve. "I don't think there will ever be a period. You can't put a period," Michelle says. "It is a question mark."
HR Industry Continues to Evolve  
Michelle, who has a ringside view of the changes taking place in the human resources arena, points out that the HR industry has evolved and HR professionals are now leveraging technology and tools, such as data and analytics, to create better people strategies. "We are also using applications to improve employee experiences – may it be in attracting talent or even providing HR services of onboarding," she notes
Learning and development, too, has evolved because of the use of digital tools and content to impart learning to the workforce. So, according to Michelle, everyone needs to be adaptive to the different tools and innovations in the field of HR to be able to do much better work.
Future Plans for the Bank from HR Perspective 
Michelle wants to ensure that people in the organization are not left behind, whether it is due to the shifts in the business environment or the bank's transformation journey. At this point in time, she does not think that the transformation will ever end.
"I don't have the crystal ball of the future, but I can say at this point – as we have experienced two or three years ago – that jobs will be lost because of the changes in technology. But jobs will be gained as well," Michelle says.
She points out that they have proven that people can transform themselves and acquire new jobs because they are willing to learn, and the company provides them the opportunities to learn about new jobs. So, currently, Michelle is very focused on capability building in UnionBank, ensuring that people have the tools or access to learning and development that can enable them to contribute to the Bank and not get left behind.
"There would still be a lot of change management initiatives and interventions as we transform, and in the process, HR will always be there to lead the way and support everyone in the organization," Michelle says.
Message to Aspiring HR Leaders
"This is a great career to pursue because it is about working through people and ensuring the success of people," Michelle says in her message to aspiring HR leaders. "If you really think about it, what greater opportunities could we have if you are in a position to help others prosper and help the industries prosper."
"It actually translates right to the core of being a person or a human being, and to be able to influence that and ensure the success of others and also of yourself if you do the right things. And then it is a very fulfilling role or career to have," she adds.