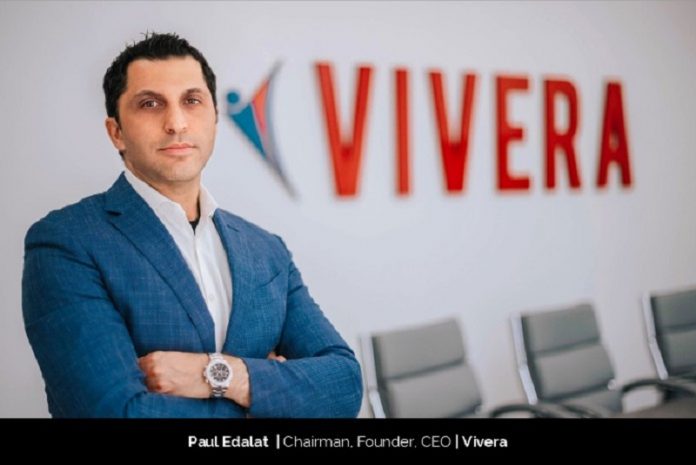 While the healthcare landscape constantly evolves, Paul Edalat, Chairman, Founder, and CEO of Vivera, stands at the forefront, paving the way toward a patient-centric industry. With over three decades of experience across the nutraceutical, pharmaceutical, and medical device sectors, Mr. Edalat's forward-thinking leadership has shaped Vivera into a powerhouse of innovation.
His dedication to addressing unmet medical needs and improving patient outcomes has steered the Company towards tremendous growth, resulting in multiple flourishing divisions. Driven by personal experience and unwavering determination, Mr. Edalat's journey with Vivera has culminated in a comprehensive suite of healthcare solutions and services, transforming how we approach patient care and well-being.
As the driving force behind Vivera's local and international business development efforts, Mr. Edalat works closely with the Company's sales and marketing teams to identify and address market needs. He effectively leverages his long-standing global connections to expand Vivera's reach while overseeing Company's cutting-edge research and development initiatives.
According to Mr. Edalat, success in the healthcare industry comes from positively impacting patients lives through innovative therapies and solutions.
"To succeed in the healthcare industry, you must address unmet medical needs. Developing innovative therapies and solutions that tackle unaddressed challenges can ultimately improve patient outcomes and quality of life," he shares.
He adds that collaboration is a significant contributor to Vivera's success. Establishing excellent partnerships with other industry stakeholders, researchers, and healthcare professionals enables the Company to expedite the development of innovative drug delivery solutions and disseminate knowledge that benefits the broader healthcare community.
Creating Vivera: A Personal Inspiration for Revolutionizing Healthcare
Mr. Edalat's inspiration to make a difference in the healthcare industry stems from his brother Peter's battle with cancer.
Mr. Edalat shares, "Peter's doctor prescribed him high doses of opioids to alleviate his pain from chemotherapy. However, no safety protocols were in place to prevent him from exceeding the prescribed dosage."
He adds, "As a result, Peter became addicted to these drugs. It was painful to see my brother struggle to conquer not only his cancer but also his addiction." 
Witnessing the flaws in the healthcare system during his brother's struggle, particularly regarding the prescribing and dispensing of medications, Mr. Edalat became determined to create a more efficient way to manage prescription drugs.
Thus, with the help of Chief Scientific Advisor Mehdi Hatamian, Ph.D., the idea for ZICOH was born.
ZICOH is a patented, electronic smart device that enables dose-controlled medication dispensing. It integrates seamlessly with ZICOH Connect™, a synchronized, cloud-based software system with strong data organization and AI capabilities. They work together to collect and aggregate real-time prescribing data and generate actionable insights to facilitate prescription medication adherence, oversight, and compliance.
The goal of the ZICOH medication delivery system is to provide controlled and targeted release of medications, including those that are more likely to be abused.
Vivera's Comprehensive Healthcare Solutions and Services
Vivera was founded around two innovative drug delivery solutions: TABMELT, a patented and patent-pending sublingual medication delivery system for biopharmaceutical compounds, and ZICOH.
Today, the Company has expanded and offers a range of innovative healthcare solutions through its different divisions.
Vivera Technologies and Medical Devices are dedicated to transforming how patients receive care by developing advanced technologies such as ZICOH.
Vivera BioSciences is committed to developing prescription medications to treat various conditions using the novel patented and patent pending sublingual drug delivery system, TABMELT.
Vivera Neurosciences is focused on researching and developing treatments for central nervous system conditions. The Company recently executed a Letter of Intent to enter into a Cooperative Research and Development Agreement (CRADA) with the National Institute of Neurological Disorders and Stroke (NINDS), an Institute within the National Institutes of Health (NIH). The collaboration aims to identify therapeutic agents and utilize the TABMELT delivery system for the potential treatment of stuttering disorders.
Vivera Advanced Diagnostics delivers accurate diagnostic and wellness laboratory test results.
Overcoming Obstacles: Valuable Lessons Learned Along the Professional Journey
Challenges provide opportunities to grow and improve. It is particularly true when it comes to a person's professional journey, where obstacles are inevitable.
For Mr. Edalat, these roadblocks taught him valuable lessons that have contributed to his personal and professional growth.
One crucial lesson he learned is the importance of adapting to change. With the healthcare industry constantly evolving, Mr. Edalat realized that staying informed about industry trends and embracing change is essential to drive growth and innovation. Another valuable lesson he learned is the significance of building a solid team. By assembling a group of dedicated professionals with the right skills and expertise, Mr. Edalat discovered that creating a supportive work environment, promoting open communication, and investing in team development could lead to team success.
Creating a Workplace Culture of Integrity and Innovation: Insights from Mr. Edalat
Fostering a workplace culture of integrity and innovation is essential for success and growth. Mr. Edalat believes that leading by example and equipping his team with essential resources, training, and assistance generates fresh concepts and drives innovative initiatives.
He notes, "Clear communication of values and expectations from the onset ensures our team maintains its growth-driven culture."
Recognition of Mr. Edalat's Leadership at Vivera
Mr. Edalat's leadership at Vivera has been recognized with numerous accolades, including being selected as a member of the Forbes Council and securing a listing as a CEO Visionary in the LA Times B2B Publishing Magazine. He has also authored opinion pieces discussing the future of drug delivery and the healthcare industry.
Mr. Edalat is also an inventor of nearly three dozen patents, granted and pending.
However, his true measure of success lies in the impact that Vivera has on patient lives and the healthcare industry's advancement.
Revolutionizing Patient Care: Vivera's Mission
Vivera's mission is to revolutionize the healthcare industry by ensuring top-quality care is accessible to all and improving medication safety and administration. Mr. Edalat believes that by focusing on these critical areas, Vivera can continue to shape the industry's future.
Addiction affects patients, their families, friends, and communities. Mr. Edalat has seen firsthand how difficult it can be for patients with health challenges to take medications and how easily addiction can develop. He believes ZICOH can help prevent addictive medications from being misused and ensure that patients do not suffer the harms of addiction while at their most vulnerable.
Seeking Guidance: The Importance of Mentors for Aspiring Business Leaders
In his journey as a business leader, Mr. Edalat admits that he didn't achieve his goals on his own. Several mentors have provided him with insights and perspectives he may not have gained otherwise.
For aspiring business leaders, Mr. Edalat emphasizes the importance of seeking guidance from seasoned mentors who can provide invaluable knowledge and experience in the industry. He believes that having a mentor has a positive impact on one's career trajectory and professional growth.
According to Mr. Edalat, "The opportunity to learn from someone who has already achieved your goal is invaluable."
A Visionary's Lasting Impact: Shaping the Future of Healthcare
Mr. Edalat's visionary leadership, unwavering dedication to innovation, and deeply personal mission have propelled Vivera to the forefront of the healthcare industry. Vivera is revolutionizing patient care and medication safety by developing ground-breaking solutions and technologies. With its patient-centered approach and collaborative spirit, Vivera exemplifies the transformative power of a company driven by purpose and guided by values. As the healthcare landscape evolves, visionaries like Mr. Edalat will shape the future, leaving a lasting impact on patients and society alike.