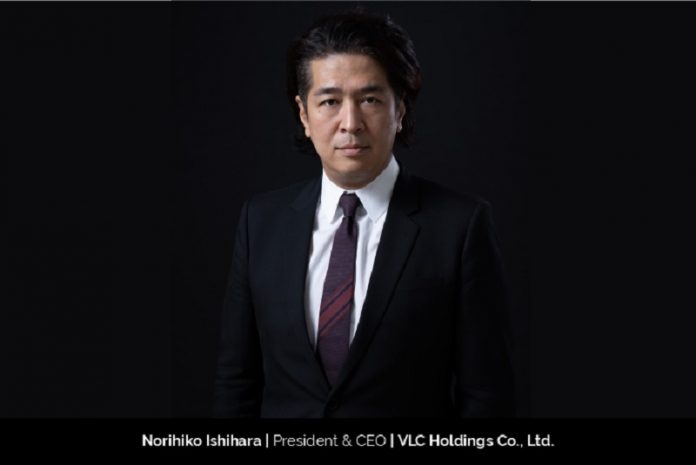 Norihiko Ishihara believes that investment and entrepreneurship are expeditions — travel filled with challenges, failures, and joy — that ultimately open new worlds.
Ishihara is the CEO and President of VLC Holdings Co., Ltd., as well as the CEO of Cybergym Japan Co., Ltd., and the Managing Partner of Sun Investment LLC, an investment and advisory firm for international businesses and deals initiated by Japanese companies.
In Japan, Ishihara is the Founder of Forbes and was involved in the media launches of Forbes and Rolling Stone. He is also in charge of global blockchain project, EXR initiated by shareholders of Forbes Media.
Ishihara is also a co-founder of Miyako Capital, a venture capital firm he launched with Kyoto University, and a biotech VC with pharmaceutical companies.
Reinvigorating Japanese companies with capital market know-how
Ishihara earned a B.A. in Law from Keio University, and acquired a strong background and capability in investment in global multi sectors, start-ups and professional management. Prior to his current ventures, he worked at Goldman Sachs Investment Banking Division Financial Institutions Group.
He became independent after working in the asset management and investment banking division of Goldman Sachs group, where he was involved in M&A advisory, financing, and principal investments, as well as in Goldman Sachs Asset Management's global fixed income and currency team.
Ishihara is also an Industry Advisor at Catalyst Pacific, a global biotech incubation fund, where he brings global investment expertise in a variety of sectors, including, but not limited to, venture capital and cross-border mergers and acquisitions.
Ishihara acquired combat experience with the background of the Israeli army and has a track record of working with the Japan police, Ministry of Defense, large corporations, Asian government training, etc., making him a front-runner in Japan and Asia.
Ishihara was also engaged in infrastructure export projects for Japan as an advisor to JBIC. He also hopes to start reinvigorating Japanese companies with global technology and capital market know-how to compete in the global market.
Recognizing the importance of cyber security for Japanese businesses
Cyber attacks on all businesses are becoming more common, targeted, and complex, with small and medium-sized businesses being targeted more often.
A cyber attack disrupts normal operations and can become extremely costly for businesses in terms of lost data and business disruption; revenue losses due to system downtime, notification costs, and even brand reputation damage.
Without the budget or resources, it can be impossible for businesses to recover from damage to critical IT assets and infrastructure. As a result, many small businesses in particular, are struggling to defend themselves from cyber attacks.
When a sense of crisis regarding cyber security arose in Japan around 2016, Ishihara, met with IEC officials and Ofir Hason, CEO of Cybergym through the Jewish community in the United States and began planning a joint business venture with the Israeli company, Cybergym Control Ltd.
In 2018, the two companies collaborated to open an ARENA training facility in Japan, to provide practical cyber security training, as well as cyber security consulting services.
VLC Holdings operates in two business segments: security and marketing. Having recognized that Japan needed to improve its cyber security capacity, Ishihara was appointed CEO and President of VLC Holdings Co., Ltd., and started running VLC Holdings as a cyber security and marketing business.
Their security services include information security consulting, cyber security training, vulnerability assessment and penetration testing, and other cyber security solutions. Their marketing services and sales promotion services are included in the marketing segment.
Ishihara's goal is to create advanced cyber security personnel and create a secure society and make cyber security recognized as a crucial component of the infrastructure of all business activities.
Creating advanced cyber security personnel for a secure society
Cyber security business sales have increased dramatically in the fiscal year ending March 2020, and the importance of cyber security is receiving increased attention in Japan. But, despite their exceptional abilities, Japanese engineers are said to be severely lacking in practical cyber security experience.
Cybergym Japan Co. Ltd. was founded in collaboration with Cybergym, as a subsidiary of VLC Holdings. The company now provides practical cyber security training services, primarily in Japan and Asia.
Cybergym Japan is a complete cybersecurity service provider offering training solutions, security consultations, and managed services. Its business is based on the idea that people are the key to a successful defense against cyber attacks, and that those people must be trained.
In Japan, the company has provided cyber security training to over 500 personnel, and is currently training approximately 350 clients, including government agencies and major corporations, and the number of inquiries are increasing all the time.
Cybergym Japan's cyber security training programs are available not only for training engineers with little practical experience, in the ability to respond to cyber attacks from hackers, but also for a wide range of personnel ranging from general employees to management, with a focus on the importance of cyber security as a management issue.
Training cyber personnel with real cyber attacks
Cybergym Japan believes that nothing will sharpen your team's cybersecurity skills better than real experience, so they can learn what happens when a hack occurs and how to recover from it through practical experience.
One feature of its cyber security training programs is that they are partly provided directly by the Israeli team, allowing them to experience world-class cyber attacks while in Japan.
"Acquiring excellent human resources and acquire information are always challenge. The cost of hiring cyber talent is rising globally and will continue to rise. There is a shortage of cyber talent everywhere in the world. So we train cyber personnel by ourselves," Ishihara states.
Cybergym Japan is building a global network of Cyberwarfare Training arenas capable of simulating both corporate environments and critical infrastructure.
Some of its benefits include:
Cyberwarfare training arenas all over the world
Equipped with both IT and OT systems
Utilizing knowledge and threat models from IEC
Experts with ex-intelligence background
Blue/Red Team training approach
Run local or remote APTs live
The joy of creating something that no one else is doing
At VLC Holdings, Ishihara is a playmaker whose responsibilities include determining the company's strategy and setting the direction it will take towards becoming a leading cyber security company in Japan and Asia.
"As a leader, I set the direction and decide what the company aims to achieve. To achieve this, I have assembled an excellent and highly motivated team. As a playing leader, I will always be at the frontline of winning and losing," remarks Ishihara.
His definition of success is to create something that no one else is doing; something new; and to feel the joy of success when he achieves it. As he observes, just building something with answers that anybody else can create, and that everybody can see, is not a success.
"Challenges are the key to charting a new future. I always take challenges right to the very limit of my imagination. After achieving the challenge, I take on the next challenge to the future that I can see. That is my motivation for all actions," Ishihara declares.
In addition to his entrepreneurial skills, he is also a talented musician who maintains a balance in his personal and professional life by playing the drums and participating in live events with professional musicians.
To keep his employees and himself motivated to deliver the best services, Ishihara believes in creating a comfortable working environment for his employees, and in creating and taking pride and social recognition as a company that is ahead of the times, so they can all feel a sense of social contribution.
"In Japan, surprisingly few business leaders are able to secure continuous cutting-edge global technology and utilize capital markets know-how to grow the company. I want to contribute as a business leader like that, and I want to create a successor," declares Ishihara.
"Travel, like dreams, is a door that opens from the real world into a world that is yet to be discovered." – Guy De Maupassant.