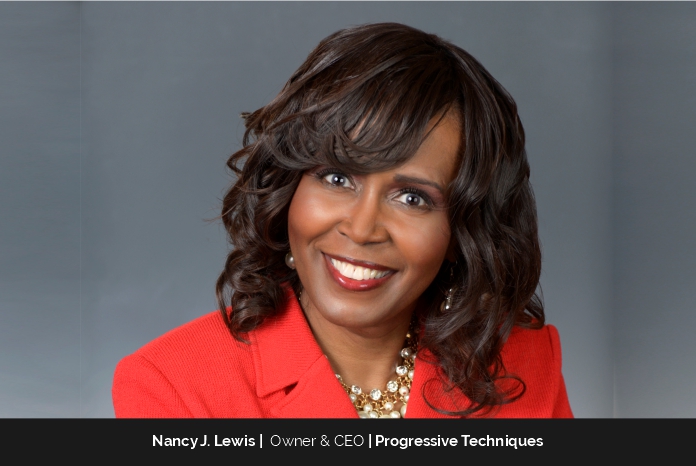 Working as a transformational management and leadership development trainer and strategist who helps organizations leverage generations, talent, people and processes to positively impact the bottom line, Nancy J. Lewis helps employees transform their thinking by tapping into the power and greatness that lies within them. She is the owner and CEO of Progressive Techniques, Inc., a premier leadership and professional development training company that assists its clients in successfully navigating the changing world of work.
Diversity and inclusion, unconscious bias, leadership, emotional intelligence, professional development, and human resources are some of the subjects covered in Progressive Techniques, Inc.'s seminars. CEOs and their leadership teams can also receive executive and business coaching from the organization. Nancy affirms, "Our why is: We bring JOY to the workplace. Our promise: We will make you a better leader. Guaranteed. We work with Fortune 500 companies, government agencies, nonprofits and academia."
As a former Human Resources professional and Dale Carnegie Instructor with numerous certifications, the team can ensure that they remain relevant, relatable and provide genuine insights into navigating the world of constant change. Progressive Techniques, Inc. does this by having its team walk in its core values, which include impeccable integrity, courageous leadership, spreading joy, promoting teamwork, being a confident communicator, commitment to clients and personal accountability. Nancy asserts, "Our team models these as they are our core values that make us Progressive Techniques, Inc."
The Beginning: A Corporate Coach was Born. 
Nancy had an incredible ability to make people feel valued and significant by engaging them in genuine discussion. She had worked with ineffective leaders before, and when she was given the chance, she wanted to make sure that everyone felt like they were the most essential element of the business. She says, "Staff, colleagues and those I coached would tell me God had graced me with the gift of encouragement and energy to ignite the gifts they had inside them."
Nancy began providing training and consulting to businesses while working full-time and using her vacation days to do so. An opportunity arose that allowed her to walk away and into a fantastic contract that promised her work for the next six months. That's when the voyage of faith, which every entrepreneur must realize is a part of the journey, began.
Nancy's finest award came while she was teaching a Dale Carnegie class, and it still stands out in the hall of fame. They requested she move to the center of the front of the room and stand for the last session of the course. She recalls, "Then began the processional of over 30 people walking down the aisle with each person carrying a rose and walking up to me to tell me how I had changed their life and what the course did for them. It was a moment I will never forget, the tears streaming as I felt blessed that God used me to help change the lives of others and they took the time to share that with me. It was an amazing evening."
The Reason behind Joining Corporate Coaching
Nancy was motivated to take this leap of faith and enter this business because customers would comment that they were in awe of her energy and the sparkle in her eye when she gave training in corporate America. They kept asking Nancy why she was not doing this full time. Nancy recalls, "I said I am waiting until God says it is time and opens the doors for me to step in. I love being in front of people and my gift of energy and enthusiasm engages and empowers people to want to talk with me. The word that people consistently say about my style is that I have contagious energy that ignites the room when I am leading groups. This is a gift from God."
Nancy was also led into this industry because she taught Dale Carnegie courses as an adjunct instructor and kept hearing the same message 'You have been gifted by God to connect with people in a way that is unique and special'. She taught Dale Carnegie courses for over 10 years, working to perfect her presentation skills and loving every minute of it. Working with Dale Carnegie and doing training for corporate America let her into this industry, and when God opened the doors, she walked in.
Experiences that Made Everything Possible
Nancy's life prior to Progressive Techniques, Inc. was filled with a variety of professions and vocations. She holds a bachelor's degree in healthcare. She was a Medical Technologist who specialized in blood research and served in a variety of capacities in the healthcare industry. She also worked as an adjunct instructor for Dale Carnegie, teaching five of their courses in the evenings and on occasion during the day when she took vacation days.
Nancy was previously a Human Resources Manager for Northwest Air Lines, Inc., where she was the sole HR person on site and worked with over 1000 workers. Nancy was also an adjunct professor at Georgia State University teaching an undergraduate human resources course. In all of these jobs, she grew tremendously, which helped her prepare for her business path. She states, "I was always blessed to have support from family and friends on this path."
Nancy believes that the key is to never become complacent and to never stop learning and searching for new and creative methods to drive the organization forward.
Responsible to Bring Growth
Nancy's responsibilities at Progressive Techniques include ensuring that the teams live the organization's vision for the clients they serve, so that consumers want to deal with the firm again and are ready to refer others because of its excellent service. Nancy is in charge of developing marketing strategies and ways to expand the company, as well as designing, developing, and delivering personalized, energetic, and content-rich workshops, as well as offering executive and business coaching to CEOs and their leadership teams.
Her average day is never average or regular. It might range from giving Zoom workshops with customers to delivering all-day coaching sessions for her clients. On days when she is not doing that, Nancy is working with colleagues to see how they can partner and collaborate to build capacity in their businesses. She asserts, "I go from presenting and coaching to working with business partners on ways to improve our brand and grow Progressive Techniques, Inc. Things are never stagnant, we are always looking for ways to pivot and grow, and that certainly happened when the pandemic occurred."
Setting Boundaries that Differentiate the Line
Nancy had no choice but to make the decision after failing to strike a balance between her personal and professional lives. It can have an influence on a married couple's relationships, according to her. For a long period at the beginning of the company, Nancy didn't always know how to balance things out. She says, "Your business takes a life of its own when you have been the founder and leader of the company." She learned that if one wants to maintain relationships with a spouse and other important people in life, he or she must set boundaries. Nancy learned that the hard way. Now, when she is tired or needs a break, she takes it. She
asserts, "I have learned how to delegate and give responsibilities to those on my team to do the things they are gifted at, and I am not. I've learned to say NO and not to explain myself. I have learned you have to take care of you so you can take care of others. You cannot pour from an empty cup; it is important that I have time to refresh, renew and replenish my spiritual, emotional and physical body."
What Success means for Nancy?
"Success is waking up every day and being grateful to God for the gifts He has graced me with so I can walk in my destiny and earn a living doing it," says Nancy. She expresses her gratitude for the opportunity to live out her mission every day and to assist others in realizing their full potential.
Nancy defines success as appreciating one's family, friends, and coworkers who function as the best cheerleaders while also being willing to be critical when necessary to help one improve. She believes, "Success is living life with a sense of gratitude and joy and knowing that when you touch lives you sprinkle some of that into their life. Also, success is using my gifts God has given me as a Marketplace Evangelist."
Developing the Best Leadership Development Academy
Nancy's goal for the firm is to keep working on it, but to hire additional employees and contract trainers to go out and advertise our services to its amazing clientele. Progressive Techniques, Inc.'s future objectives include expanding its Leadership Development Academy, hiring additional contract trainers, and increasing capacity so that it can offer training and support to its clients, according to her.
For Nancy, goals for the future include executive and business coaching as well as the development of new publications. She also intends to expand her television program, Conversations with Nancy J., to a nationwide audience. The future is bright for Progressive Techniques, Inc. and we give all the Glory to God for our success!!
Contact information:
www.progressivetechniquesinc.com
Email: nancy@progressivetechniquesinc.com
Office: (770) 964-5533
LinkedIn: https://www.linkedin.com/in/nancyjlewis/
Twitter: https://www.twitter.com/nancyjlewis