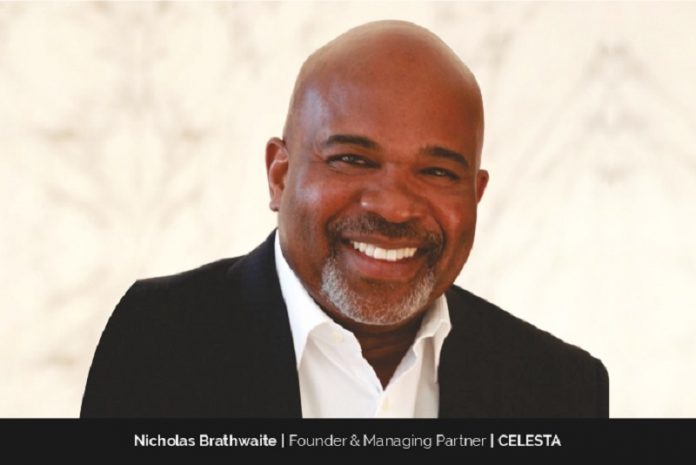 Access to financial and intellectual capital can often make the difference between success and failure in the startup world.
Nicholas Brathwaite, Founder & Managing Partner at Celesta Capital, takes great pride in his company's ability to support foundational technologies that can change the world while delivering great returns to their investors. "We are considered one of the top-performing, technology-focused, venture capital firms," he says.
Learning early lessons in leadership
Born in the Caribbean to parents who were educators, Nicholas Brathwaite's father, Sir Nicholas Alexander Brathwaite OBE, went on to become a diplomat and worked with the Commonwealth Secretariat before becoming Prime Minister of Grenada and receiving a knighthood.
"I was born into a wonderful family and have had a great life," recalls Brathwaite. "I had an excellent education. I had the opportunity to live in multiple countries, and that helped me to understand and appreciate different cultures. I have also been able to develop good relationships and lasting friendships in many countries and my childhood experiences and exposure also helped me develop confidence in my ability to compete."
So, when he went to University, it wasn't just to get a degree. "I was always a pretty competitive person so I went to university and graduate school expecting to be one of the top students," says Brathwaite. "Even when I started my career at Intel, I did not want to be just another engineer in Silicon Valley. I wanted to make a difference. I wanted to accomplish some things that others hadn't accomplished, and I had those opportunities."
After spending six years at Intel, Brathwaite went on to become an entrepreneur, a business executive and CEO, and then an investor. 18 months after he joined Intel, he was promoted to management and was in leadership roles for almost his entire career.
"I think the true test of leadership is when people want to work with you and for you, based more on who you are, rather than what they can get from you, or what you can do for them.
Brathwaite observes that by the time you get to a senior leadership position in a large or even a mid-sized technology company, most of the people working for you have many options and are often independently wealthy. So, it's not like hiring somebody out of school who may not have much choice in who they work for and what they do.
"Everybody at the executive level has options, and the fact that people will choose to work with you, versus other options, to me is the true test of success as a leader," he says. "But I'm also very proud of the fact that many of the people I've managed, mentored, and guided along the way have done very well and have become CEOs and CXOs of very successful businesses."
Brathwaite believes that, in leadership, competence is important, but character matters too, and is one of the things that people tend to overlook.
From technologist and business builder to venture capital investment
Building businesses was always the thing that drove Nicholas. After working at Intel, Brathwaite became a founding member of a successful start-up that was funded by premier venture capitalists. "We built a business that was acquired by Flextronics," he recalls. "I then became the Chief Technology Officer of Flextronics (now called Flex), and we grew that company from revenues 150 million when I joined, to about 36 billion when I left."
He then ran a semiconductor company called Aptina, and entered the investment business by co-founding Riverwood Capital, a private equity firm. Although he hadn't planned to be in the investment business, the CEO of Flextronics, Michael Marks, had left to become a partner at KKR, one of the biggest private equity firms, and convinced him that they should start their own investment firm, which he found intriguing.
That was Brathwaite's first real exposure to the inside understanding of how the investment world worked and it helped him learn about the other side of the equation.
"I saw the opportunity for us to start a private equity firm with a focus on growth capital, in the mid-market technology space where we could invest and work with management teams to build great businesses, as opposed to breaking companies up and restructuring, which is not what I wanted to do," he says.
A passion for earlier-stage deep-tech investing
Riverwood Capital, is a private equity firm focused on providing growth capital to companies that already have market traction and are looking for capital primarily for scaling.
"I did that for almost 10 years, and it was fantastic, but, I like early-stage investing," he says. "I like start-ups, I like being involved in helping to define products and strategies, and watching ideas turn into businesses and businesses
turn into big businesses."
Brathwaite sees himself as a Business Builder, and his desire to create a big impact by supporting deep-tech entrepreneurs was key to starting Celesta Capital, an early stage investment firm where they could work with startups to potentially build great businesses.
Founded by four partners, of which three are still very active, and the fourth is partially active, Celesta Capital primarily invests in the foundational technologies that enable and empower current and emerging technology trends and applications, such as semiconductors, materials technologies, manufacturing technologies, and data management technologies that move, store, and manage the exponential amounts of data being generated today.
They also invest in foundational technologies necessary to enable the electrification of vehicles or autonomous driving, the proliferation of artificial intelligence and machine learning, next-generation manufacturing, new advances in telecommunications, and next-generation medical devices which often involve the convergence of biotech and high-tech.
A powerhouse in the venture capital world
Celesta Capital is primarily made up of operating individuals with deep and broad operating experiences, so they help companies navigate through a lot of the challenges, having done it themselves and experienced the problems that startups face.
Celesta is a pretty unique venture capital investment firm. The celesta team, themselves, have started over 40 businesses and, collectively, have hundreds of patented inventions. They have taken companies public, built and managed large, multinational businesses, invested in hundreds of companies and been involved in over 150 mergers and acquisitions. Celesta, therefore, brings tremendous intellectual capital, operating experience, and investing experience to startups and understand the challenges startups face through the different lifecycles of a business.
"I've often said that companies don't fail because they ran out of money, and I know that sounds counterintuitive," says Brathwaite. "Companies fail because of the reason why they ran out of money. It's like saying everybody dies from heart failure because you die when your heart stops working. But you have to go one step further and find out why did this company run out of money? And why are
they not able to raise more money?"
For Brathwaite that usually has to do with decisions that are made, whether it's product definition or supply chain strategy, or underestimating the competitive landscape, or some other factor that leads to the detriment of these companies.
Commitment to Diversity and Inclusion:
Celesta was built on diversity. The 4 founders are Black, Indian, Caucasian, and Chinese. They have since added a female partner and are looking to add more. "Our firm has invested in several companies started by women and underrepresented minorities and we will continue to look for such investment opportunities that can also provide over-sized returns to our investors," said Brathwaite.
Every 'challenge' is an opportunity
Brathwaite believes that every time you start a new business as an entrepreneur, there is risk associated with it, and it usually looks more risky to the people on the outside, than those on the inside.
"Those of us who are entrepreneurial tend to have pretty high confidence in our abilities. Entrepreneurs truly believe they can do what they set out to do so it does not seem as risky to them".
Brathwaite recalls a time when he was at Flex, leading the miniaturization of the cell phone charger, which became the Apple iPhone charger. Several people doubted the idea of making a charger that was no bigger than a plug.
"The idea was to develop a charger that was no larger than a plug. Along the way, however, we ran into several stumbling blocks or hurdles. For example we needed to shrink the size of the magnetics, which required chips with must higher switching frequencies. Those chips did not exist at the time so we had to develop our own".
Brathwaite saw every one of these challenges as an opportunity to create even more differentiation and expand the barriers between his product and the competition.
"I tend to look at things from the positive side. I try to find the opportunities presented by the challenges rather than focusing just on the challenges themselves," he says.
People are your greatest assets
Another lesson Brathwaite learned was when he started his career in a technical role, focusing on technical solutions, capabilities, and competencies.
"I was very goal-oriented when I first became a manager," he recalls. "The goal was almost more important than the people, and one of the best lessons I learned early in my career, and that has helped me throughout, was that people are your greatest assets."
Brathwaite learnt early in his career that building great teams and surrounding himself with great people gave him a better chance of achieving his objectives.
Collaborating for the benefit of all
Brathwaite thinks of competition in the VC world more as co-opetition – collaboration and competition with everybody looking to invest in great deals.
"We truly believe we have unique deal flow," he says. "So for the types of investments that we do, very often we are one of the first investors that entrepreneurs come to with their ideas."
He believes that different venture capital investors have different areas of strength, and different types of deal flow, and that they're often looking to collaborate with other investors so they're not taking all of the risks themselves.
"So very often, when we invest, there'll be us and two or three other venture capital investors," says Brathwaite. "When we find a good investment, we would often bring in other venture capital firms to co-invest with us.
The positive changes in the VC world
Over the past couple of decades, the venture capital industry went from being driven by people with operating experience and backgrounds, to being driven more by those with financial expertise, and the focus shifted away from hardware and deep-tech to areas such as enterprise software, consumer internet, social media, etc.
Recently, however, Brathwaite believes there is a shift in the VC industry that includes more operating and technical expertise playing leading roles and more firms looking at the deep-tech space.
Brathwaite also thinks that the opportunities provided by technology will continue to increase and more VC firms will expand or change their focused to specialty areas, such as crypto, biotech, etc. Another trend Brathwaite has observed is that people are starting to pay more attention to diversity and are investing in companies started by underrepresented minorities and women.
"You're starting to see a lot more interest in this as an asset class as well, so there's a lot more money being poured into the technology venture capital world. There are lots of changes and most of them are very positive," he says.
The technology revolution has no end
Brathwaite believes that there's no lack of opportunity to invest in innovation. "The technology revolution has no real end," he says. "It's going to continue to expand, and there are going to be lots of opportunities to invest. The key is to be able to evaluate the innovative ideas and determine which of these ideas are most likely to be successful."
Brathwaite observes that it is not necessarily the most innovative ideas that are successful, because success requires a combination of innovation, management, and talent, as well as an understanding of the competitive landscape, defining your product strategies, and your go-to-market strategies.
"I've often said that if you walked through the technology graveyard, you'll see lots of tombstones of great innovative ideas that didn't make it and were beaten by less innovative ideas.
Success is the impact you have on the lives of people
Brathwaite believes that the measure of success differs in different types of businesses and that we tend to look at things differently based on our position in life.
He lists two aspects to success, the first being the business aspect of success, such as the obligation to stakeholders, shareholders and others, by the measure of which increasing shareholder value is an example of success.
"Certainly as an investor today, one measure of success for us has to be the returns that we deliver to our investors," he says. "But I believe that business success and personal success can be integrated."
Brathwaite lists the second and personal perspective of success as the impact you can have on the lives of other people.
"I believe you can deliver great returns to investors by also having a positive impact on the lives of people and making an impact in the world," he says.
Brathwaite explains that while building a business and scaling the business is a form of success, by doing so you're also employing people and impacting the lives of the people you employ.
"The bigger impact I can have on the lives of others, the bigger the success. Your ability to impact the lives of others changes as you become more successful in a traditional sense, so you have a bigger impact. I think it's important to combine the two," he says.
Brathwaite explains that Celesta has allowed him to impact people's lives by the things he does, based on the success he had, but also by being able to invest in companies that can have a significant impact on the lives of others.
"For example, Atonarp, one of the companies in our portfolio, is developing a non- invasive blood monitoring device. If that is successful, it could be transformational," he states.
Celesta invested in Berkeley Lights, which had its IPO in the summer of 2020. Technology developed by Berkeley Lights helped to accelerate the drug discovery process and was used to help find a treatment for COVID much faster than it might have taken. "So I think we are having an impact, both from a firm perspective and from a personal perspective," he says.
Focus on making an impact
Describing himself as "Driven," Brathwaite lists three aspects to his work life. One is as a Managing Partner of Celesta Capital, which involves working with their teams to evaluate investment opportunities, do due diligence, identify companies that might be of interest to them, and negotiate terms.
He also sits on the boards of several of their companies and works with them in strategic planning decisions around product definition, development, and strategies, business type, go-to-market strategies, or partnership strategies. On some of these companies, Brathwaite serves as chairman. He also serves on the board of some large and mid-sized public companies and is currently running one of Celesta's portfolio companies as CEO.
He runs a foundation to provide educational opportunities to people with scholastic abilities, who don't have the financial means to get into top universities, and also has initiatives that prepare young children for STEM education.
Through these activities, Brathwaite has provided scholarships and other support to help students from the Caribbean get into schools like MIT, Stanford, the University of Waterloo, and McMaster University. Despite his very busy schedule, he makes time for his personal interests and large extended family.
"I have a wonderful family, my wife, son and two daughters, and a very close extended family network. My family is very important and we do a lot of things together," he says. "We are a large, close-knit family with lots of cousins all over the world. I've had a wonderful life, a very nice career, and I actually don't think I could wish for much more."
Some of Brathwaite's proudest moments include receiving honorary doctorate degrees from McMaster University (his alma mater) and the University of the West Indies (his dad's alma mater) along with being recognized by University of Waterloo as one of their most distinguished alumni.
"I think the fact that my parents got to see some of the things I was able to accomplish makes me feel very good," he says. "They have both passed away now, but they were able to see me accomplish a lot of the things I was able to do. And so all of those are great moments, but to be honest, the birth of my children will probably rock above all of those things."
His advice to young people is to focus on making an impact. "I see too many people who are focused too much on money, and everything they do is driven from a money perspective," he observes. "My advice to them is to focus on making an impact, making a difference, creating something unique or special, building something good, and the money will be a byproduct, the money will come. But focus on making an impact."