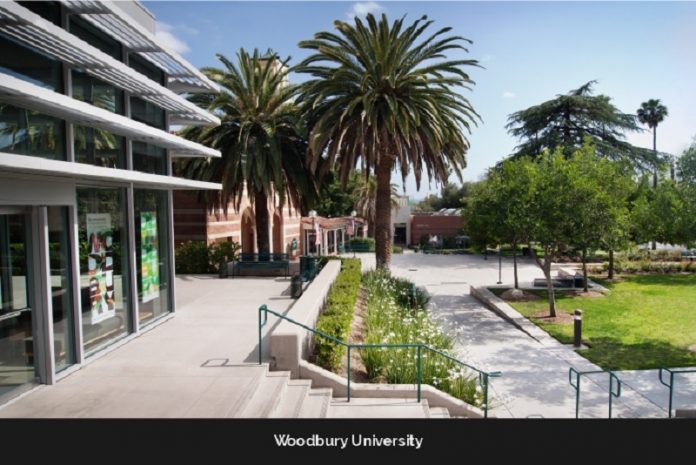 Woodbury University has been a pioneer in higher education since 1884 when it was founded as a business school to address, what at the time could best be described as, an insatiable need for skilled business workers.
"Our reputation for providing highly impactful leaders quickly grew to the point where Woodbury students walked directly from graduation into high-paying positions with some of the area's most influential businesses," says Dr. David Steele-Figueredo, President of Woodbury University.
As the region's needs evolved, Woodbury rose to meet the challenges by growing its educational offerings to include not only an expanded business school, but a college of liberal arts, a school of media, culture, and design, and a school of architecture.
Before he joined Woodbury University, Dr. Steele-Figueredo earned a doctorate in Chemical Engineering and had a successful 30-year career with Chevron Corporation, where he rose to the position of President, Chevron Latin America.
Most of his Chevron career was in business and technology-related fields, and following his altruistic streak, he decided to "give back" to society by joining academia as a dean of business or engineering.
During his almost 8-year tenure in Silicon Valley as Dean of the Lucas College of Business, one of the lessons that Dr. Steele-Figueredo learned was that failure is part of the process of achieving personal or corporate success.
Providing a top-notch education with practical experience
Woodbury University provides its students with a distinctive experience that is individual, social, and practice-based. Students at Woodbury receive a top-notch education, practical experience, and ties to the real world.
Every major at the University requires that students complete an internship before graduation, which ensures practical experience before they join the workforce, and gives them real-world experience, and a leg up once they graduate.
Throughout its history, Woodbury University has focused on the quality of education, and today many of their programs are ranked among the top in the country.
"I am proud that five of our programs have been granted accreditation from national rating organizations, and that five of our majors are also ranked among the top programs in the nation," says Dr. Steele-Figueredo.
Today, Woodbury University alumni can be found in all 50 states and in 49 countries, and their faculty is comprised of top professionals in their respective fields, who also are some of the best minds in the academic world.
Alumni of Woodbury have created successful companies, managed periodicals, opened accounting and design firms, developed into well-known fashion designers for cinema and television, won design contests, constructed award-winning structures, served in public office, and headed expanding organizations.
In addition, Woodbury is recognized as a leading university by the likes of The Economist, U.S. News & World Report, Colleges of Distinction, Graphic Design USA, Design Intelligence, and Animation Career Review, as offering top-notch academic programs that prepare students for excellence in their chosen fields, and in their lives.
"When you factor in the fact that our tuition is lower than nearly every one of our peers, and our average salary upon graduation is among the highest, we feel we have a lot to celebrate," says Dr. Steele-Figueredo.
Helping students from all backgrounds thrive
Situated in the center of Southern California's thriving creative industry, one of the most dynamic and interesting neighborhoods in the world, Woodbury University welcomes students of all racial, ethnic, and national backgrounds to all the rights, benefits, programs, and activities normally offered to university students.
"The first class in 1884 was roughly 50/50 men and women. This was exceptional 138 years ago and is part of our DNA to ensure gender and ethnic equity and diversity as part of our culture," observes Dr. Steele-Figueredo.
In the administration of its educational policies, admissions rules, scholarship and loan programs, and other university-administered programs, Woodbury University does not discriminate on the basis of race, color, national, or ethnic origin.
More than half of Woodbury University's students are the first in their families to earn a college degree. Dr. Steele-Figueredo notes that when the staff at Woodbury University see students struggle, they find approaches to help them overcome their challenges.
For those that struggle financially, they help to get aid in their hands. For those that are affected by the social inequalities in the country, they continue to develop opportunities and programming through their social justice initiatives.
Dr. Steele-Figueredo affirms that the University's focus is on its students. "Our students talk to us; we listen and act. When we see students from under-represented communities thrive, we are reinvigorated by their accomplishments," he says.
The University also enhanced its assistance and support for those that struggled academically in the remote learning environment during the pandemic.
Overcoming the challenges of the pandemic
Dr. Steele-Figueredo observes that keeping employees motivated is one of their greatest challenges. However, when Woodbury University faced many challenges during the pandemic, their faculty and staff stepped up to the plate.
As President of Woodbury University, Dr. Steele-Figueredo communicates to the Campus Community via detailed emails and sponsors Town Hall meetings. He also meets monthly with the 6-person Executive Committee of ASWU to discuss areas of service improvement.
In a recent Town Hall meeting, he lauded the outstanding dedication and support of their people while they were transitioning successfully through an unprecedented period in the long history of Woodbury University.
"Importantly, we are selectively sponsoring group retreats to reestablish personal relationships and teamwork after 2-plus years of pandemic isolation," says Dr. Steele-Figueredo.
All employees also received 7 paid Summer Fridays this summer, to help alleviate their stress levels. In addition, HR has sponsored a series of events for employees, like a Summer Picnic and Yoga Classes.
A nimble organization with a focus on being creative
Dr. Steele-Figueredo points out that, because Woodbury University is small with only about 1,100 students and no athletic programs, it is a nimble organization that can focus on being creative in its program offerings.
In six years, Woodbury has been transformed from being focused on Business and Architecture to now being equally known for its creative digital arts programs like Animation and Game Art & Design.
More importantly, in 2019 and 2020, the University received two Title VHSI Grants each for $3 million over five years from the Department of Education, to launch six new STEM programs, which are as follows:
Computer Science: 3 new programs: BS in Computer Science in Data Analytics; BS in Computer Information Systems; and BS in Design Computation.
Sustainability: 3 new programs: BA in Sustainable Practices; BS in Construction Management; and BS in Environments Science
Dr. Steele-Figueredo notes that these are innovative programs that will position Woodbury as a leader in STEM programs and build on their strengths of design and interdisciplinary studies that cut across their three Schools and colleges.
In addition to excellent and committed human assets with a passion for the institution, he lists three other factors that shape Woodbury as an institution:
It has an enviable location in the heart of the entertainment industry.
It has an excellent student governance system.
In a recent competitor comparison vs. other creative colleges and universities, Woodbury ranked 4th among the best.
Bringing a more global emphasis to the core values
Woodbury University's Core Values drive the institution and are an integral part of its Strategic Plan. They are as follows:
Excellence: Driven by standards of excellence in teaching, services, student well-being, community safety, and sustainable practice.
Ethics: Setting the highest standards of academic and professional behavior to encourage social responsibility.
Aspiration: Pursuing ever-higher levels of competitiveness, distinctiveness, and service learning.
Community: Building a culture that values diversity, open communication, collaboration, and engagement.
While Dr. Steele-Figueredo is supportive of these Core Values, he hopes to inject a more global emphasis, rather than the current US-centric view.
"Having lived in seven other countries, I bring a global perspective that will be debated as a part of the review of our 2020 – 2024 Strategic Plan. We must educate our students that the US is not the center of the universe," he maintains.
Dr. Steele-Figueredo notes that the current geopolitics with NATO, Ukraine, Russia's territorial ambitions, and China's expansionism as an economic and military power, all deserve historical understanding and debate as Woodbury evolves its educational offerings, which include more focus on STEM programs.
The University's Office of International Recruitment is active through 132 agents that represent 123 regions or countries. They have also built relationships with key US agencies such as the State Department's Education USA.
This summer, Woodbury University will launch a review of their current 2020 to 2024 Strategic Plan, "Enhancing the Woodbury Experience". The review team will be composed of faculty, staff, administrators, and a student representative.
Dr. Steele-Figueredo notes that this approach gives all stakeholders a voice in the future of the institution. He also plans to engage the Faculty Senate and the Associated Students of Woodbury University (ASWU) in their shared governance process.
"Our basic objective is student success. Our focus continues to be on the long-term financial and academic sustainability of our institution, which includes planning for the next five to ten years," says Dr. Steele-Figueredo.