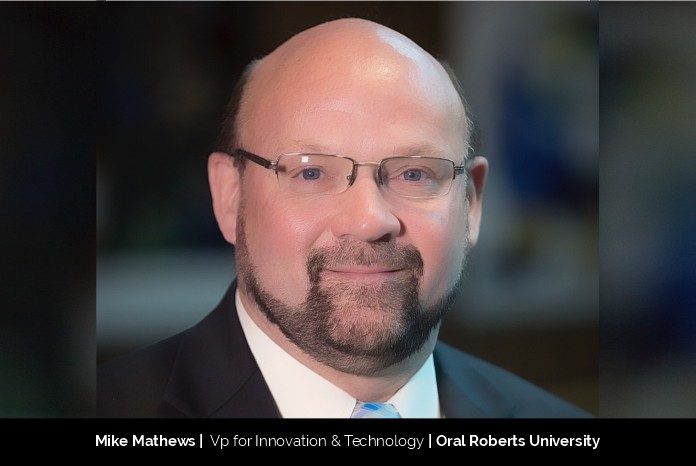 On the morning of July 11, 2021, Fox News NYC and former NASA Director Jim Bridenstine needed to connect for a live interview to validate that the first commercial flight to space by Richard Branson was a "space flight." Within a few short moments, Bridenstine was connected to Fox News NYC in the Oral Roberts University Global Learning Center via OneNet.
"It was reassuring to know I could instantly step into ORU's Global Learning Center and be connected by OneNet to a major news network about this historic moment in commercial space flight," wrote Bridenstine, who was the 13th administrator of NASA.
This quick and effective connection is just one example of how OneNet's partnership with ORU is advancing education from Oklahoma to around the globe.
The services OneNet provides ORU make it possible for ORU to educate students anywhere and everywhere.  OneNet's high service level, redundant circuits, talent, and scalability allow ORU to keep pushing the limits of innovative education on a global scale.
Vice President of Technology and Innovation, Michael Mathews, explains how OneNet services contribute to ORU achieving its mission of making spirit-empowered, whole person education a global reality.
"OneNet gives us the assurance that global connectivity has become a reliable method to reach every global connection possible," Mathews said. "The fact that ORU is allowing 205 nations and territories to access our digital content through OneNet is a valid and credible measurement of the partnership between ORU, OneNet, and the rest of the world."
A vital connection OneNet makes for ORU is providing access to Oklahoma's research network. The OneOklahoma Friction Free Network (OFFN) is a network ring of 10 Gbps and 100 Gbps connections that provides higher education institutions with a dedicated research route that allows researchers to bypass slower traditional networks and transmit data at higher speeds. ORU was connected to OFFN through a National Science Foundation grant at 100 Gbps. OFFN currently provides research-grade connectivity to 17 higher education institutions across the state.
OFFN supports a variety of research at ORU, including molecular modeling, subatomic physics modeling, computational fluid dynamics, seismic imaging, bioinformatics and molecular spectroscopy.
Professor of Computer Science with the Computing & Mathematics Department, Dr. Stephen Wheat, explained how the OFFN network makes this research possible.
"The efficient use of OFFN and the evolving improvements of OFFN are done through a rich engagement between the OFFN schools and OneNet," he explained. "OneNet spends the time to understand the problems, how they are changing and proactively participates in pursuit of the solutions. OneNet is an integral player to the success of OFFN."
The key benefit of OFFN is researchers can move large datasets at an ultra-high speed across the state and around the world. This data movement would be difficult without the research network.
"Facilitating low-latency, high-bandwidth data motion is one of the most enabling capabilities a researcher can have," Wheat said. "The OFFN environment is a leading enabler for that large-scale collaboration."
These benefits extend beyond the faculty and researchers to undergraduate students, and Wheat says many research projects are substantially executed by student researchers.
"At ORU, these are undergraduate researchers that are gaining substantial experience that greatly enhances their skill sets, experience and capabilities, making them that much more competitive for the next step beyond graduation," Wheat explained.
In 2020, ORU was ranked 5th in the nation for student engagement by the Wall-Street Journal and Times Higher Education, and a large portion of this engagement takes place virtually. ORU has approximately 6,500 individuals accessing their content and taking courses in a virtual fashion.
To make virtual education possible, ORU is completely configured to provide the ultimate student and faculty experience through the use of advanced technologies. Mathews explained the importance of advanced technologies in the virtual classroom.
"We live in a hyper-connected world whereby all technologies are being integrated for the betterment of student success," Mathews said. "ORU is using multiple technologies in an integrative fashion to allow faculty and students to seamlessly engage with content and each other no-matter where they are located."
Preparing for the future includes envisioning the next generation of technology in the classroom. With the hyper-connected world and a focus on student well-being, ORU has coined the term "human-ware."
"Human-ware is the ability to allow the attributes of each student to be connected with the best of data science, classroom technology and world-wide intelligence," Mathews said. "This capability will accelerate the learning potential of each student and the advanced technologies demonstrated through ORU's Global Learning Center."
The idea of human-ware fits with OneNet's mission to advance technology across the state and advance education to all students. Whether it's through OneNet's services or the connection to the research network, OneNet's partnership with ORU is achieving this mission.
"As Oklahoma's research and education network, OneNet is ORU's partner in learning, science, innovation and discovery," said OneNet Executive Director Vonley Royal. "OneNet's goal is always to provide Oklahoma's higher education institutions with the resources they need to further their research and education initiatives, whether locally or globally."