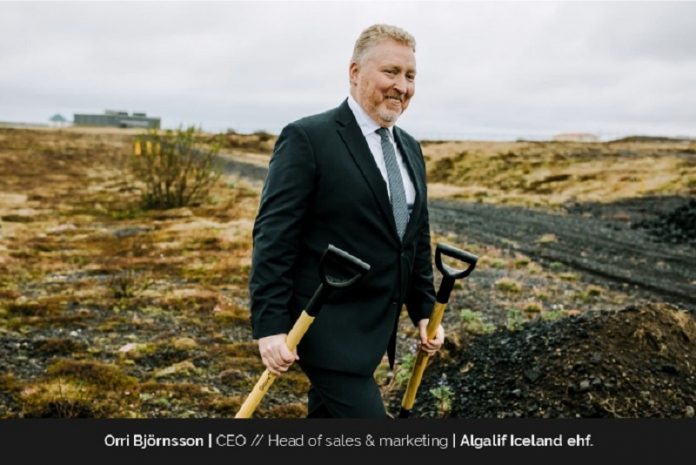 Becoming a leader in sustainability is all about quality, reliability and creating a great workplace that inspires innovation.
With climate action much on the agenda today, there is a global shift towards sustainability and in creating a circular economy with zero-fossil fuel and zero-waste.
Orri Bjornsson, CEO of Algalif Iceland ehf, believes that being environmentally friendly or sustainable is no longer something that gives you a market advantage. Rather it is becoming an entry ticket into the market and a way of life for many people and companies.
With its headquarters in Reykjanesbaer, Iceland, Algalif Iceland ehf. is a biotechnology company that aims to become the largest producer of sustainable natural astaxanthin in the world.
Learning the wisdom of quality, sustainability & reliability
Bjornsson worked in the pharma and nutraceutical industries for nearly 25 years in Iceland, and in Eastern Europe, as Icelandic companies took over companies there.
He was previously employed with pharmaceutical companies like Actavis and Balkanpharma, where he managed various international programs. Through his work in Europe, he gained extensive experience in building and starting up new plants, as well as in upgrading plants in all sorts of conditions.
That led Bjornsson to a position as a consultant for the United Nations in Africa that took him all over the world. He spent time rebuilding plants in Eastern Europe, as a special consultant for the United Nations in Africa, and as a manager in the algae sector.
All this work experience in many different countries working in the biotechnology, pharmaceuticals, and supplements industry helped him gather competence in GMP, general quality, project management, recruitment, and operations.
His track record in getting things done on time and budget finally led him to Algalif, almost a decade ago. He credits these 25 years of experience to helping him acquiring the wisdom that quality, sustainability, reliability, and team building are the key factors to success.
Bjornsson's personal goal is to spread the vision of quality and sustainability into the Nutraceuticals industry and the community, and he believes that Algalif is a great example of how to use green energy to create a profitable business while providing good jobs for young, educated people.
Manufacturing high-quality sustainable natural astaxanthin
Algalif is the producer of a raw material – sustainable natural astaxanthin – that has a number of proven heath benefits and health applications, backed by a strong body of research and scientific publication.
More and more research is published every year to support the health and anti-inflammatory benefits of astaxanthin in muscle recovery, joints, skin, eyes, hearth, vascular system, healthy aging and more.
"The truth that everybody needs to know is that astaxanthin is an amazing natural product that has very beneficial effects on human health," says Bjornsson. "And because it works, it is gaining more and more popularity every year."
Algalif's marketing is focused on getting the message of the quality of their work processes and of the professionalism of their quality assurance team across to all current and future customers.
Their biggest strength perhaps lies in the superb product quality of their sustainable natural astaxanthin product, as verified by their customers and independent labs and researchers.
"Our business is basically very simple," says Bjornsson. "We produce one type of plant microalgae. But to achieve excellent results, as we have managed to do, we need to take advantage of all the best technology available."
Their excellent scientists approach every step of the production from a scientific and technical point of view, growing the algae in glass pipes inside and controlling the growth environment very precisely to promote very high-tech cultivation of these simple organisms.
"Just to give you an idea, the way we set our lamps is a result of comprehensive experiments and extensive usage of data," explains Bjornsson.
To find the exact spectrum of light to get the maximum growth at every stage of the algae lifecycle is a huge task for which they use both biology and data driven technology.
"My main responsibility is making sure we have a great team, the best person in every position, and that the vision of sustainability, quality and reliability is ever present in everything we do," says Bjornsson.
The result of this process of delicate and finely tuned growth process is evident in their excellent productivity. Although Algalif currently produces only one type of microalgae, they are already doing R&D into other types of algae to produce other ingredients.
Success is all about teamwork
The Biotechnology sector is young, and this industry is growing and changing fast. Bjornsson noticed that only a few of the startups and ideas that start the journey ever became fully grown and profitable companies.
The fact that Algalif managed to become profitable has made him thankful to everybody that helped them on that journey. While they faced many challenges on that road, big and small, the most difficult ones always had to do with the human factor of running a company.
As Bjornsson says, for any business to be successful you need a few things. Firstly, you need an idea and some capital. But he credits the number one factor in success of any business to the know-how of the team along with leadership, entrepreneurial spirit, and vision.
In other words, a good team, with the right mindset, is the main ingredient in a recipe for a successful business. In his opinion, this is something that the tech companies discovered decades ago and their success is the result of that realization.
"I would like to bring that philosophy of people first, into the Nutraceuticals industry," says Bjornsson.
He believes that it's important for any company not to forget about their social responsibility, and to focus on creating a great place to work for your team. His advice to other entrepreneurs who aspire to venture into the field of biotechnology is to remember that success is all about teamwork.
"No person and no company is an island," says Bjornsson. "While every company needs vision, knowledge and capital, the team is the heart and soul of each startup company. We want to nurture our amazing team and still be a great place to work."
Building a great place to work
Bjornsson wants Algalif to be a great place to work and tries to make sure that the hierarchy in the workplace is as little and as invisible as possible. His door is always open, and the employees are informal in their communications.
At Algalif, they also make sure that everybody in the company is on board regarding their vision and mission to become the best and the greenest company in the industry. Bjornsson believes that making sure everybody is involved and onboard with their goals is a great way to motivate the team.
He credits their success as being founded in the great staff and employees that they managed to recruit into the company, because even though technology, knowledge, finance, and leadership matters, the basis of the company is the people working there.
Becoming a leader in sustainability
Giving back to society and becoming a leader in sustainability have been Bjornsson's guiding lights in building one of the biggest and most successful microalgae companies in Europe.
"Everywhere we look people are talking and thinking about the climate, global environmental issues, and sustainability. People are also taking action," he says. "In my opinion, the big change will be that the market will demand traceability of all ingredients and they also need to be produced in a sustainable manner."
This global shift towards sustainability and a circular economy is also happening in the food industry, where being environmentally friendly or sustainable is no longer something that gives you a market advantage, but is more and more becoming an entry ticket into the market.
It is happening in Europe and America, as well as in Asia and other parts of the world. Algalif is at the forefront of sustainability in this industry, and is preparing for the future by becoming even better at the things that they are already doing well.
A relatively young startup company in the biotechnology sector, Algalif was founded in 2012 and started operations in Iceland in 2013. Not long after that, they reaped their first successful harvest of microalgae and commercial astaxanthin, their main product.
In this short time, they also managed to become a powerful industry player with the mission to become the best microalgae producing company in the world, and according to their customers, the quality of their product is unmatched.
Today, Algalif is on its way to becoming the largest producer of sustainable natural astaxanthin in the world. But there is also another huge reason for their success – the belief that sustainability should be a way of life.
"Sustainability has always been a big factor for us and I would like to bring that vision of sustainability into the Nutraceuticals Industry as a whole," says Bjornsson. "My vision is to build a company that can be a role model for others in green technology and sustainable industry practice. In my opinion, the best way to do that is to be a leader and a role model."
The Algalif team works by a simple philosophy of excellence and is guided by the principles of quality, reliability, and sustainability – the three key words that they keep in mind every minute of the workday, to reach their mission to be the best and the greenest nutraceutical company in the industry.
They are already a green company, only using 100% renewable geothermal energy and working under strict Zero-Fossil Fuel and Zero-Waste policies.
All their energy is green, all their cars run on electricity, and they also try to make sure the food in their canteen is locally sourced and all other inputs they buy for the business are environmentally certified.
Today, their production is basically sold out and they are now building new facilities in Iceland that will triple their production capacity in two years. Once these new facilities are completed, they will be producing microalgae in a 12.500 m2 state-of -the-art facility with an environmental footprint that is close to zero.
Bjornsson hopes to really show, by example, that a successful company can be carbon neutral and sustainable, and that a transparent and open approach is vital for the industry to reach higher grounds. He wants to see Algalif grow and be one of the global leaders in health and sustainability in the coming years.
"The future goals for Algalif are clear," says Bjornsson. "We want to be the best microalgae company in the world and a leader in sustainability, both in our industry sector and in our community. My personal motivation is to do good for the environment, for society, and my team."