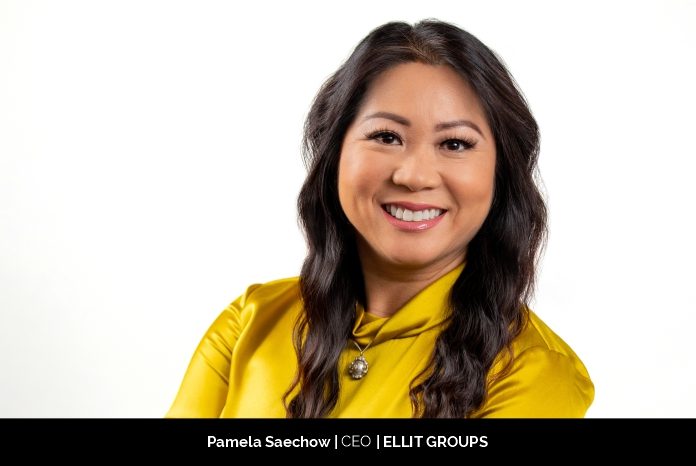 An August 2021 study by The Commonwealth Fund compared health care systems in eleven nations: the United States, Canada, Switzerland, France, Sweden, New Zealand, Germany, the United Kingdom, Australia, the Netherlands, and Norway. The study found the top-performing countries overall are Norway, the Netherlands, and Australia. The United States ranks last overall, despite spending far more of its gross domestic product on health care. The U.S. also ranks last in access to care, administrative efficiency, equity, and health care outcomes, but second in measures of the care process." This is what motivates Pamela Saechow to build a company that will help the clients focus on and invest in systems and high-value services that result in better outcomes.
Pamela is the CEO at Ellit Groups, a woman-owned, minority owned, "World-class" healthcare information technology consulting services firm certified by WBENC. While being young as a firm, Ellit Groups is comprised of seasoned healthcare professionals with an average of 15 years' experience in healthcare operations and information technology. Pamela asserts, "We offer our clients a wide range of services that span Advisory, (EHR) Implementation and Optimization.  Our goal is to provide services and solutions to address the most pressing problems our clients are facing today."
According to Pamela, as a female leader, it's still an uphill climb to break into the male dominated healthcare industry. On a global scale, women account for only 25% of healthcare leadership roles despite constituting 70% of the workforce. She says, "I can't count the number of times I have been told that I should "stick to what I know" or "not rock the boat" or a hundred other cliches that were intended to dissuade me from reaching my goal."
One of the reasons Pamela founded Ellit Groups and works every day to ensure the company is inclusive and equitable is to prove that it is possible for anyone who has passion, drive and an honest desire to make a difference in the world to achieve success.
Early Life, Challenges and Achievements  
Pamela was born in Laos and raised by her grandmother. She watched how she selflessly served as the medicine woman for a village in Laos to live healthier lives when there was no access to healthcare. This upbringing served as a catalyst for her, at a young age, to have curiosity and compassion, which drove her to solve challenges that would promote happier, healthier lives.
Pamela is the former hospital CIO who understands all levels of IT engagement within a hospital system and healthcare organization. With more than two decades of leadership experience, she is adept at building the bridge between healthcare operations and technology to enable healthcare organisations to execute critical patient care efficiently. She drives her team to know the difference between a good project and a great project.
She believes that she has been fortunate to have worked with some of the most prestigious healthcare organisations in this country. While serving as a healthcare provider, she was asked to join a new healthcare technology division at Sutter Health, a large California-based health system. Sutter's willingness to embrace new technology and her hospital operational expertise quickly began illuminating opportunities to improve the healthcare experience and outcomes across their vast network. Over the next 23 years, she held several leadership positions and helped a dedicated team transform Sutter's digital health offerings.  She was instrumental in completing a 5-year roadmap EHR roadmap across continuity of care + rationalized IT systems from "Best of Breed to Integrated."
While serving the residents of New York City, Cleveland Clinic, the world's second-ranked hospital, Pamela was offered the chance to expand exposure to a global community of patients and clinicians. She joined them as Associate Chief Information Officer and helped launch a digital transformation strategy to revolutionise patient care and caregiver experience. She led a team that reshaped the IT department, launched the Epic Refuel initiative and the M+A playbook on a global scale. She emphasizes, "To be able to drive this kind of change in the delivery of healthcare has been one of my greatest achievements."
Success!
Pamela's definition of success is based entirely on the clients' success. How Ellit Groups solves the clients' problems and delivers solutions that improve patient outcomes is the metric for the company and her success.  She says, "We focus on three elements: on-time delivery, quality and cost to enable our clients to realize the full ROI on their IT investment and achieve the best possible patient outcomes and experience."
Redefining the Healthcare Industry with a Progressive Vision
Ellit Groups helps leading organisations turn insights into actions. The team has a demonstrated record of supporting client partners in the provider, payer and life science sectors with strategies and tactical executions. The company's services provide the best practises and lessons learned through industry experience that improve outcomes and help achieve success. Pamela says, "We get to know our customers and understand their problems so we can turn those insights into action."
Ellit Group's very name is based on fostering change and advancing solutions in the healthcare industry:
Elle "She"
IT "Information Technology" –The company believes IT enables results by helping healthcare providers, payers, and life sciences realise tactical advantages.
Groups "Bringing Together" – It is deliberate in the company's methodology and practises in aligning people, processes, and knowledge to enable customers.
Elite "Superior talent and abilities" –It believes that quality relies on talent and culture to deliver a client's needs.
In the future, Pamela's vision for the company is to continue to drive Ellit Groups to be innovative, provide unsurpassed healthcare IT services, and enhance global healthcare through linking people, process, technology, and knowledge.
As a woman owned business, she will ensure that the company stays true to its mantra to "Get it done right". She finds that it's essential for the team to be inclusive and diverse to provide the clients with the best and brightest talent to design and deliver high quality, high value solutions.
The Passionate CEO of Ellit Groups
"I pride myself on being a CEO who not only has responsibility for developing Ellit Groups' short and long-term strategies, overseeing quality, and setting goals for each of our service lines, but also stays relevant by working directly with our clients to understand and solve their problems," says Pamela.
Pamela is passionate about helping clients provide the best possible care to their patients and about improving healthcare delivery. She says, "I am passionate about creating solutions to our clients' most challenging problems. I am passionate about life, as there is so much to be done in the healthcare industry that keeps me excited each and every day. "
Living a Joyful Life
Pamela always lived by the mantra "You can't assist others with their needs if you don't take care of yourself." While her schedule is hectic, even chaotic at times, she always takes time out to enjoy outings and events with family, friends and work colleagues. This year, she has been fortunate to spend time, in small groups being mindful of COVID-19 protocols, celebrating birthdays, baby showers, and relaxing with family. She says, "My employees are family to me. Whenever we are working on a client site, we plan team events to celebrate our successes and collaborate to find solutions to the challenges we encounter. We work together and play together to form strong, cohesive teams."