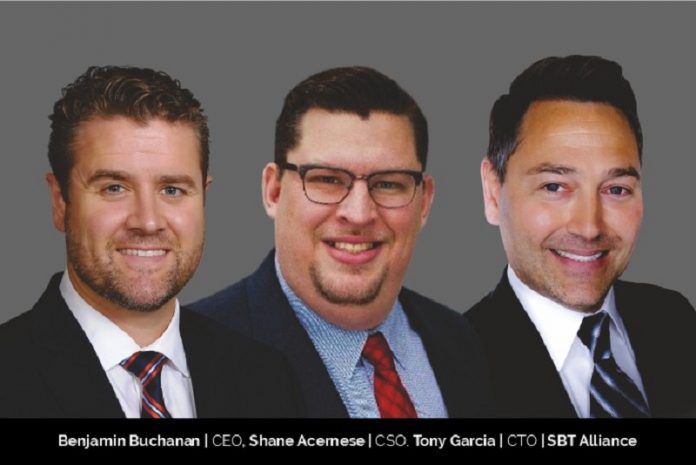 Today's smart building technologies, fueled by the Internet of Things (IoT), are more than a tool that simply drives energy efficiency. SBT Alliance, an IoT integration partner that guides small, medium, and Fortune 500 clients to a digital future built on the IoT, leverages the data collection capabilities of today's smart control systems to develop custom business applications that provide deeper insights for building owners and facility managers. SBT Alliance achieves this by engineering, deploying, and supporting the industry's latest IoT technologies to create intelligent spaces, and funds projects through its Smart-Space-as-a-Service (SSaaS) program.
SBT Alliance helps its customers deploy IoT-based solutions, systems, and technologies that make their buildings safer and smarter, while helping them fund the project through cost savings measures, and operational efficiency improvements. SBT has dozens of industry partners, and the IoT company deploys IoT systems across a multitude of categories: IoT Lighting, HVAC, Safety, Analytics, and more. Also, through its software, S|HUB tablet, and application integrations, SBT can service and communicate with these systems from a single platform.
A beginning of helping clients extract actionable data to improve operations
With a history deeply ingrained within the commercial lighting, advanced controls, and energy efficiency space, the genesis of SBT comes from a reoccurring observation that the founders kept coming to while working with clients on energy efficiency projects.
While the founders of SBT were in various positions at numerous companies, the same observation happened to each of them. The observation centered around the fact that customers in the commercial lighting industry were continually overlooking advanced controls and IoT opportunities because of tight budgets. And while there were innovative solutions available, integrating them with existing systems and the buildings' lighting infrastructure was intimidating. Moreover, the founding SBT team found that the lighting partners and software companies' lack of support negatively impacted smart building devices' overall utility.
These more advanced solutions and the emergence of the Internet of Things (IoT) proved fraught with integration problems, inadequate infrastructure, poorly configured designs, and sub-par support. Cobble all of that together, and it's a recipe for disaster, and customers steered clear of any complex technology solutions when considering an energy efficiency project/building infrastructure upgrade.
That's why SBT was formed; to help clients streamline the process of integrating multiple technology solutions into their buildings, so they're able to extract actionable data and insights to improve operations.
It is all about persistence and perseverance!
When asked about the initial challenges that SBT had to face, Benjamin Buchanan, the company's CEO says, "As with any leadership position, you will undoubtedly encounter challenges. Whether those challenges are around startup operations, cash flow, investment, employee relations, or some combination of all, it is not really a question about the challenge. It is a question of how you face that challenge." According to Benjamin, it is all about persistence and perseverance. "If you face challenges, whatever they may be, you will find a solution to overcome that challenge with persistence, perseverance, and resourcefulness. It's that philosophy that has driven SBT to where we are today, and it will continue to be the fuel that marches us forward," he adds.
Today, SBT partners with small, medium, and Fortune 500 companies to design, deploy, and support IoT-enabled solutions, systems, and technologies that help future-proof businesses. As a leading IoT systems and solutions partner, SBT takes an agnostic approach to today's IoT technologies, solutions, and systems. It's about matching the right systems, devices, and tools with what a client is trying to achieve, not sell them smart devices for the sake of selling them smart devices. Through its ecosystem of IoT partners, SBT helps clients on their IoT journey in three distinct ways:
IoT Essentials: SBT's IoT Essentials are a client's first step to leveraging the IoT. Whether installing a few IoT devices or monitoring mission-critical equipment, SBT's IoT Essentials include easy-to-deploy IoT solutions.
Facility-Wide IoT: For more comprehensive IoT solutions, including advanced lighting controls, HVAC, plug load management, or other innovative building systems, SBT's facility-wide IoT solutions transform a client's entire facility into a smarter building.
IoT System Support: Once a customer has deployed an IoT system, solution, or set of devices, SBT's IoT system support allows them to experience advanced IoT system support with the touch of a button through their dedicated S|HUB Tablet. Clients can monitor mission-critical systems, receive preset alerts, and control multiple IoT devices, systems, and solutions right from the tablet.
An agnostic approach to today's facility management and IoT device manufacturers
At the core of SBT Alliance, is an agnostic approach to today's facility management and IoT device manufacturers, says Tony Garcia, the company's CTO and co-founder. According to him, SBT understands and appreciates the fact that there is no one building system to rule all. "We thrive on this amalgamation of building systems, as our key market differentiation. Our service offering is centered squarely on designing, deploying, and supporting these various systems to achieve a client's end goal," Mr. Garcia asserts.
The founding team agree that SBT's model is focused on obtaining the most value out of smart digital infrastructures for his clients. The team at SBT achieves this customized service offering at scale because of their vast industry experience in multiple verticals. For example. the same issues that Y manufacturing plant experiences, X plant also experience at least 80-90 percent of the same issues. Understanding a customer's key pain points is central to designing a solution that addresses their unique challenges at scale, while also providing customized solutions to solve the remaining 10-20% of business challenges. A significant portion of the work can be addressed with proven IoT solution sets that SBT Alliance has deployed in tens of millions of square feet of commercial spaces across the country.
Besides, more than just IoT solution sets, the core of SBT's business model focuses on the streamlined management of a client's various compilation of IoT systems. SBT achieves this through a singular platform and productivity tools powered by its S|HUB Tablet. "Our Smart-Space-as-a-Service (SSaaS) program empowers end-users with a project funding vehicle that's akin to many other subscription-based programs used throughout an organization (think Office 365 for facility management)," he says.
Playing a critical role in helping clients reach their end destination
The advancement of IoT and smarter building systems has skyrocketed over the last few years, as per Shane Acernese, the company's Chief Strategy Officer and co-founder. And while this benefits the industry as a whole, it only adds to the complexity of options, devices, systems, protocols, and all that goes into identifying, deploying, and supporting an IoT-based solution. Shane and the founding team at SBT continues to play a critical role in navigating these waters to help clients reach their end destination; a smarter facility that delivers value, whether that's operational improvements, increased services, improved tenant services, or something else.
SBT's growth over the past few years has been breakneck, to say the least. While it may not seem like it, but over the last two years, SBT has plowed through the idea development and startup stages of its company lifecycle and is now firmly in growth and establishment, working its way to further growth, expansion, and scale.
At the core of SBT are a set of values that Benjamin and the team continually put into practice at all company levels. Whether it is about expanding the team, engaging with clients and industry partners, or considering their actions, decisions, and relationships, SBT's CIVIC values guide us. These include Commitment, Integrity, Value, Innovation, and Community.
One of the many benefits that come out of SBT's product and manufacturer agnostic model is that the company is continually meeting new emerging technology device manufacturers vying to get into the market. Through these exchanges, SBT is continually learning about and experiencing the latest technology trends firsthand. While others within the industry lock themselves into one vendor, they only see what that sole vendor is up to in terms of innovation.
Developing innovations to help partners stay ahead of the technology curve
Talking about the vision at SBT, Benjamin says, "The vision that we've charted for SBT is to revolutionize how IoT products, services, and technologies are delivered to the market and optimized by customers. That's at the core of SBT and is central to every innovation, offering, and step forward we take as a company."
"We are continually developing and deploying innovative IoT-enabled solutions to optimize operational efficiencies, processes, and protocols and help businesses thrive. More than that, it is the tangible impact we have on our customers' businesses in helping them future-proof their infrastructure while making their buildings safer, smarter, and poised to take advantage of a digital future."
The future of SBT is a continuation of what Benjamin and the founding team are committed to achieving today; that's partnering with small, medium, and Fortune 500 companies to successfully drive them into a digital future that improves operational efficiencies and business value. "What does this mean 5, 10, 15 years from now? It means bringing the latest innovations to the table and developing our own innovations to help our partners stay ahead of the technology curve and reap the digital benefits," Benjamin concludes.