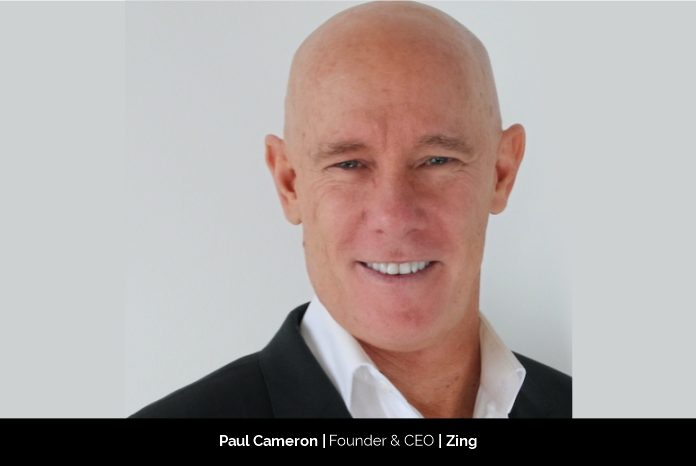 The business world is highly competitive, and the road to success is riddled with challenges, especially for a startup. Paul Cameron, founder & CEO of ServiceQUIK, used these obstacles as steppingstones to win in his corporate life and now leverages that experience in solving the problems faced by small and medium-sized business owners in harnessing the power and competitive advantages of technology.
Beginning of the Entrepreneurial Journey
Most of Paul's career has been in technological fields, and he has held several senior executive technology roles in the last 20 years. He was most recently the CIO of a large financial service organization followed by the global leader of technology services for the IBM Corporation, which he decided to step out of to start ServiceQUIK. Along with his co-founder, they began their entrepreneurial journey by investing their own money and then convinced others to invest theirs in ServiceQUIK and their first brand – ZING.
Since the beginning, Paul has always been a leader with a vision and ideas to make things better. He states, "startups need cash, and the challenge is to convince others to invest in your vision. It's the same in the corporate world with investments." He used to say to his team, "if this was your $1M, would you spend it in the same manner?"
ZING – The Everyday Hero for Business Owners
ServiceQUIK is incorporated in Singapore and the USA and designs, builds, delivers, and supports ZING – an affordable ERP designed for small and medium-sized businesses.
He states, "ZING is our core brand and built from the frustration my co-founder and I had in identifying, selecting, and deploying SaaS (Software as a Service) business technology in an earlier (now very successful) startup we established." They needed 12 separate pieces of software – across POS, inventory, bookings, website, CRM, marketing, surveys, forms, loyalty, memberships, and more just to ensure their success. This is difficult for most SMB owners and very expensive and complex to deploy, which led to the idea of building ZING. It was designed from the ground up as an all-in-one, easy-to-use, feature-rich, accessible and affordable solution designed for small and medium-size business owners.
He adds, "ZING helps our clients capture their business data cleanly from every touchpoint they have with a customer, then use ZING's insights to identify growth opportunities and areas for improvement for the business owner early. We help them to grow, contribute to the SMB economy, and be successful."
Redefining Business Management with The Power of Technology
All businesses now must rely on technology in one way or another to be competitive and gain an advantage. However, with the myriad of solutions available, it's super difficult to choose which is best suited, most affordable, easy to implement, and then use and operate. ZING is designed for the cloud. It straight away makes it accessible, affordable, and secure while taking the puzzle of technology out of the equation – so businesses can focus on actually running and growing their business.
ZING's model ensures it has access to all the business data and customer touchpoints through a central CRM (Client Relationship Management). The ZING dashboards can then drill down through the business data, provide visual representations of performance, and provide insights for improvement.
Challenges & Lessons
Within a few months of launching the startup, Paul's team was also struck down by the pandemic. COVID has had a significant impact on the world economy, and most businesses have been affected. He adds, "Two waves have hit us, and this has slowed us down considerably – while our team members slowly recovered and we re-prioritized our work." To Paul people come first, so they learned to be disciplined in their approach towards delivery and flexible with their workforce. He adds, "These blockers will continue to strike, but we as a business also need to ensure we keep our cost base and overheads low, our ability to quickly pivot when required, and meet emerging challenges head on.
Life as CEO
Like most startups Paul wears many hats within the business; apart from leading the organization, he is the CFO, Investor Relations, HR, Strategy, Research & Development, Risk & Compliance, and Operations & Support. He also assists his co-founder with Sales, Marketing & Public Relations. As a startup, the leaders must cover off many roles and administrative functions, especially in the early days when cash is tight and frugality is vital. However, the switch must happen early in employing key people to free up space and ensure focus and efforts can shift to strategy and growth of the business.
He is driven by motivation and believes that starts with having the right attitude. "My job is not to motivate but to lead talented and engaged teams that have the right attitude and are already motivated by inspiring them with our vision, strategy, and execution. Then basically removing the blockers to their success and get out of their way!"
Paul believes that establishing a strong culture is about inspiring people with vision and then ensuring they have the means to do what they do best and succeed.
A Glimpse at Paul's Personal Life
The day starts early, around 7, and he spends it working in their home office. Since they work both Asian and European hours with a remote and distributed workforce, their day is quite long. He spends most evenings enjoying a great meal with a glass of wine to wind down and talk about the day, finishing off with some select TV viewing and a good night's sleep. He also finds time to visit the gym and takes his mountain bike out about three times a week. He adds, "Weekends are for working too unless we have a social event. Though working hours shorten a little, it's a great time to test out new ideas, do some development work and get lots of research done that, more often than not, turns into a solution that our clients will enjoy."
The other founder of ServiceQUIK is none other than Paul's wife and he is grateful for having such a great business and life partner in her. In his words – "I'm fortunate that my very talented co-founder is also my wife, and apart from working together, we also celebrate the highs and lows of running a startup together. We fondly call it 'champagne and razor blades,' and we have since learned to raise the lows, lower the highs, and maintain a comfortable balance. Quite frankly, working this hard – we wouldn't have it any other way. We see the fruits of our labor immediately, especially in the feedback we receive from our clients. No founder can do this sort of thing alone, as they must have someone they can trust and believe in. We make a great team."
Vision for the Company
"Our purpose is through amazing people; we build great products and services that our clients love, and to be envied and admired by our global peers and customers through our unique culture. In our business, we strive for clarity over certainty and course correction over perfection. Our goal is to become the world's best business management software for SMBs while abiding by our core values – trust, honesty, respect, and courage."
Having already raised US$3M, ServiceQUIK is currently completing its SEED #2 capital raise. This will complete their sales & support testing, enter the US market, complete the build of our ZING ESSENTIAL Plus advanced product and launch the ZINGhealth brand, taking them to a potential SERIES A round in 12 months – which will ignite their growth phase.
Finally, Paul adds, "The next few years will see us grow our portfolio of products, extend our reach in the major markets and open new opportunities in EMEA and South America. I see our core ZING business experiencing exponential growth and our new ZINGhealth product growing rapidly by solving many of the problems in operating successful clinics in the health industry. We also want to have a lot of fun doing it, too!"