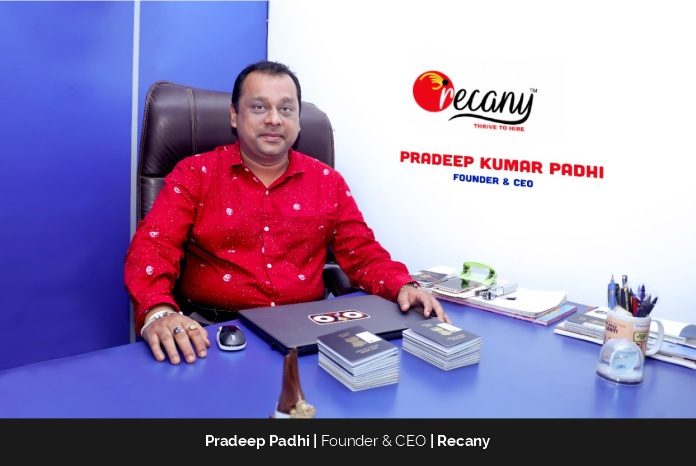 Recruitment – the process of actively seeking out, finding, and hiring candidates for a specific position or job is an intensive and huge industry spread across the Globe. It includes managing the entire hiring process, from inception to the individual recruit's integration into the company. Pradeep Kumar Padhi is the Founder & CEO of Recany – an award-winning Recruitment Company in India serving both domestic and international staffing needs since 2008. Recany specializes in Mechanical, Electrical, BPO, IT, Electronics, FMCG, Automobile, Healthcare, Commercial, Retail, and Start-up hiring. They use sales, business development, marketing techniques, and networking in order to attract business from client companies.
Recany started in September 2014 as a domestic recruitment company. They had clients in cities like Kochi, Coimbatore, Chennai, Bangalore, Pune, Ahmedabad, etc. They entered into International Recruitment in 2016 with Clients From Malaysia and currently have clients in the cities like Selangor, Johor Bahru, Klang, Pinang, Kuala Lampur, etc. They also had business meetings in UAE, China, Maldives, Singapore, Romania, and Croatia. Today, they have a client base in all these countries. As a company, Recany believes in building long-lasting and strong relationships with clients.
Success comes from hard work and determination
Success is something that is achieved. Pradeep believes that once you start working with self-satisfaction & relaxation, you can believe that you have reached that level of being successful.
Success can also be taken into consideration by comparing the past. "We cannot change the past & predict the future. I feel each and every second in life is important. You can be successful only if you are able to balance your family & professional life. Success is not just about work," he states.
Where there is a will, there is a way. "I had many challenges while starting my company," claims Pradeep. As he comes from Orissa (an East Indian Oriya-speaking state), language and easy communication was his biggest challenge. Thus, strong determination & hard work was his best asset at the time. "The people here are really good and helped me grow a lot," he affirms.
Time plays a vital role in Recruitment. Initially, it was a big problem to get the work done in a stipulated time frame. However, slowly and steadily, as he gained more experience in the industry, everything started becoming easier and settling down.
The present and future of Recany under Pradeep's successful leadership
Before starting his own company, Pradeep began his career as a Data Entry Operator in ACS India Pvt Ltd (ITPL, Bangalore). He also worked in Companies like PFBA, CTS etc.
"I respect the time and let me tell you that this is my best recognition. Time: one who respects time never has a bad time," states Pradeep. In the recruitment Industry, two factors are very important. The exact position that the job seeker wants & the processing time.
His responsibilies as the CEO of Recany are building trust and ensuring great quality work. "Trust to Recany is very important & I do not compromise on the quality of work," he explains.
Pradeep says that he has no particular professional dream as such. But yes, when somebody gains success through Recany, all he can do is thank God. That is because when one person from a family is successful, that person will have the ability to be the financial backbone of the family. Pradeep believes that those families will in return pray for the success of Recany. He aims to help more people have a bright future by helping them get settled with successful jobs abroad.
"The future is already here – It's just not evenly distributed," Pradeep exclaims when talking about the future of Recany.
Balancing personal and professional life effectively
Personal life is extremely important for everybody. "As I discussed earlier time is a very important factor in life & I am used to counting seconds, not minutes. I do this so that I am able to manage my personal life & professional life better," says Pradeep. He believes that you can derive energy, encouragement, and motivation that's needed for your professional life from your professional life.
Pradeep dedicates all his success to his mother as he states she is the reason for all professional success. "She is a creator, motivator, and no words can describe her," he asserts.
His message to aspiring leaders is: Persistence makes all the difference. Success is peace of mind which is a direct result of self-satisfaction in knowing you did your best to become the best you are capable of becoming.