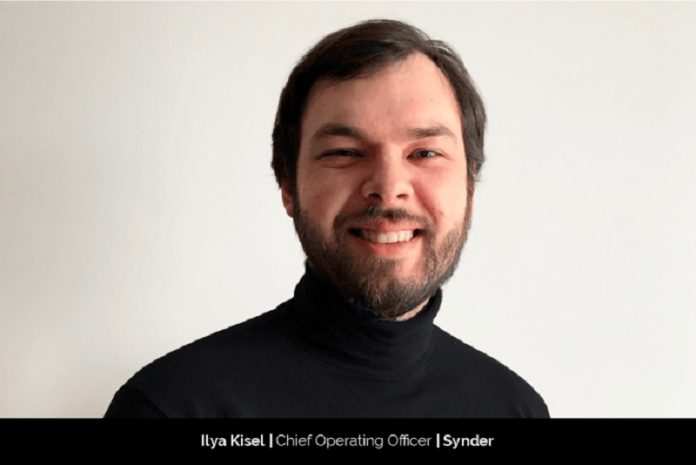 Indeed, the definition of success today appears to be quite broad. One can determine it by business metrics growth, by the number of people one is serving with the solution, or even by the high volume media coverage. For different people, it will be different, and all of them are true to life.
For Ilya Kisel, COO and Co-founder of Synder, success is in social confirmation that comes from helping others on their life path by solving some challenging problems (either business or personal) that limit their capabilities. He adds, "This idea, from my perspective, spreads not only to our end users but also to our team and to me personally. It makes us follow the path of changing ourselves for the better too."
Foundation of Synder
Ilya mentions, "There are still many problems in the world that need to be solved today, and we all have to take responsibility for our future. We at Synder think that if your main target is to solve at least one problem, and you know that this is something that you can accomplish at least partially, it's worth trying. Once this idea has formed in your mind, you are ready to dig into more detail to see what's inside this problem. And this is a true adventure! When you recognize the problem, you might want to solve it for yourself first."
The team faced the problem of data reconciliation and tried to solve it for themselves. This way, Synder came into existence.
At Synder, the team believes that technology can help businesses manage their finances better, smarter, and faster. Facing a necessity to do a great deal of finance management themselves, even if they have a bookkeeper at their side, many small business owners lack the precious time they could otherwise invest in business growth.
Ilya adds, "We are not promising to do the job for you or to make decisions for you. What we want is to help you manage your business more efficiently. Every day I learn something new about this problem.
Realizing that there is no bottom line inspires me a lot and recharges my batteries every single day!"
Synder: An easy accounting solution
SaaS product Synder helps e-commerce businesses automate their back-office processes and organize easy accounting of multi-channel sales. If a person sells through Shopify, Amazon, or Etsy and has multiple payment methods in operation (like Stripe, PayPal, or Square), Synder is the best solution and has several perks.
It helps e-commerce businesses and SaaS businesses to reconcile their sales from a variety of channels in one click. The software gathers data from all the platforms and tracks that there are no duplicates or missing details. Synder provides accurate reconciliation without your involvement in the process and gives detailed reporting on all the sales from all the platforms.
That's why with Synder, connecting more platforms stops being a headache for e-commerces. It helps its clients use the diversity of channels as a sales advantage for their businesses.
Ilya states, "Today our integration capabilities go beyond just Shopify and eBay, PayPal, and Stripe, which by no doubt are among the most popular platforms for e-commerce businesses in the US. As we are expanding to the UK, Canada, Australia, and New Zealand markets, too, we want e-commerces to have the ability to connect every payment platform to their accounting. Connect Ecwid, WooCommerce, BigCommerce, GoCardless, anything that your business might use. It is what our product can do right now. Even if it's not on our integration list, Synder has an Excel import feature covering data import from any channel."
Core values of Synder
The company's motto, "Machine accuracy. Human approach," is not just the words for the team but a part of their mentality. Ilya states, "You can see this approach in how our team works on the solution we are delivering to our customers, in the way we build our in-house and external communication and relationships. It is a true blessing when you manage to create a motto that describes the complete set of values you are following."
Speaking about us, the whole team is crazy about two things in particular. The first thing is an effective, fast and scalable system that delivers accurate, detailed, categorized, and reconciled data and, in this way, solves the trending problem of multiple unreconciled sources of commercial activity. The second thing is top-notch customer service. It always reminds them that even though they are working with automation and algorithms, they are doing it for humans. Therefore, to succeed, they have to think about open and efficient communication just as much as about innovative and unique technology.
Ilya adds, "The magic happens when you set these two things as your daily target; it starts working for itself. We have regular cross-team meetings that help us stay synchronized, where we share customer feedback, talk about our achievements and obstacles. We also have weekly meetings with our CEO, Michael Astreiko, to keep every team member tuned in to the company's main strategy and values and openly discuss any questions."
Synder: Redefining the e-commerce industry with its unique approach
Managing multi-channel sales has become a true nightmare for online retailers when they have to sync their sales and inventory, for instance, for Shopify and Amazon. Synder can revolutionize the way businesses manage their different sources of data in the most automated way, allowing them to focus on the results and forgetting about sleepless nights when the reporting period comes.
Ilya mentions, "The machine accuracy part ensures that every tiny detail is taken into account and the human approach confirms that we understand your pain points wider than just a tech problem. We are ready to help at any time, and we focus on your successful results, setting this as the biggest goal of our activity."
Synder: Growing and staying ahead of the curve by deploying smart strategies
The market is growing dramatically. The pandemic also changed things drastically, as companies are shifting to a new paradigm. E-commerce boomed upwards with companies like Shopify, Amazon, Etsy, or WooCommerce skyrocketing, and the market is on the voyage of revolution. People are shifting towards online buying, and the demand for good, high-quality, and trusted products has witnessed an all-time high.
To keep the company's growth consistent, the company focuses on the audience and their genuine feedback. He adds, "We have thousands of customer reviews across marketplaces like QuickBooks App Store, Shopify App Store, Capterra, TrustPilot, and G2. We are truly grateful to our users for such great feedback about our work, as it is powering us to move forward."
Every SaaS startup dreams about exponential growth. Ilya states, "We are lucky to have Synder growing on avg. 250%- 300% year to year. After expanding our integrations list, we saw a rising interest from many e-commerce businesses. And it keeps growing. We also changed our strategy of working with accountants and offered professionals the possibility to manage multiple clients with different platforms and different pricing plans under one Synder account. This solution became a significant step toward the digital transformation of professional services."
Being data-driven, the team pays a lot of attention to their unit economy and keeps their metrics in a good balance. Accuracy in data processing, cutting-edge technology, and the service part with expert specialists ready to help along the way helps them build trust between Synder and their clients.
The team knows that the diversity of review platforms make it pretty challenging to conceal even a single product detail. Thus, honest and transparent product details and reputation management is the key to keep the brand name distinct and assist the audience in making a balanced decision as well.
Ilya's journey to success
To climb the ladder to success, it is necessary to take challenges with a positive mindset, and rather than losing all the hope, a person should use them to hone one's personality. Challenges come with hidden lessons, and it is important to see through them to evolve and grow. During this phase, he learned the importance of having a team and understood that working alone will get him nowhere.
He adds, "Many people will say, "it will take me more time to teach someone or hire someone to do this job rather than do it by myself," but the truth is that we are limited by our own capabilities. So, when you do everything on your own, it blocks one of the most important aspects of your journey, that is, scalability. By working with other people and sharing the responsibility, you inevitably start learning from them and get the chance to see a wider picture from a strategic point of view."
He commenced his operations in the company establishing customer support processes which is a prime organ of every SaaS business combined with the solution. These processes take a lot of time, analytics, and insights to fully analyze how your users want to cooperate with you and how to build efficient processes inside your team. This profound experience with the support team enabled him to work with diverse people sharing different skills and talents. He loved how this team had a myriad of talented managers and specialists who strived hard to manage different aspects of customer service and strategy execution.
Sharing his achievement proudly, he says, "I think that the best recognition is the customer feedback which contains complimentary words about our communication and high-quality service in almost every single comment. It is the highest reward for me and a good reflection of the path we are taking."
Leading Synder to success
As a COO, Ilya takes charge to execute the main strategy in which he ensures that all teams, be it development, QA, marketing & sales, or a support team, are synced and aligned to work as one unit. Owing to their human approach culture, all team members know that the management listens closely to every intricate detail to promote employees' personal and professional growth, sustainability, and stress resistance. This strong communication is the backbone of the company and his greatest payback.
This has been an inspiration for many other business owners and leaders working on a similar idea. However, now with the team expanding and reaching 50-60 employees, it is quite hard to keep tabs on each individual employee. To find a feasible solution for this issue, he says, "Now, I invest a lot of time into communicating with the team leaders to help them build their teams, making sure we have internal integrity and consistency on a company level in how we treat our team members across all teams."
Charting the bright future of Synder
Although it is super hard to maintain the same exponential growth after reaching maturity, the e-commerce industry has just commenced its growth. Sharing his vision, he says, "We will be able to evaluate the outcome of this growth only in 3-5 years. To keep moving forward, we need to be data-driven and confirm that your perception is based on some true objectives and to have a high level of flexibility and speed in decision making."
Ilya is quite happy to have raised investments recently and has a plethora of amazing expansion plans for the coming future. The best part is that the expansion will be global in which they will start catering and helping as many businesses as they can possibly handle. They are all set to take up the challenges that come with different geographical locations, legal regulations, as well as regional traditions and are ready to adapt their business approach as per the need. This will be done to respect the region's rules and impact more businesses as per that approach.
He adds, "We already have good partnerships with regional payment providers, and along with our primary market in the US, we serve businesses in the United Kingdom, Canada, and Australia. We are developing these markets, and I think we are already following a good track on this matter!"