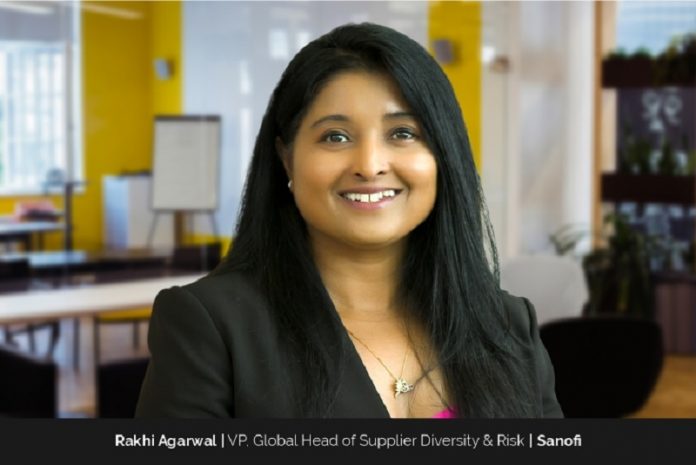 As a person of color and a woman in the workplace, Rakhi Agarwal, Global Head of Supplier Diversity & Risk at Sanofi, has had many personal experiences that made her pause and think about what's important for society and how she could bring about change and impact the way people think and influence diversity landscape in the workplace.
Along with that, her experience in procurement motivated her to use the purchasing power of a corporation to create an unparalleled socio-economic impact in society. Coming from an entrepreneurial family background, Rakhi has witnessed first-hand the struggles of small and diverse business owners and that was enough motivation for her to leap into the DEI space.
Rakhi has received multiple recognitions and accomplishments and has held various roles throughout her career and life and they're all her favourites, though being a mom to three beautiful and intelligent kids is what she is most proud of.  Her awards and recognitions include the President's Award at Mead Johnson and the Women's Leadership Award from USC Marshall School of Business. She was also inducted this year into the prestigious Marquis Who's Who for her notable contribution to supplier diversity in their 125th-anniversary edition.
"Success is not the key to happiness. Happiness is the key to success. If you love what you are doing, you will be successful." – Albert Schweitzer
The Journey to Promoting and Enhancing Supplier Diversity
Before joining Sanofi, Rakhi worked at companies like Bristol Myers Squibb, Merck, and JNJ, among others. She is CPM and CPIM certified with an MBA from the University of Southern Indiana and an undergraduate degree in Supply Chain Management from Michigan State University.
"I came to the United States in 1996. My first job in the USA was with Kohler Co. as an intern in materials management, followed by an internship with JNJ in Process Excellence. My first full-time job was with Mead Johnson Nutritional – a Bristol Myer Squib Co. at the time," Rakhi recalls.
Sanofi is a multinational pharmaceutical company headquartered in Paris, France, and one of the largest pharmaceutical companies in the world, focusing on the research, development, manufacturing, and marketing of pharmaceutical products. It operates in various therapeutic areas, including cardiovascular disease, diabetes, oncology, immunology, and rare diseases, and actively participates in industry conferences, symposiums, and events. These gatherings provide Rakhi with opportunities for networking, knowledge sharing, and staying updated on the latest developments in the pharmaceutical and healthcare sectors.
As Global Head of Supplier Diversity & Risk at Sanofi, Rakhi oversees the development and execution of strategies to promote and enhance supplier diversity, which refers to the intentional inclusion and utilization of diverse suppliers in the procurement and supply chain processes across the organization's global supply chain. Her key responsibilities include:
Developing and implementing supplier diversity programs and initiatives to ensure the inclusion of underrepresented groups, such as minority-owned, women-owned, LGBTQ+-owned, veteran-owned, and small businesses.
Collaborating with procurement teams to identify diverse suppliers, evaluate their capabilities, and foster partnerships that align with the organization's procurement goals and diversity objectives.
Establishing relationships with external organizations, such as minority business councils, supplier diversity associations, and community groups, to expand the network of diverse suppliers and promote supplier development.
Providing guidance and support to internal stakeholders, including procurement teams, business units, and executive leadership, to foster understanding and commitment to supplier diversity goals.
Monitoring and reporting on supplier diversity performance metrics, tracking progress, and identifying opportunities for continuous improvement.
Managing Supplier Risk and governance is also part of her portfolio, ensuring that procurement risk is integrated with the Sanofi enterprise Risk strategy.
"The only way to do great work is to love what you do." – Steve Jobs
Redefining How Corporations Look at Supplier Diversity
Rakhi notes that ideas in D&I can enhance the growth and vision of companies by fostering creativity, improving decision-making, enabling better problem-solving, increasing market relevance, attracting top talent, and enhancing the company's reputation and stakeholder engagement. She believes that embracing diversity and inclusion can position companies as a leader in the industry, capable of addressing the diverse healthcare needs of patients worldwide.
"I've taken my two decades of sourcing and procurement experience to create a global supplier diversity program that's redefining how corporations look at supplier diversity. I've designed strategies that can take supplier diversity and treat it like any other sourcing category that can deliver the value and meet supplier diversity goals at a much faster rate than what's traditionally seen in the industry," Rakhi observes.
As a leader, she believes that establishing a culture of integrity is an ongoing effort that requires continuous attention and commitment. It involves the collective efforts of leaders, managers, and employees at all levels of the organization to foster an environment where ethical behaviour is valued and upheld.
"For me, integrity is the most important value an individual can possess. I make sure that I communicate the values openly and clearly and uphold those values in everything that I or my team do. Integrity and ethics are non-negotiable," Rakhi insists.
"The best way to predict the future is to create it." – Peter Drucker
Converting Challenges into Opportunities
Rakhi notes that different people define success differently. For her, it's about Impact and Contribution, and she sees success as making a positive impact on the world and leaving a lasting legacy. "I measure success by my ability to create meaningful change, help others, or contribute to the greater good of society. If I'm able to do that, I consider myself successful," she states.
Rakhi's career path was not without its share of challenges, and she admits that it's very difficult to thrive as a woman in this industry, even more so as a woman of color. Difficult relationships and conflicts were some of the major roadblocks in her professional journey, and she had her share of each of them, which helped her realize that dealing with challenging colleagues, conflicts, or difficult bosses are the best teachers to help you grow as a leader.  Each situation helps you grow and define your personality and helps you become who you are.
"I've been asked to keep my head down and keep my opinions to myself, to just listen to seniors and sign off on contracts without much due diligence," Rakhi reveals. "I've been told that I look too young for my age and assumed that I have no or minimal experience based on how I look. These assumptions and subconscious biases make it difficult to perform and stand your ground."
However, Rakhi also maintains that these situations helped her develop communication skills, emotional intelligence, and conflict-resolution abilities. They taught her how to navigate complex relationships and work collaboratively with others. "Over 23 years of my career, I still get surprised, but years of this varied range of experiences have armed me with patience and resilience to address those situations accordingly," she says.
Being a very strong personality with a strong head on her shoulders, Rakhi was able to take those challenges and convert them into opportunities to keep moving on the path to success that she had defined for herself. She also notes that making an influential impact on the next generation requires genuine care, active involvement, and a commitment to nurturing their growth and potential.
"I do so by investing time, expertise, and support, to positively shape the lives of young individuals and mentees who look to learn from me. I try to inspire them to become responsible, compassionate, and empowered leaders of tomorrow. I try intentionally to be that leader and pillar of support for the younger generation and professionals that I never had," Rakhi declares.
"You always have a choice!! Never let anyone or any situation take that power away from you and you will always be happy and in control. So, chose wisely." – Rakhi Agarwal
Achieving Goals by Embracing Your True Self
Rakhi believes that while maintaining a balance between personal and professional life can be challenging, it's essential for overall well-being and fulfillment. Achieving a balance between personal and professional life is an ongoing process that requires self-awareness, adaptability, and constant evaluation of priorities. "I manage it for myself and support my team by encouraging them to consciously set boundaries, manage time effectively, practice self-care, and seek support as and when needed," she says.
Rakhi's personal goal as a woman in leadership is to achieve gender parity and promote inclusivity in leadership positions. She also hopes to mentor and sponsor other women by taking an active role in mentoring and sponsoring them in their professional journeys, offering guidance, support, and opportunities for growth to help them develop their skills, build confidence, and advance in their careers. "By actively promoting the development of other women, I can contribute to creating a pipeline of future female leaders," she observes.
"If you never ask, you will never get." – Rakhi Agarwal
In her message of encouragement, empowerment, and resilience to aspiring women leaders, Rakhi says, "Embrace your authenticity and believe in yourself. Your authenticity is your superpower. Embrace your true self, including your values, passions, and unique perspectives. Authenticity builds trust and creates an environment where others can connect with you on a deeper level. Your leadership has the potential to inspire and empower others, paving the way for future generations of women leaders. Be bold, stay resilient, and embrace. Life is too short for regrets."
Rakhi concludes by sharing a profound Sanskrit quote: 'Yato Bhave – Tate Bhavati' meaning 'You become what you believe.' If you can dream it, you can be it!"
'Taking the first step is 50% of the win and the rest 50% is perseverance." – Rakhi Agarwal