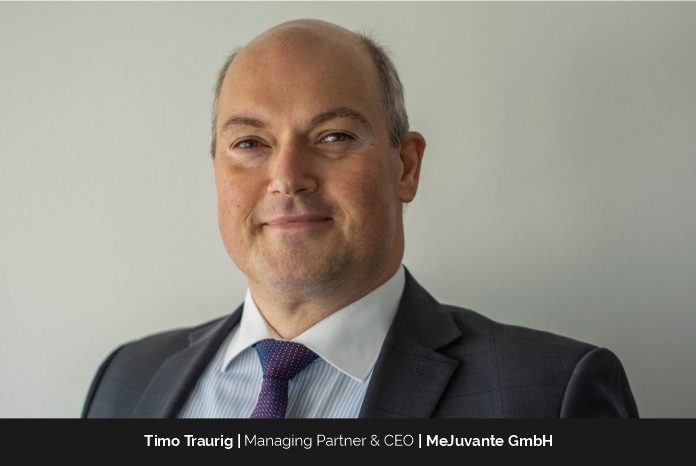 The management consulting sector, which is only a century old, is both enticing and infamously hard. Consultancies prosper or perish because they are deeply ingrained in the economy. In reality, professional management consultancies should not only add value to their own and their client's businesses, but they should also be a force for good in the world, bringing about constructive change that benefit all of humanity. This, in turn, will boost public trust in their brands and benefit the society as a whole.
MeJuvante GmbH was established in 2005 and is managed by Timo Traurig. Prior to establishing the company, he has extensive management consulting expertise via a variety of initiatives. Mr. Traurig has over 25 years of experience in banking and financial industries as a project manager and as a business analyst. In addition to typical banking consultancy, he has also worked as an auditor since 2005, conducting audits for both domestic and overseas clients.
Timo Traurig has always had an inclination towards business even during his early years.  Starting his career in the stock market and financial industry, he realized that strategic and organizational consulting were more suited to his mind-set. In addition to possessing the necessary expertise and skills, Timo Traurig has worked on MeJuvante's vision, culture, methods and building a worldwide team.
As a result, he has established, a good rapport with top management across industries  at MeJuvante and  is  recognised as one of the leading management consultants who follow a traditional, quality and tailor-made approach by  providing the right solutions to any project which in itself speaks volumes about his status as a good leader with a great team.
Changing Direction in Response to Flow
As a risk-taking entrepreneur who challenges his own set goals once they are achieved, Timo Traurig feels that addressing obstacles is highly essential and that it makes individuals stronger and more resilient, while always remaining compliant. Having a vision is one thing but adjusting to the shifting markets has helped him achieve success. He asserts, "We Cannot Direct the Wind, But We Can Adjust the Sails" and "Convert the stones thrown into your way to build new houses".
MeJuvante The Firm
MeJuvante GmbH is a management consulting firm based in the Rhine-Main region that works throughout Germany in finance, including banks and insurance businesses, as well as other sectors.
It has extensive experience assisting customers in areas such as management consulting, process consulting, project management, business analysis, strategic consulting, advisory, and many others to create and capture more value during the project phase by providing a wide range of consulting services and implementation measures.
It creates strategies and provides advice on business process improvement. Customers gain from its knowledge and dedication. Furthermore, it provides a variety of risk management and risk control solutions. The experience also includes regulatory assistance for banks and financial service providers in situations when regulatory risk is substantial. The firm's consulting and advisory services are focused on strategic, organizational, and IT initiatives. It collaborates with its valued clients, who include small businesses as well as large publicly traded enterprises on a worldwide scale.
MeJuvante under Timo Traurig's leadership
Under the leadership of Timo, over the years, the firm started offering managed outsourcing services beyond advisory, consulting, and IT.
By clearly structuring his team, unleashing the strengths of all team members and effectively delegating tasks, MeJuvante was able to add success to the growth of our partners, clients, and the MeJuvante team.
"Our MeJuvante Academy is an important segment where we facilitate training for various skills and methodologies for our consultants under one MeJuvante umbrella. Such as general project management standards (SCRUM, PRINCE2 etc), although specific training, such as Anti Money Laundry Officer (AML-O), IREB, Information Security training, etc."
After establishing MeJuvante Holding in Germany, Timo Traurig envisioned expanding the brand on a global level by incorporating MeJuvante Private Limited in India.
Success for Timo Traurig
Timo defines success in terms of his personal, professional and teamwork. He sees his success as driving his team's success and he continually motivates and assists his team in achieving both individual and team goals. As someone who is energized by new challenges, he finds that learning something new or helping someone in need keeps him motivated and counts as  his success. He asserts, "My motto for success is based on three deeds: initial quick identification, precise analysis, and consequent implementation of ideas."
Timo has maintained a steady level of productivity for decades and takes both his success and failure in stride. He keeps learning and applying his experiences to future situations by making a difference to other people's lives. As per him "don't wish for it to get easier, just wish for yourself to get stronger".
A Visionary
Timo Traurig is the founder and managing director of MeJuvante GmbH, MeJuvante Consulting GmbH & Co. KG and MeJuvante Private Limited India. Before incorporating MeJuvante, he had gained many years of experience in management consulting on various projects.
Timo has over 25 years of experience as a project manager, business analyst, and auditor, with a focus on the financial sector, although he is widely servicing other industries. "Since 2005, his personal competencies have been transformed into three corporate units of
MeJuvante, the MeJuvante Consulting, MeJuvante Advisory and MeJuvante Services, followed by MeJuvante India. Furthermore, MJ India is offering entire range of MJ Europe by adding precious IT Consulting Services."
Timo is proud to provide management consulting services from strategy development, through business analysis, to implementation, including coding and testing. All services out of one hand—practical advice that works!
Adding Balance to Everything
Timo Traurig is inspired by change and is continually striving towards his objectives and learning new things. When it comes to his staff, he is reachable anytime for management guidance and has always shown faith in his employee's abilities.
Creating Mejuvante and rising to the position he holds now has been an interesting and rewarding experience for him. Work entails juggling one's personal and professional lives.
Similarly, he appreciates demanding activities that keep him and his thoughts away from the everyday rush and bustle of professional life. He explores new locations and interesting locals gaining insights to their way of life. He also ensures quality family vacations every year and keep a balance between his family, friends and work.
Understanding the Dialectic of Truth
Timo Traurig always appreciated Kant and Goethe's philosophies. Goethe's "Thun" or Tun, which says that success depends on three German letters—TUN, alias DO. The action of doing is the result of words and thoughts.
– First the thought
– Second the word
– Third the action => TUN > DO
He states, "You can easily understand a person's mindset based on their actions and words." A wrong mindset can be figured out by negative actions or words, which are based on negative thoughts, which are very toxic to any situation or person. He further adds that one should always be positive and replace negative thoughts little by little with optimistic views. He sees that a positive person anticipates health, happiness, motivation, and success and always sees the glass half full and focuses on what is there and how it can be refilled.
Further, Timo follows Rupert Lays dialectic for managers which can be reflected in Kant and his categorical golden rule which are again driving positive true thoughts. Categorically Golden rule by Kant: "People should treat others the same way they would want to be treated." Always recognize the fact that each individual has his or her own purpose and reasons to live. We should not use them only for our own agenda and happiness; rather, we should uplift them and also recognize them as ends in themselves.
Be honest, helpful, and dialectically true to yourself and others around you, and be fair in treating others.
Achieving all Desired Goals
MeJuvante was launched under Timo Traurig by incorporating and financing the firm generically. Since then, the firm has been financed without any third-party money, neither loans nor shares, thus ensuring that not relying on financial stakeholders who influence your strategy for short-term gains. Timo sees this as a never-ending process in which he strives to achieve his goals and take MJ to the next level.
Timo supports developing countries such as in Africa, or local projects in India. He maintains a forest in the centre of Germany (Find out more on https://mejuvante.com/ueber-uns/umwelt) to compensate for CO2, already since the 1990's and not just recently jump on to the green-wave-thing. "With the help of my German team, we grew substantially despite the ups and downs since 2005, such as Corona recently," he says. However, playing on a global stage with a great team in India is also a great opportunity.
Having a specific target gives Timo clarity on what he wants to achieve; it might be a short-term or long-term goal.  He has set and achieved a range of goals, both personal and professional, and is currently working toward their completion. At no point in time did he let himself be distracted from short-term pitfalls by strictly following his long-term objectives.
Timo is an inspiration for those who want to start or change a business and take their steps towards great success. As for the future, your task should not be wanting to foresee the future, but to enable it. You are welcome to find out on www.mejuvante.com or www.timotraurig.com.