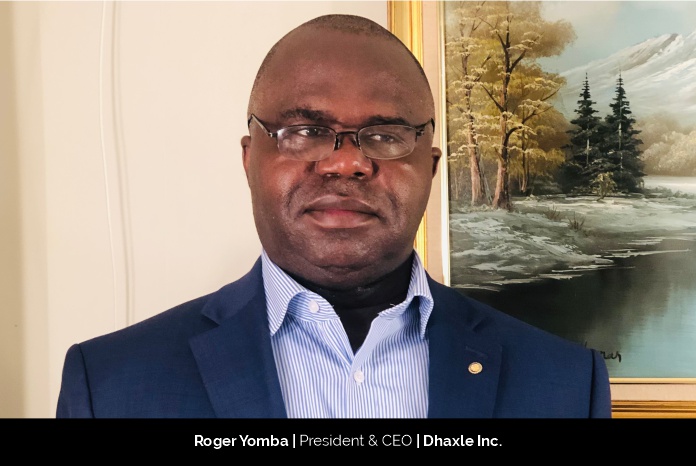 In the past few years, the world has seen rapid growth of the world economy. This growth has been driven due to international trade between countries. To make this growth speedier in upcoming years, it is essential that all countries help each other (specially developed ones to developing ones) in technological developments and put efforts to reduce geographical barriers. Leading by Roger Yomba, Dhaxle Inc. is the Information Technology & Services company that providing an ecosystem to International Workers and immigrants who are funding the projects in developing nations.
Roger asserts, "We believe that funds management could be a legitimate extension of our services in the future. For now, we act as a broker who builds the trust, matches up project owners and service providers, and secures project funding and ownership."
Dhaxle's technology automates key aspects of the project lifecycle, allowing for a significantly lower price-point and bringing remote project management services within reach of the average International Worker.
Defining Success from a Leader's Perspective
"The definition of success will most likely depend on the industry and environment of the leader," says Roger. Considering a business point of view, Roger believes that real success is the ability to satisfy an endlessly growing number of customers (users) with excellent services. He further adds that this could be possible through the resolution of their pain points and the way the services make their life better every day. He opines, "Customer satisfaction is the backbone of corporate health."
Dhaxle; an Initiative for International Workers
The word "Dhaxle" came from mixing two words, Dhara money in Sanskrit and Axle the piece that rotates the wheels and supports the weight of the vehicle. However, in the Somali language, Dhaxle means inheritance.
Before becoming a company, Dhaxle is a story the co-founders share with many international workers who send money to their home countries to fund projects or alleviate difficult living conditions for their families and friends. It was founded to resolve the challenges that international workers typically face from both countries of migration and home countries (educational, cultural, economic, etc.). Roger briefs, "Besides establishing a family and career in the adopted country, many are expected to share improved economic status with family members back home. Managing an investment project from thousands of miles away with limited ability to travel home for direct supervision is challenging." Most International Workers incur exorbitant money transfer fees sending funds home and frequently lose part or all of the remitted funds. Then the founding team of Dhaxle decided to offer a viable solution affordable to middle-income immigrant families.
Dhaxle's key activities consist of:
(1) Matching up qualified project owners and vetted service providers
(2) Providing a project management platform for full visibility into the finances and milestones
(3) Progress tracking with in-person supervision and reporting by local experts
(4) Optimizing project planning and execution to reduce cost and timescale up to 30%
(5) Securing project ownership and execution with smart contracts
(6) De-risking projects by protecting all parties involved via covered engagements.
Rising from Varied Situations
"Challenges are what fuel someone or an institution's growth," says Roger.
According to him, without challenge, one will certainly stagnate and decline. Remembering his journey, Roger describes how he has a very humble origin and came from an environment where one out of five thousand students make it to college. He opines, "Every step of my personal life has been completed against the odds. So, I am familiar with different types of challenges. I have a strong determination and an enduring personality; I always distinguish myself positively in a healthy professional environment."
Future of Fund Management and Transactions
Roger does not doubt that funds management will significantly change with the growing adoption of cryptocurrencies. As governments and agencies that are still reticent will loosen their regulations to consider the use of cryptocurrencies, small and high-net-worth investors will reconsider their relationship with the traditional fund managers in terms of cost structure and level of tolerance to risk, meaning more return on investment to the investors. The alternatives will make it irreversible. Dhaxle will maximize in offering affordable alternative solutions by being ahead in the market needs.
Vision to Deliver Flagship Overseas Transaction Services
The management at Dhaxle wants to transform the company into a flagship technology that alleviates transaction fees for anyone sending money in developing countries to fund projects. Personally, Roger's goal for the company, "Be that company referred to as an axle that helps to create wealth with transparency and efficiency. Dhaxle should become a verb within the community of immigrants developing projects abroad."
An Achiever with Consistent Career Growth
Before Dhaxle, Roger worked as a consultant for investment facilitation companies investing essentially Public-Private Partnerships in Africa, notably MHN Group Corporation and the former CIBS Facilitation Canada. He was active as a young leader promoting the African renaissance. He sent a letter to Thabo Mbeki, then vice-president Nelson Mandela, of South Africa to support his call for action. He says, "I was resident to Ivory Coast. When Mbeki became president, he established the NEPAD (New Partnership for Africa's Development) with his peers." He further adds, "I was then propelled at the continental level as Regional civil society coordinator for NEPAD."  Then, he was also developing another company called PRAGLYS in the health and nutrition sector to solve a problem facing men at a certain age.
From there, Roger moved to investment consulting and entrepreneurship. To date, he thinks the Award from NEPAD signed by the African president for his individual personal contribution is the most significant. As a manager, Roger was also nominated for the Century Quality Award (Category gold) by the International Commission of the Century Quality Era and the University of Abidjan (CIREJ- Research Center for Legal studies) Award in 2003 (Geneva).  
A Problem Solver
Roger sees himself as a problem solver. Dhaxle is still a startup, and like any startup, Roger's responsibility includes corporate management and the implementation of the company's strategic objectives. Roger pays great attention to cutting off the noise around him to re-energize and keep his focus on what really matters.
Roger's typical weekday starts with a Buddhist meditation that varies from fifteen minutes to an hour. He describes, "Around 8 o'clock, I read and listen to the news during breakfast and chat with the kids. This is followed by a series of meetings or working sessions online or in person. This includes work on pending files and coordinates with teams in different countries on pending issues." The evening can be long with a social event and networking or remote working session with team members in a foreign country. His day ends around 2 or 3 am with a Buddhist meditation of 15 to 30 minutes after consulting emails and watching the news cycle.
Future Goals for Dhaxle
Dhaxle started in the USA with a subsidiary in Nigeria. It is currently developing subsidiaries in Ghana and Cote d'Ivoire also; it is at initial steps in Mexico and the Philippines. As per Roger, "Our goal is clearly to become a global company serving international workers in major remittance sending countries and major remittance-receiving countries in the coming 10 to 15 years." 
Roger's advice to aspiring business leaders "Find something you believe in and can work tirelessly in to offer life-changing solutions to an endless number of people. Do not listen too much the naysayer." He recalls Vince Lombardi's words, "We would accomplish many more things if we did not think of them as impossible."