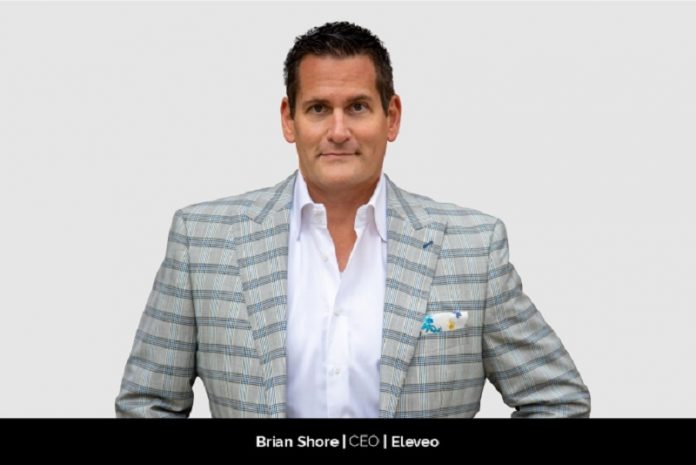 Brian Shore's career in the tech industry began on a "brutal" note. There were times when he wanted to quit; however, he did not succumb. Instead, he persevered by focusing on his work, continuing to learn, developing patience, and making a commitment to himself that he would never give up. And all of that has enabled Brian to become a successful and inspirational CEO of Eleveo, the company that provides simplified solutions for complex contact center problems.
Brian is one of the primary leaders driving everything Eleveo does. He is responsible for the top-line performance of the company worldwide, leads the company's expansion, manages its investments to provide value to users, partners, colleagues and ultimately produces a return on shareholder value. "My job is identifying big opportunities and getting the organization focused and aligned on those opportunities, while looking out for icebergs," Brian says. A servant leader, he also encourages his employees to share their ideas and offers them opportunities to create innovative solutions.
Brian has made a lot of personal sacrifices, such as time with his family, to build a profitable company that is self-financed, has 350 partners, and customers in 97 countries. "I used to have tons of hobbies," Brian says. "I have zero hobbies now, and that is OK. I am very much at peace with that because I choose to look at the experience [of working as the CEO of Eleveo] itself as a reward."
Summer of 2008 and 2009
Brian joined Eleveo in the summer of 2008, the year when the U.S. was in the midst of the" Great Recession" following the subprime mortgage implosion. One of his first decisions was to hire three U.S.-based employees. The company was investing in the U.S. workforce for the first time, as it wanted to strengthen its foothold in the market. But the investment did not bear fruit in the beginning, as the subprime mortgage crisis reached its critical point in the summer of 2009. "We had made this huge investment in hiring our US employees, and a year later we had barely grown the top-line US revenue – less than one percent growth year-over-year – but we had increased our expenses by several thousand percent," Brian says.
They were not getting the desired results even though their pipeline and other indicators showed they were doing the right things. "I remember thinking that if I was an outside investor buying this company, I would probably fire our entire U.S. team, starting with me," Brian says. But no one was fired, including Brian, and they soon overcame the roadblock and were on the path to growth. Brian gives the credit for that to his company's Chairman. He was a patient leader and believed in his U.S. team's potential. Brian, too, learned a lot from his chairman's leadership style. "It showed me the value of being patient with yourself as you work towards the goal, that if you just put your head down and do not give up, you will take yourself on an amazing journey," Brian says.
The first year with Eleveo also taught Brian the importance of encouraging people. "We are trained as human beings and as professionals to make everything look good and easy from the outside, and, ironically, that can make people feel like they could never do it themselves," Brian says. "They can, though."
In those early days, Brian recalls there were very few things that distinguished Eleveo from its competitors. The company, however, kept on trying hard, doing right by others, and out-executing 70 other companies in their space –  all on their own dime, and in one of the most difficult times in U.S. history.
Offering Better Customer Experience
Eleveo, formerly called Zoom International, provides Workforce Management and Workforce Optimization solutions for commercial contact centers. Its range of intuitive tools enables contact center managers to record and analyze every customer/agent interaction, forecast customer demand, and schedule their agent resources, accordingly, ensure regulatory compliance, gauge customer sentiment, and much more. Brian says that at a higher level, Eleveo exists to answer a simple question that he believes very few organizations ask, or at least does not ask frequently enough. And that question is "How do our customers feel about us?"
Brian points out that many customer care tools in the market are centered on efficiencies. "Look at the advent of an IVR, machine learning, and automation – that is about facilitating seamless tasks so you can streamline service fulfillment, but that is not necessarily creating a better experience," he says. Brian believes such technologies fail to offer a better experience because they are usually designed to achieve cost savings, and customer experience comes second.
"So, the majority of contact center metrics, such as average handle time and first call resolution, primarily focus on cost efficiencies, and, frankly, you can only reduce your costs so much before you hit a point of diminishing returns," Brian says. He grants more importance to the customer experience. It always comes first for him.
As a business leader, Brian's focuses on the top line – "how do we make the customer feel?" Brian adds, "If they feel great and know how much we care about them, they will continue to do business with us."
Empowering Employees to Share Ideas
Unlike most of his peers in the technology industry, Brian does not see innovation through the lens of technology. He believes that at its core, it is about leadership and communications. An innovative culture can only thrive if each employee is seen as a potential innovator in the company, Brian says. He also points that it is not enough to recognize employees as a potential source of innovative ideas. Companies should make it safe for them to share their ideas, and leaders should be willing to hear what they have to say.
As the CEO of Eleveo, he has built a culture where people are comfortable and confident about presenting their ideas. The company also creates budgetary space every year for pursuing ideas that might not necessarily have a perfect business case or go-to-market strategy supporting them. "We invest in things like hackathons where we create micro teams and give people time and space to develop anything that they want, anything that they wish," Brian says.
The company also partners with local institutions of higher learning and looks for people that are doing creative, innovative work, particularly in machine learning and artificial intelligence (AI). They also take the support of their customer advisory board and the partner advisory board. "It is important to balance what your customers telling you they need, and what are your partners telling you that they need," Brian says.
"We have almost 200 employees worldwide, and I want each person empowered to introduce ideas about how we can improve the company up and down our chain of command."
Contribution in Redefining the Industry
According to Brian, when it comes to redefining the industry, Eleveo's contribution can be divided into three categories, based on three audiences – colleagues, partners, and customers. For colleagues, the company has created a work environment where they have more fun, gain more professional experience, and get more financial rewards than their peers working in other companies. "I'm proud of that, because I know we've made a positive impact in their [colleagues] lives, and that's a core value for me," Brian says.
"If I look at our partners today, we're the only company in our industry that's 100 percent indirect, and to be a great channel company you have to be very humble and put the needs of the partner above your own," Brian says. "And that's tough to do for many software providers."
He also points out that 'partner' implies shared financial risk and reward, but in the real world the provider shares all the reward and displaces all risk onto the shoulders of partners. Brian and Eleveo do not believe in doing business that way.
And Eleveo offers its third audience, the customers, a solution suite that is easy to use, easy to adopt, and easy to afford. Brian says that they operate in a unique niche. Where many contact center tools and capabilities are usually reserved for blue-chip Fortune 500 enterprises, Eleveo serves small businesses as well. It has adapted the most essential features across a very broad portfolio of products for smaller contact centers. "We're giving a wide base of customers the access to tools that they would not have otherwise," Brian says.
Vision for Eleveo
Brian has a two-part vision for Eleveo. First, they plan to revamp their entire product suite to make sure that it is cloud-native. That, by definition, means one codebase for on-premises, hybrid, or cloud. They are already two years into this three-year revamp plan. The second vision is to bring seven or eight different technology categories into a single, easy-to-use, intuitive commercial contact center WFO, or Work Optimization, product, which does not require much onboarding or training. "It is a product that comes pre-installed with industry best practices, and it allows you to answer the question, "how did an interaction make the customer feel?" That is our true north," Brian says.
Inspiration and Success
Brian's family has been his inspiration through all the ups and downs. Along with inspiring him, they have also given him the strength to take some very calculated risks. And from the business standpoint, Brian says that there have been at least 15 to 20 people, over the past 20 years, who saw something in him that he might not have seen in himself. "They challenged me to leave my comfort zone and take on new roles, new responsibilities," he adds.
A spiritual person, Brian does not see success in terms of money, material possessions and the job title. For him, real success is when there is inner peace and joy in one's life. Both come from serving others and contributing to the success of others just in some small way, he says.
Message to Aspiring Business Minds
Brian's message to aspiring business minds is simple – have a kind heart. "Let me be clear, though, having a kind heart does not mean you're passive; it does not mean letting people walk all over you. It means that you genuinely care about others," he says. "And if that is your core, you will attract like-minded people who may be very aggressive and almost maniacal when it comes to results, but who have very high expectations of themselves and the way they interact with other people."
Personal Goal
The more Brian contributes to others, the better he feels. So, he says, his "personal goal" is to focus on "servant leadership."
*******************