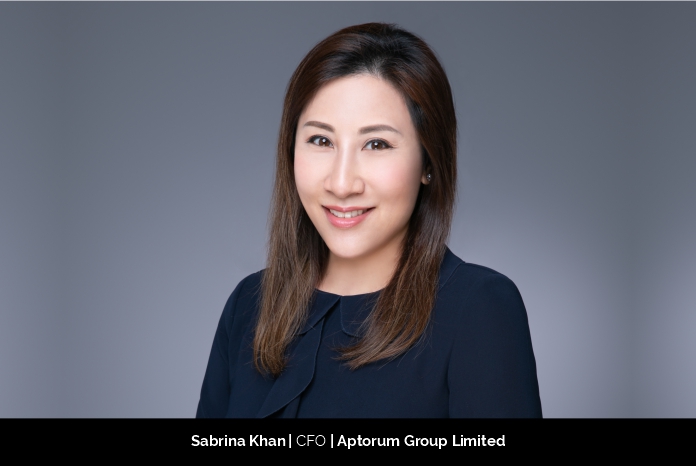 With 10+ years of experience of serving in the US and Asian healthcare companies with proven track records in successful IPO, restructuring, business expansion, and M&A projects in Hong Kong, China, and the US, Sabrina Khan, CFO at Aptorum Group Limited, is deploying smart strategies to propel the company in the right direction and fueling its growth with her skills.
Dicing into the accounting domain by chance, Sabrina realized the potential of the profession and decided to expand her reach and add valuable skills to her skill set. She stresses the point by adding, "I found accounting is a good profession for people to develop their career. No matter you are an entrepreneur or upper management, it would help a lot if you have accounting knowledge."
Fueling the growth of the company
When Sabrina joined the company, they only had five staff members who had served the company for almost ten years with no listed company or large corporate experience. She had to help set up different teams, policies, and guidelines. On top of that, she prepared the company for the IPO. She states, "It was not easy as I had to start everything from scratch, and some people were reluctant to cooperate or make a change. It required lots of communication and trust, and trust took time to build."
As the company progresses, everyone started to understand Sabrina's intentions and started resonating with her ideas and strategies.
She adds, "It was slow in the beginning, but they did better and better over time, and they were all proud to see their hard work and contribution when the company was successfully listed on Nasdaq."
Taking the company to next level
Aptorum Group is a Nasdaq and Euronext dual-listed biopharmaceutical company. They develop and commercialize novel therapeutics to tackle unaddressed medical needs, including orphan, infectious and metabolic diseases. They also seek different approaches to identify more therapeutic targets in covering more currently unmet medical diseases and contribute to the advancement in global medical development.
Sabrina believes that communication is the key to build trust and progress further. It's important to have regular and fluid communication with the team and encourage them to proactively voice out their opinions and queries for open discussion and let them understand what they are doing.  She treats her colleagues as teammates and not robots. Policies and controls are important, but loyalty is more precious. She adds, "We motivate them to participate in different projects, jump out of the box, take up key roles and responsibilities, and recognize their effort. As long as they love their job, they will know what is best for the company."
With COVID-19 disrupting everything around the world, everything changed, including the industry and economy. Every company was forced to make changes to survive in these tough times.
Sabrina immediately had a chat with the team and decided to build the system and do the work online. She adds, "It was tough to change the habits and practices we built for decades. But glad that my colleagues adopted the change quickly and the result was extremely promising."
Deploying innovative strategies to chase the vision
For her, the company's vision is to continuously develop and commercialize novel therapeutic treatments to tackle currently unmet medical needs and orphan diseases.
As she is not a scientist and cannot go into the lab to develop new solutions, she uses her accounting and financing knowledge to ensure the R&D team has sufficient resources to continue their work.
She states, "We believe that patients in these disease areas often suffer from the lack of choices of effective drugs and face limited therapeutic options available."
One of their major therapeutic development is in "orphan diseases" which is an exciting emerging market and has huge growth potential. In the US, 7,000 orphan diseases have been identified (compared to over 2,500 identified back in 2015), and approximately over 90% of these diseases do not have effective treatment. On this basis, Smart-ACT® was set up to focus on screening their library of over 2,600 existing approved small molecule drugs against the selected orphan disease targets.
She mentions, "The aim is to "discover and repurpose" drugs that can work for other orphan disease indications and to shorten drug development from on average of 10+ years to 3-4 years and cut short the total cost of drug development in some cases up to 90%."
Drug repurposing is well regulated and has had numerous successful precedents (for example, better-known ones are Viagra, Trastuzumab, Minoxidil, etc.), and the US FDA has a reg 505b(2) approval pathway which they can use to fast track the process as the drugs that have established safety are previously approved. This can greatly reduce the time and cost of developing drugs to tackle currently unmet medical needs.
Balancing personal and professional fronts
Being the CFO of Aptorum Group, Sabrina has a heavy load of responsibilities to handle. She needs to ensure that all financial reports and regulatory filings are done accurately and in a stipulated time frame.
She also prepares different financial analyses, budgets and assists the management in making crucial decisions for exploring business opportunities and optimizing financial performance. She states, "CFO may not be the best business innovator but for sure the best gatekeeper which often pulls the team back when things are too off from the track."
Believing in Henry Ford's words, "Coming together is a beginning, staying together is process, and working together is a success," she considers building long-lasting friendships at the workplace and inspiring friends to look for a purpose in their work as her biggest achievement.
Further, to keep a positive balance between personal and professional fronts, she believes that it is vital to acknowledge that you love what you are doing and embrace both the company and your team. She shares, "I often have to work long hours and tight deadlines and what I'm doing is much complicated than 20 years ago, but I enjoy my work. I feel motivated as I am contributing my knowledge to the creation of medical innovations that save lives in the world."
This has helped her to shuffle between her professional and personal priorities with equal ease. Keeping her authentic self forward in the workplace and personal life has always helped in motivating other employees as well.
Mapping out the Future Roadmap
Sabrina shares, "Aptorum Group has a rich pipeline of 15+ existing drugs under development, and in addition, we are constantly investing in our drug discovery platforms to generate additional potential drug candidates for other diseases. For example, the Smart-ACT® platform is currently developing 4 drug assets, and we are hoping to generate 3-5 further clinical-stage assets going forward, potentially making Aptorum Group one of the largest orphan disease pipeline companies in the world and eclipse some of those in the US."
She further tells about their metabolic disease platform named, Claves which is renowned for targeting metabolic diseases like obesity, renal, cardiovascular diseases, etc., with the human's gut microbiome as the first-in-class approach. This platform is harnessing scalable macromolecule technology for its functioning.
They will keep working on their existing projects and also look for new ways to design more treatments for targeting a new and increasing number of orphan diseases and unaddressed medical needs. It is essential as the traditional drug development method takes several years to deal with the increasing number of diseases.
For all upcoming business leaders, Sabrina shares a special piece of advice. She states, "Don't be afraid to make a change or explore. Every opportunity is an experience and a valuable lesson, no matter a success or a failure. There's always a lesson to learn and makes you do better next time."