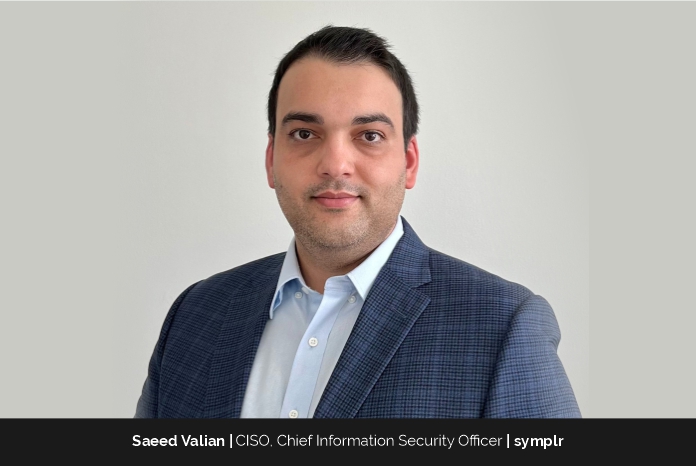 A visionary leader, published author, and cybersecurity advocate, Saeed Valian hopes to inspire and empower others to succeed while making a positive impact in the world.
An award-winning Information Security and Technology Leader, and the Chief Information Security Officer (CISO) at symplr, the market leader for enterprise healthcare operations software and services, Saeed is known to confront and resolve technology, risk, and business challenges in a proactive manner.
Interoperability and value-based care are transforming how providers and payers deliver and enable healthcare services. symplr's solutions allow their customers to successfully navigate ongoing change with scalable, enterprise technology to connect and streamline healthcare operations, and tackle healthcare's top operational challenges.
symplr's solutions for provider data management, workforce management, and healthcare governance, risk management, and compliance (GRC), increase the efficiency of healthcare operations, allowing caregivers to focus on what they do best: provide high-quality patient care.
Inspiring a security culture & integrating security into the business
As the CISO for symplr, Saeed's role is to inspire a security culture across the organization and integrate security into the business. Considering the significant increase in cyber-attacks, as well as regulations impacting the healthcare industry, it is his group's responsibility to ensure that security is in the DNA of the organization, solutions, and services. Saeed has the ability to reduce gaps by effectively collaborating to build relationships and define a culture of success, positioning organizations for the next stage of growth.
Saeed was recognized as one of "10 Best CISOs of 2021" by Industry Era, as well as one of "The 10 Most Influential CISOs to Watch in 2021", and he has received several other recognitions.
With almost 20 years of comprehensive IT and Information Security experience, he is leveraged to promote business performance, integrity, and scalability. His strategic and technical experiences and publications have brought him recognition as an effective thought leader in the security industry.
Saeed has a proven record of success in several industries: healthcare, technology, education, manufacturing and consulting. Having worked through different areas of IT and Security, including both technical and leadership, he is empowered to quickly grasp the big picture while connecting the dots addressing potential technical challenges.
Saeed also has extensive global business and operation experience covering over 20 countries, with a proven record of establishing and leading cross-functional international teams. As a seasoned professional, he brings a business understanding of small and large environments, both private and public, and is engaged in defining strategies to deliver innovative solutions and services, resulting in increased productivity, improved competitiveness, and revenue growth.
Saeed firmly believes in the power of collaboration with peers, as well as encouraging youth to join the cybersecurity domain. In addition to sharing his thoughts and experiences with his peers, he has also been advocating for, mentoring, and educating the next generation of cybersecurity professionals.
A visionary leader with intensive technical knowledge in infrastructure, information security, applications and data, he is currently serving as an Advisory Board Member and a cybersecurity advocate and is continuously involved in and collaborates with several groups and forums.
Making security an essential business enabler
"Security does not have to be a cost center!" Saeed declares. "While overall security fundamentals might be common, it's imperative for a security leader to learn their company's business in order to adapt a security vision to further enable their company's mission. That's what we have done at symplr, by re-aligning based on symplr's mission and promise, security has become an essential business enabler; not only protecting our brand, but an integral component of revenue operations and customer support."
Healthcare operations are mission critical and cannot be allowed to suffer adverse interruptions. As a pioneer in healthcare operations solutions and services, symplr understands the industry's unique, day-to-day challenges, and has designed their solutions with their customers in mind.
symplr has been dedicated to improving healthcare operations and providing better outcomes for patients, providers, payers, and staff for over 30 years. Their healthcare-specific software solutions and professional services go far beyond single, siloed solutions, to help customers achieve truly connected, integrated, enterprise-wide operational efficiencies.
With the motto of, "Better operations. "Better outcomes," symplr is a compass in a constantly changing healthcare landscape. The organization understands the daily and emerging challenges their customers face and is there to guide them through.
symplr is the market leader in enterprise operations software and services for healthcare governance, risk management, and compliance. Their solutions increase operational efficiency, empower providers, and make the patient care environment safer.
Their solutions also include provider data management, workforce management, talent management, contracting, spend management, facility access, compliance, quality, and safety, to help their customers ensure better outcomes for patients, providers, staff, and their leadership organization.
symplr assists their clients in unifying workforce management and the governance, risk management, and compliance processes that they rely on to bring together the right people, in the right places, at the right time.
Their mission-critical software makes healthcare operations work more efficiently. They help unify the management of their customers' workforce and the governance, risk management, and compliance processes that they rely on to create better outcomes in vital scenarios.
symplr also optimizes workflows for its customers' staff and providers, improves patient safety, increases scalability, and delivers impactful business insights to their leaderships.
According to Saeed; as with many other organizations, COVID-19 and working remotely have intensified diminishing symplr's perimeters; however, they continue to analyze and improve the cyber posture to safeguard their assets against modern cyber threats.
"We believe in a balanced multi-layered approach to security, and while there's no such thing as perfect security, the key is continuous correlation through a balanced multi-layered approach constructed of different pillars, including but not limited to: threat intelligence, comprehensive visibility to data, human-led AI/ML (Artificial Intelligence/Machine Learning) controls & automation, dynamic security culture, and ongoing partnership amongst international public & private sectors, government agencies, and security organizations to combat against the common enemy – cyber criminals!" Saeed explains.
The power of diversity & building something meaningful
To be an influential leader, Saeed believes in the power of diversity, as well as surrounding himself with individuals much smarter than himself. Throughout his career, not only have his groups continued to represent fully dedicated and intelligent cybersecurity professionals, but they also happen to represent a very diverse group of people, which he believes is the differentiating factor.
As a published author and cybersecurity thought leader, Saeed collaborates (pro bono) with some small businesses that can't afford true cybersecurity resources or solutions, to provide them with high-level, but actionable, recommendations to further improve their security against cyber threats.
Saeed also belongs to a technology/security volunteer program providing education and training to youths in less-fortunate urban communities. He is currently co-founding and formalizing a non-profit organization dedicated to training and enabling youths in less-fortunate urban neighborhoods, to prepare the next generation of cybersecurity professionals, as well as providing a fair opportunity to all.
In Saeed's opinion, success is measured based on the reflection of the positive impacts that one influences on their surroundings (and beyond). Are we contributing toward something meaningful? Are we mentoring and empowering the next generation of leaders? Have we been able to right a wrong?
"As leaders, how we utilize our limited time to inspire others positively, as well as ensuing an encouraging impact on something meaningful, is what leads us to true success," he states. "What we do at symplr impacts something meaningful – improving healthcare operations – which ultimately results in improving patient care! Patient care impacts us, our families, our friends, and our loved ones, which makes it personal to us. This is why we are motivated and passionate about what we do!"
As Saeed's parting advice to aspiring business leaders' states: "Mistakes will be made; have the courage to face them as opportunities to learn and grow, and don't be afraid to ask for help. Becoming a true leader is not about passing others by but gaining the wisdom and capacity to inspire and empower them to succeed. Time is precious, never settle, and always disrupt the status quo"!