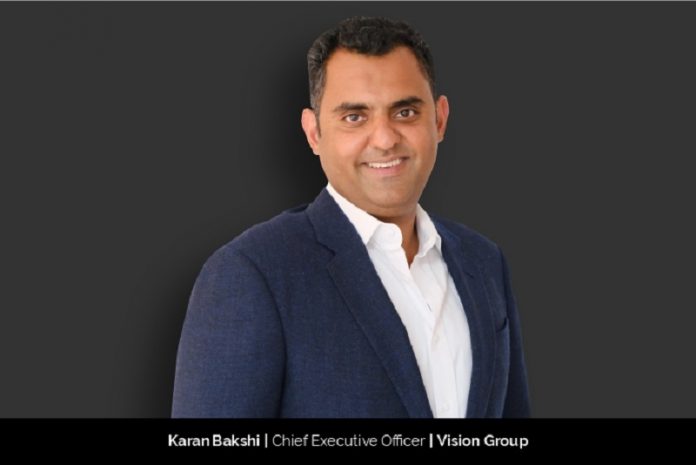 A serial entrepreneur, Karan Bakshi has founded and operated multiple innovative solution-based businesses in the computer software and real estate domain. In 2016, he established Vision Group to develop cutting-edge innovative products by leveraging internet of things (IoT) and artificial intelligence (AI) technologies. He founded it to pursue his passion as well.
Karan has always been fascinated by technology and its application to solve real-life problems. He believes that IoT and AI are game changers, as they are capable of solving problems in ways that even the human mind cannot comprehend.
One of the values of Vision Group is its focus on customers' success and satisfaction; for which, it is always willing to go the extra mile. Karan, who is also the CEO of Vision Group, believes that they will realize their success by ensuring the success of customers.
What Is Success?
Karan points out that every leader has a unique definition of success. For some, it's based on how much revenue is generated; others look at overall valuation.
For Karan, success has always been about finding a sense of purpose in what his team does in generating value for the customers they serve. "It is quite simple for us, we will realize our vision by driving customer success while aligning to our values," he says.
"Building a global team where members share the same definition of success generates a true sense of fulfillment that no amount of revenue and valuation can recreate," adds Karan.
Professional Journey
Karan's career started in 1998 when he founded a Software Development business to help manufacturing companies solve the Y2K problem in their software and rewrite FoxPro and DBase-based software in Visual Basic.
Prior to establishing Vision Group, he founded and headed an IT Services business focused on healthcare and fintech domains. After demonstrating a 100+ percent growth for 6 consistent years, he exited the business to start Vision Group.
Vision Group
Vision Group is a leading multinational conglomerate of technology companies specializing in digital transformation for retail. It has integrated several companies to position itself as the only company that provides an end-to-end IoT, AI, and Image Recognition-based solutions for Brands, Wholesalers and Retailers that generate insights on store layouts, automate retail audits, connect dispersed retail assets, and enable frictionless retail.
The Vision Group believes in cutting-edge technology as a major driving factor of business and social change. It is committed to the research and development of unique techniques that innovate data capture from brick-and-mortar retail while supporting the shopper experience through product availability, better prices, and easy access for all products. Recently, it launched enhanced capabilities to its Store360 App that leverages AI-Image Recognition technology to help shoppers navigate complex and critical categories such as over-the-counter (OTC) medicines.
Vision Group, according to Karan, has demonstrated high double-digit growth consistently, year over year. He gives the credit for their growth story to a focused team effort. Karan has also put in tremendous efforts and resources to ensure that all their 400+ employees live the Group's values and put all their efforts into things that help them achieve their vision.
The first customer of Vision Group provided it with opportunities to disrupt traditional retail, and since then, it has focused on digitizing brick and motor retail. "It has been a difficult but a joyful journey and today we are proud to have built innovative solutions for all aspects of physical retail," Karan adds.
Standing Out in the Market
There are two ways Vision Group differentiates itself in the market. Karan points out that the first is through their recent acquisition of SMSB, the company with expertise in visual category management. Post-acquisition, Vision Group has a state-of-the-art image content catalog and cutting-edge space management capabilities.
AI-Image Recognition starts with the most current product images, Karan explains, adding that this catalog is critical to ensuring that they drive accuracy and speed when leveraging Image Recognition across the Group's businesses. "No one combines these two capabilities," he says.
The second area where Vision Group scores over its competitors is how it deploys AI and IoT across Smart Vending and Connected Assets. "We have the capabilities of supporting many use-cases for retailers, distributors, and brands across the globe," Karan says.
Overcoming Roadblocks 
Every entrepreneur faces setbacks, and Karan, too, has encountered plenty of roadblocks. He believes that challenges and setbacks make a leader stronger, and according to him, it is important to believe in the vision and focus all energy in that direction, and most often success will follow.
"We have faced many roadblocks, and overcoming those have provided us a tremendous competitive advantage," Karan points out. And, one of the biggest roadblocks that he faced as the CEO of Vision Group is the extremely long time customers took to embrace innovation and adopt their solutions.
"Overcoming this roadblock specifically has taken both persistence and patience," Karan says.
The 'Go-Getter' CEO
Karan is the "Go-getter" CEO of Vision Group. His main focus is on driving the Vision through the organization from the leadership team to front-line engineers. He is always accessible to his leadership team, especially when working through business challenges. Karan says that he makes sure that his team, customers, and investors know that he is available to help.
He also points out that although every entrepreneur stays focused on specific areas of the business-like cash flow, "I invest a lot of time with our customers and adjusting our products to help solve their problems."
Karan may have built a stellar reputation in the professional field, but he has not yet succeeded in the work-life balance arena. "This is an area, unfortunately, I am still working on it," he says.
Like most entrepreneurs, Karan, too, struggles to balance his personal and professional life. He, however, has learned that everyone does not follow the same playbook when it comes to balancing professional and personal life. "This balance is different for everyone," Karan says.
"The best way to promote employee engagement is to be available and present."  explained Karan.  "I try to take the same approach with my family." he adds.
Leading a growing, global company like Vision the Vision Group puts pressure on balancing time between the business and the family.  "I'm still a work in progress."
Plans for the Future
Karan would like to see the Vision Group become a global market leader in generating and processing big data from traditional bricks and mortar retail.  A marketplace that continues to evolve and change creating opportunities for the CPG industry only AI and IoT technologies can detect. "Our growth strategy is based on land and grow, and it has worked well for us," he says.
Under Karan's leadership, Vision Group intends to enter new geographies by signing with one anchor customer, then would put all its energies into making it a big success. "We are fortunate to have several global customers that have started with us in one country, then refer us to other countries as we add value to their business," he says.
The "land and grow" strategy gives us the backing to find new use-cases for our technology which allows us to deliver more value to the overall CPG industry.