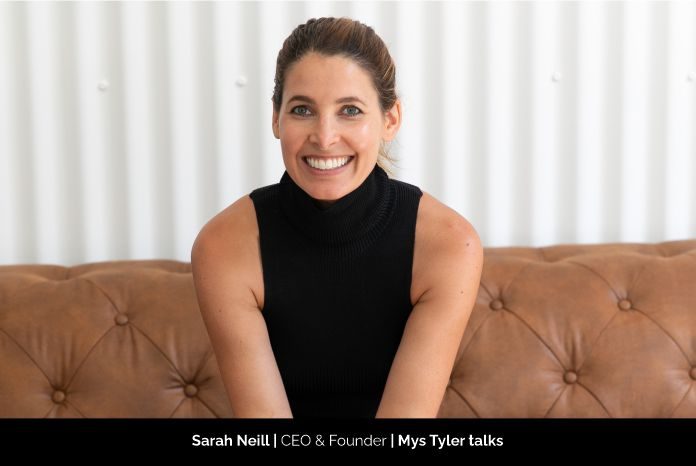 Sarah Neill, the CEO and Founder of Mys Tyler talks about personal and professional success. For her, personal success is happiness – being healthy and feeling optimistic about the future, feeling connected with her friends and family members, and contributing to the world in a positive way. Business success on the other hand is about creating opportunities for others, solving a real problem, and providing a return on investment to stakeholders.
The path to entrepreneurship:
Sarah describes her journey to entrepreneurship starting with her career in marketing and advertising where she would dive into insights of the target audience to understand how the thought, what they felt and what problems they were looking to solve. Back then, this allowed her to best communicate to this audience the relevancy of the product or service. As the years shifted, and she better understood problems out there, she describes shifting into more intrapreneurial roles, and eventually encountered an opportunity to create her own business, Doodad while living in New York. This dates back to 2012 and after 12 months of building a business, she was forced to shut down the business with 2 weeks' notice. She moved back into corporate life but, and joined the fastest growing private company in America, but during this time developed the concept for Mys Tyler, and spent the next few years developing the idea until 12 months ago when she packed her bags, leaving her corporate role, salary and America to return to Australia to build Mys Tyler.
Constraints bread creativity:
Sarah mentions that majority of the companies she worked with were "Challenger" brands, the companies have relatively smaller teams, smaller budgets and less awareness to work with. As a result, they have to punch above their weight to get traction. In these environments, you can't throw money at a problem, you have to get creative and work smarter. "They say constraints bread creativity, and I completely agree. Some of the best ideas have come from not having the conventional (or any) resources!" Says Sarah. Take Mys Tyler for example, the app which helps women see clothing on similar looking women (height, size & shape), requires a diversity of fashion influencers, Mys Tyler calls them "Contributors" to be successful. Without resources to "buy" this side of the market, they got scrappy and scrapped the body data of nearly 400 fashionable celebrities so they could launch a product faster, get traction, and then have something to pitch to stylish women to bring them on board organically.
Iterate and improve over perfection:
With the strong belief that "done is better than perfect" the common question the Mys Tyler team asks themselves when making decisions is "Is it better than it was yesterday?" Sarah describes herself as  the furthest thing from a perfectionist. Having said that, she and the team have ambitious goals and are committed to constantly work at getting closer to those. Her vision for Mys Tyler is to create a space where all women feel represented, and can be inspired with fashion content relevant to their body, budget, and style. Sarah believes that the clothes we wear can make us feel confident, they can be the difference between trying to blend in and feeling able to step up and say yes to opportunities. We want fashion to be more accessible and enjoyable for all women, at the core of Mys Tyler is body-positivity and community. And if women find better fitting clothes through Mys Tyler, than they can also significantly contributor to reducing return rates and reducing the huge cost to the industry and more importantly the environmental.
The hero's journey: 
The startup journey is not easy, doing things that are new requires storytelling and education. There are constant hiccups and distractions, so it's a clear vision and unwavering resolve required to forge through to bring a startup to life. If you look back, you can easily find dozens of failures that each entrepreneur encounters. The successful entrepreneurs can trade in these failures into learnings and find a positive way to move forward. As quoted by an anonymous philosopher, "Life won't always go my way, but I will always find a way," similarly Sarah understands the hard journey ahead – "it's hard work, it's terrible pay, it's a high risk, high stress, and highly personal – but I wouldn't want to be doing anything else". Her advice for aspiring entrepreneurs "Just start. If you have an idea, start building, start collecting data, just move it forward, and you'll learn things, or opportunities will open up as you go that will guide you for the next step". Women have a tendency to think "I know I can do ABC, and I think I can do XYZ, so I'll stay doing ABC as I don't want to over-promise and under-deliver – I'm telling you, you can do XYZ better than anyone, so get out there and do it"