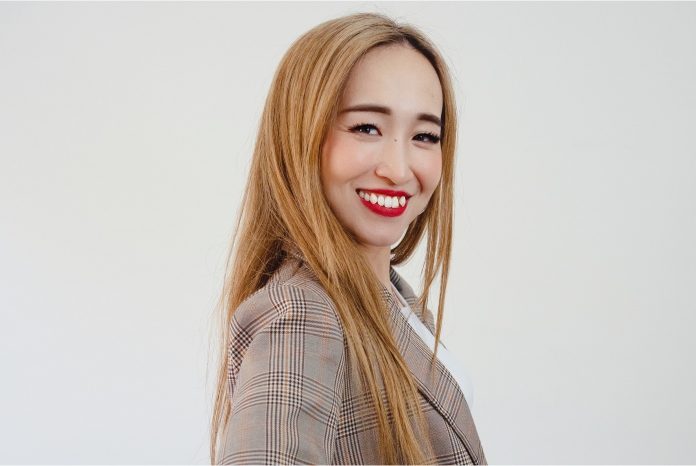 The background is the top of the mountain, representing leaders standing on the top of the world.
The Tiger represents authentic leadership. Tiger has a born leadership that they are fierce, strong, and brave.
The sun represents hope and light, a joyful lease brings hope and light to people's lives. And the sparkling sunshine shows joy and uniqueness. Every leader can be an authentic spark! A cheerful leader brings a spark wherever they go.
This book helps everyone to find, unlock and fire up the joyful leader in themselves. Kristy is consistently recognized as a positive leader. When she posted various book title options, most people immediately thought the name "joyful leadership" was so (reflecting) Kristy's character. Kristy believes each of you has a joyful leader hidden in you, so using her image representing everyone's joyful leader is the best way to start.
The photo of her standing confidently and powerfully represents the meaning of joy and leadership. And her standing on top of the mountain, looking at the sun, reflecting her firm faith, clarity for her future, and a clear purpose in life!
The Tiger sitting behind her also reflects when you become a joyful leader, you will also become fearless!
Words from the author:
My passion and love of writing.
More than 365 mornings and nights of writing and editing solely for this book.
I took time to slow down and dig a bit deeper, just a bit more every time… …
Countless times of checking and improvements.
Think to combine a book with as many helpful tips as I can that can benefit everyone.
It can be scary to disclose so much of my personal stories, but… … it's all about faith and goal. My faith carries me, and I strongly believe that my hard work is worthwhile to my future readers.
My clear goal tells me that there's no story or life experience will be wasted. We need to share love and knowledge to make this world a better place.
It is never perfect, but I know anyone can immediately benefit from this book.  & I hope it will be a life-transforming moment for you.
All the best! Sending love and lights!
Never stop believing!
Highlighted quotes from the book.
"If we wanted results, we must practice our muscles, and expect pain through the process, that's where the growth comes."
"I decided to do the right thing, not the easy thing."
"If it's dark everywhere, a tiny light can light up the room, thus, don't give up trying to make a difference, it's easier than you think."
"If you fear being hated by people, it's impossible for you to discover the true YOU either."
"No puzzle is too complicated for love to solve, and no one is too harsh for love to soften."
"Self-love is powerful, but selfless love is powerfully magical."
"Do you know why our self-doubts always come so often? Because we all subconsciously believe that public aesthetics is the right standard. "
"One true friend is better than one million fake ones."
"Nobody could offend you unless you decide to be offended."
"Time is not money! Time is life! You can earn more money, but you can never get more time."
"Unforgiving one person takes long-lasting time and energy but forgiving someone only takes one decision."
"If you don't take the lead, your emotion will lead you."
"Knowledge is not power if you don't apply it to life, knowledge is only powerful until you light up the fire."
Author's BIO:
Kristy Guo is the Chinese-born, Australian-based founder and CEO of Signature Global Network PTY LTD. She is a best-selling author, coach, and award-winning entrepreneur. She is an expert in building multicultural and international networking business communities. Kristy is well-known for her passion and positivity. Her mission is to bring light, power, and energy into the lives of others.
Published by www.signaturegln.com
Expected book launching date: 28/03/2023