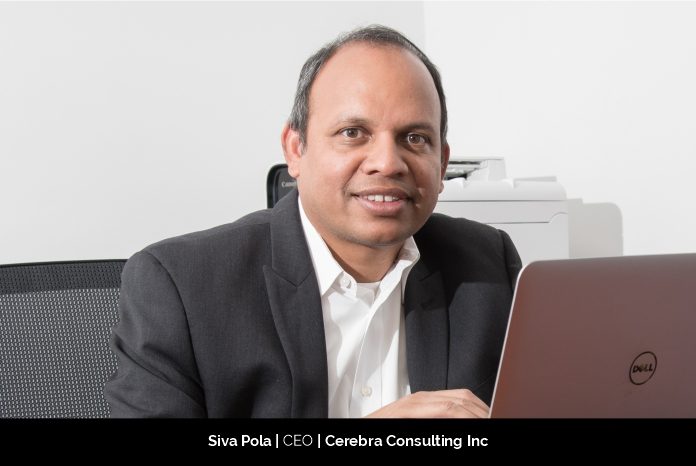 Siva Pola, CEO of Cerebra Consulting, Inc., is a passionate builder, and has always been interested in creating things from the beginning. Cerebra Consulting is an IT services company with a focus on staffing, solutions, and product delivery. The company offers services in the area of enterprise applications, cloud solutions, data analytics solutions and emerging technologies.
As the CEO of the company, Siva likes to keep a hand in most of the company's undertakings. He spends many of his hours managing the solutions practice, doing account management and client relations, as well as ensuring that all operations are running smoothly. Being a CEO, most decisions do ultimately fall on him, so a large portion of his responsibility does come down to being informed and making correct choices for the direction Cerebra takes and how the company best utilizes all of its resources. Siva sees "integrity" as the word that perfectly defines his leadership and responsibilities at Cerebra.
About Siva 
Siva earned a bachelor's degree in computer science from India's AU College of Engineering. Before moving to the United States in 1997, he worked for Electronics Corporation of India Limited (ECIL) as a programmer, developing embedded software for control systems for Thermal Power Stations. After immigrating to the USA, he continued working with the same embedded systems for controlling FAB Manufacturing.
Upon arrival, he was happy to work for clients such as Applied Materials (known then as SEMY Engineering), Motorola, Capital One, Clopay, and Scientific Games (known then as WMS Gaming).
In 2004, he took the knowledge he had gained from working within the industry and started Cerebra, largely based on the relationships he had in place. Through Cerebra, he wanted to help these contacts through expanding and sharing his expertise in IT business procedures.
Seeing the company that he has built make it to the Inc. 5000 for three years in a row has been something that he is very proud of, and while he could surely take credit as company leader, he acknowledges that it really is a shared effort amongst all of the staff.
Cerebra, according to Siva, has carved out a distinct position in the IT solutions industry by being agile, and they are well known for developing rapid prototypes. The team discovered that the ideal method to address problems is to use an iterative process, in which one quickly develops a baseline answer and continues to change it until it is perfected utilizing agile procedures. He opines, "In order to ensure our integrity and remain innovative, we regularly speak with both our clients and our employees, so we have a forum for open and honest feedback. This allows us to look at our projects and pivot as our clients need, as well as maintain a positive relationship with them."
Cerebra Consulting, Inc.
Cerebra Consulting Inc. is a prominent System Integrator and IT Services Solution Provider that specialises in Enterprise Applications, Data Analytics, and Cloud Solutions. Their staff is particularly knowledgeable in Microsoft Azure, Amazon Web Services, Salesforce, Oracle EBS, Peoplesoft, Hyperion, Oracle Configurator, Oracle CPQ, Oracle PLM, and Custom Application Development.
As a digital transformation partner, the company assists customers in reducing the complexity of adopting, supporting, and managing technology solutions. Cerebra's team works with customers to solve their strategic business needs, drawing on more than 15 years of experience, industry-specific expertise, and tried-and-true techniques.
The firm is dedicated to offering the best level of service to its clients while producing quantifiable outcomes that optimize their return on technology expenditures on a continuous basis.
The Road to Success
Siva's defines success as the capacity to swiftly innovate and adapt to change. He goes on to say that businesses must constantly reinvent themselves to meet the changing requirements of their consumers and the industrial landscape. At Cerebra, continual learning is part of the company DNA. This creates a culture of creativity and rewards the behaviours of the teams that lead to breakthrough ideas for their clients. Siva highlights that in order to stay ahead of the competition, management constantly hires top talent while also ensuring that its present employees have the opportunity to improve their growth and awareness of the current technological landscape.
Siva further adds that success is a continuous process rather than a one-time event. He has learnt this via his years of dealing with some of the fastest developments in the technological industry, as well as investing significant effort to maintain the firm ahead of these changes. He admits that operating a business is not an easy undertaking, but he enjoys the challenge and has had a fantastic time doing it. Cerebra's foundation is in striking the proper balance between fulfilling customer and employee interests, such that all parties gain.
Difficulties are a Call for New Capabilities
"If everything always goes as per the plan, then everyone would be successful," says Siva. He further adds, "But in real life, most of the time you hit some roadblocks and your success depends on how you react to them, how you find solutions, and how you pivot." According to Siva, challenges are necessary, and often times, failures can help to learn a lesson and move onward. He says, "We have had our moments of struggle here at Cerebra, but thankfully, our capable staff and wonderful partners have always been able to keep us operating and continuing on our path forward."
Prioritizing Work and Life Equally
Siva makes an effort to maintain a work-life balance by turning off his computer at 5:00 p.m. He doesn't check his work emails or phone beyond this hour, allowing him to keep his professional and personal life separate. He values the time employees devote to the firm and its clients, which they take away from their personal lives. He makes every effort to make his staff feel valued and accomplished in their jobs. He opines, "Knowing that we are doing our best to keep our clients pleased continually motivates us to deliver for them, as the relationships we have built as a company are, in my opinion, very genuine and reliable."
Moving for Sustainable Growth
Siva wants Cerebra to expand in a sustainable way, eventually becoming a top 20 IT services company. He believes that organic expansion and smart acquisitions are the best ways to achieve this aim. Cerebra, he hopes, will be able to have a positive impact on the community while being a socially responsible firm. By 2025, he wants Cerebra to be a $100 million IT services firm, with a focus on being on the bleeding edge of technology. He wishes Cerebra to be a model employer, offering top-rated employee experiences while also meeting all client needs, in order to effect change for this generation. He says, "I believe our global workforce sees the opportunities that Cerebra gives them and appreciates the openness and flexibility that they are allowed, and I hope that we can continue to provide these privileges for many years to come."
As a successful entrepreneur, his advice to aspiring business minds is to have grit. He asserts, "One does not figure everything out in the beginning, meaning that adjusting and recalibrating along your journey is crucial."